Sekou Macalou's parents have a Malian origin. The French rugby player grew up in Sarcelles, France.
Macalou made his professional debut with Massy in 2013. The young flanker didn't come from a well of family and didn't have much with him. It was his sisters and family members, who helped him through the difficult time.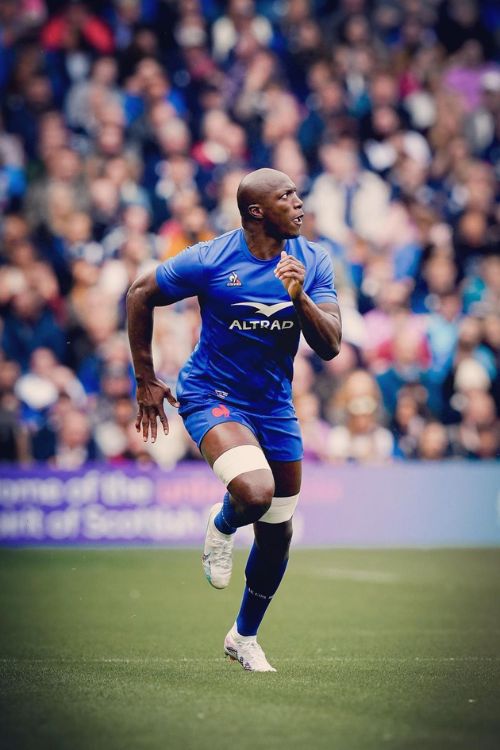 Sekou has kept those hard times close to his heart. He is now one of the well-known players for his club and country.
With his teammates, Melyvn Jaminet and Louis Bielle Biarrey, Sekou was part of the team that won against Uruguay in the ongoing Rugby World Cup. Despite, a gutsy performance from the South American nation, France and Sekou emerged victorious in the clash.
Sekou Macalou Origine And Parents
Sekou Macalou has Malian origin, with his parents hailing from the West African nation, Mali. In a recent interview, the French rugby player's mom gave a few details about the family journey.
Hawoye Macalou, Sekou Macalou's mom, was a former athlete at her school in Mali. She enrolled her son in various sports growing up, but rugby was the one for Sekou.
Hawoye arrived in France, following her husband in 1990. In an interview, Hawoye was quizzed about when she started feeling her son was special. The mother of five answered by saying before he was even born.
She said her son was shy and not so talkative. Hawoye revealed that even at home, Sekou sits in the corner and talks to no one. Due to his professional life, Sekou's father wasn't much involved in the rugby player's life.
It was Hawoye who took care of Sekou's on-field and off-field duties. Sekou said his mom is the loudest in the stadium, in fact, she is louder than the coach, as claimed by her son.
Hawoye tries to attend every match, and after the game's over, she sends voice messages to Sekou complaining about some of his gameplay. She said she does so because she only wants her son to win.
Sekou said his mother gave him the strength to continue playing rugby. There was a point when he wanted to quit for childish reasons, but Hawoye didn't let him do so.
When Hawoye was asked whether she was shocked by her son's physical abilities at the end of the interview, she quickly responded. Hawoye said her son was born with it and that he had continued improving his abilities.
Sekou Macalou Siblings
Sekou Macalou is the youngest of five siblings. He has an older brother and three sisters.
During his interview, Sekou showed gratitude towards his sisters. At 15, when Sekou left for Massy, the family didn't have much money.
It was Sekou's sisters who paid for the boarding school and training. The rugby player also stated that his uncle helped him immensely as well. With the entire family backing you like that, Sekou said being lazy was never an option.
The one time we heard about Sekou's brother was in 2018. Though not a professional rugby player, Sekou's brother wanted to be involved in one of his games.
In 2018, Sekou clashed with Julian Savea, sparking a brawl, and suddenly his brother ran onto the pitch holding a a flag. Sekou's brother was rushed off the pitch but showed his rage to the steward before pointing the flag in Savea's direction.
His siblings have stayed away from social media, and since that incident in 2018, nothing much is known about his brother.