It's been a long haul for Aguero. Yesterday evening his scoring prowess returned. Craven Cottage witnessed the striker's winning penalty shot in the second half. It paved the way for City's lead as the topmost contender for the Premier League championships.
Their unrivaled winning streak past winter has placed them consistently at the top.
It was only after the start of the second half; the match saw goals scored within a range of several minutes.
In rapid motion, John Stone, Gabriel Jesus, and Sergio Aquero scored three goals in a row as they picked up momentum.
Guardiola speaking of Aguero, "For him, goals are everything, Gabriel [Jesus] too."
"Everybody wants to jump on the bus – he is more than welcome! It was so important his goal – he played 90 minutes for the first time in a long time."
Record-wise, the Argentinian is Premier League's fourth-highest scorer.
City the Front Runner for the Title Race
The city's exceptional performance this season is unquestionable. They are their own competition.
They need only 14 points with eight final matches left. And the victory-race-title is theirs'.
Winning the last of their eight ways league games with a score of 22 goals and three loose outs, they appear relentless.
On Saturday, a three-person defense was in motion for City. Jesus and Aguero were positioned in tandem upfront.
Initially, the strategy didn't work as hoped by Guardiola. Though a critical step in the absence of Raheem Sterling, Kevin de Bruyne, and Ilkay Gundogan.
This plan also counter-attacked Fulham manager Scott Parker's center-forward play.
Ace striker Aquero, however, didn't get a good start, hardly accessing the ball. He seemed out-of-sorts and not in his peak during the first half.
A quick try by Ferran Torres and slight exertion by Bernardo Silva didn't pull through. Both efforts lacked cohesion.
Only after the second half, the game took a different direction. And Guardiola's plan paid off.
One minute and 16 seconds later in the second half, a free-kick from Cancelo availed John Stones to penetrate the Fulham opposition and score his fourth goal over 10 games of the campaign.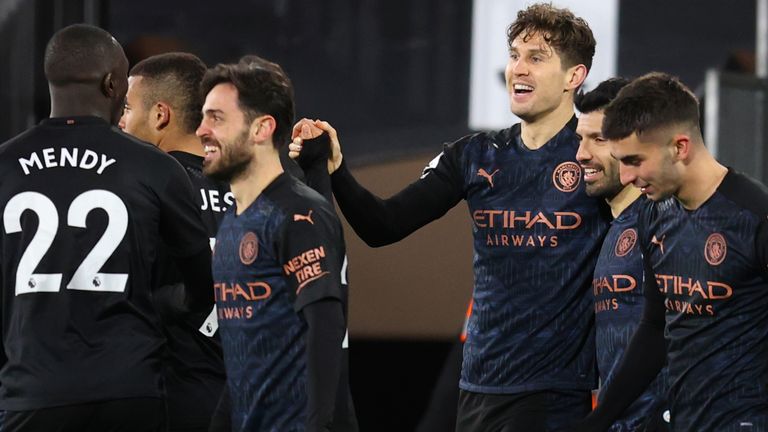 Jesus' chance came nine minutes after to lead the score when Ivan Cavaleiro and captain Joachim Andersen got into a mix-up. He worked past the two and dodged Alphonse Areola to make his 12th goal of the competition.
The final and concluding goal was in a matter of minutes. That, too, because of a fortunate turn for City. Tosin Adarabioyo fouled Torres inadvertently, shoving him into the box that resulted in a penalty.
Aguero came up to the challenge, revitalized, and scored accurately right from the spot. Fulham's French goalkeeper was all up, but the veteran striker made his mark.
It was City's 99th goal in a long series of victories. And resulted in a club-equalling 16th away game.
Fulham's Fall Out
A competitive spirit started off the game. Understandably, Fulham was making good progress, especially after their excellent win at champions Liverpool.
Earning an aggregate score of 18-0 with their past six meetings, they relied on a strong defense team: Andre-Frank Zambo Anguissa, Harrison Reed, Kenny Tete, and Ola Aina.
What was looking like a tight game initially in the first half changed quickly within minutes in the second half.
These were drawbacks that Parker and his team have been working to eliminate. Although backed up by a powerful defense, the performance of key players was not up to mark.
Cancelo's free-kick got passed by Tosin, a mistake by Andersen gave Jesus a goal opportunity, and the penalty was the cherry on the cake.
Unfortunately, the cottagers now struggle to move up from the bottom three, although the number of games they have played exceeds both Brighton and Newcastle, who are right above them.
They play against Leeds United at Craven Cottage on Friday and hope to win this time to keep their top-flight status.
Parker told BBC Match of the Day:
"Disappointing. It's fair to say for large parts today – I asked the team to be brave and show courage against the team who will be champions – and we were. There's no denying the mistakes we gave away for the goals were sloppy…"
He then continued,
"Every game we go into, we want to get something out of. Of course [against Leeds next] is a game we want to go into and get points from. We will keep moving."
Pep Guardiola told Sky Sports: "In general, the game was really good in a tough, tough stadium, they came here, and they won in Anfield last week, and they always create chances.
"We knew it was important this week with three games in three different competitions; we started with one (win). But eight games left in the Premier League, now we focus on the Champions League."
Worth reading: The Tuchel Era Continues As The Blues Still Remain Unbeaten >>