Starring in the sports industry, every athlete dreams of getting inside their respective League and continuing at the peak.
Similarly, when we say basketball, it's the NBA (National Basketball Association), and most give life up ahead for it.
Some try the years and years to get in finally. However, is it that everyone desires?
At first, it was a 'yes,' however, it's not the truth. If I say it, it's the only player that pops into mind, Sergio Llull. Indeed, he is that legendary factor that NBA wishes to acquire, but Llull has no desires.
Apparently, it's been more than a decade, they are after him, but Llull states he wants to test the foreign basketball.
As a matter of fact, Llull has not only tested the foreign basketball but has stood as a legendary figure in it, that he can retire with everyone remembering his name.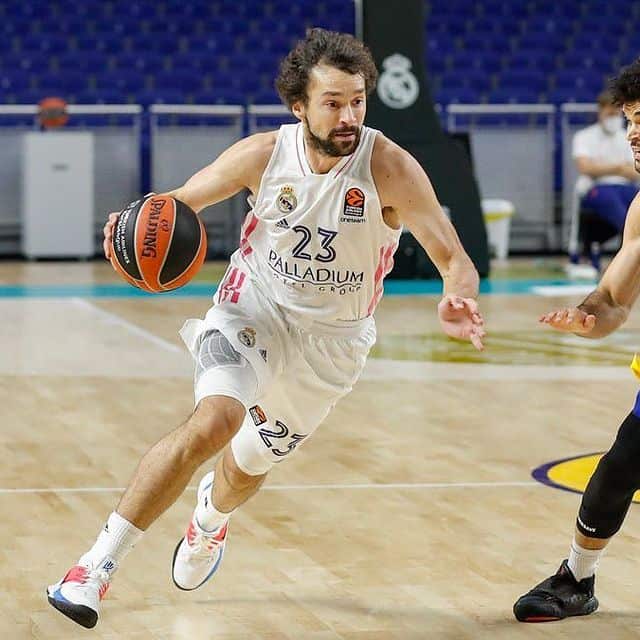 Altogether, he is often known as 'the man who told the NBA, "No."' Well, let's dive deeper into him but first, though a dose of quick facts.
Quick Facts
Full Name
Sergio Llull Melià
Date of Birth
November 15, 1987
Birth Place
Mahón, Balearic Islands, Spain
Nick Name
None
Religion
Unknown
Nationality
Spanish
Ethnicity
White
Zodiac Sign
Scorpio
Age
35 years
Height
6'3″ (1.91 meters)
Weight
205 lb (93 kg)
Hair Color
Black
Eye Color
Dark Brown
Build
Athletic
Father's Name
Paco Llull
Mother's Name
Not available
Siblings
A brother, Ivan Llull
Education
Not available
Marital Status
Married
Wife
Almudena Canovas (m. 2017)
Kids
A daughter, Olivia Llull
Profession
Basketball player
Position
Point guard / Shooting guard
Affiliations
Manresa (2005-2007)
Real Madrid (2007-present)
League
Liga ACB
EuroLeague
Net Worth
$10 million
Social Media
Instagram, Twitter
Merch
Basketball Jersey, Shorts
Last Update
March, 2023
Sergio Llull | Early Life & Family
Llull (fully named Sergio Llull Melià) was born on November 15, 1987, under the Scorpio's sun sign. Apparently, his birthplace is Mahón, Balearic Islands, Spain, and he has a brother named Ivan Llull.
Furthermore, Llull is the son of a player, Paco Llull, and a coach's grandson. Indeed, his sports family background helped him to pursue and take an interest in the games.
As the native of Mahon, Llull also commended his training in the same club La Salle Mao, where his grandfather coached his father. As we all know, pain is famous with soccer; thus, Llull was also into that sport.
Read about Danny Green Bio: Family, Career, Social Media, Net Worth >>
Sergio Llull | Professional Career
As a youth, Llull showcased his promising future and later joined the Liga ACB club Ricoh Manresa. Right then, he played for the Spanish 4th Division club Finques Olesa on loan.
Following it, in 2009, Denver Nuggets drafted Llull as the 34th overall pick in the second round.
However, not long after it, Houston Rockets took River the Llull rights for $2.25 million. Likewise, he was traded to the New York Knicks.
Real Madrid
In 2007, Llull joined the Spanish EuroLeague club Real Madrid. Apparently, in the following years, he extended his contract till 2014.
During his tenure, Llull bagged the MVP award for the 2012 Spanish King's Cup tournament.
Afterward, with a contract extension, Llull contributed to winning the Spanish League championship against Barcelona. In the meantime, Llull became the 2015 Spanish League Finals MVP.
Back then, he re-signed a new contract with an extension worth 2.7 million euros net income per season with a 25 million euros buyout.
Furthermore, he bagged the 2017–18 EuroLeague season championship and even claimed their second EuroLeague title in four seasons.
Besides that, he is not unknown for scoring game-winning buzzer-beater goals. The athlete has done it enough times that he can be nicknamed "Buzzer Beater."
National Team
As a matter of fact, Sergio's foremost appearance on the national team was in 2004 for the FIBA Europe Under-18 Championship, where he bagged the gold.
Following it, he was also a proud representation in the 2007 FIBA Europe Under-20 Championship.
During his tenure at the senior men's Spain national basketball team, Llull won the gold medal at the 2019 FIBA World Cup.
Later, he claimed three gold medals at the EuroBasket in 2009, 2011, and 2015.
Moreover, he claimed bronze at the EuroBasket 2013 and the 2016 Summer Olympics, with silver at the 2012 Summer Olympics.
Besides, he partook in the 2010 FIBA World Championship and the 2014 FIBA World Cup.
Learn more about Vincent Poirier Bio: Family, Draft, Trade, Wife, Net Worth >>
Tokyo 2020 Olympics
The two-time Olympian is on the Spain men's national basketball team's 2020 roster. He is already at the Tokyo 2020 Olympics, his third Olympic appearance, and he is enthusiastic about bringing the gold home.
As of now, Spain has never won an Olympic gold medal in the men's basketball category. Hence, the pressure is on the Spanish basketball players.
Furthermore, the Spanish players can be seen working hard and training to change history and bring Spain their first Olympic gold medal in the men's basketball category.
Besides that, the men's national basketball team is coached by Italian professional basketball coach Sergio Scariolo. In the Tokyo Olympics, Spain is placed in Group C, and their first match will be against Japan on July 26, 2021.
Japan has never won an Olympic medal but has one of the best basketball teams in Asia. Nevertheless, it will be an interesting match between the two countries.
If Llull wants to be an Olympic gold medalist, his team has to defeat the US men's basketball team, which has been the reigning champions since 2008.
Sergio Llull | Playing Style and Stats
Llull is one of the most decorated athletes featuring in the EuroLeague, where he averages 16.7 points, 5.6 assists, and 1.7 rebounds in 27.5 minutes.
As a matter of fact, Llull first commenced playing as a shooting guard; however, he shifted to a point guard in the latter half of the club career.
Furthermore, Llull makes the most out of his defenses, giving aggressive gameplay. Not to mention, he is also a volume shooter while pressuring the defense in transition.
Additionally, Llull is a good speed handler, while his top skill is still shooting.
Achievements and Highlights
2× EuroLeague champion (2015 & 2018)
EuroLeague MVP (2017)
All-EuroLeague First Team (2017)
All-EuroLeague Second Team (2011)
6× Spanish League champion (2007, 2013, 2015, 2016, 2018 & 2019)
Spanish League MVP (2017)
2× Spanish League Finals MVP (2015 & 2016)
3× All-Spanish League Team (2012, 2015 & 2017)
Liga ACB All-Defensive Team (2010)
2× Liga ACB Second Team (2014 & 2019)
6× Copa del Rey (2012, 2014–2017 & 2020)
2× Spanish King's Cup MVP (2012 & 2017)
5× Supercopa de España (2012–2014, 2018 & 2019)
2× Spanish Supercup MVP (2014 & 2018)
FIBA Intercontinental Cup champion (2015)
FIBA Intercontinental Cup MVP (2015)
2012 Olympics game in London (Silver)
2016 Olympics game in Rio de Janeiro (Bronze)
2019 World cup in China (Gold)
2009 EuroBasket in Poland (Gold)
2011 EuroBasket in Lithuania (Gold)
2015 EuroBasket in France (Gold)
2013 EuroBasket in Slovenia (Gold)
2007 FIBA Europe Under-20 Championship in Slovenia and Italy (Silver)
2004 FIBA Europe Under-18 Championship in Spain (Gold)
Sergio Llull | Injury
Back in 2017, Sergio Llull tore his ALC (anterior cruciate ligament) during the first quarter of Spain's 89–71 defeat to Belgium in a preparation game.
Therewith, he was helped off the court and was rushed to a local hospital for medical examination.
Thus, he underwent surgery at Hospital Quiron Salud in Tenerife, due to which he missed most of the season. Then, again, in 2021, Llull faced arthroscopic surgery on his right knee and was sidelined.
Sergio Llull | Net Worth, Contract, and Endorsements
At present, Sergio Llull has a net worth of $10 million, and his current contract is worth 2.7 million euros.
Currently, he endorses several brands, which include a footwear and apparel endorsement deal with Nike. Furthermore, Red Bull also sponsors the player.
Altogether, Sergei Llull is one of the highest-paid athletes in the Euro League.
You might be interested in Dario Saric Bio: Early Life, Stats, Contract, Salary >>
Sergio Llull | Personal Life
True to his words, Sergio Llull is remarkable as he came back to the court right after his treatment. Back then, even with months on crutches, he made himself in shape while undertaking exercises.
Apparently, he was training in the gym; he started swimming and even hikes to Peñalara and la Bola del Mundo.
Wife and Kids
Sergio Llull is a superman even in his family, a family man. Apparently, his love story is a fairy tale where he marries his longtime girlfriend.
According to the sources, he started dating Almudena Canovas in 2010, and they later married in 2017.
Apparently, their wedding was on July 1, 2017, in the church of Santa María de Mahón (Menorca).
Many notable figures like Pau Gasol, Rudy Fernández, and Felipe Ryes attended the event alongside their friends and family.
Following it, they had their dinner at the fortress of La Mola and even had a large party later.
During the event, Almudena Canovas was adorned in a short-sleeved black bow at the waist and a long veil.
Furthermore, her wedding attire was designed by Helena Marque. Besides, Sergio Llull was wearing a black suit with a tie, and they both danced hard for the event.
A year apart, Llull and Canovas had a new addition to their small family.
On October 12, 2018, they had a baby daughter named Olivia Llull Canovas, which is quite adorned by their pet dog, Buddy.
On June 5, 2020, the duo had their second child, a daughter who they named Gabriela Llull Cánovas.
Altogether, they make a happy family who can often be spotted during a vacation to various locations.
Sergio Llull | Social Media Presence
Advancing on, Sergio Llull is an active user of social media, and he keeps his fan following updates in every situation he gets in.
Therefore, you can check out his Instagram handle, which goes by his real name, Sergio Llull (@23llull), with 386k followers.
Likewise, Llull is also on Twitter by his real name Sergio Llull (@23llull), with 645.8k followers.
Additionally, his wife is also an avid user of social platforms, and hence, you can get in touch through her Instagram handle. Well, her Instagram account is Almudena Canovas (@almusca), with 11.6k followers.
Sergio Llull | FAQs
What is the jersey number of Sergio Llull?
Sergio Llull features in jersey number 23 for the EuroLeague club Real Madrid.
Is Sergio Llull playing at the Tokyo 2020 Olympics?
Yes, he is included in Spain's 2020 roster for the Tokyo Olympics.