Tokyo Jetz is not NFL star Shaquill Griffin's wife but is his girlfriend. The couple welcomed their first child in April 2023.
The Houston Texans cornerback, Shaquill Griffin, welcomed his first child and Tokyo's second, Amor Kahuna, on April 14, 2023. His girlfriend, Tokyo, is a rapper, making her debut in 2016.
The couple confirmed their romance in early 2022 and are since going strong. They also run a YouTube channel sharing family content in it.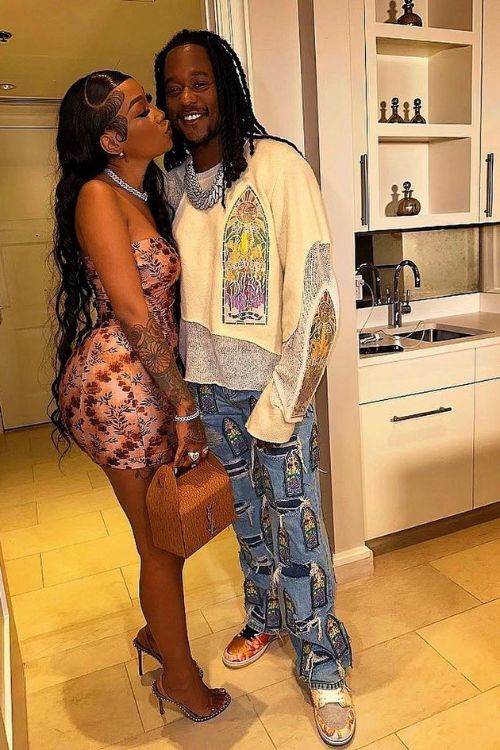 After a series of injuries limited his game time in Jacksonville Jaguars, Griffin looks ready to play for the Texans. Shaquill only played 19 games for Jaguars in two seasons.
Texans are currently in a remodeling phase after having brought C.J. Stroud into the mix. Griffin, with teammates Derek Singley Jr and Jalen Pitre, will look to help Texans all the way.
Shaquill Griffin Wife Or Girlfriend, Tokyo Jetz
Shaquil Griffin's girlfriend, Tokyo Jetz, kicked off her musical career in the back of her car freestyle rapping.
Born and raised in Jacksonville, Florida, Shauntrell Pender, famously known as Tokyo Jetz, has created a niche fan base in the rap world. Born on October 26, 1994, Tokyo is a year older than her NFL boyfriend.
After being noticed by the American rapper T.I., Jetz was signed to his record label, Grand Hustle Records, in 2016. From there, her career took off.
She moved to Atlanta a year later, and during that time, Jetz also released her debut album, Viral. The album featured two songs from T.I. and had a total of 13 tracks.
In 2018, Tokyo released two albums, Bondafide, and 90's Baby, and the former album gave Tokyo her first viral hit, No Problem. She has released two more albums, with Cancel Culture being the latest one.
In an interview, Tokyo gave an insight into the album's making and said it took inspiration from the cancel culture that goes in social media. She said, with more eyes on her, it's easier for people to point out her flaws.
In 2018, Jetz was featured in the famous YouTube video series from Genius. In the series, the artist sings their song and gives meaning behind the lyrics.
Shaquill Griffin Relationship Timeline With Tokyo Jetz
Shaquill Griffin and Tokyo Jetz decided to make their relationship on Instagram official in 2022.
According to various sources, before dating Shaquill, Shaquill dated another NFL star, Dalvin Cook. But they are no longer together, and Tokyo seems invested and happy in her new relationship.
The NFL Couple Becomes Instagram Official
One of the first pictures of Tokyo and Shaquill came on February 20, 2022, but it was more so as a friendly post.
Jetz took to her Instagram to share a series of photos of her and Shaquill celebrating at an event and captioned the post, "4lifers twin."
But a few days later, Tokyo confirmed her relationship with the footballer as they attended an event in Jacksonville together.
Sharing a photo of them sitting on the front row together, Tokyo wrote, "Not someone that u just find I'm a 1/1."
By March, their relationship was heating up. The NFL star, with his brother, Shaquem Griffin, and Shaquem's partner, took Tokyo on a trip to the Caribbean. The post finally put an end to the speculations as they confirmed their relationship.
Shaquill Treats Amir As His Own
In 2019, Tokyo Jetz gave birth to her first child, Amir. Tokyo has kept the details of Amir's father under wraps but did talk about her pregnancy in an interview with DJ Smallz Eyes.
The rapper said it was an unplanned pregnancy and that abortion did cross her mind. But in the end, she didn't let societal pressure get to her and decided to keep the baby.
Shaquill has treated Amir as his own kid, and one of his first pictures with Amir came on Easter 2022. The footballer took to Instagram to share pictures of him celebrating Easter with Amir and Tokyo.
On September 16, 2022, the couple celebrated Amir's three-year birthday in style. In 2022, the couple shared a video of them preparing a Christmas list with Amir.
The three-year-old, Amir, has a separate Instagram handle regularly updated by Tokyo.
Shaquill And Tokyo Welcomed Their First Child In 2023
On November 21, 2022, Tokyo took to her Instagram to share the exciting news of her second pregnancy. And on the same date, the couple also uploaded a video of their gender reveal party.
After giving a short trailer on their Instagram handle, the couple redirected their viewers to watch the full video on Shaquill's YouTube.
During the video, it was revealed that the couple would be bringing a baby girl into this world. On April 14, 2023, the couple welcomed their first child, Amor Kahuna.
The doting father, Shaquill, shared a series of pictures of his girl on his Instagram in May, including the snap of Amir holding his baby sister.
Shaquill captioned the post, "The Lord Knew How Much I Needed You And I Love You More Than Life Itself. My World Is Yours, Baby Girl."
Recently on Mother's Day, Shaquill shared an appreciation post for the mother of his child. There haven't been any hints that the couple might be engaged, but with their relationship heading strong, wedding bells might not be a delusion level of thinking.