Shaquille O'Neal, aka Shaq, is a former American professional basketball player who is often known as one of the most dominant players in NBA history.
He had a very successful NBA career and is currently working as a sports analyst on a tv program named "Inside the NBA."
Often regarded as one of the greatest basketball players, Shaquille led his teams to the NBA playoffs every season except for a few ones. In addition, he is the winner of four NBA titles.
The former American center had played college basketball for the LSU Tigers before he debuted in the professional league.
While there, he made tremendous progress in his playing style and consequently made a way into the NBA as the top pick.
O'Neal was always an aggressive man while on the court and was hard to deal with.
However, he was a different personality, always cracking funny jokes and having a friendly demeanor while off-court.
His remarks during press conferences and television interviews show how good he is as a person.
In any case, people who have been following him from the start know he always speaks his heart out, which is sometimes deemed a little rude.
Probably, because of the same qualities, Shaquille has never been away from tv screens and still entertaining his fans through tv shows, interviews, and podcasts.
We still have so much to discuss in this article. But first, let's see some quick facts.
Quick Facts
Full Name
Shaquille Rashaun O'Neal
Known As
Shaquille O'Neal
Date of Birth
March 6, 1972
Birth Place
Newark, New Jersey, USA
Nick Names
Shaq, Superman, The Big Aristotle
Religion
Islam
Nationality
American
Ethnicity
African-American
Zodiac Sign
Pisces
Age
51 Years Old
Height
7 feet 1 inch/2.16 m/216 cm
Weight
325 lb/147 kg
Eye Color
Dark Brown
Hair Color
Bald
Father's Name
Joe Toney
Mother's Name
Lucille O'Neal
Siblings
3 ( Ayesha, Jamal, and Lateefah O'Neal)
Education

Fulda American High School (Fulda, Germany)
Robert G. Cole High School (San Antonio, Texas)
Louisiana State University (Baton Rouge, Louisiana)

Marital Status
Divorced
Sexual Orientation
Straight
Ex-Wife's Name
Shaunie Nelson
Kids
Myles, Shareef, Amirah, Shaqir, Me'arah, and Taahirah
Profession
Former Basketball player
NBA Draft
1992 / Round: 1 / 1st Pick Overall
Position
Center
League
National Basketball Association (NBA)
Active Years
1992 – 2011
Net Worth
$400 Million
Currently Plays For
Retired
Jersey Numbers
32, 34, 33, 36
Social Media
Instagram, Twitter, Facebook
Merch
Signed Sneaker, Signed Jersey
Last Update

November 2023
Early Life, Family & Education
On March 6, 1972, Shaquille O'Neal was born in Newark, New Jersey, to his parents, Joe Toney and Lucille O'Neil.
He took his mother's surname as his father left him and his mother when he was an infant.
His biological father, Joe, was a drug addict and often got arrested for getting involved in illegal activities. So, Shaq did not see Joe for decades until he left playing basketball in the 2010s.
Shaq spent his early years with his stepdad, Philip A. Harrison, and his mom. Philip was a Jamaican national and worked as an Army sergeant. He never made O'Neal feel that he was someone else's son and raised him like his own.
O'Neal initially attended a local school in the Newark area. Surprisingly, he was already 6'6″ at age 13. The streets at that time were dangerous, but he had found a new way to stay out of trouble.
Rather than engaging in risky business, he enjoyed playing basketball in his free time during study breaks.
As he did not feel safe playing outside, he frequently visited the Newark branch of America's Boys & Girls Clubs.
Education
Besides Newark, Shaq spent considerable childhood time in Germany and Texas. After his family returned from Germany, they settled in San Antonio and attended Robert G. Cole High School.
He later attended Louisiana State University for his higher education. But, he dropped out of college in his third year to pursue an NBA career. He later obtained a bachelor's degree in Education from LSU.
Shaq holds a doctorate in Human Resources Management from Barry University in Miami, which was given to him in 2012.
Basketball Career
College Career
After having a successful basketball career at Robert G. School, Shaq joined Louisiana State University in Baton Rouge and played college basketball for the LSG Tigers.
During this time, he had already earned a widespread reputation as the one who could play hook shots similar to the legendary Kareem Abdul-Jabbar.
In addition, he had a good relationship with LSU coach Dale Brown, so he felt confident with the Tigers.
He finished his freshman season with an average of 13.9 points and 12.0 rebounds per game.
O'Neal had initially taken up a business major, but as his performance kept getting better, he decided to leave his studies for a while to pursue an NBA career.
He averaged over 27.6 points and 13.5 rebounds in his college career, for which he won many honors and awards, including a couple of the best college players of the year.
Professional Career
The Orlando Magic chose Shaquille O'Neal first overall in the first round of the 1992 NBA draft. He had a perfect start and won the Player of the Week award in his first week in the NBA.
He averaged 23.4 points and 13.9 rebounds per game in his rookie season. Consequently, he became the NBA Rookie of the Year and was also voted into the NBA All-Star Game.
Shaq played three more seasons with the Magic until he left them for the Los Angeles Lakers in 1996.
He helped the Magic reach the playoffs consecutively for three years, but his time with the LA Lakers was unforgettable.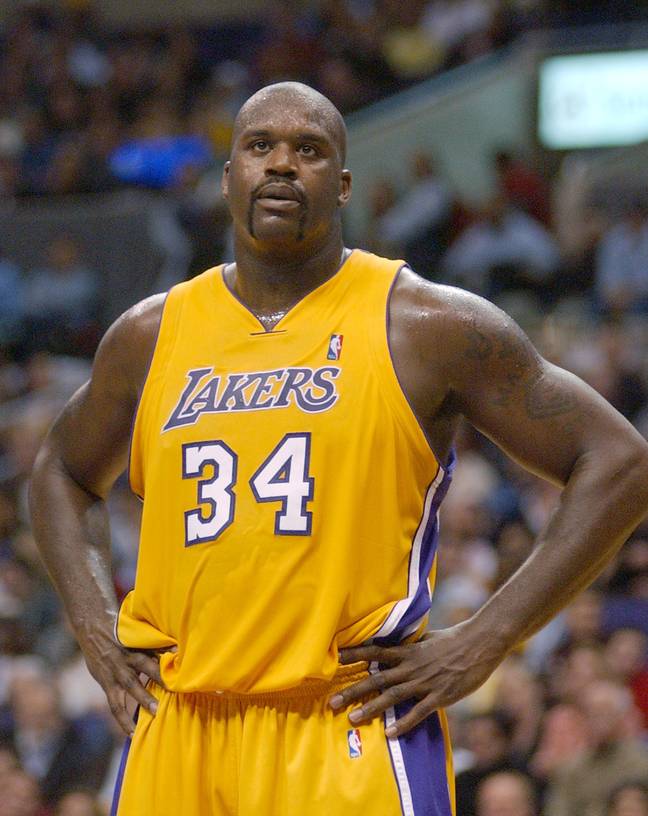 Although he suffered many injuries during his eight-year stay with the Lakers, he had numerous career-best performances.
He led them to the championship ring victories three consecutive years and had high point-scoring and rebounding rates.
He later won one more NBA championship with the Miami Heat in 2006. However, his last days with the Heat were hard for him as he got into an unfortunate feud with the head coach Pat Riley.
After the Heat released him, he played four more seasons with teams: Phoenix Suns, Cleveland Cavaliers, and Boston Celtics.
He eventually ended his 19-year-long playing career on June 1, 2011, through a social media post.
Apart from his club career, Shaq O'Neal has represented the American national team in numerous international tournaments.
Awards & Achievements
Some of his awards & achievements include:
NBA champion (2000-02, 2006)
NBA Most Valuable Player (2000)
IBM Award (2000, 2001)
NBA All-Star (1993-98, 2000-07, 2009)
Jersey no. 34 was retired by Los Angeles Lakers
NBA All-Star Game MVP (2000, 2004, 2009)
SEC Player of The Year (1991, 1992)
NBA Finals MVP (2000-02)
NBA Anniversary Team (50th, 75th)
Adolph Rupp Trophy (1991)
Jersey no. 32 was retired by the Miami Heat
All-NBA First Team (1998, 2000-06)
NBA All-Defensive Second Team (2000, 2001, 2003)
NCAA blocks leader (1992)
FIBA World Championship MVP (1994)
Jersey no. 33 was retired by LSU Tigers
Texas Mr. Basketball (1989)
USA Basketball Male Athlete of The Year (1994)
Beyond Basketball
O'Neal The Sheriff
Shaquille has always been clear about his particular interest in the police department of America.
He even joined the LA Country Sheriff's Reserve Academy in the early 2000s and started his work with the LA Port Police.
He later worked as the spokesperson for the Safe Surfin' Foundation, which specializes in taking action against sexual predators on the internet.
Similarly, he has also worked as a reserve officer in police departments in other states, such as Bedford County PD, Maricopa County PD, and Clayton County PD.
Shaq has also participated in some raids and law enforcement activities as a reserve officer. Moreover, he was declared honorary US Deputy Marshall on March 2, 2005.
However, the Bedford County and Maricopa County police departments revoked his deputyship after he was found rapping using racially derogatory words and other foul language in a freestyle diss towards ex-teammate Kobe Bryant in 2008.
Law enforcer Shaq himself was once accused of sneaking child pornography into his IT technician's computer. The case dragged him to court, but he came out clean in 2017.
Shaq The Entertainer
Apart from basketball, Shaq has kept himself busy engaging in various sectors within the entertainment industry. He is into music, acting, advertising, wrestling, and many more things that one can only imagine.
Although Shaq says that he has been a massive fan of the hip-hop genre from early on, he began composing and making rap songs in the early 90s. He released his first album, "Shaq Diesel," in 1993.
Similarly, he has been featured in songs of other musical artists, including Michael Jackson's "2 Bad." He believes that music is an essential part of his life.
To this day, Shaquille frequently gets featured in films, documentaries, and shows.
His debut movie was the 1994 sports drama film "Blue Chips," and since then, he has appeared in various projects.
In addition, he has worked as a voice artist in some animated films and series, including the 2013 film "The Smurfs 2" and the 2014 film "The Lego Movie."
As a massive fan of professional wrestling, Shaq showed up in wrestling tournaments on various occasions in the past.
He participated in the 1994 World Championship Wrestling (WCW) and later kept featuring in other wrestling competitions such as WWE and Impact Wrestling.
His first-ever wrestling match was in 2016 when he participated in the Royal Rumble in WrestleMania 32.
Net Worth
One of the highest-paid centers in the NBA, Shaquille O'Neal has a net worth of around $400 million as of November 2023.
He amassed a whopping sum of approximately $286 million from his NBA career.
Shaq has involved himself with famous companies such as Apple, General Electric, and PepsiCo since the 1990s.
He has also partnered with a building company named Boraie Development which takes up projects mainly in New Jersey.
Similarly, he has invested in companies in various sectors, including Tout Industries, NRG Esports, Krispy Kreme, Loyale3 Holdings, and many more.
He was also a minority owner of the Sacramento Kings previously but sold shares recently in 2022.
Furthermore, O'Neal is estimated to own over 50 different businesses in different sectors.
Personal Life
Shaq was previously married to Shaunie Nelson, who he met in 1998. After two years of dating, the lovers were engaged to each other in 2000.
She is active in the media sector, mainly working as a reality show producer and tv presenter. In addition, she is a renowned philanthropist.
Their first son, Shareef, was born on January 11, 2000. They eventually tied the knot almost a year after the birth of their second child, Amirah, on November 13, 2001.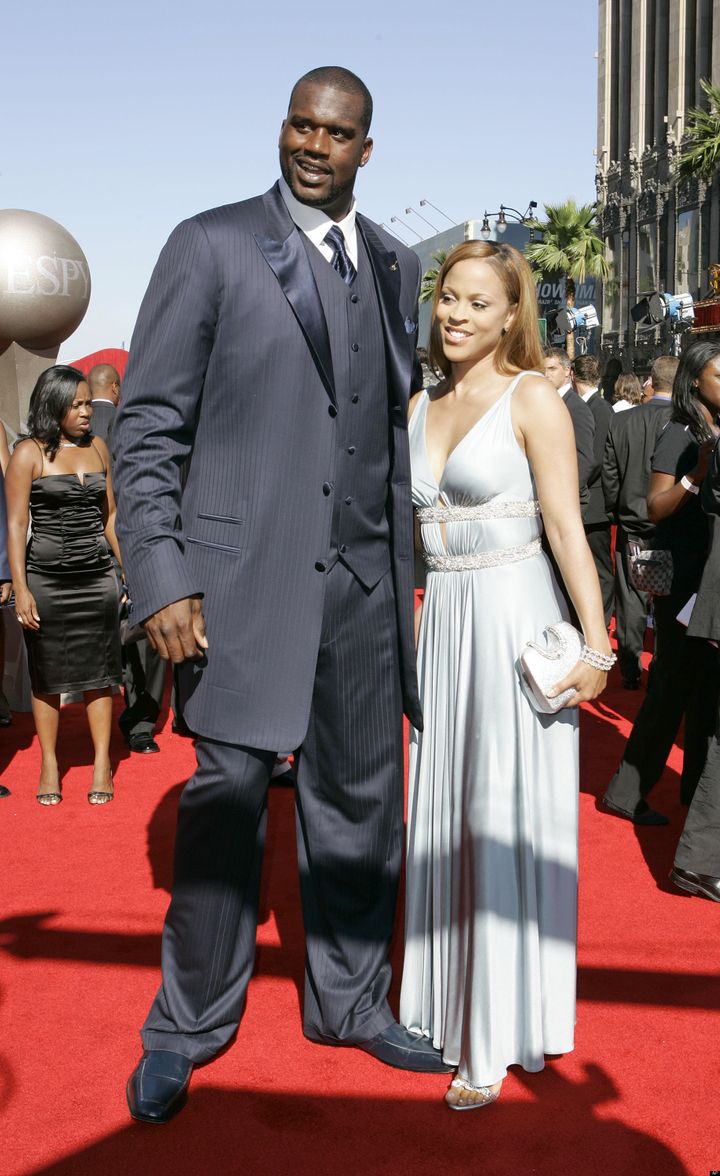 Shaunie gave birth to two other children, namely Shaqir and Me'arah. Both Shaq and Nelson had one child, each from their previous relationships.
The couple eventually divorced in 2011 following a two-year-long legal battle that started after Shaunie filed for separation, citing irreconcilable differences on November 10, 2009.
After the divorce, they both remained unmarried till in 2022, when she married pastor Keion Henderson.
On the other hand, Shaq has stayed unwedded but has had a few relationships over the years.
He has dated reality star Nicole "Hoopz" Alexander and model Laticia Rolle and is currently speculated to be in a relationship with actress Annie Ilonzeh.
Most people don't know that his eldest son, Shareef, has followed in his footsteps and is pursuing a career in basketball.
He played college basketball for the UCLA Bruins and LSU Tigers. On June 6, 2022, he declared for the NBA draft but went undrafted.
Regardless, in the 2022 NBA Summer League, he played with the Los Angeles Lakers, and on September 28, 2022, he signed with the NBA G League Ignite.
Social Media Presence
The former NBA star is active on social media platforms and has garnered a huge amount of fans on his social media handle.
Instagram: 29.5M Followers
Twitter: 15.9M Followers
Facebook: 9.5M Followers
Popularity Graph
Shaq is a famous personality, even outside the world of basketball. He has fans worldwide who adore and love to know about him.
The line graph represents his 12 months search trend.
Frequently Asked Questions (FAQs)
How many Five Guys Restaurants does Shaq have?
Shaq has around 155 Five Guys restaurants across America.
How much of Papa John's shares does Shaq own?
According to the information he submitted to the Securities and Exchange Commission, Shaq owns approximately 89,723 Papa John's shares.