We are all aware of the calmness a sea possesses before it's a storm. In simple terms, Shohei Ohtani is that very calm of the sea before he unleashes his storm on the baseball field.
Anyways, we have always talked about the G.O.A.T in every field. As you come to Major League Baseball, it's no doubt that Ohtani is the "one" here.
Many have even started it unfair that we compare him to the legendary player Babe Ruth.
Also, the reason stated is simple. Shohei Ohtani is titled greater than Babe Ruth. Today, Ohtani is the first player to be selected as an All-Star pitcher and hitter.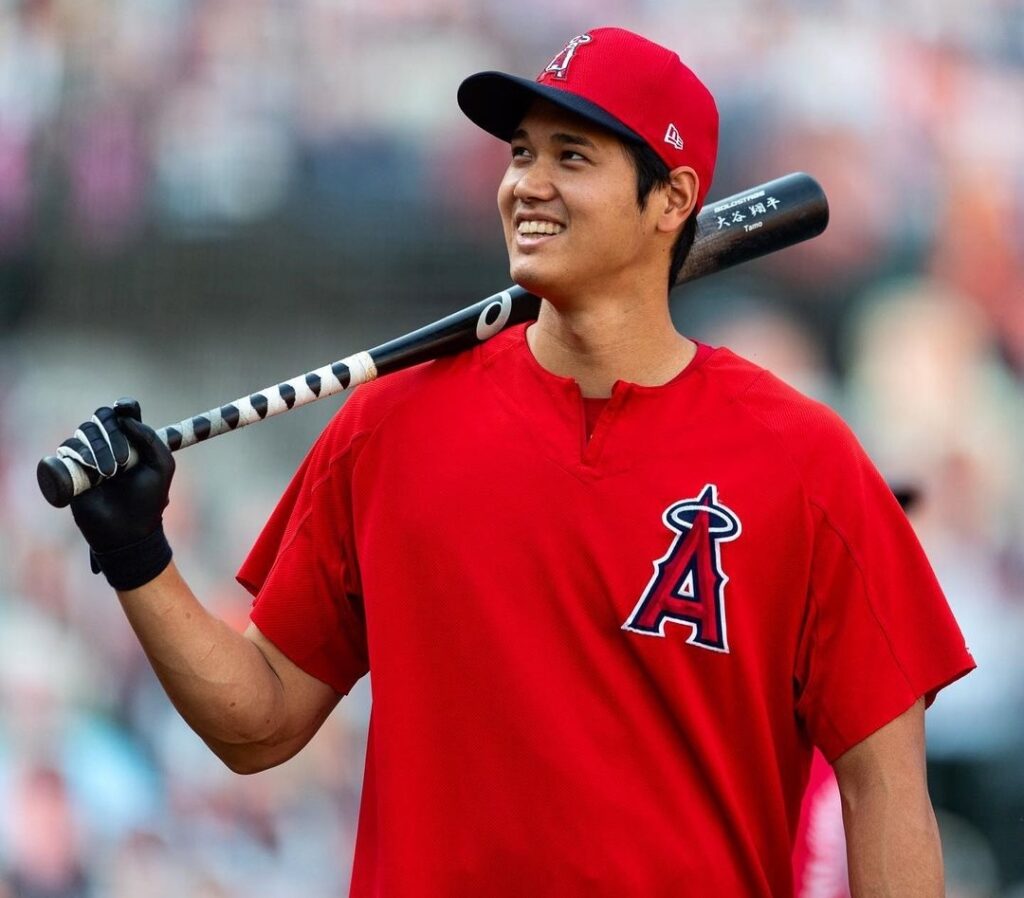 Overall, let's dive into the lifestyle and early days of the baseball star, Shohei Ohtani.
Quick Facts
Full Name
Shohei Ohtani (大谷 翔平)
Date of Birth
July 5, 1994
Birth Place
Ōshū, Iwate, Japan
Nick Name
Sho Time
Religion
Christian
Nationality
Japanese
Ethnicity
Asian
Zodiac Sign
Cancer
Age
29 years old
Height
6'4″ (1.93 meters)
Weight
92 kg (203 lbs)
Hair Color
Dark Brown
Eye Color
Black
Build
Athletic
Father's Name
Koru Ohtani
Mother's Name
Kayoko Ohtani
Siblings
Two older siblings (one named; Ryuta Ohtani)
Education

Anetai Elementary School
Oshu City Mizusawa-Minami Junior High School
Hanamaki Higashi High School

Marital Status
Unmarried
Girlfriend
None
Profession
Baseball Player
Position
Pitcher, Designated Hitter, and Outfielder
Playing Style
Bats (Left), Throws (Right)
Professional Debut

March 29, 2013 (NPB)
March 29, 2018 (MLB)

Teams

Hokkaido Nippon-Ham Fighters (2013–2017)
Los Angeles Angels (2018–present)

Net Worth
Under Review
Social Media
Instagram, Twitter
Merch
Rookie Card, Funko Pop, Jersey, Signed Items
Last Update
September, 2023
Shohei Ohtani | Age, Height, and Body Measurements
Celebrating his birthday on July 5, he is 29 years old. He is born under the sun sign, Cancer.
Shohei Ohtani is a handsome man with a healthy build and tight body. He has fair skin with short black hair, and his eyes are dark brown. Not to mention, he emits a smile that could melt people.
Anyways, glancing at his body measurements, he is indeed a man of tall height. He towers at 6 feet 4 inches (1.93 meters) while weighing 92 kg (203 lbs). Well, he wears a shoe size of 11 (US).
Ohtani features a chest size of 43 inches, a biceps size of 16 inches, and the waist size of 34 inches.
Indeed, to stay in shape, Shohei Ohtani is involved in numerous workouts that include cardio, deadlifting, treadmill run, strengthening, and many more.
He recently changed his dietary plans and workout schedule as per his requirements.
Read more about: Dakota Hudson's career, earnings, net worth, and life.
Shohei Ohtani | Early Life
On July 5, 1994, Ohtani was born in Ōshū, Iwate, Japan. Well, he is the youngest of there children of Kayoko Ohtani and Koru Ohtani.
Ohtani comes from an athletic background as both his parents were professional athletes. His mother, Kayoko Ohtani, used to be a national-level badminton player during high school.
Likewise, his father, Toru Ohtani, used to be a corporate league baseball player. In the meantime, Ohtani also worked in the local Mitsubishi plant.
Hence, it was his father who always encouraged Shohei to play baseball.
In addition to that, Shohei commenced early on the field, and by the age of eight, he had become a regular player in a little weekend league.
As time gradually matured, Shohei got better with the games; however, he never took baseball to be something more than just a hobby.
Education
Shohei Ohtani attended and graduated high school from Hanamaki Higashi High School.
During those days, he realized his capability in baseball. Shohei was a big fan of power-hitting left fielder Hideki Matsui from Tokyo's Yomiuri Giants as a youth player.
Additionally, he never left a single-player match and often watched it on television.
Amateur Career
All along with his high school career, Shohei Ohtani discovered and worked on his capabilities. Well, he is both interested in being a hitter and a pitcher. He posted a 160 km/h (99 mph) fastball as a high schooler.
Back then, he ventured and featured in numerous tournaments. In the 2012 Under-18 Championship, Shohei posted 16 strikeouts, eight walks, five hits, five runs, and a 4.35 earned run average.
Following it, it was no surprise that the young Shohei gained numerous contracts from professional teams. He was also sure to play in the United States as he would leave Japan right after high school.
Later, things changed as the Japanese League and Shohei had a month-long negotiation.
After all, he signed with the Hokkaido Nippon-Ham Fighters, where Ohtani served both as a pitcher and position player.
Shohei Ohtani | Professional Career
Of course, Shohei Ohtani started early on the professional field at eighteen. Hokkaido Nippon-Ham Fighters drafted him on the team on March 29, 2013.
Hokkaido Nippon-Ham Fighters
Shohei starred as the right fielder in the season-opening match as a rookie. The same year of his debut, he also starred in the Pacific League roster, where he was both the outfielder and pitcher.
Shohei was the one to surpass several titles, becoming the second rookie to be drafted out of high school and the first to star in two positions.
Not to mention, his fans voted him as the high-profile rookie into the All-Star Game.
Not long after it, Shohei stood as the first Japanese baseball player with double digits in both home runs and wins.
Following in the next year, he became the first Japanese to have the fastest pitch with his 162 km/h (101 mph) fastball.
By 2014, Shohei led the Japanese national team to victories in the international. Also, he had become a dominant pitcher with numerous awards lurking under his name.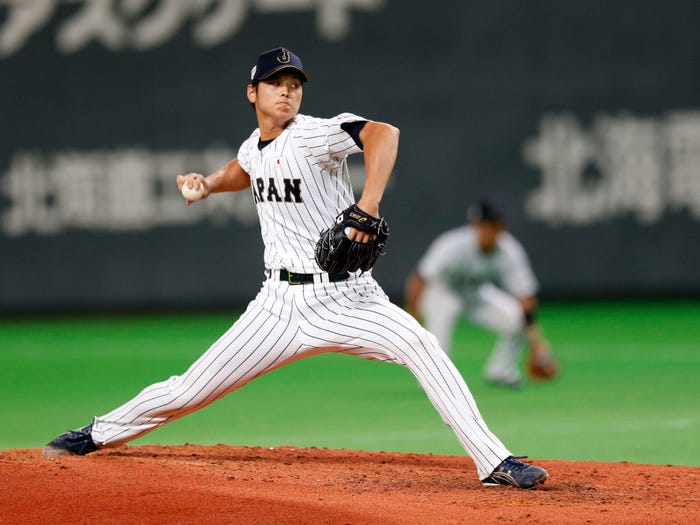 Furthermore, he bagged the awards as the first player to receive pitcher and hitter awards. After years of gameplay in the Japanese League, Shohei finally stood out for the teams in the MLB.
He faced an injury that made some few backs off during their tenure, but he still had numerous choices.
Learn about: Zac Eflin Bio: his career, earnings, and personal life!
Los Angeles Angels
On December 8, 2017, Shohei Ohtani signed a multi-year contract with the Los Angeles Angels. He started his gameplay on the Opening day with the 25-man roster.
Shohei became the first Angels player to homer in his first two career home games within a few days.
In early 2018, he made his pitching debut, striking out six batters in six innings while allowing three runs to pick up his first MLB win.
By September 2018, Shohei had collected the 19th home run for a single season. It broke the record for most homerun collected by a Japanese player.
The following year, he became the foremost Japanese player to hit for the cycle in MLB history.
Later, Shohei did face some problems during the start of 2020; however, he was soon to be back on the form.
In 2021, after nearly a century, he became the first player to start a game on the mound and led the Majors in home runs.
Similarly, he is the first pitcher and the first Japanese player elected to the 2021 Home Run derby. At the same time, he is now the foremost player to reach 30 home runs and 10 stolen bases in the first 81 games.
Well, Shohei Ohtani has successfully written his name on the pages of our history. To explain, he is the first baseball player to be selected as an All-Star as both a position player and a pitcher.
Awards
NPB (Nippon Professional Baseball)
Japan Series champion (2016)
5× NPB All-Star (2013–2017)
Pacific League MVP (2016)
2× Pacific League Pitcher Best Nine (2015–2016)
Designated Hitter Best Nine (2016)
Pacific League ERA leader (2015)
Pacific League Battery Award (2015)
2x Japan Professional Sports Grand Prize (2016 and 2018)
WBSC Player of the Year (2015)
MLB (Major League Baseball)
All-Star (2021)
AL Rookie of the Year (2018)
International Arena
2015 Premier12 (bronze medal)
Injuries
As a professional athlete, Shohei Ohtani has faced numerous injuries to date. One of his initial professional injuries came in the 2016 Japan Series.
Back then, he faced an ankle injury, which required surgery on his right ankle. In addition to that, he couldn't attend the 2017 World Baseball Classic.
Later, in December 2017, after signing with the Los Angeles Angels, he struggled with a first-degree UCL sprain in his right elbow.
For that reason, he took the injection to treat his injury with platelet-rich plasma.
Additionally, during his match against the Boston Red Sox, Shohei exited the game early after his second innings due to a blister on his right middle finger.
He was on the injured list right after it because of his Grade 2 UCL sprain in his right elbow. Hence, he had platelet-rich plasma and stem-cell injections for it.
Later in 2018, Shohei's MRI portrayed damage to his UCL. Herewith, he successfully underwent the Tommy John Surgery in October.
Similarly, in 2019 they announced that Shohei also needed to undergo another surgery for the bipartite patella.
In 2020, he then suffered from a flexor strain in his right elbow. In the meantime, he also missed a start against the Toronto Blue Jays due to a blister.
Also, get the details on Scott Hatteberg, his life, career earnings, and personal life.
Shohei Ohtani | Career Stats
You can also find Shohei Ohtani's career highlights, baseball news, and rankings on fantasy sites.
Shohei Ohtani | Net Worth
Stepping into the professional field, Shohei Ohtani hasn't only bought fame and success and has earned quite a lot. However, Ohtani's net worth is still under review.
As a rookie, Shohei signed a year contract that earned him an average salary of $545,000. Following it, he made an annual average of $650,000.
Initially, he signed with the Los Angeles Angels with a signing bonus of $2.315 million. However, recently, he resigned his contract with the Angels for two years worth $8.5 million.
As of 2023, Shohei is reported to make an annual average salary of $4,250,000.
His endorsement deals include Asics, JAL Airlines, Mitsubishi Financial Group, Seiko Watch in Japan, Fanatics, Oakley, and Topps.
Shohei earns almost $10 million from his endorsement deals, according to the sources. Likewise, he is also the brand ambassador for Tokyo Nishikawa—an air mattress company.
He was an ambassador for some of the other companies: Savas Protein Powder, Aquarius Sports Drinks, Oakley Sports Sunglasses, and Descente, a sports apparel company.
Furthermore, his brand deals earn him around $1 to $2 million.
Talking about the other physical assets of the Ohtani, he owns a big house with a large swimming pool.
Charity
Ohtani is as active in charitable activities as he is in his game. Back in 2014, when Shohei Ohtani set the record with the fastest pitch with his 162 km/h (101 mph) fastball, his jersey came in the auction.
His jersey was sold for 1,752,000 yen ($17,000), becoming the top seller at the All-Star 2014 Charity Auction. Later, he donated those earnings to three Tohoku earthquake children's relief funds.
During the start of the pandemic, Shohei voiced his support for health care workers in his homeland. He supported the Japan Mask Project and even raised funds for the Japan Heart.
Likewise, Shohei also donated his bat at the charity auction for Yahoo Auction.
Shohei Ohtani | Personal Life
Talking about Shohei Ohtani's personal life, he is still single. Yes, he is married; however, he has been involved in numerous dating rumors before.
At first, he was linked with a Hawaiian pitcher and sports marketer, Kamalani Dung.
They were seen in a picture together; hence, the words spread out. As for his posts and updates, Shohei is still single.
Social Media
Instagram: 1.3 Million
Twitter: 26k Followers
You might be interested in reading about Jung-Ho Kang's Bio: his earnings, journey on the field, and many more details.
Shohei Ohtani | FAQs
What car does Shohei Ohtani drive?
Shohei Ohtani drives a Tesla Model X, and it is also his first purchase.
How much does Shohei Ohtani's rookie card costs?
Shohei Ohtani Topps's rookie card of #700 costs around $6495, while his #600 costs him $13.75.
What are Shohei Ohtani's NPB and MLB career statistics?
Shohei Ohtani's NPB's career statistics depict a win-loss record of 42–15. Additionally, he portrays an earned run average (ERA) of 2.52 and a batting average of .286.
Also, he has a strikeout of 624 with 48 home runs in 166 runs batted in.
Talking about his MLB statistics, Shohei depicts a win-loss record of 8-4. Furthermore, his earned run average (ERA) is 3.89, while his batting average is .271.
Similarly, the Japanese player features 153 strikeouts with 78 home runs in 215 runs batted in.
What is Shohei Ohtani's jersey number?
Shohei Ohtani wears jersey number 17 for the Los Angeles Angels.
What is the baseball card value of Ohtani?
Ohtani's baseball card value is worth $10.52.
What is the longest home run score of Shohei Ohtani?
Ohtani has recorded the 137-meter (451-foot) home run. This is the longest home run he has scored to date.
Will Shohei get traded?
Looking at the performance of Shohei, his performance is the best among the other players in the league. Also, he has signed the contract for the 2022 season. So there is no chance that Shohei will get traded anytime soon.