The name Solomon Hill rings very loud in the Basketball world. Also, widely recognized as one of the most talented American basketball players, Hill is winning many people's hearts with his skills.
The Fairfax High School basketball player Solomon played basketball with many professional basketball teams like Indiana Pacers, Memphis Grizzlies, Miami Heat, etc.
From a young age, Solomon showed the talent of a superstar, and with the height and weight match, he went to become the best in the history of basketball.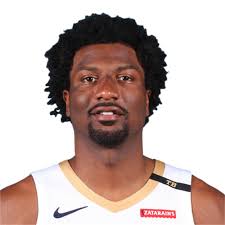 His early introduction to basketball helped solidify his passion for them. Also, a proud husband of Lo'ren Hill, Solomon is blessed with two kids.
In this article, we'll be discussing a lot about Solomon's personal and professional life. So keep reading till the end of the article.
Before we go through more detail on Solomon, let's have a look at quick facts.
Quick Facts:
Full Name
Solomon Jamar Hill
Date of Birth
March 18, 1991
Birthplace
Harvey, Illinois, United States
Known as
Solomon Hill
Religion
Unknown
Nationality
American
Ethnicity
African
Education
Fairfax High School
University of Arizona
Horoscope
Pisces
Father's Name
Solomon Crawford
Mother's Name
Laverne Hill
Siblings
Unknown
Age
32 years old
Height
6'7 inch
Weight
102 kg
Hair Color
Black
Eye Color
Black
Body Measurement
Unknown
Sexual Orientation
Straight
Profession
Basketball Player
Position
Shooting guard
Small forward
Active Years
2013-Present
Affiliation
NBA
Draft year
2013 (Round: 1 / Pick: 23)
Teams
Atlanta Hawks
Memphis Grizzlies
Miami Heat
New Orleans Pelicans
Indiana pacers
Current Team
Atlanta Hawks
Marital Status
Married
Wife
Lo'ren Hill
Kids
Yes
Net Worth
$15 Million
Social Media
Instagram, Twitter
Merch
Jersey, Autographed trading cards
Last Update
May, 2023
Where is Solomon Hill from? Early Life, Family, and Education
Solomon Jamar Hill shortly, Solomon Hill was born on March 18, 1991, in Harvey, Illinois, United States. He is the son of proud parents Solomon Crawford and Laverne Hill.
The basketball player spent his childhood creating beautiful memories with his parents and siblings. However, the details regarding his siblings are still unknown.
Talking about his academic records, Hill joined Fairfax High School in Los Angeles, California, to secure his high school degree. After a successful high school degree, Hill attended the University of Arizona for further higher degree study.
Unfortunately, there is not much information related to Hill's early days. If found, the readers will be updated soon.
How old is Solomon Hill? Age, Height, and Physical Appearances
Solomon is 32 years old as of 2023. According to the horoscope charts, he belongs to the Pisces sun sign. And from what we know, they are creative, empathetic, and generous, and fun-loving.
Hill somewhat matches with the character. Moving on, Hill posses well-defined facial structures and an athletic body. When talking about the hill's height, he is blessed when it comes to height.
The young basketball player has an impressive height of 6 feet 7 inches (1.8)m. With regular exercise and a proper diet plan, Solomon weighs around 102 kg (224 lb).
However, very strict with his physical fitness and diet, Hill possesses a stunning body appearance among other players of his age.
When it comes to describing his physical appearance, he got the black color with a black pair of eyes. Sadly, his other measurements are unknown now, but we will update you on those soon.
Moreover, Hill belongs to American Nationality with African ethnicity. Sadly the religion he follows is still unknown to the public.
Solomon Hill | Early Career
Solomon started his career in Basketball after he attended Fairfax High School. He finished his junior season with an average of 10.7 points and 8.7 rebounds per game.
Similarly, his senior season score includes 16.2 points, 11.7 rebounds, and 5.1 assists per game. Moreover, Hill was listed as the No three small forward and No. 27 player in the nation for his high school basketball team achievement.
After joining the University of Arizona, he averaged 6.7 points, 4.4 rebounds, and 1.7 assists in 31 games in his freshman season. In his sophomore season, he averaged 8.0 points, 4.7 rebounds, and 1.7 rebounds in 38 games.
Moreover, he was also named All-Pac-12 first team, the NABC All-District 20 first team, and the Pacific Life Pac-12 All-Tournament team. Not to mention, Hill was also named Arizona's Most Outstanding Player.
Solomon's finished his junior season averaging 12.9 points, 7.7 rebounds, 2.6 assists, 1.06 steals in 35 games he played. Likewise, he was also named an All-Pac-12 first team and the NABC All-District 20 first team.
Later, in his senior season at the University of Arizona, he averaged 13.4 points, 5.3 rebounds, 2.7 assists, and 1.1 steals in 35 games he played.
Solomon Hill | Professional career
After successfully graduating from the University of Arizona, Hill got selected by Indiana Pacers for the 2013 NBA draft. On July 3, he signed a rookie scale contract with the Pacers for the 2013 NBA Summer League.
In the final regular-season game, he scored career-best five rebounds with five points on 2 for six shooting in a win against Orlando Magic.
During the 2013-2014 regular season, he played in 28 games scoring 1.7 points with 1.5 rebounds. Unfortunately, Solomon missed the 2014 NBA summer league due to an ankle injury.
However, after recovery, he was back at the Pacers, scoring a career-high 90 points in a 97-90 loss to Washington Wizards. Similarly, after scoring 21 points and a career-high 12 rebounds, Hill made a quick 99-90 win over the Chicago Bulls.
In the 2015 regular-season finale on April 13 with the Pacers, Solomon scored the season-high 25 points in a 97-92 win over Milwaukee Bucks.
Later, Hill signed a 4-year contract with the New Orleans Pelicans on July 21, 2016. In this case, Hill, with the New Orleans Pelicans team, scored the season-high 23 points in a 95-91 win over Memphis Grizzlies on February 15, 2017.
Similarly, after playing against Houston Rockets, Hill scored a career-high 30 points in a 128-112 win. This happened on March 17, 2017. After surgery to repair a torn hamstring on August 27, 2017, Hill took a break from the match.
You might also want to read: <<Sabrina Ionescu Bio: Basketball, WNBA, Family & Net Worth>>
The young player returned to the Pelicans in March 2018 for playing against Boston Celtics. He played eight minutes and finished with one assist in a 108–89 win.
The American native joined Memphis Grizzlies on July 6, 2016. He was drafted to the Grizzlies along with Miles Plumlee for Chandler Parsons.
On February 6, Solomon was drafted to the Miami Heat in a 3-team trade. After hill collaborated with Miami, the team reached the 2020 NBA Finals. The same year on November 25, Hill signed a contract with Atlanta Hawks.
Who is Solomon Hill's wife? Lovelife, Wife, and Kids
Being a professional basketball player, Hill is found to keep his private life secret. But we still managed to share some of the interesting facts about him. Solomon is happily married to the love of his life Lo'ren Hill.
Hill's couples started dating on September 1, 2018, and after a year of dating, the pair tied the knot on July 21, 2019.
After a successful marriage life, the couples announced that they expect their first child, a boy, on their first marriage anniversary. With that, on October 19, the little one was born, and the couples named him Silas Jahlil Hill.
When moving to Hill's past relationship, he was alleged with Ashli Scott in 2016. Solomon also has a daughter. However, it's uncertain whether the baby is of his girlfriend Ashli or another woman.
In general, Hill, along with his wife, daughter, and son, lived together, creating beautiful memories.
Solomon Hill | Awards and Achievements
Through his utmost passion and dedication, Solomon Hill has achieved heights of success in his basketball career. So, we have some of the best awards and achievements he has received in his basketball career.
2009: No. 3 small forward and No. 27 players in the nation.
2010: Most improved player of Arizona.
2011: All-Pac-12 first team, NABC All-District 20 first team, Pacific Life Pac-12 All-Tournament team, Arizona's Most Outstanding Player.
2012: All-Pac-12 first team, NABC All-District 20 first team, USBWA All-District IX first-team honoree, Sapphire Award Winner.
December 12, 2012: Awarded with the title Most Valuable player of 2012 Diamond Head Classic.
Solomon Hill | Career Stats
How much does Solomon Hill make? Net-Worth and Salary
It is self-evident that Solomon earns quite a good amount of money and lives a lavish life. He has been working as a professional basketball player since 2013.
Undoubtedly, he has a whopping amount of money. Most of Hill's income comes from his basketball games contract.
As of 2023, Solomon Hill's net worth is estimated to be around $15 Million.
Likewise, in 2016, Hill signed a 4-year contract with New Orleans Pelicans with an average salary of $12,000,000 annually, including $48,000,000 guaranteed.
In 2018, the young basketball player base salary was around $12,252,928 with a dead cap of $25,011,709. Likewise, in the 2019/20 season, his earning was reported to be approximately $13,290,395.
However, according to the stats, his salary will increase if he keeps the same pace. According to sources, by the end of the 2021 season, Hill will have made approximately $54 million in career earnings.
At present, Hill is enjoying a luxurious life with his wife and kids. However, the young basketball player has not revealed anything related to his personal assets, bungalow, cars, and other property.
Social Media Presence:
Hill is a renowned basketball player and has gained thousands of followers from all over the world on his social media.
Solomon's popularity has been growing ever since he began his career, and now he has managed to build a substantial social profile.
At the same time, Solomon actively appears on different social media. He is available on Instagram, Twitter. Also, the basketball player shares and tweets stuff related to her family and professional care.
On Instagram, Hill is available as solohil, making 40.4k followers now. His Instagram posts are mostly related to his family and basketball career.
One can also see hill posting pictures of his kids. At present, he has nearly shared around 55 posts. Also, his account is well organized and looks clean.
Solomon is available on Twitter as @solohill and has 2,287 tweets to date. He continually tweets breaking news and rumors that bubble up in the Basketball and media world.
Likewise, Hill joined the site back in May 2009, making 30.3k followers until now.
Some FAQs:
What happened between Solomon Hill and LeBron James?
Solomon Hill was accused of injuring LeBron James during a game against the Los Angeles Lakers on March 21, 2021. LeBron was diagnosed with a high-ankle sprain.
The injury occurred when Solomon was going after a loose ball in the second quarter when he rolled over LeBron's right ankle, causing him to leave the game, with the Lakers loss 99-94.
After the game, Solomon was heavily criticized, saying that he intentionally injured LeBron. However, Hill later responded to the criticisms and tweeted,
would never disrespect the game and take a player out purposely… he knows that. that's all that matters to me. praying for a speedy recovery. #riptothementionstho #moredmsthansaweetie

— solomon hill (@solohill) March 20, 2021
Who is Solomon Hill's agent?
Solomon Hill's agents are Chris Emens and Omar Wilkes.
What is Solomon Hill career-high?
On March 17, 2017, Solomon set his career-high in points in New Orleans's home win against Houston, scoring 30 points.
What is Solomon Hill's defensive rating?
Solomon has a defensive rating of 114.9 as of the 2021 season.
What is the jersey number of Solomon Hill?
#9– Pacers
#44– Pacers, Pelicans, Grizzlies, Heat.
What college did Solomon Hill go to?
Solomon Hill attended the University of Arizona.
What position does Solomon Hill play?
Solomon Jamar Hill is an American professional basketball player who plays in the Small forward and Shooting guard position.
What is Solomon Hill's defense rating?
Solomon Hill's defense rating is 114.6 as of the 2020-21 season.