We don't quite often see a player in a major role until late in their career. It's all years and years of struggles and honing of skill; however, players as Spencer Howard is a genuine talent.
With just a year into his professional days and he has already made a name of his own with the tools of an ace.
Spencer Howard first made his professional entry in 2017 through Philadelphia Phillies in the Major League Baseball (MLB).
What's more impressive is that he is already polished with his talents and thus, gave his young shoulder for the Phillies to rely upon, and in fact, there is no one so concerned for it.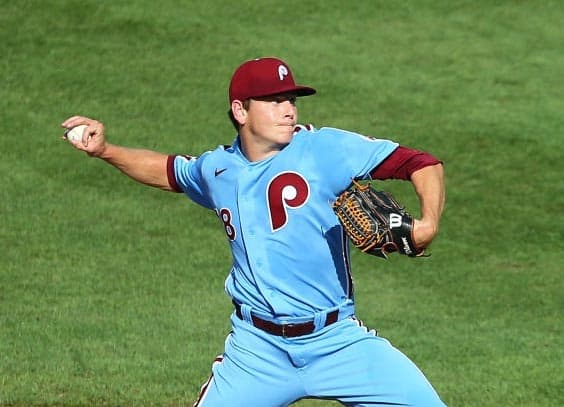 Apart from his big league, Howard was previously engaged with his Minor League Baseball games and even played for his school's team.
All in all, Howard moved forward with an excellent scouting report stating to be the third-best pitcher of the Philadelphia Phillies.
Today, let's dive into the life of Spencer Howard and discuss all his journeys as a professional baseball player. Similarly, we will also discuss his early life, education, career, net worth, and many other exciting topics.
But, firstly, let's have a glance at the quick facts of Spencer Howard.
Quick Facts:
| | |
| --- | --- |
| Full Name | Spencer Lee Howard |
| Birth Date | July 28, 1996 |
| Birth Place | San Luis Obispo, California |
| Nick Name | A fresh Arm |
| Religion | Christianity |
| Nationality | American |
| Ethnicity | White |
| Education | Templeton High School, California Polytechnic State University |
| Horoscope | Leo |
| Father's Name | Kevin Howard |
| Mother's Name | Jackie Howard |
| Siblings | Savanna Howard |
| Age | 27 Years Old |
| Height | 6'3 inches(1.91 m) |
| Weight | 93 kg (205 lb) |
| Shoe Size | Unknown |
| Hair Color | Light Brown |
| Eye Color | Grey |
| Body Measurement | Unknown |
| Build | Athletic |
| Marital Status/ Wife | Unmarried/ No |
| Children | No |
| Affiliations | Philadelphia Phillies |
| Profession | Baseball player |
| Net Worth | $1 million |
| Salary | $575,000 (annual salary) |
| Jersey Number | 48 |
| Merchandise | Rookie Card |
| Active Since | 2014-present |
| Social Media | Facebook |
| Last Update | December, 2023 |
Spencer Howard | Early Life, Parents, and Education
Spencer Lee Howard shortly, Spencer Howard was born in San Luis Obispo, California, to parents Jackie Howard and Kevin Howard. Likewise, Howard is American by nationality and belongs to the white ethnicity.
Along with his parents, Howard grew up with his sister named Savanna Howard. Moreover, Spencer was very passionate about baseball from his childhood and showed signs of talent and determination.
Likewise, Spencer didn't let this passion for baseball fade away and continuously tried to practice hard from his high school days.
High School Career
During his amateur career, Howard attended Templeton High School in Templeton, California. Later, Howard graduated in 2014, and by then, he was already on a baseball team pursuing his dream.
At the same time, he featured for the Eagle's baseball team as an outfielder and a pitcher. As a result, he had a .306 batting average, 2.20 earned run average (ERA), 87 strikeouts, and 66. 2 innings. All in all, as a senior, he had 7-3 as a win-loss record.
In the meantime, Spencer Howard was also the holder of the 2014 North San Luis Obispo County Player of the Year.
Additionally, he had also bagged the first-team All-San Luis Obispo County Honors, making him the most valuable Los Padres League player.
By the end of the time, Howard contributed to the Eagles' 15-12 overall record and gave them the space in the Los Padres League as the second.
All in all, they also accomplished a berth in the CIF-Southern Section Division 5 playoffs. To sum it up, Spencer Howard had posted .269 hits with five doubles and one triple.
College Career
As for his college, he enrolled at the California Polytechnic State University, where he commenced his gameplay for the Cal Poly Mustangs. Talking about his academics, Howard majors in business administration.
Alongside that, Spencer Howard played for the Bellingham Bells in West Coast Collegiate League during the summer.
Consequently, he appeared in a total of 14 games for them, where he posted one save and a 3.17 ERA with 23 strikeouts over 17 innings.
As for his college record, Howard had an 8-1 win-loss record and a 2.05 ERA. Altogether, he was also named to the second-team All American.
Spencer Howard | Age, Height and Body Measurements
The talented baseball player Spencer was born in 1996, which makes him 25 years as of now.
Also, his birthday falls on July 28 under the sun sign Leo. And from what we know, the people of this sign are known for being determined, talented, and passionate.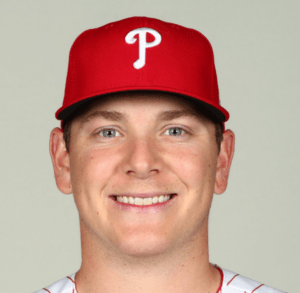 Moreover, Howard is a young athlete with a medium-built figure standing at 6 feet 3 inches (1.91 m) while weighing 93 kg (205 lb).
Thanks to his years of hard work and running on the field, Howard not only has a toned build but a balanced body as well. No wonder he is called "A Fresh Arm" within the fandom.
As for his looks, Spencer is a fair-skinned boy with light brown hair, which is shortly maintained. Additionally, he has a small oval face and grey eyes to compliment his looks.
Spencer Howard | Professional Career
Minor League Baseball
In 2017, Philadelphia Phillies drafted Spencer Howard into the professional area as a 45th overall pick in the second round of the 2017 Major League Baseball Draft.
Williamsport Crosscutters
Thus, he commenced his career debut with the Williamsport Crosscutters playing for the minor league as a start.
Right after his debut match, he posted a 4.45 ERA in 28.1 innings pitched with 40 strikeouts (12.7 strikeouts per 9 innings). Furthermore, Howard bagged the Phillies Minor League Pitcher of the Week Award in August.
Similarly, his foremost win came on August 23 against Auburn. Likewise, the same year, Howard partook in the Florida Instructional League.
Lakewood BlueClaws
Later, Spencer moved to play for the Lakewood BlueClaws of the Class A South Atlantic League, naming the team to the Championship round. Then, he claimed the Phillies Pitcher of the Month Award and the Pitcher of the Week Award.
During his time, Howard posted two 10-strikeout starts against Hagerstown and Greensboro. He recorded 23 games with the team as he had a 3.78 ERA and 147 strikeouts in 112 innings.
Subsequently, he also earned the Milby Award for "Best Performance," and Baseball America ranked him as the No. 8 prospect in the Phillies Minor League.
Clearwater Threshers
with the new season, Spencer Howard featured a new team, the Clearwater Threshers of the Class A-Advanced Florida State League.
Apart from it, he was playing for the four other teams; thus, his record with them goes as 2.03 ERA with 71.0 innings pitched, 43 hits, and 16 walks.
Arizona Fall League
Simultaneously, Howard played for the Arizona Fall League for the Scottsdale Scorpions, where among all the games, he made six starts. He then entered the United States national baseball team in the 2019 WBSC Premier 12.
Major League Baseball
Spencer Howard was signed into the Major League Baseball on August 9, 2020, by the Philadelphia Phillies. Howard has played six games in total, where he posted a 1-2 win-loss record and a 5.92 ERA.
Furthermore, the athlete was assigned to the Triple-A Lehigh Valley IronPigs at the start of the 2020 season to build his arm strength.
The same year in 2020, Spencer Howard showed off his arsenal, pitching three innings in an intrasquad game. Right then, Bryce Harper gave him a ringing endorsement after praising his skill.
Spencer Howard | Pitching Style
Spencer Howard is a top prospect of the Philadelphia Phillies who took the team's work on his shoulder as soon as he entered to play for them. At present, his scouting report announces him as one of the top players.
Likewise, the athlete is set to be a free agent in 2027, and his rookie status is to be until the 2021 season.
To look into his pitching style, Howard uses Fourseam Fastball (94mph) and Slider (85mph), also mixing in a Change (80mph) and Curve (74mph).
Among these, his Fourseam Fastball is his best pitch, which he throws in for the strike.
Following it, his slider has two-plane movement, and his Change is a little less effective than the other type of pitching. Finally, his curveball is quite impressive as he uses it to miss the bats.
Among all the athletes, health is their priority, as for everyone else. All in all, as games advance, no matter how careful you get at one point, you are bound to get hurt.
Consequently, Spencer Howard was kept on the injured list for ten days in September 2020 with shoulder stiffness. It was after their 12-6 victory against Miami on Saturday night.
"It's not a severe condition, but it is a considerable situation. I am not so concerned about it, but it does get a little rusty and a little slow to warm up."
According to the sources, Howard was suffering from shoulder stiffness a few days ahead of the game. Therewith, Phillies manager Joe Girardi had him tested in the athletic training staff, which didn't show them much.
However, his injury isn't the new one, as he had struggled with the same reason the past year as well.
Spencer Howard | Net Worth and Income
Spencer Howard has had a successful career as a professional baseball player. The talented player has played for some significant clubs like Williamsport Crosscutters, Philadelphia Phillies, Lakewood BlueClaws, and Clearwater Threshers since his professional debut.
Likewise, Spencer has contributed hugely to the club, with astounding performances season after season. And all his contribution has resulted in making a lot of name and fame for himself along with a handsome amount of wealth.
According to sources, Howard has successfully accumulated around $1 million from his baseball career. Likewise, Spencer also receives $575,000 as an average annual salary playing for the Phillies.
Sadly, besides this, Spencer's other income sources like partnerships, assets, and endorsements are not known by the public.
Spencer Howard | Career stats
Learn more about his stats and game log on Baseball Cube.
Spencer Howard | Private Life
The baseball pitcher has surely gained a unique nickname, "a fresh arm," from his debut in 2017. Back then, in Spencer's time, he was not quite a baseball fanatic as he loved volleyball and basketball more.
Thus, he even thought of giving baseball for good; however, he continued into it and made it big. Thus, in the 2017 Draft, he was known for his arm's power for his pitches for all the types of fastball, slider, changeup, and curveball.
Therewith, he was nicknamed such for his special arm. Advancing to his sensitive topic of dating, the player has not revealed his personal life so far.
Therefore, it's quite difficult to determine if he is dating anyone or not as he hasn't been involved in any scandals to date. Hereby, we can say he is single and is way focused on his game and matches.
Spencer Howard | Social Media Presence:
Despite his popularity in the baseball world, Spencer's social media reach isn't high as other baseballers of his status. Howard currently possesses only a Facebook account among numerous networking sites.
Spencer Howard | People also ask:
How hard does Spencer Howard throw?
At the beginning of his college days, Howard threw 80-85 mph and then moved on to throw 90 mph during his 2017 draft. Altogether, as of now, Spencer Howard is recorded throwing 100mph.
Is Spencer Howard married to Kate Rockwell?
The baseballer is not married at all. However, an actor sharing the exact same name as him is married to Kate Rockwell.
What does Spencer Howard involve himself in except baseball?
Apart from baseball, Spencer Howard is up to hiking, going to the beach, and playing video games with friends. Basically, the MLB star indulges himself in any other activities that do not involve baseball.