Steffi Graf, an ex-tennis player, has a net worth of about $40 million. She is one of the greatest athletes with an unrivaled history of almost seven years.
The tennis player was born on June 14, 1969, in Mannheim, located in Germany. Thus, we come to know by her birthdate that she is a Gemini.
Furthermore, Steffi was born to parents Peter Graf and Heidi Graf. Her mother was a normal housewife, while her father worked as an insurance salesman. Aside from this, Peter was also a sports lover.
Also, it was he who inspired Steffi to start playing at a young age. She started playing tennis at the age of five and slowly started competing in tournaments.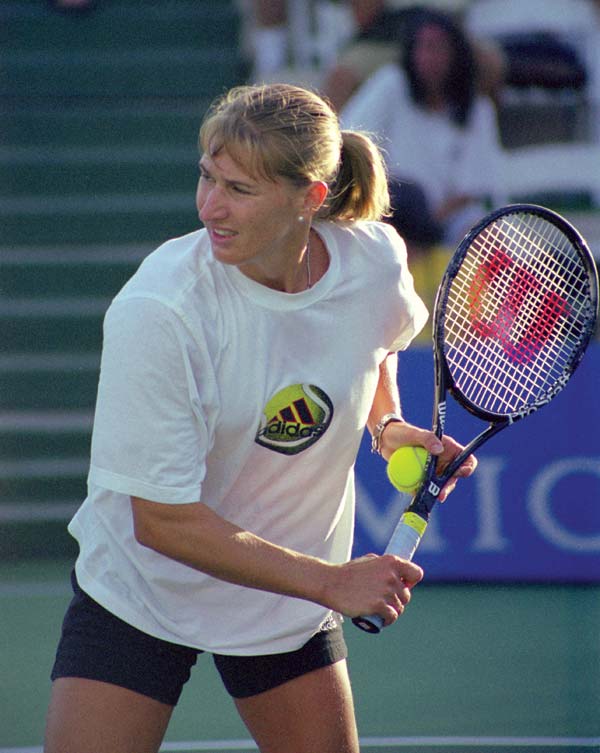 As a result of hard work, as an athlete, she maintained the title of world No. 1 tennis player for a long time.
This article will cover topics related to Steffi's net worth, endorsements, charity works, television shows, and many more.
Let's look at the quick facts table below.
Quick Facts
Full Name
Stefanie Maria Graf
Nick Name
Fraulein Forehand, Die Gräfin
Date Of Birth
14th June 1969
Birth Place
Mannheim, Germany
Age
53 years old
Gender
Female
Sexual Orientation
Straight
Height
5'9" (1.75 m)
Weight
60 kg (132 lb)
Horoscope
Gemini
Religion
Roman Catholic
Nationality
German
Ethnicity
White
Hair Colour
Blonde
Eye Colour
Blue
Skin Colour
Fair
Tattoos
No
Marital Status
Married
Spouse
Andre Agassi
Kids
Two children: Jaden Gil Agassi, Jaz Elle Agassi
Father's Name
Peter Graf
Mother's Name
Heidi Graf
Siblings
One Brother: Michael Graf
High School
N/A
High School Records
N/A
Name of University
N/A
University Records
N/A
Profession
Former Tennis Player
Active from
1982-1999
Current Team
N/A
Former Team
Mostly played singles, doubles with Gabriela Sabatini (Argentina), Catherine Tanvier (France), and Helena Suková (Czechoslovakia)
Awards & Recognition

Ranked at No.1 for the longest time for any player
4X Australian Open
6X French Open
5X US Open
7X The Wimbledon
Gold medal in Seoul Olympics (1988)
Silver medal in Barcelona Olympics (1992)
Inducted in the 2004 International Tennis Hall of Fame

Net Worth
$40 Million
Salary
N/A
Endorsements
Barilla, Apollinaris, Danone, Teekanne, Citibank, Adidas, etc.
Foundation
Children for Tomorrow
Social Media
Instagram, Twitter, Facebook
Merch
Outstanding Sportsman's Biography, Poster
Last Update
March, 2023
Steffi Graf Net Worth | Endorsements & Income
Graf has a net worth of $40 million. Indeed, this amount was partly raised as prize money through tennis and partly raised through endorsement deals with other companies like Adidas, Opel, Teekanne, Citibank, Barilla, and Apollinaris.
To clarify, in 1985, the former tennis player had signed a deal with Opel, a car manufacturer.
Also, she supported and promoted many Ayurveda brands in North America. Hence, this led to her being the ambassador of Kerala Tourism.
Meanwhile, during her playing career, Graf also wore Adidas apparel and sneakers as well. These collections were known as St. Graf Pro-Line. This added $30 million to her total net worth.
In addition to this, Graf has also been involved with a German company called "The German Goldpfeil Inc." This company launches handbag and accessories. They even launched a bag in her name.
Not only this, but Steffi also has her own business venture called Agassi Graf Holding.
You might be wondering what's the meaning behind the name. Well, it is formed by joining hers and her husband's name, aka Andre Agassi.
As a result, these business ventures also have played a role in increasing their net worth exponentially.
Wim Fissette Bio: Family, Tennis, Coach, Married & Net Worth >>
Steffi Graf: House and Cars
The former tennis player owns a beautiful mansion in Las Vegas, Nevada. Above all, the mansion is their family's dream house with a huge compound containing a tennis court which her spouse mostly uses.
However, in the year 2006, the tennis duo sold their Californian mansion for $20 million.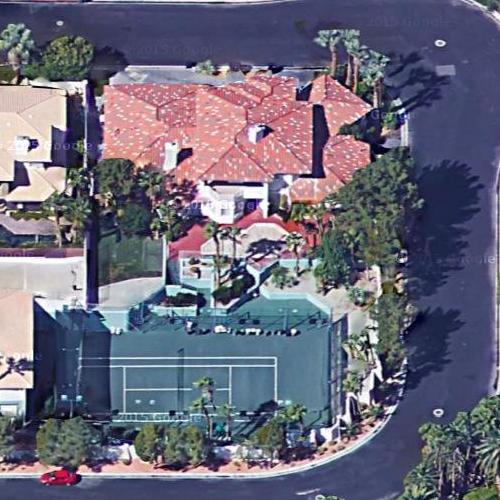 With 11 bedrooms, 11 bathrooms, 2 pools, a tennis court, and a helipad, the property had an area of 13,000 sq. Foot.
Similarly, their Miami house featuring 4 bedrooms and 5 bathrooms and a pool in an area of 3000 sq. foot were sold in 2010.
Currently, they live in Las Vegas, Nevada.
Much information about her cars is not known. However, the couple has four pet dogs: Max, Dino, Dusty, and Joschi.
Steffi Graf: Lifestyle and Vacations
Like her interesting career, Steffi's life is full of spark as Nonetheless, she spends her time traveling to different countries, for charity events, and other activities.
In 2014, the former tennis player went on a vacation to the Taj Mahal in Agra and visited Mumbai.
Furthermore, the couple with their kids have been on several vacations. They were seen in Porto Cervo, Italy, relaxing on a yacht.
Above all, one of her most memorable trips was to London. Graf was there to watch the most prestigious tennis tournament in the world, Wimbledon.
Steffi Graf: Charity Works
When it comes to charity works, Steffi stands miles ahead. Twenty years ago, she founded an organization known as "Children for Future." So, what is this organization?
Well, this is an organization which was established especially for rescued children and families. Unfortunately, consequently, these are the ones who have been a victim to domestic violence, war, and many other destructive measures.
Likewise, the team consists of doctors and therapists who have been helping them heal through mental traumas.
Indeed, the affected children and teenagers are mostly from countries like Afghanistan, Sudan, and Syria.
In addition to this, she started one of the most extraordinary projects called Project HonigHelden. It was designed especially for refugee students.
Furthermore, the students belonged to age groups 6-10 and were primary school students. Definitely, there were many activities organized for the children like reading, treasure hunting, writing, and many more.
Katie Boulter Bio: Early Life, Family, Career & Illness >>
Steffi Graf: Movies, Investments, and Book Publications
Garf has worked in many TV series and documentaries from 1980 to 2019: Red Clay Heroes, The Big Give, The Tonight Show with Jay Leno, ZDF Sports Extra, etc.
As well as that, with a fund of $15 million, she is the lead investor of the organization called Viagogo. It is an e-commerce company focusing on ticket exchange and resale.
In addition to this, Garf promoted Dunlop Max 200G racquet and Adidas shoes, and other accessories in her professional days. Her other endorsement deals include Barilla, Apollinaris, Danone, Teekanne, Citibank.
So far, Graf has been part of books like "Steffi Graf," "Sports Great Steffi Graf," "Outstanding Sportsman's Biography: Steffi Graf," and "Steffi Public Power Private Pain Sue Heady."
Certainly, in the future years, we are hoping to read more about Steffi Graf.
Steffi Graf: Career
Unlike other teenagers having a fun life, the former tennis player participated in many tournaments. By the year 1985, she was already ranked No.7 in the world.
Graf further climbed her way up by winning semi-finals and finals of major tournaments. Then, in 1986, she received the Family Circle Cup.
Furthermore, Steffi successfully won against her biggest rival, Navratilova, in a grand slam in 1988.
In the same year, she was able to win all four grand slams (the French Open, the Wimbledon Open, the Australian Open, and the US Open). Out of 31 grand slams she participated in from 1982 to 1999, she won 22 of them.
John McEnroe Net Worth: Endorsements & Movie >>
3 Facts about Steffi Graf
Firstly, Steffi Graf's father in 1997 was found guilty of not paying tax and was sentenced to four years in prison. However, he served only 2 years and a month.
Secondly, she decided to quit her career in 1999 due to the loss of enjoyment and motivation during the games.
Thirdly, Graf is married to Andre Agassi, an American former world No.1 tennis player, and a 1996 Olympic gold medalist.
Quotes
"You can't measure success if you have never failed."
"I never look back, I look forward."
"You can have a certain arrogance, and I think that's fine, but what you should never lose is the respect for the others."
FAQs
How many titles have Steffi Graf won to date?
Without a doubt, Steffi Graf has won numerous matches. In total, she has won almost 22 tennis titles.
Who is Steffi Graf's husband? What are his achievements?
The former tennis champion is married to Andre Kirk Agassi. To those who do not know who Andre is, well, he is a former tennis player.
During his career, Agassi successfully secured the top position in the singles men's tennis category.
Similar to his spouse, Andre has had many notable achievements. He is Grand Slam Champion (8 times), Olympic gold medalist (1996), and the runner-up of other Grand Slam tournaments.
Who was Steffi Graf's coach ?
During her tennis career, Steffi had many coaches. But, one of the most reputed coaches she had was Pavel Složil.
He is a former professional tennis player from the sovereign state of Czechoslovakia in Europe. After his career, he started coaching other players.
Pavel coached Steffi from the year 1987 till 1991. Moreover, Pavel coached Steffi and coached other tennis players like Magdalena Maleeva, Anna Kournikova, and Jennifer Capriati.