Andre Agassi, now retired, is a professional tennis player from the states. Furthermore, he ranked as the former world number 1 and has several title wins to his name.
Likewise, Agassi is the first male tennis player to win Grand Slam tournaments on all three surfaces (hard, clay, and grass.)
Agassi is also a well-known businessman and philanthropist who has established several businesses.
Furthermore, Agassi has opened a public charter school for vulnerable children at risk. Likewise, he has had two marriages and has two children.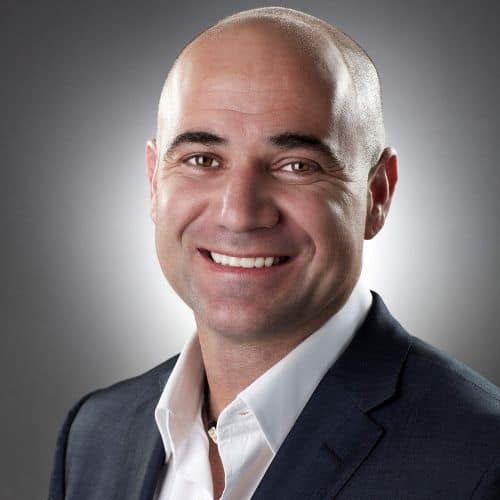 As we head onto learn more about Andre Agassi, let's take a look at some quick facts about him.
Quick Facts | Andre Agassi
Full Name
Andre Kirk Agassi
Known as
Andre Agassi
Nickname
The Las Vegas Kid, The Punisher
Birth Date
April 29, 1970
Birth Place
Las Vegas, Nevada, United States
Residence
Las Vegas, Nevada, United States
Religion
Unknown
Nationality
American
Ethnicity
White
Education
N/A
Horoscope
Taurus
Father's Name
Emmanuel "Mike" Agassi
Mother's Name
Elizabeth "Betty" Agassi
Siblings
Three Siblings: Rita, Philip, and Tami
Age
50 years old
Height
5'11″/180 cm
Weight
80 kg
Eye Color
Light Brown
Hair Color
Blonde
Body type
Athletic
Profession
Professional Tennis Player
Marital Status
Married
Spouse
Steffi Graf (Since 2001)
Children
Two Children
Name of Children
Jaden Gil Agassi and Jaze Elle Agassi
Beginning of Professional Career
1986
Retirement
2006
Playing style
Right-handed
Sports team
USA
Coach
Emmanuel Agassi (1970 to 1983)

Nick Bollettieri (1983 to 1993)

Brad Gilbert (1994 to 2002)

Darren Cahill (2002 to 2006)

Net Worth
$175 million
Prize Money
$31 million
Social Media
Twitter, Instagram, Facebook
Merch
Open: An Autobiography, Retro Video Game Cover Fan Tshirt, Wimbledon Color Print
Last Update
2021
Andre Agassi | Early Life, Family & Education
Agassi aka The Punisher was born on April 29, 1970, in luxurious Las Vegas, Nevada. Furthermore, he was born to Emmanuel "Mike" Agassi and Elizabeth "Betty" Agassi.
Furthermore, Andre has three older siblings. They are Rita, Philip, and Tami. His sister, Rita, had married American tennis player Pancho Gonzalves.
Just like himself, his parents held amazing careers in their respective sports.
Father Emmanuel Mike Agassi
Emmanuel "Mike" Agassi, the father of Andre Agassi, was born to Assyrian and Armenian parents. Furthermore, Emmanuel was raised in a Christian family in Tehran.
Likewise, Emmanuel Agassi was a professional boxer who represented Iran in the Olympics.
Emmanuel trained under the coaching of Polish-German boxer Hans Ziglarski. Also, Emmanuel migrated to the US with his brother Samuel in 1952.
Moreover, he met his wife Elizabeth Dudley at Roosevelt University and married her in 1959.
Similarly, Emmanuel's move to Las Vegas came through a job offer. One of his friends offered him a job at the Tropicana hotel in Las Vegas.
Not to mention, Emmanuel has four children. They are Rita, Tami, Phillip, and Andre.
Andre's mother, Elizabeth, was diagnosed with breast cancer. Fortunately, she stood victorious against the battle with cancer.
Fun Fact: Andre received his middle name because of American-Armenian billionaire Kerkor "Kerk" Kerkorian. Andre's father, Emmanuel, met Kirkonian while he was a waiter at the Tropicana in 1963.
You might be interested in reading about Richard Gasquet – Tennis Prodigy, Net Worth, Injuries & Wife >>
Who is Andre Agassi's wife?
Andre Agassi has several notable relationships in the past. Agassi has been married twice and has had one serious, committed relationship in the past. So, let's explore the relationships of Andre Agassi.
Barbra Streisand
Agassi's first major relationship was with Wendi Stewart. It is reported that he dated Wendi Stewart in the early 90s.
Furthermore, Agassi went on to date American singer and entertainer Barbra Streisand.
The age difference between Agassi and Barbra Streisand was 28. Likewise, their relationship was a subject of gossip and ridicule in the media.
Agassi revealed his feelings about the relationship with Barbra Streisand in his autobiography. He expressed that the age difference and public outcry spiced their relationship.
"We agree that we're good for each other, and so what if she's twenty-eight years older?"
Brooke Shields
Likewise, Agassi broke up with Barbra and married Brooke Shields. Agassi and Brooke married in 1997.
Brooke Shields is a popular American actress and model who has played in the popular movie Pretty Baby.
However, their relationship didn't last for a long time. Agassi and Brooke separated in 1999.
Steffi Graf
Two years after separating from Brooke, Agassi married Steffi Graf. Finally, Agassi was with a sportsperson who could understand the difficulties and challenges of competitive sport.
Graf is also a former professional tennis player from Germany. Likewise, she was the number one female world player for 377 weeks.
In fact, Graf has won 22 Grand Slam titles in her career.
Agassi and Graf married each other on October 22, 2001, in their Las Vegas home. Furthermore, there are reports that the only witnesses to their marriage were their mothers.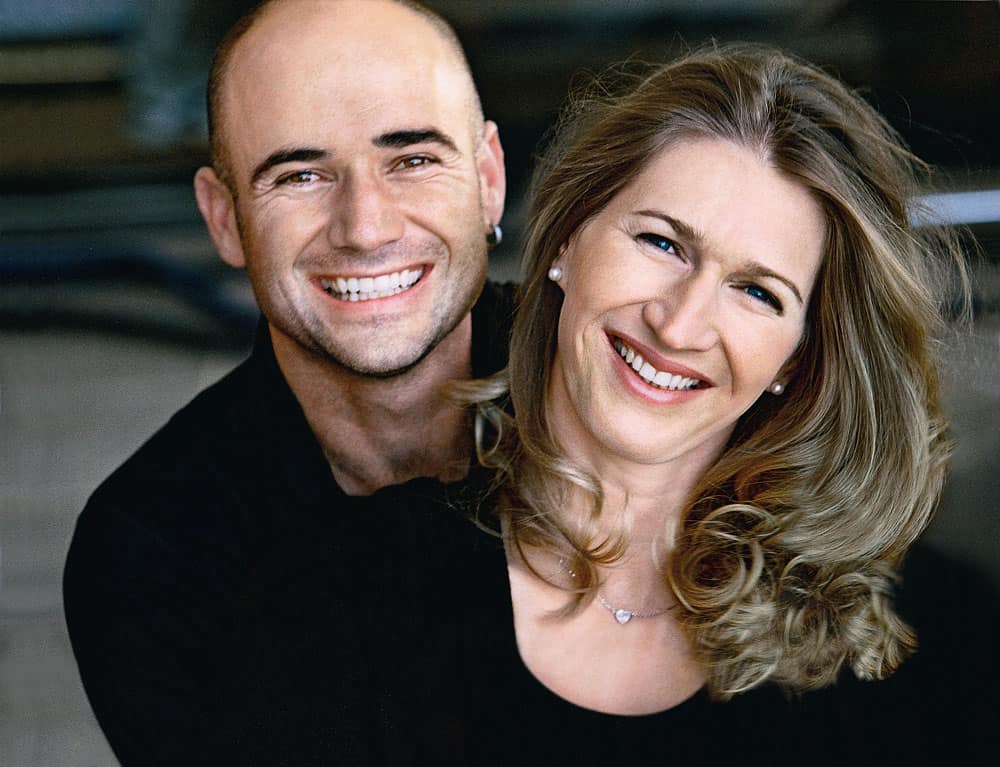 Together, they have two beautiful children. Their son, Jaden Gill, plays college baseball.
Likewise, Jaden has a dream to become a baseball player in the future. Also, his daughter Jaz Elle is currently a student.
The tennis parents have revealed that they do not want to pressure their children regarding a tennis career. Likewise, the family lives in Summerlin, Las Vegas.
How old is Andre Agassi? | Age, Height & Physical Appearance
Agassi was born on April 29, 1970. Currently, Agassi is 50 years old. Furthermore, he will turn 51 on April 29, 2021.
As Agassi was born on the 29th of April, his zodiac sign is Taurus. A person with their star sign as Taurus is known for having a loving and determined nature.
Andre Agassi has an outstanding height of 5 feet and 11 inches (180 cm). Furthermore, he weighs 80 kg. Currently, he is without any hair on his head.
However, Agassi used to flaunt long hair in the past.
Andre Agassi | Professional Life
Agassi's tennis career is an interesting journey. Furthermore, Agassi began playing as a junior player.
Likewise, Agassi won the 1982 National Indoor Boys Double Championship with his friend and match partner Roddy Parks.
Furthermore, Agassi was only 12 years old when he won the championship. The American player shared a close relationship with Roddy Parks.
Moving forward, Agassi joined Nick Bollettieri's tennis academy in Florida. Furthermore, his father could afford only three months of training for his son.
However, Bollettieri was extremely impressed with Agassi's ability.
As a result, Bollettieri offered free enrollment to Agassi. Likewise, Agassi then left school to pursue a tennis career.
Since then, he has committed his entire life to improve at tennis.
Early Career
Agassi became a professional tennis player at the age of 16. Furthermore, his first tournament was at La Quinta, California.
He crashed out of the tournament by losing out in the second match to Mats Wilander.
Likewise, Agassi ranked 91 at the end of 1986. Similarly, Agassi's first-ever title win was the Sul American Open in Itaparica in 1987.
Andre started winning tournaments thick and fast in 1988. He won six tournaments in 1988. Astonishingly, his career earnings had surpassed $1 million by December 1988.
Agassi also held the record for the most consecutive victories by a teenager. His record stood for 17 years and was broken by Rafael Nadal in 2005.
Furthermore, due to his games, ATP and Tennis magazine awarded Agassi the Most Improved Player of the Year 1988.
Likewise, Agassi ranked third, behind Ivan Lendl and Mats Wilander, at the end of 1988.
It was only taking so long for Agassi to claim the first rank. Moreover, soon, Agassi would win all the Grand Slam titles and set his name as one of the world's greatest players.
Agassi didn't play the Australian Open for the first eight years of his career. However, the Australian Open became his successful Grand Slam event.
Likewise, Agassi also refused to take part at Wimbledon from 1988 to 1990.
This was due to his desire not to conform to the white dressing pattern of the tournament.
Career Winnings
Agassi has won everything that a tennis player can win. He ranked number one for the first time in April 1995. Furthermore, Agassi held the ranking for 30 weeks.
Added to that, Agassi's best win/loss record came in 1995, when he won 73 matches and lost 9.
One of Agassi's fewer victories came in 1996. He failed to reach any Grand Slam final. Furthermore, he crashed out in the early stages of the French Open and Wimbledon.
Likewise, Agassi became an Olympic Gold winner as he won the men's singles gold medal at the 1996 Olympic Games in Atlanta.
Furthermore, he beat Spanish tennis player Sergi Bruguera to win the finals.
Andre has won the Australian Open four times. He has stood successful on four occasions in 1995, 2000, 2001, and 2003.
Similarly, Agassi has a Wimbledon Grand Slam title win to his name. He won the 1992 Wimbledon title by winning against Giran Ivanisevic in a five-set thrilling match.
Agassi has also won the US Open twice in 1994 and 1999. Furthermore, Agassi had stood victorious in the French Open in 1999.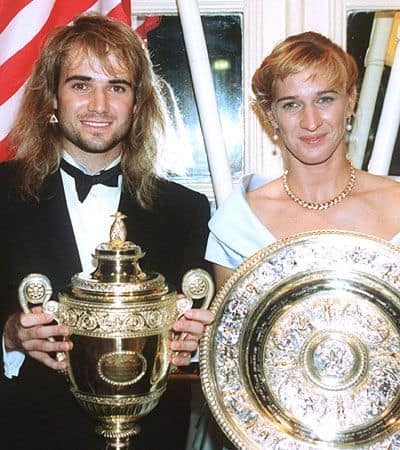 Agassi has a professional tennis career record of 870-274. Furthermore, he has a win percentage of 76%. Likewise, the right-handed tennis player has 60 career title wins to his name.
Andre's double record stands as 40-42. Likewise, Agassi has one career title win to his name.
Agassi has been victorious with the US team in the Davis Cup in 1990, 1992, and 1995.
Retirement
Andre Agassi retired in 2006 after playing his final game in the US Open. Furthermore, Agassi was going through extreme back pain during the tournament.
He had to receive anti-inflammatory injections after each match.
Agassi's final match was against Benjamin Becker of Germany. He lost the match in four sets.
However, after the match, Agassi was applauded with a standing ovation. Agassi even went on to deliver a retirement speech after the match.
Guido Pella Bio: Tennis, Ranking, Girlfriend & Net Worth >>
Awards and Accolades
Andre Agassi is a tennis player filled with glitter and gold. BBC named Agassi the Overseas Sports Personality of the Year in 1992.
Likewise, Sports Illustrated magazine has named Andre Agassi as the 7th greatest male player of all time.
Agassi has also been inducted into the Tennis Hall of Fame. His induction happened on July 9, 2011, in Newport, Rhode Island.
Playing Style
As we know, Agassi is a right-handed tennis player. Furthermore, Agassi uses a two-handed backhand method to play matches.
One of Agassi's greatest strengths was that he could dictate play from the baseline.
Furthermore, Agassi also loved wearing out opponents. He trained extremely hard to stay fit and to tire the opponent as soon as possible.
Agassi's strongest surface was the hardcourt. However, his Wimbledon victory came on the grass surface.
Rivalries
Agassi shared several rivalries with many top players of his generation.
Some of the most notable and popular rivalries were Pete Sampras, Michael Chang, Boris Becker, Roger Federer, Ivan Lendl, Stefan Edberg, and Pat Rafter.
Andre Agassi vs Pete Sampras
Agassi and Sampras were perhaps, the two greatest players of tennis to compete in the 90s. Furthermore, both of them were the most successful players of the decade.
The two tennis legends had distinctive styles of play. Sampras is known as the greatest server, whereas Agassi is known as the best serve returner.
Agassi and Sampras have faced each other 34 times on tour level. Andre Agassi has stood victorious 14 times, as Sampras has the most wins with 20.
The duo last met each other on the final of the 2002 US Open, where Sampras defeated Agassi.
Andre Agassi vs. Michael Chang
Agassi faced American tennis player Michael Chang 22 times. Both of the players were considered tennis prodigies and were incredibly talented.
Moreover, Agassi has the upper hand in the rivalry with 15 wins as the younger Michael has 7 wins to his name.
Andre Agassi vs. Boris Becker
Furthermore, Agassi also shared a rivalry with German tennis player Boris Becker. The two of them faced each other 14 times.
Also, Agassi has the most wins with 10 wins, as Becker has 4 to his name.
Likewise, Becker won the first three meetings between them. Nevertheless, Agassi dominated the latter part of the rivalry.
Roger Federer vs. Andre Agassi
It is to be noted that Andre Agassi has played 'The Goat', or otherwise known as Roger Federer. The two of them have faced each other 11 times.
However, this time, the younger player, Federer, has 8 wins to his name.
Agassi was successful in winning three of their first matches. However, he went on to lose all the next consecutive meetings against his young rival.
Andre Agassi vs Ivan Lendl
Agassi and Lendl have faced each other 8 times. Likewise, Lendl has bagged 6 victories, while Agassi has 3 wins to his name.
Equipment
In his early career, Agassi used Prince Graphite Rackets. However, later on, he switched to using the Belgian racket Donnay. He signed a $7 million contract with Donnay.
Furthermore, Agassi went on to use Head Ti Radical rackets. Agassi's deal with Nike expired on July 25, 2005, after 17 years. After then, Adidas endorsed him.
Several world-famous brands have sponsored Agassi. Some of the companies that endorsed him were DuPont, Mountain Dew, Mazda, American Express, Kia Motors, Deutsche Bank, Canon Inc, 24 Hour Fitness, and Jacobs Creek.
Many of his deals with these companies were million-dollar deals. As he was a famous personality, one of his net worth sources was his sponsorship and endorsement deals.
Coaching Career
Andre Agassi also is a professional tennis coach. He has coached world number one player and 18 grand slam winner Novak Djokovic. He only coached Djokovic from 2017 to 2018.
Furthermore, he currently coaches Bulgarian tennis player Grigor Dimitrov.
Andre Agassi | Personal Life
Business Ventures
Andre Agassi has his hands on many ventures. Business is one of them. Furthermore, Agassi owns several businesses and has stakes in other businesses.
Some of his businesses are as follows.
Andre Agassi Ventures
Agassi Graf Holdings
Agassi-Graf Tennis
Furthermore, Agassi has collaborated with other players and people in business to establish various businesses. He established the Official All-Star Cafe in 1996 with Wayne Gretzky, Shaquille O'Neal, Ken Griffey Jr., Monica Seles, and Joe Montana.
Autobiography and Books
Agassi has also penned his autobiography 'Open: An Autobiography.' Furthermore, the autobiography was published in November 2009.
The autobiography covers the life and story of Andre Agassi. The book also touches upon his childhood story, his relationship with his father, drug use, and his tennis journey.
Also, Agassi has contributed to writing other books as well. He has covered his life story in another book Agassi, published on October 10, 2013.
Moreover, he is a contributing author of the book Extraordinary Lives and Susan Boyle and Michael Caine.
Relationship with Gil Reyes
Agassi shares a close relationship with his long-time trainer Gil Reyes. Gil Reyes is also one of Agassi's closest friends.
Furthermore, Reyes has been described as a father figure to Gil Reyes.
Gil Reyes is an American fitness trainer who specialized in strength and conditioning. Also, he helped out as a strength and conditioning coach for Andre Agassi from 1989 to 2006.
Likewise, Agassi and Reyes have launched their own business. The business is BILT by Agassi and Ryes.
You might be interested in reading about Sania Mirza- Husband, Son, Tennis, Net Worth & Awards >>
Political Donation
Agassi is also an outspoken person. He likes to share his opinions and views on ongoing issues. Likewise, he doesn't shy away from raising his voice regarding injustice or discrimination.
So, what are his political affiliations? Agassi has stated on a public radio program that he is an Independent.
Furthermore, Agassi had donated more than $100,000 to different democratic candidates.
Likewise, his donation to the Republicans is only about $2,000.
Philanthropic Activities
Apart from being a world-class player, Andre Agassi is also a philanthropic person. He founded the Andre Agassi Charitable Association in 1994.
Furthermore, the foundation works to assist the Las Vegas youths.
Similarly, Agassi was awarded the ATP Arthur Ashe Humanitarian Award for his efforts to help the youths. Agassi is considered the most charitable person in professional tennis.
Then Agassi established the Andre Agassi College Preparatory Academy in 2001. The academy provides tuition for at-risk children for free.
Furthermore, Agassi donated $35 million from his own net worth to aid the school's development.
Agassi's Foundation is also the only foundation in Clark County that works for abused and neglected children. Likewise, Agassi also established Athletes for Hope, along with other athletes.
Athletes for Hope works to help professional athletes get involved in charitable activities. Furthermore, it works to inspire people to help other people.
Agassi is a special player and an even more special person. His charitable acts haven't gone unnoticed. The whole world admires him for his good deeds.
Documentary Appearances
Andre Agassi was a famous personality in the 90s and early 2000. Furthermore, the popular tennis player went on to coach Djokovic and Dimitrov.
Likewise, a documentary has been made about Agassi and his coach Nick Bollettieri. The documentary titled 'Love Means Zero' covers the player and coach's relationship.
Furthermore, it also touches upon the controversy and problems faced by the coach and player.
Video Games
Andre Agassi has appeared in various video games. Furthermore, there are video games that are made in his name. His most notable appearances come in the Smash Court Pro Tournament for PS2.
Likewise, on his name, the following games have been made.
Andre Agassi Tennis
Agassi Tennis Generation for PS2 and GBA
Agassi Tennis Genration 2002
Top Spin 4
Pet Person
Agassi loves his dogs. His family and close friends describe Andre as a pet person. Rightly so, a man's best friend is a dog, after all.
Agassi has several dogs in his house. Furthermore, he frequently posts pictures of his dogs on his social media.
Likewise, Agassi also owns pet cats. Overall, he is an animal lover.
Who is the GOAT, according to Andre Agassi?
The GOAT debate concerns the greatest player between Rafael Nadal, Roger Federer, and Novak Djokovic. The trio is considered the best player from their generations.
Likewise, the meaning of 'GOAT' is Greatest of All Time.
So, what does Andre Agassi think about the debate? Well, first of all, we need to understand that Agassi has coached Djokovic in the past. So, to an extent, he might have some bias against him.
In a recent interview, the 8-time Grand Slam champion revealed that the debate is tough as all the players are still active today.
However, he expressed that the three of them have advantages in different courts.
"We have the best on fast grass courts with Roger, we have the best on clay with Nadal, and we have the best on hard courts with Djokovic."
Nevertheless, Agassi provided a great solution to answer the debate. Agassi suggested that the three of them play each other on three different surfaces 100 times.
Likewise, despite an impractical suggestion, the option is definitely worth the fun and the result.
What is Andre Agassi's net worth? | Net Worth & Earnings
Andre Agassi has accumulated his net worth through his playing career. Furthermore, he has earned prize money of $31 million in his year career. His winnings rank 8th in the overall prize money winners.
Likewise, Agassi has invested many of his funds in his businesses that have grown to become multi-million dollar companies.
According to various online sources, Andre Agassi has a net worth of $175 million.
You might be interested in reading about Leonardo Mayer Bio: Ranking, Tennis, Wife & Net Worth >>
Does Andre Agassi use social media? | Social Media Presence
Yes, Andre Agassi uses social media. Furthermore, he is a popular figure in the world of social media. Andre Agassi uses Facebook, Instagram, and Twitter as his main accounts.
Furthermore, Agassi uses his platforms to post about his pictures, his family, and different views and opinions.
You can follow Andre Agassi through the following links.
@AndreAgassi (Twitter): 399.6k Followers
@agassi (Instagram): 271k Followers
Andre Agassi (Facebook): 591k Followers
Frequently Asked Questions
What is Andre Agassi's net worth?
Andre Agassi has an amazing net worth of $175 million.
Did Steffi Graf marry Andre Agassi?
Yes, Steffi and Andre tied the knot on October 22, 2001, with their mothers as the only witnesses in the courtyard property.
(Make sure to comment down below if any information regarding Andre Agassi is missing.)