Steph Catley's partner, Dean Bouzanis, is a fellow Australian soccer player. She became engaged to her long-term partner on 31st January 2023.
Australian soccer's power couple, Steph Catley and Dean Bouzanis, announced their engagement in an emotional post on social media.
Their journey has been nothing short of inspiring, with a heartwarming engagement that set the stage for exciting wedding plans.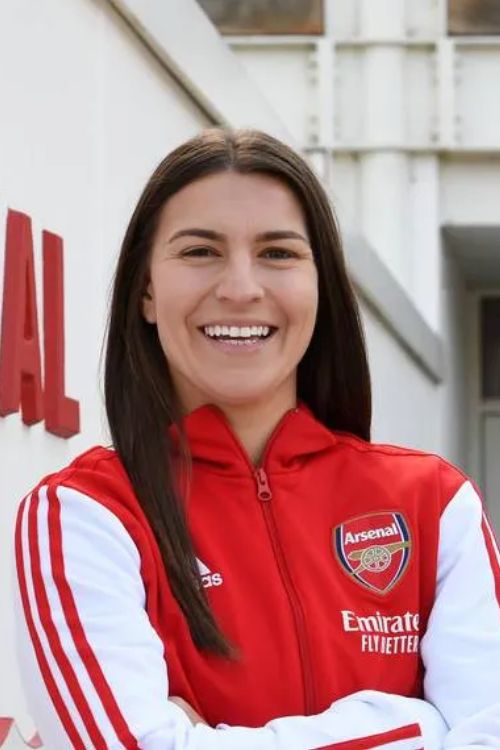 Steph Catley is an accomplished Australian soccer player known for her defensive prowess and technical skills. She plays as a defender for Arsenal and the Australian national team.
Born on January 26, 1994, in Melbourne, Victoria, Steph Catley is a name synonymous with excellence in women's soccer.
She began her professional career in 2009 with the Melbourne Victory FC and has since gone on to conquer international arenas.
Catley continued to impress with her skills playing for clubs like Reign FC, Orlando Pride, Portland Thorns FC, and Melbourne City.
The Australian signed with the English powerhouse Arsenal in July 2020. Currently, she is playing soccer in the Women's Super League for the club.
Likewise, Catley has showcased her prowess for the Australian national team, the Matildas, in several FIFA Women's World Cups and Olympic Games.
Steph Catley Partner: Dean Bouzanis
Dean Bouzanis is an accomplished goalkeeper with an equally fascinating soccer journey.
Born on October 2, 1990, in Sydney, Australia, Bouzanis joined EFL Championship club Reading FC on 27 June 2022.
After playing junior football in Australia, he joined English side Liverpool and appeared for the Academy between 2007 and 2009.
Bouzanis was loaned to Accrington Stanley before he joined Oldham Athletic. He also had brief stays at Aris FC and Carlisle United.
The Australian returned to Australia to play for the Wanderers in the A-League in 2014.
Bouzanis has toiled in the lower leagues of the Netherlands and England before playing for Reading in the Championship.
While not as well-known as his partner Steph Catley, Dean's passion for the sport reflects his willingness to embrace new challenges and grow as both a player and a person.
Engagement And Wedding Plans
Steph Catley and Dean Bouzanis first crossed paths in the soccer world when they were both playing in Australia for the women's and men's Melbourne City teams.
Bouzanis was playing as goalkeeper for the A-League men's side, and Catley as captain of the W-League women's team.
A chance meeting, as a beautiful twist of fate, at the training ground led to a brief conversation, and one thing led to another.
Sharing a common passion for the sport, their mutual admiration gradually blossomed into a deep connection. Soon enough, they became one of Australian soccer's power couples.
The Matildas vice-captain announced her engagement to Dean in January after dating for five years.
Catley revealed the exciting news in an Instagram post captioned "My forever family," along with photos of the special moment.
Catley's Arsenal and the Matildas teammates, fellow footballers, along with her friends and family, all congratulated her on the engagement.
While the couple has kept details under wraps, we can assume they are planning their wedding following their engagement.
They have always had a pretty good understanding in their relationship of making sure they both get the most out of their careers.
Steph and Dean have been in a relationship as professional players for over five years and have known its pros and cons.
Thus, it's safe to say they're ready to further solidify the relationship and get married.
However, finding the perfect time for the wedding might be a challenge given their busy schedules as professional soccer players.