Stephen Curry is an American professional basketball player for the Golden State Warriors of the NBA who plays as a point guard and shooter. He is a nine-time NBA All-Star and eight-time All-NBA selection.
He has been named the NBA Most Valuable Player twice, has secured four NBA Championships, and received an NBA Finals MVP Award and an NBA All-Star Game MVP Award.
The basketball prodigy is acknowledged by many players, fans, analysts, and media to be one of the 'Greatest Shooters' in the history of the NBA and boasts a net worth of $160 million as of June 2023.
He showed off his incredible skills even after missing the playoffs in 2020 and 2021 by winning a fourth championship with the Warriors against the Boston Celtics and was named Finals MVP in 2022.
In the 2022-23 season, Stephen is ruled out for unlimited time with a knee injury, as he clashed his knee with an opponent during the third quarter of the Warriors' 119-113 win over the Dallas Mavericks.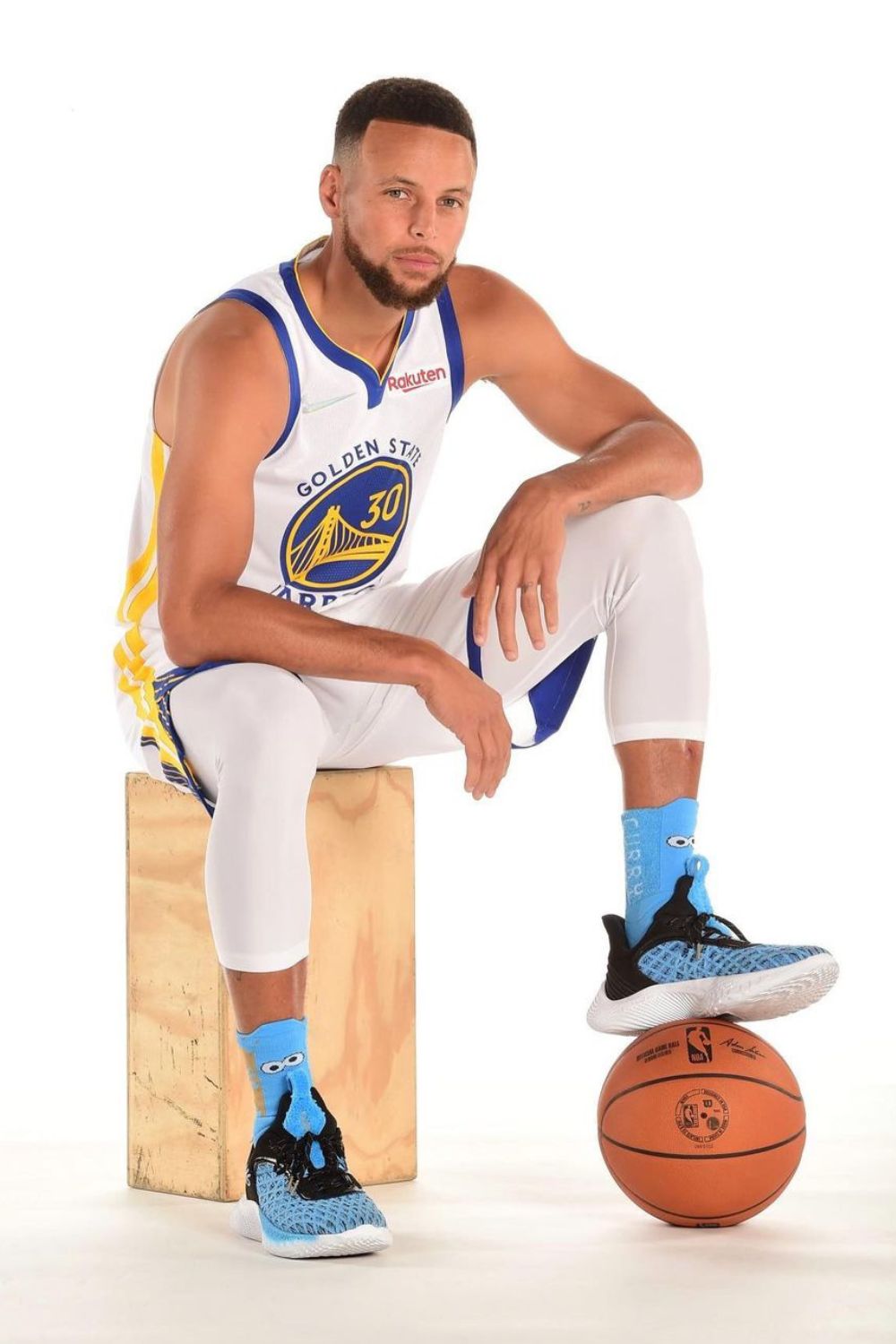 He and his teammate Klay Thompson led the Warriors to their first-ever championship in 2015 after 1975.
The jersey number 30 holder is also the son of a former NBA player and the brother of a fellow NBA player Seth Curry who currently plays for the Brooklyn Nets.
Furthermore, he gathered quite the spotlight in 2017 for signing a $201 million extension with the Warriors.
Before learning the details about the basketball player's life, let's look at some quick facts about him.
Quick Facts
| | |
| --- | --- |
| Full Name | Wardell Stephen "Steph" Curry II |
| Birth Date | March 14, 1988 |
| Birth Place | Akron, Ohio |
| Nick Name | Steph, Chef Curry |
| Religion | Christian |
| Nationality | American |
| Ethnicity | African-American |
| Education | High School: Charlotte Christian SchoolCollege: Davidson College |
| Horoscope | Pisces |
| Father's Name | Wardell Stephen "Dell" Curry |
| Mother's Name | Soniya Alicia Curry |
| Siblings | 2; Seth Curry And Sydel Curry |
| Age | 35 Years Old |
| Height | 6 ft 3 in / 1.90 m / 190 cm |
| Weight | 86 kg / 185 lb |
| Hair Color | Light Brown |
| Eye Color | Hazel |
| Build | Athletic |
| Profession | NBA Player |
| Current Team | Golden State Warriors |
| Position | Point Guard |
| Active Years | 2009-Present |
| Marital Status | Married |
| Wife | Ayesha Disa Curry |
| Net Worth | $160 Million |
| Social Media | Instagram, Twitter |
| Merch | Paperback, Bobblehead |
| Last Update | June 2023 |
Early Life, Family, & Education
Wardell Stephen "Steph" Curry II shortly, Stephen Curry is the first child born in Akron, Ohio, to former NBA player Dell Curry and former college volleyball player Sonya Alicia Adams.
The basketball player's father played for Cleveland Cavaliers. A considerable chunk of his childhood was spent in Charlotte, North Carolina, and a few of his pre-teens in Toronto when his dad played for the Toronto Raptors.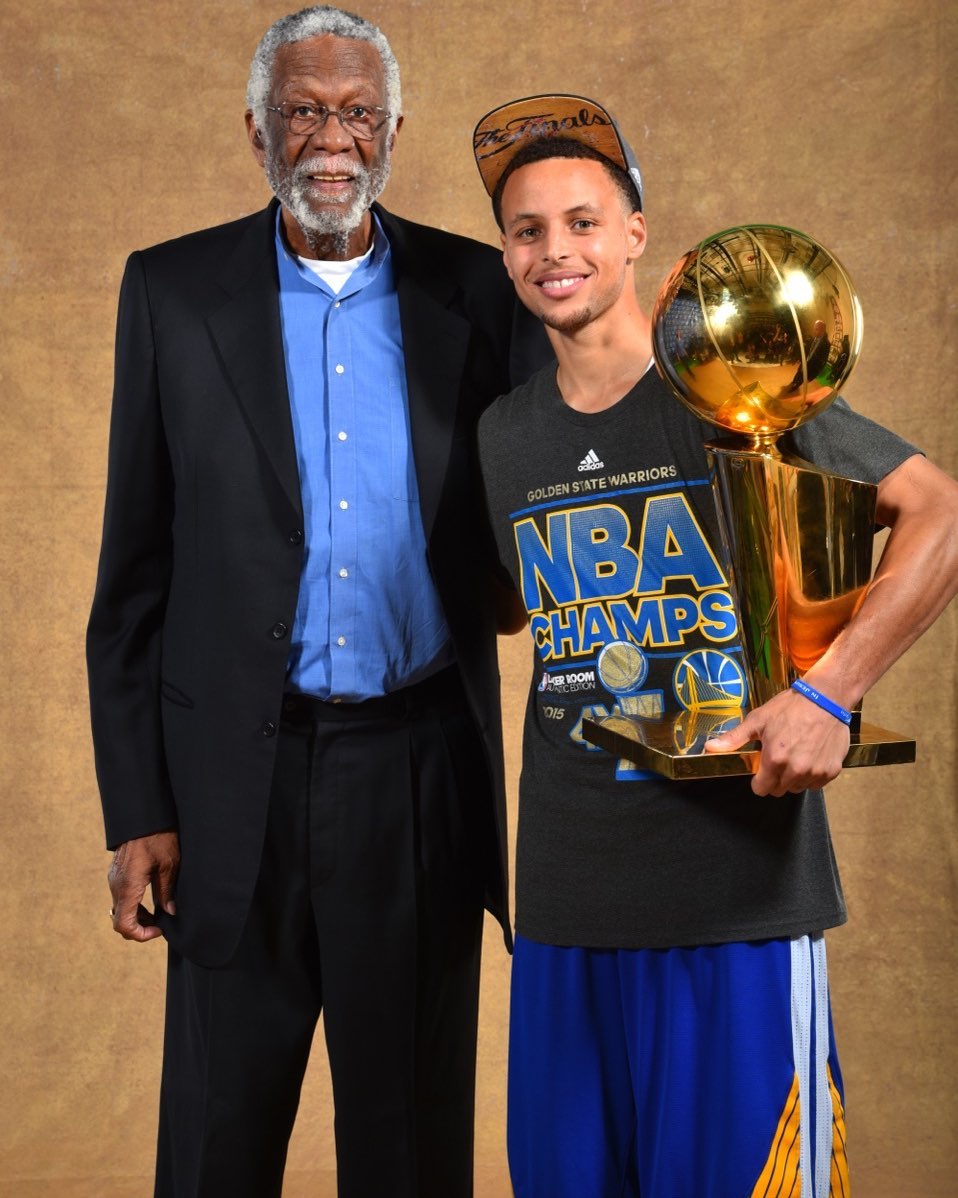 After his father's NBA career, they relocated back to Charlotte, where Steph played for Charlotte Christian School and had a successful school career.
He led his team to three conference titles and state playoffs, alongside being named all-conference and all-state.
After graduating from Charlotte School, he attended Davidson College to get his degree but chose not to finish his senior year.
Stephen grew up with his two siblings, sister Sydel Curry and brother Seth Curry. His sister played college volleyball just like her mother.
Stephen Curry's Brother Team
Stephen's younger brother Seth Curry also plays in the NBA. Earlier, he was the point guard and shooting guard for the Dallas Mavericks.
He plays for the Brooklyn Nets as of 2023. Curry brothers have never played for the same team.
But they have faced each other 13 times in the playoff series in 2019 and also in the regular season.
Age, Height, & Weight
Being born in 1988 makes Stephen 35 years old as of 2023. Likewise, he shares his birthday on March 14, making his birth sign Pisces.
And from what we know, they are known for being passionate, determined, enthusiastic, and hard-working, among other signs.
Likewise, Curry stands at an astounding height of 1.88 meters and reportedly weighs around 185 lb. Stephen's years of training and court competition have made him healthy and fit.
Collegiate & Professional
College Career
Stephen Curry wanted to join Virginia Tech like his old man, but he was offered a walk-on spot due in part to his slender 160-pound frame.
Davidson college recruited Steph aggressively, leading him to play basketball for the team for three years.
Freshman Year
In 2007, Steph Curry led the Southern Conference with a 21.5 points score in each game. The aspiring teenager broke the previously held record for three-point field goals by making his 113th three-pointer.
He was named Southern Conference Freshman of the Year, SoCon Tournament MVP, and was selected to the SoCon All-tournament, All-freshman, and first-team All-SoCon.
When he was chosen to represent the USA team in the 2007 FIBA U19 World Championships, he helped the team achieve a silver medal.
Sophomore Year
In his sophomore year, he led Southern Conference in scoring, averaging 25.5 points per game while adding 4.7 rebounds per game and 2.8 assists per game.
Davidson earned their consecutive third NCAA Tournament bid because of Curry's extraordinary performance in the game.
Being named the Most Outstanding Player of the Midwest Region of the 2008 tournament, he earned an EPSY nomination for Breakthrough Player of the Year.
Junior Year
Stephen Curry scored career-high 44 points, a career-long streak, and a career-high 13 assists in his final year at Davidson College.
The soon-to-be senior played against Loyola, where he could not score a single point for his team, which became his first scoreless college game.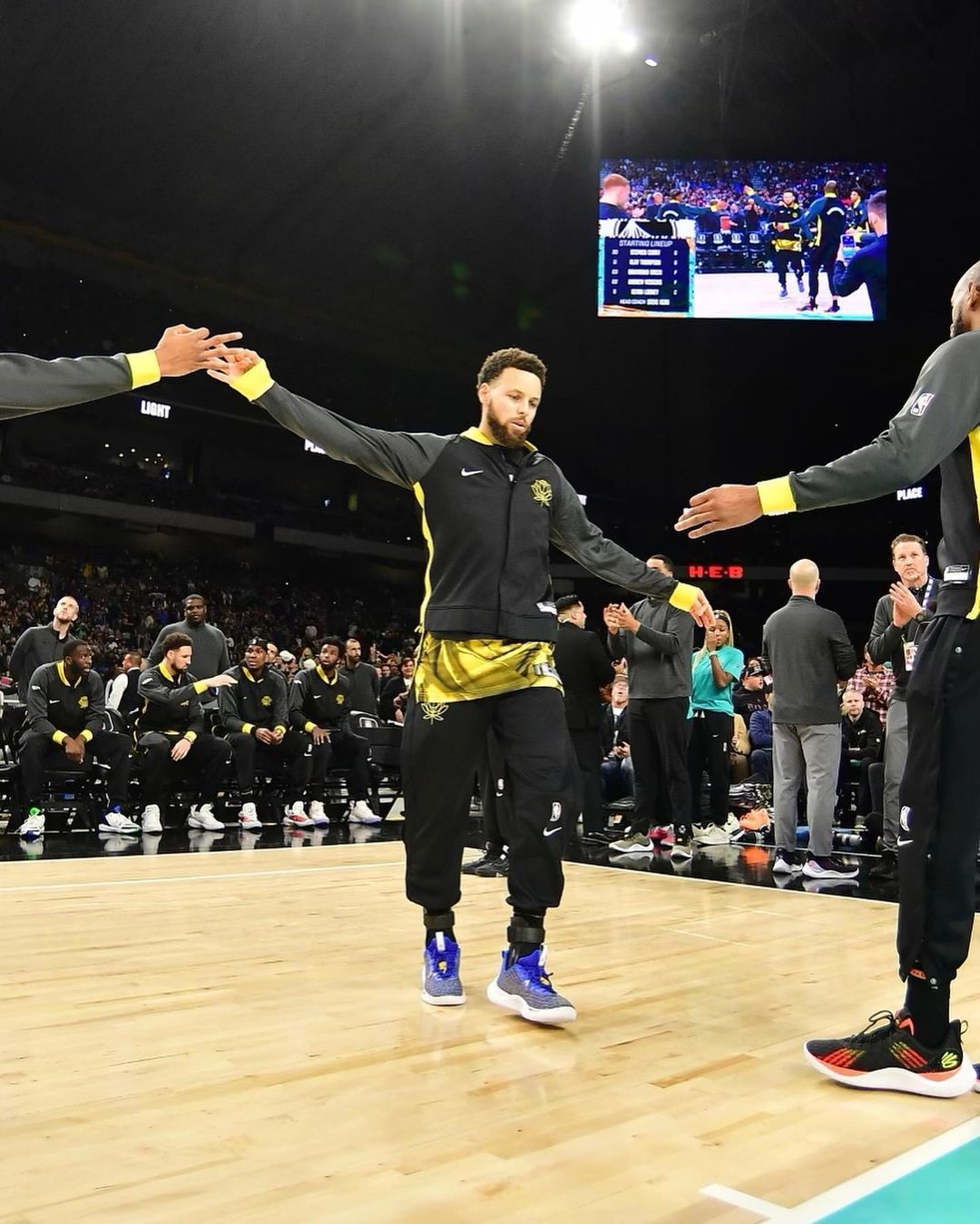 He also sustained an ankle injury in his junior year and missed a game. The then-21-year-old was named the NCAA scoring leader in his junior and final seasons.
Steph chose not to go back for his senior year. However, he stated that he planned to complete his degree.
In May 2022, he got his bachelor's degree in sociology. He became the first Davidson player to have his jersey number retired in a ceremony on August 31, 2022.
He also entered Davidson's Athletic Hall of Fame and physically received his Davison diploma.
NBA Career
NBA Draft And Early Years
The sharp three-point shooter was drafted in the 2009 NBA BY the Golden State Warrior's seventh pick.
He got into the rookie of the year race because of his strong performance in the second half and ended up in a second-place by unanimous selection.
In his rookie season, he scored 166th three-pointers, the most three-pointers scored by a rookie ever. In 2010-2011, his free throw broke a previously held record. He also received the NBA Sportsmanship Award that year.
He underwent surgery twice in 2011 and 2012, making many deem the $44 million contract with the player risky for Golden State Warriors.
In the 2013-2014 season, the "Splash Brothers," consisting of Klay Thompson and Curry, set a new record of 484 combined three-pointers, which they broke in the following years.
MVP & NBA Championship Title
After years of proving his worth to the team and the fans, the celebrity player took his team, the Golden State Warriors, to a championship title in 2015.
It was the first title since 1975 for the Warriors. He won the first Most Valuable Player (MVP) by unanimous vote.
Since the win, the Warriors have consecutively reached the NBA finals. They were defeated in 2016, but Curry was named the MVP. The team sprung back into action in 2017 and 2018, winning both titles one after the other.
He landed his team in the 2019 NBA final before being defeated by the Toronto Raptors.
The Warriors basketball player Steph became the NBA's career leader for three-pointers in the regular season and playoffs with 3,366, passing Ray Allen (3,358) on November 12, 2021.
He also recorded the most three-pointers made in an All-Star quarter (6), half (8), and shame (16).
Advancement
Steph suffered a sprained ligament in his left foot after having it rolled over by a diving Marcus Smart and was ruled out indefinitely in the match against Boston Celtics on March 16, 2022. Consequently, missing the remaining regular season.
In 2022, he became the first player in the history of the NBA to make 5+ threes in four consecutive finals games.
Curry was named a Western Conference starter for the 2023 NBA All-Star Game, marking his ninth overall selection. Likewise, he is the 49th player in the history of the NBA with 20,000 points.
He made history in the Warriors with 7,222 surpassing Wilt Chamberlain (7,216) for the most field goals.
The basketball player had a knee injury in the game against Dallas Mavericks on Feb 2023, for which he had to be on leave indefinitely.
Curry had an MRI on the 5th of February, which confirmed he had suffered "partial tears" to ligaments in his left knee and bruising to his lower leg.
In 2023, Curry disagreed with developing multi-family housing in the wealthy enclave of Atherton, California, where he and his family live.
In a letter, they wrote, " We hesitate to add to the 'not in our backyard' (literally) rhetoric, but….safety and privacy for us and our kids continues to be our top priority and one of the biggest reasons we chose Atherton as home."
National Career
The MVP first represented his country in the 2007 FIBA Under-19 World Championship, where they got a silver medal.
The next time in 2010 and 2016, the United States acquired the gold medal and remained victorious. However, in 2016, he was pulled out from the federation due to knee injuries.
Accomplishments And Titles
The following are some of the celebrity athlete's achievements and titles:
Four times the NBA champion in the years 2015, 2017, and 2018
Two times the NBA Most Valuable Player in the year 2015 and 2016
Nine times the NBA All-Star from the year 2014 to 2019, 2021-2023
Four times the All-NBA First Team in the year 2015, 2016, 2019, and 2021
Three Times the All-NBA Second Team in the year 2014, 2017, and 2022
All-NBA Third Team in the year 2018
Two time NBA scoring champion in the year 2016 and 2021
NBA steals leader in the year 2016
Joined the 50–40–90 club in the year 2016
Three-Point Contest champion in the year 2015
Sportsmanship Award in the year 2011
All-Rookie First Team in the year 2010
AP Athlete of the Year in 2015
Consensus first-team All-American in the year 2009
Consensus second-team All-American in the year 2008
NCAA season-scoring leader in the year 2009
Two times SoCon Player of the Year in the years 2008 and 2009
Career Stats
| | | | | | | | |
| --- | --- | --- | --- | --- | --- | --- | --- |
| Season | Team | GP | REB | AST | BLK | STL | PTS |
| 2021-2022 | Golden State Warriors | 64 | 5.2 | 6.3 | 0.4 | 1.3 | 25.5 |
| Career | | 864 | 4.7 | 6.4 | 0.2 | 1.6 | 25.5 |
Wife & Kids
Steph is married to the television personality Ayesha Disa Curry. The player met his wife in a church youth group when he was just 15 years old. However, they didn't start dating right then.
The duo hit it off when they accidentally bumped into each other in Hollywood. Not long after that, Ayesha moved back to Charlotte to be with Stephen.
Ayesha is a Canadian-American actress, cookbook author, and cooking television personality born on March 23, 1989, and is 34 years old as of 2023. She moved to Los Angeles, hoping to be an actress.
As a result, she has played bits and parts in quite a few movies and TV shows like Hannah Montana, Good Luck Charlie, etc. She has also hosted her show on Food Network.
Stephen Curry has three kids with Ayesha Curry. His firstborn, Riley Curry, followed by his secondborn, Ryan Curry, and subsequently, this lastborn, Canon Curry.
The Curry family lives in a beautiful $31 million home in Atherton, California.
Net Worth & Salary
Stephen Curry's net worth was approximately around $130 million in 2021. As of June 2023, he has a net worth of $160 million.
He earns a little over $50 million per season and is among the world's highest-paid celebrities.
Forbes 2019 showed the player ranked no. 9 in the highest-paid athlete list. He was a step behind LeBron James, who ranked no. 8.
Golden State Warriors signed Stephen Curry on a 4-year $215 million extension on August 4, 2021.
Business, Endorsement, & Production
Besides that, the 35-year-old has several endorsements with well-known brands like Nike.
He is the brand ambassador of Under Armour. The company's sales were a hit with the popularity of the Curry shoe line.
The three-point shooter is also the investor and brand ambassador of a small startup named Palm, which is a companion for your primary smartphone. He's signed deals and agreements with Rakuten, Unilever, and filter company Brita.
Stephen Curry also has his own film production company. He has served as executive producer for incredible movies like Breakthrough and Emanuel.
Steph's Unanimous Media company is associated with a multi-year multimedia deal with Sony Pictures Entertainment.
Charity
The millionaire basketball player is a devout Christian and believes in giving back to the community.
He donated three insecticide-treated mosquito nets to fight malaria for every three-pointer he shot to the United Nations Foundation campaign.
He accompanied President Barack Obama in launching the President's Malaria Initiative.
The point guard wore sneakers with the name of the victim that died in the 2015 Chapel Hill Shooting to spread awareness and bring media attention to the issue.
He donated his 2015 MVP prize vehicle to the youth center. He auctioned his Under Armour shoes after wearing them to STEM education initiatives.
Social Media Presence
The 35-year-old is very active on social media. He has over 48.8 million followers on his Instagram, where he occasionally posts pictures of his adorable children, beautiful wife, parents, and siblings.
View this post on Instagram
He shares quite a bit about his games, playoffs, and regular practices.
Stephen also has a Twitter with more than 17.2 million followers. The basketball player has the black mamba, Kobe Bryant, on his profile and cover picture as a tribute to the legend.
Back in 2020, after Kobe's death, he also paid respect by chasing the center with jersey number 24.
Popularity Graph
Stephen Curry is a basketball player for the Golden State Warriors of the NBA, who is injured in the 2022-2023 season.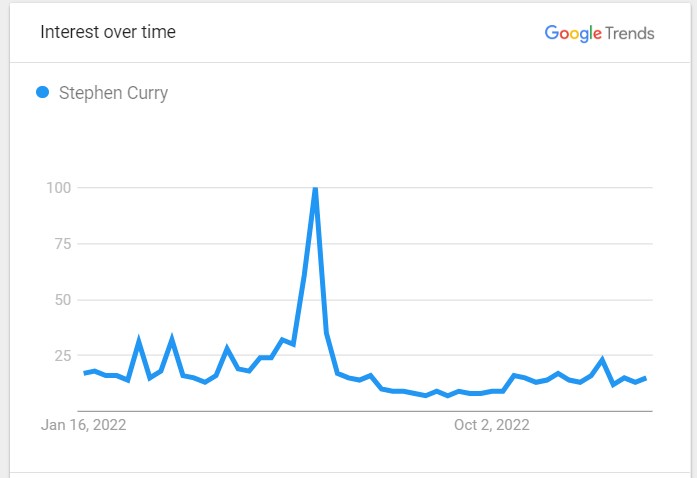 The above graph shows Curry's popularity over the past twelve months.
Frequently Asked Questions (FAQS)
How many rings does Stephen Curry have? Is he a free agent?
Stephen Curry won four championship rings with Golden State Warriors in the (2015-2016) (2017-2018), (2018-2019), and seasons (2021-2022). Stephen Curry's current contract will expire after the 2023-24 season, and he will become an unrestricted free agency. Well, he and his team, Golden State Warriors, signed a 4-year contract extension in 2021.
What hospital was Stephen Curry born in?
Stephen Curry was born in Summa Akron City Hospital in Akron, Ohio. Interestingly, Curry was born in the same hospital where LeBron James, a professional basketball player, was born three years earlier.
How many MVPs does Stephen Curry have?
Stephen Curry has been named the NBA's Most Valuable Player (MVP) twice in the 2015 and 2016 seasons.
Where to buy Stephen Curry shoes?
You can buy Stephen Curry shoes from the Under Armour website. The price and other details of the shoes are based on size and color.
Was Stephen Curry injured in 2020?
Stephen Curry suffered a broken left hand in the 2019-2020 season. After recovering, he returned to the NBA floor in December 2020 with a 107-105 preseason victory over the Denver Nuggets.
What mouthguard does Stephen Curry wear?
Stephen Curry wears MOGO M1, a flavored mouthguard. One of his mouth guard was sold for $3,190 in an auction by California-based SCP Auctions.
What size shoe does Stephen Curry wear?
Stephen's curry shoe size is 13.5. You can shop his merch on Amazon. He wore one of the most expensive shoes of Under Armour Curry 3 'Oakland Strong' which cost $30,101.
Where does Stephen Curry live?
Stephen Curry resides in a mansion in Atherton, California, with his family, which he bought in 2020 for $30 million.