Golden State Warriors star Stephen Curry and WNBA Players Association will be receiving NAACP's Robinson Sports Award.
They will be receiving the award specifically for their efforts in supporting social justice, civil rights, and their communities.
The NAACP (National Association for the Advancement of Colored People) is America's oldest and largest civil rights organization.
An interracial group of activists established the NAACP in New York City partially in response to violence against African Americans.
Now, the NAACP focuses on inequality in jobs, health care, the criminal justice system, and protecting voting rights.
NAACP gives Jackie Robinson Sports Award to athletes who promote social justice through creative endeavors.
Stephen Curry For Social Justice & Pandemic Awareness
This year GSW's Stephen Curry will receive NAACP's Jackie Robinson Sports Award in recognition of his works off the court.
He is receiving this award for his continued support for social justice, women's causes, youth initiatives.
Additionally, for his efforts to raise awareness about the coronavirus pandemic.
His campaigns for these above causes and interview with Dr. Anthony Fauci about the COVID is drawing acclaim from civil right leaders.
Hence he receives Jackie Robinson Sports Award for his tireless effort.
"I would borrow a Maya Angelou quote to describe Steph and his leadership:
'I've learned that people will forget what you said, people will forget what you did.
But people will never forget how you made them feel,'" Warriors general manager Bob Myers said told the Associated Press.
"Steph has certainly made people in the Bay Area and all over the world feel joy."
"His commitment to social activism and support of women is another part of the fabric that makes up the person that he is.
I'm honored to know him for what he does both on and off the court," added Myers.
"He has a strong platform, and he utilizes it to the best of his ability," said Curry's teammate, Kelly Oubre Jr. "He's a great individual."
Stephen thanks for the award and recognition
"This award is truly a humbling and honoring experience.
It came by surprise in terms of when you do things in the community and speak on things you believe.
It's about the collective effort, not just myself but everybody who is around me in terms of accountability to change," Curry said.
"You don't really do it for the acknowledgment; it's more so about the work that you're doing.
That this is a great opportunity to continue to speak on things that are important.
And honor the legacy of Jackie Robinson and what he stood for and the change he was able to create.
And the barriers he was able to break and to continue these conversations," Curry added.
"So I'm appreciative of the acknowledgment, the honor, and it gives more inspiration and energy to keep changing things in terms of what needs to happen for the Black community across the country, then I'm all about it."
"I'm appreciative of the acknowledgment, the honor, and it gives more inspiration and energy to keep changing things for the Black community across the country."@StephenCurry30 on being named a recipient of the @NAACP 's Jackie Robinson Award. https://t.co/2jlovKu0Kv pic.twitter.com/648W4ZdTeX

— Golden State Warriors (@warriors) March 19, 2021
Shaun Livingston, Curry's former teammate, and NBA player, also send his love to Steph Curry for this achievement.
BIG LOVE!!! 🙏🏽@StephenCurry30 @WNBA https://t.co/jLgiCqOzZ9

— Shaun Livingston (@ShaunLivingston) March 19, 2021
Chief Operating Officer of the Warriors, Rick welts, also congratulates him for the award.
Another amazing honor for an amazing human being.  Congratulations @StephenCurry30 on adding the coveted Jackie Robinson Award to your long list of accomplishments.
 https://t.co/lV6Ao5dnv4

— Rick Welts (@RickWelts) March 18, 2021
Stephen has always been vocal about equality for women and supported WNBA for its' effort on social justice and work for Black lives and Black Culture.
Now, the NAACP recognizes the efforts of the WNBA players and honors them with the award.
The WNBA Players Association is also another recipient of the award
The WNBA players' association earned their NAACP's recognition for their coordinated activism to support social and racial justice.
WNBA players received praise for their movement that features kneeling for the national anthem, messages supporting Black Lives Matter.
And also for protesting the shooting of Jacob Blake in August.
"I am so proud of the WNBA players for this well-deserved recognition of their continued activism and advocacy for social justice and equality," WNBA Commissioner Cathy Engelbert said in a statement provided to the AP.
"Their platforms are bigger than basketball, and they are amazing role models for the next generation of athletes and leaders.
The WNBA Social Justice Council continues its important work, and you can definitely 'Count' on more to come from the players."
Similarly, Steph has also praised the WNBA players for their efforts.
"The acknowledgment of the WNBA and what they've stood for.
And how they've used their platform to be bold and courageous and speak for change at every opportunity, that acknowledgment is very much deserved," Curry said.
"They are game-changers and leaders in terms of using their collective voice and impact on and off the court, so a shoutout to them and all that they've done and are continuing to do in terms of leadership and using their voice."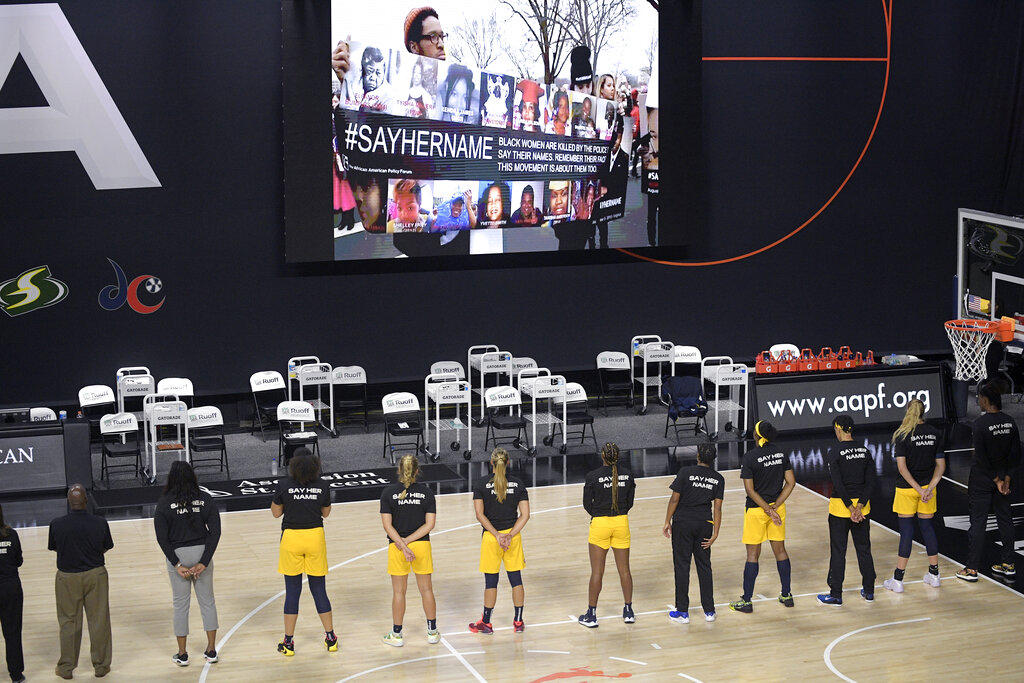 Warriors coach Steve Kerr, who is vocal on many issues himself, admires the WNBA players for their activism.
"I love what the WNBA players have done.
They've really taken the lead with creativity and unity in a lot of important causes, political causes but social injustice issues," Kerr said.
He also added, "They've made their voices heard, and they've done it very creatively and powerfully."
Curry, WNBA players receive Jackie Robinson award from NAACP.

by @janiemccap
https://t.co/HG03idRA0A

— AP Sports (@AP_Sports) March 18, 2021
More on the news:
The prior recipient of the award includes Michael Jordan, LeBron James, Jim Brown, The Harlem Globetrotters.
And others include Jackie Joyner-Kersee and Sugar Ray Leonard.
Georgia politician and voting rights activist Stacey Abrams will be giving the award during a virtual ceremony on Friday, March 26.
The virtual show will be on BET on Saturday, March 27, at 5 p.m. PT.