Famous as the Curry's father, Stephen Curry and Seth Curry, Wardell Stephen "Dell" Curry is an American former professional basketball player.
He played in the National Basketball Association (NBA) from 1986 to 2002 and retired as the Charlotte Hornets' all-time leader in points (9,839) and three-point field goals made (929).
Likewise, he played for the Utah Jazz, Cleveland Cavaliers, Charlotte Hornets, Milwaukee Bucks, and Toronto Raptors before retiring following the 2001-02 season.
Dell played for five NBA teams during his 16-year career after being chosen in the first round of the NBA Draft by the Utah Jazz in front of the 1986-1987 season.
However, Dell is most known for his exceptional time on the Charlotte Hornets, where he spent 10 seasons.
Dell Curry | Quick Facts
| | |
| --- | --- |
| Full Name | Wardell Stephen "Dell" Curry |
| Date of Birth | |
| Birth Place | Harrisonburg, Virginia, United States |
| Nick Name | Dell Curry |
| Religion | Christianity |
| Nationality | American |
| Ethnicity | African American |
| Zodiac Sign | Cancer |
| Age | 58 Years Old |
| Height | 6'5″ (196 cm) |
| Weight | 205 lb (93 kg) |
| Hair Color | Black |
| Eye Color | Black |
| Build | Athletic |
| Father's Name | Not Available |
| Mother's Name | Not available |
| Siblings | Not available |
| Education | Fort Defiance High School |
| Marital Status | Divorced |
| Wife | Sonya Curry (m.1988-2021) |
| Kids | Two sons; Stephen Curry and Seth Curry, and Daughter; Sydel Curry |
| Profession | Basketball player |
| Affiliation | Utah Jazz, Cleveland Cavaliers, Charlotte Hornets, Milwaukee Bucks, and Toronto Raptors. |
| League | NBA |
| Playing Career | 1986 – 2002 |
| Position | Shooting Guard and Small Forward |
| Draft | 1986 (1st round pick with 15th overall) |
| Net Worth | $16.6 million |
| Social Media | Instagram and Twitter |
| Merch | Stephen Curry Jersey, Autographed Cards |
| Last Update | August, 2022 |
Early Life of Stephen Curry's Father
Dell Curry was born in Harrisonburg, Virginia, US. The vast majority of his youth was spent in Harrisonburg. Details of his parents are not known. He experienced childhood in the little local area of Grottoes with four elder sisters.
Furthermore, Dell showed a distinct interest in sports from his youth. As a result, he went to the 'Fort Defiance High School' situated in Fort Defiance, Virginia.
During his school days, Dell was more intrigued by sports than education. While in his secondary school, he won the state title in baseball and basketball.
While still in high school, Dell was drafted by 'The Texas Rangers.' He showed up within 1983 and 1984 'NIT' competitions, completing third in 1984.
In graduating school, Dell Curry went to the 'Virginia Tech' where he turned into a record-breaking pioneer in basketball with 295 takes.
Top 15 Most Points in NBA History >>
Family
Dell Curry married Sonya Adams, a former volleyball player who he met in Virginia Tech. Sonya played for her college team at 'Virginia Tech.' As of now, the couple has three lovely children.
Every one of his kids has an interest in sports. Dell's eldest child, Stephen, is an 'NBA' player who plays for the 'Golden State Warriors.'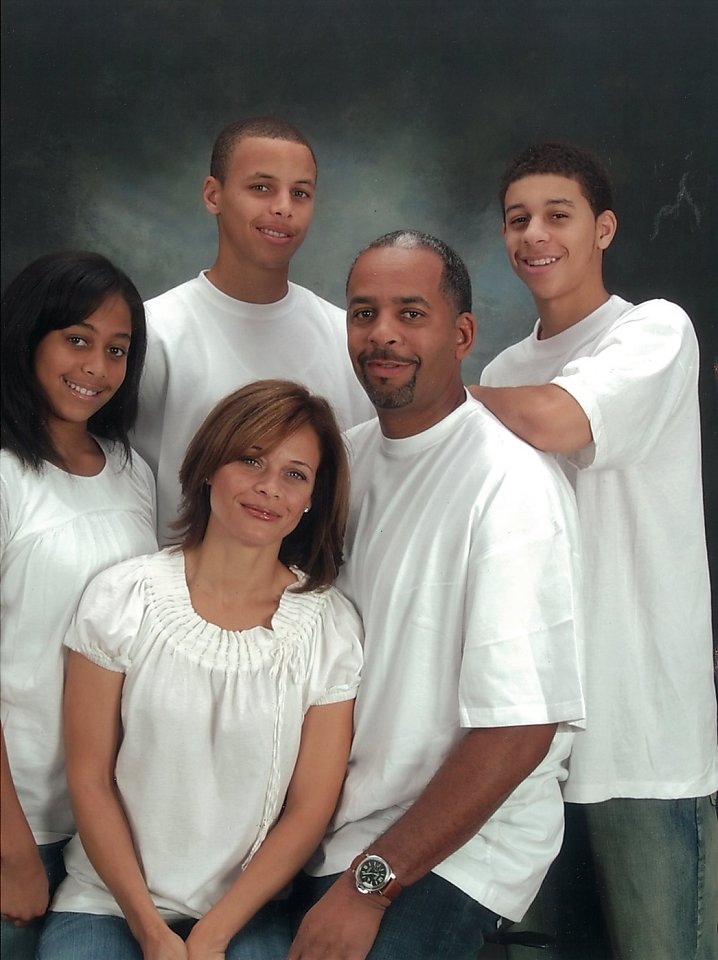 Moreover, his younger son, Seth, plays for the Dallas Mavericks.
Undoubtedly The Currys are basketball royalty.
Sydel Curry is the daughter of Dell; she is an American former college volleyball player who played for the Elon Phoenix women's volleyball team of the CAA Conference.
Sonya Curry and Dell Curry Accuse Each Other of Adultery Amidst Divorce.
Dell Curry has supposedly blamed Sonya Curry for cheating on him with a former NFL player.
Sonya Curry blamed Dell for cheating all through their whole marriage and has rejected that she at any point undermined her better half.
Similarly, Dell guaranteed that his significant other went behind his back with previous NFL player, Steven Johnson.
Sonya petitioned for a separation from Dell on June 14. Thus, the couple legally separated in March of 2020.
Dell Curry | Age, Height, and Weight
On June 25, 1964, Dell Curry was born and was brought up in Harrisonburg, Virginia, United States. He is 58 years of age now.
Being a professional basketball player, Dell is pretty taller than an average person. He is a whopping 6 feet and 5 inches tall.
But in the NBA, his height is considered average since there are even taller players than him.
Dell, during his career, used to weigh 205 lbs (93 kg) and hasn't changed since. However, he is very cautious about his health and well-being.
Dell Curry | Professional Career
While at Virginia Tech, Dell played both basketball and baseball. But he put his focus on basketball later in his career.
Dell's NBA career started when he was selected as the 15th overall pick by the Utah Jazz in the NBA Draft for the year 1986.
Dell played just one season in Utah and was traded to the Cleveland Cavaliers in 1987. He spent the season of 1987-88 playing for this team.
For the 1988-1989 season, Curry was chosen to play for one of the two freshest teams included for the 1988-1989 season – 'Charlotte Hornets.'
Likewise, Curry went through the following ten years in Charlotte. During games, he used to come off the bench to provide instant offense mostly.
After playing for 'Charlotte Hornets,' Dell played one season for 'Milwaukee Bucks' and three seasons for 'Toronto Raptors before resigning from the 'NBA.'
The Top 5 Richest NBA Players in the World Right Now!
Career After NBA
Even after his retirement, Dell has always actively taken part in the NBA. Whether it was helping his sons reach their peak in NBA career or even coaching and mentoring young athletes.
Dell kept on being dynamic in basketball even after he retired from the game. In 2007, he delegated the associate coach of the Charlotte Bobcats establishment.
However, he left this position because of personal reasons. Then in 2009, Dell began filling in as a color commentator for the 'Charlotte Hornets' franchise of the 'NBA.'
Awards & Achievements
In 1986, Dell was named the Metro Conference Player Of the Year.
In the 1993-94 season, Dell won the NBA's 'Sixth Man of the Year award.
Stephen Curry's father was inducted into the 'Virginia Sports Hall of Fame' in 2004.
During his retirement, the former NBA player had an all-time leading score of 9,839 points in the history of Charlotte Hornets.
In 2016, Dell was awarded the 'Bobby Jones Award' during the 'Athletes in Action All-Star Breakfast.' This award is given at the 'NBA All-Star Weekend' every year.
Social and Charity Work
Dell Curry has always done his part in helping the society and the ones in need.
Dell and his wife Sonya established the Christian Montessori School of Lake Norman, a preschool in Huntersville, North Carolina, in 1995.
In 1998, Curry set up a magnanimous establishment, the Dell Curry Foundation, which is a young arranged program in Charlotte, North Carolina.
Likewise, the establishment runs five learning habitats in Charlotte to give instructive preparing and illicit drug use counseling.
Dell Curry | Net Worth
According to the Richest, Dell Curry's net worth is $16.6 million.
Most of his earnings come from playing basketball. His first salary as a professional basketball player was $250,000 from Cleveland Cavaliers.
Similarly, joining Charlotte was a big move for him. There he earned a minimum of $1 million a season.
His biggest earnings were in the season of 1997, playing for Charlotte Hornets. He earned $3.6 million that season.
Social Media
Dell has recently joined Instagram and posts regularly. In addition, he occasionally posts pictures with his family and posts videos of podcasts that he was present in.
He has over 74 thousand followers on Instagram. So if you are interested in his Instagram uploads, do check it.
Papa Curry also has a Twitter account, but he doesn't seem to be very active in this account. He rarely uploads pictures or videos.
Frequently Asked Questions
Is Dell Curry getting divorced?
Yes, Dell Curry and wife Sonya Curry, the power couple who raised Steph, Seth, and Cydel, announced that they are getting divorced after 33 years of marriage.
The 20 Best looking NBA players in 2021 >>
Did Dell Curry make the hall of fame?
Wardell Stephen "Dell" Curry (born on June 25, 1964) is a resigned American professional basketball player.
Likewise, Curry played at the positions of a shooting guard and the small forward positions. He went to class at Virginia Tech.
In 2004, Dell Curry was added to the Virginia Sports Hall of Fame.