Sunil Chhetri is a professional Indian soccer player who plays for the Indian Super League club, Bengaluru, and the Indian national team. He is the third-highest active goal scorer (84) in international competitions.
Do you know which Indian football striker reached his peak level in recent years? He is the man behind the Nehru Cup's victory (2007, 2009 & 2012), the 2011 SAFF Championship, the 2011 AFC Asian Cup, and many domestic tournaments.
Being a follower of world-renowned footballer Lionel Messi, Sunil Chhetri has created his fame, where he is compared to the former one.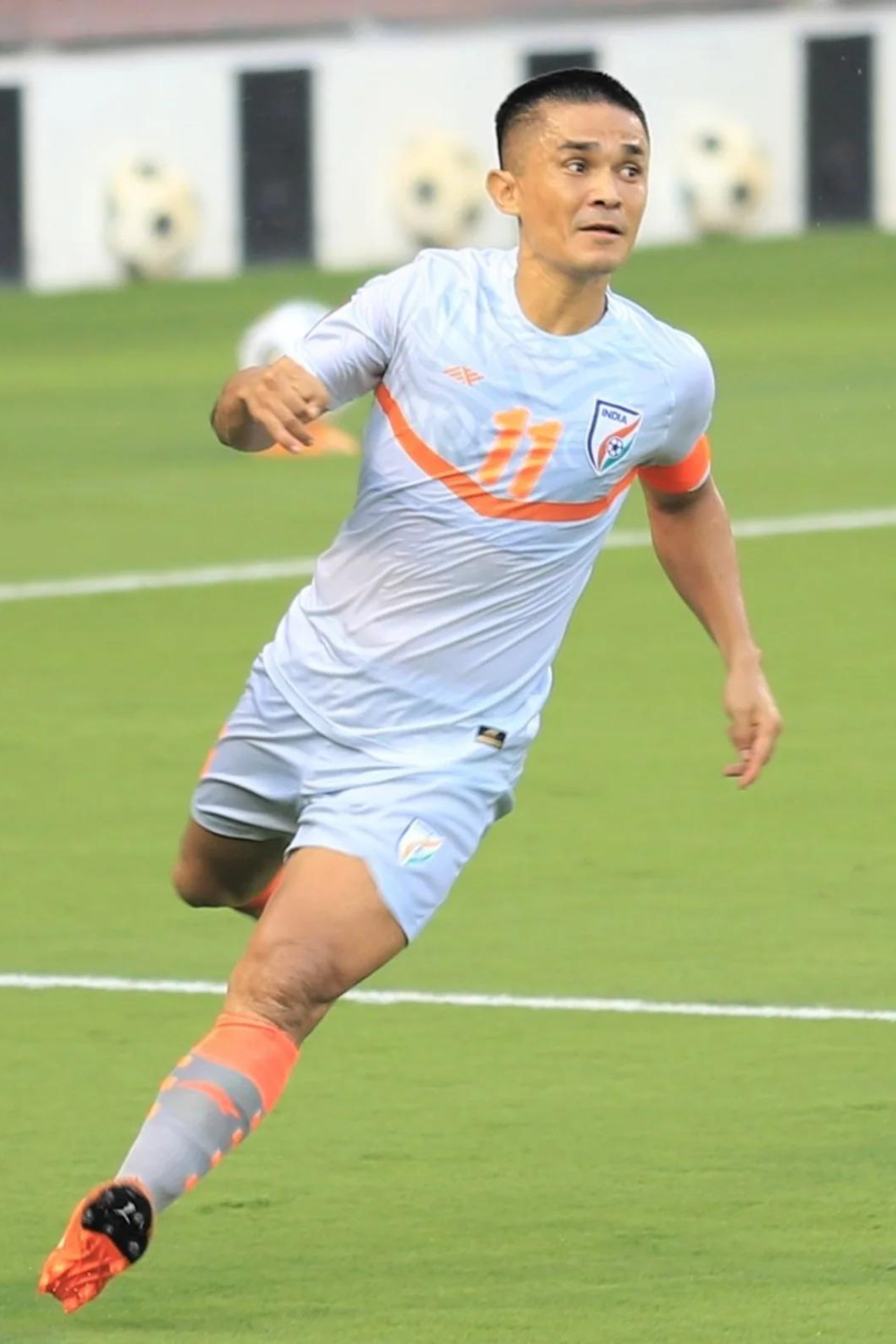 Also, Sunil equaled Messi's international goals with a tally of 64 on 10th June 2018.
Coming from an athletic family, Sunil has received numerous awards and recognition, including the Indian Prestigious award called Padma Shri and Arjuna Award.
Recently in August, he and Mary Kom were present in a Sony TV program, "Kon Banega Crorepati," hosted by Amitabh Bachchan.
Before getting to know more about the biography of this stellar Indian footballer, here are some quick facts about him right below.
Quick Facts
Full Name
Sunil Chhetri
Nick Name
Vai, Captain Fantastic
Date Of Birth
3rd August 1984
Birth Place
Secunderabad, India
Age
38 Years Old
Gender
Male
Sexual Orientation
Straight
Height
5'7″/1.7 m/170 cm
Weight
62 kg/136 lb.
Horoscope
Leo
Religion
Hinduism
Nationality
Indian
Ethnicity
Asian
Languages
Hindi, Nepali, English, Punjabi, Marathi, Haryanvi, Bengali, Konkani
Hair Colour
Black
Eye Colour
Dark brown
Skin Colour
Fair
Tattoos
None
Marital Status
Married
Wife
Sonam Bhattacharya
Kids
None
Father's Name
Kharga Bahadur Chhetri
Mother's Name
Sushila Chhetri
Siblings
One sister- Bandana Chhetri
High School
Bahai School, Gangtok, Sikkim
Army Public School in New Delhi
University
Asutosh College, Kolkata
Graduated Year
2002
Profession
Football Player
Active from
2002 – Present
Career Goals (ISL)
51 total goals
Position
Striker/Winger
Current Team
Indian Team & Bengaluru FC
Former Team
Mohun Baga, JCT, East Bengal, Dempo, Kansas City Wizards, Chirag United, Sporting CP B, Mumbai City, and Churchill Brothers.
Jersey Number
11
Awards
Arjuna Award, Padma Shri, AIFF Player of the Year (2007, 2011, 2013, 2014, 2017, 2018 & 2019),
FPAI Indian Player of the Year – 2009 & 2018
Net Worth
$1 Million
Salary
$11,000 per match
Social Media
Instagram, Twitter, Facebook
Soccer Merch
Goals, Balls, Training Equipment
Last Update
June, 2023
Sunil Chhetri | Marriage & How Sunil Married His Biggest Fan
The Indian striker is living his married life with his beautiful wife, Sonam Bhattacharya. Looking deeply into his love life, he is a blessed human, and so is his life partner.
They have such a fantastic love story, a story that everyone can be envious of.
First Meet-Up And Dating
Sunil and Sonam encountered each other for the first time when the former was 18, and the latter was just 15 years old. Sonam made a move first by texting on his cell phone.
As per communication, the player met her. However, Chhetri cut the meeting time once he realized that Sonam was still a kid.
Despite the age gap, the two continued talking, bringing them even closer with time.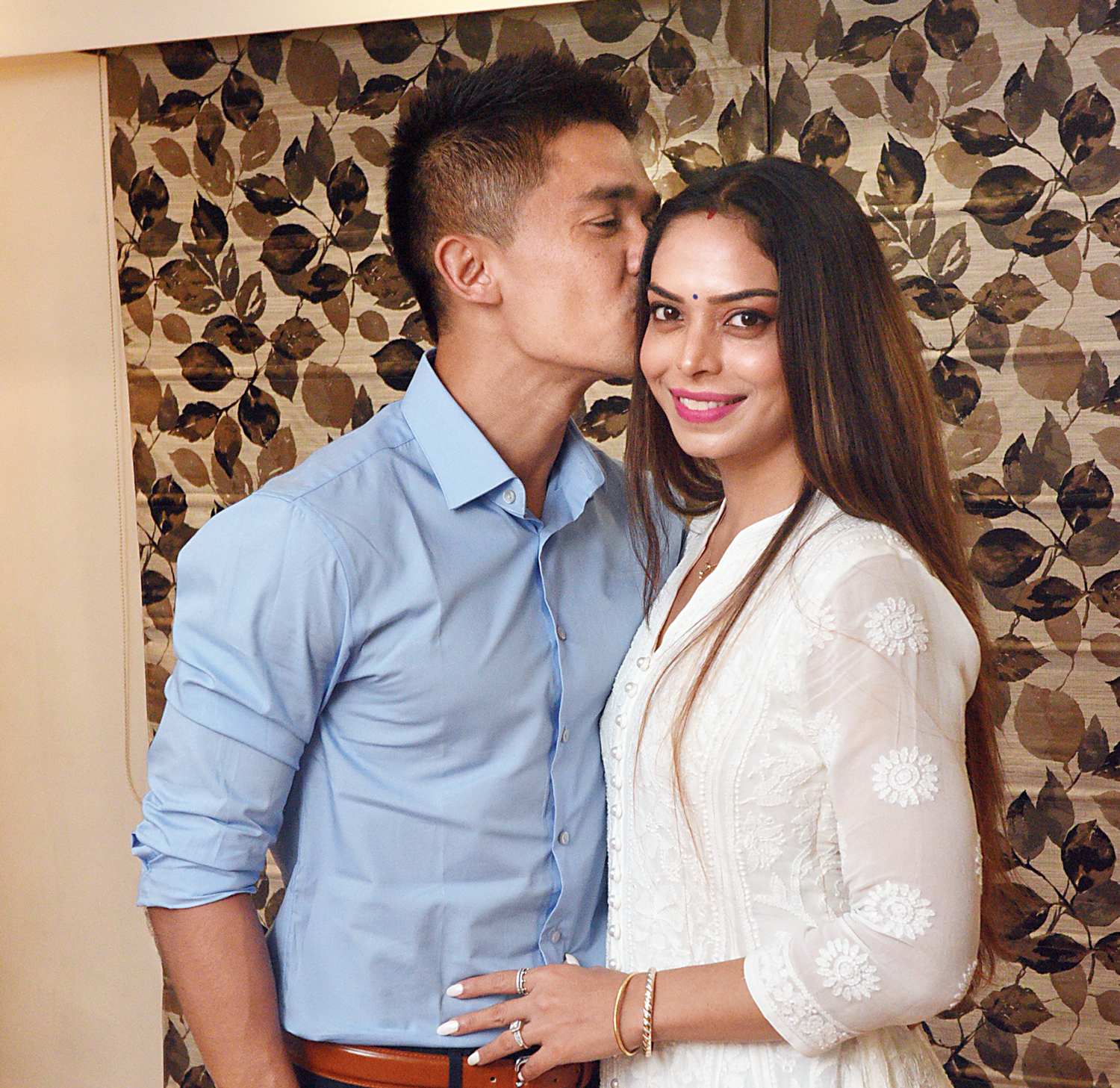 After two months, Sunil was astonished to know that he was in the process of falling in love with Sonam, who was his coach, Mohun Bagan's daughter.
He knew the truth when he received the call from a familiar number while fixing the coach's mobile.
So, Sunil couldn't handle the fact that the coach would end his career if he knew about them. As a result, the athlete called Sonam and decided to go their separate ways.
However, Sunil couldn't deny his destiny and his feelings toward Sonam. Their hide-and-seek type of relationship continued for almost 13 years.
"Years went by and our bond became stronger. As I grew in my career, she was always there to calm my fears and be my backbone. We grew up together and fell in love in the process."
Marriage
After dating Sonam for a long time, Sunil gathered all his courage and went to seek approval for marriage to Sonam's father and his coach, Mohun Bagan. To his surprise, Chhetri's coach took it rather easy and gave his nod of approval.
Within a few months, the pair tied the knot as per their parents' acceptance.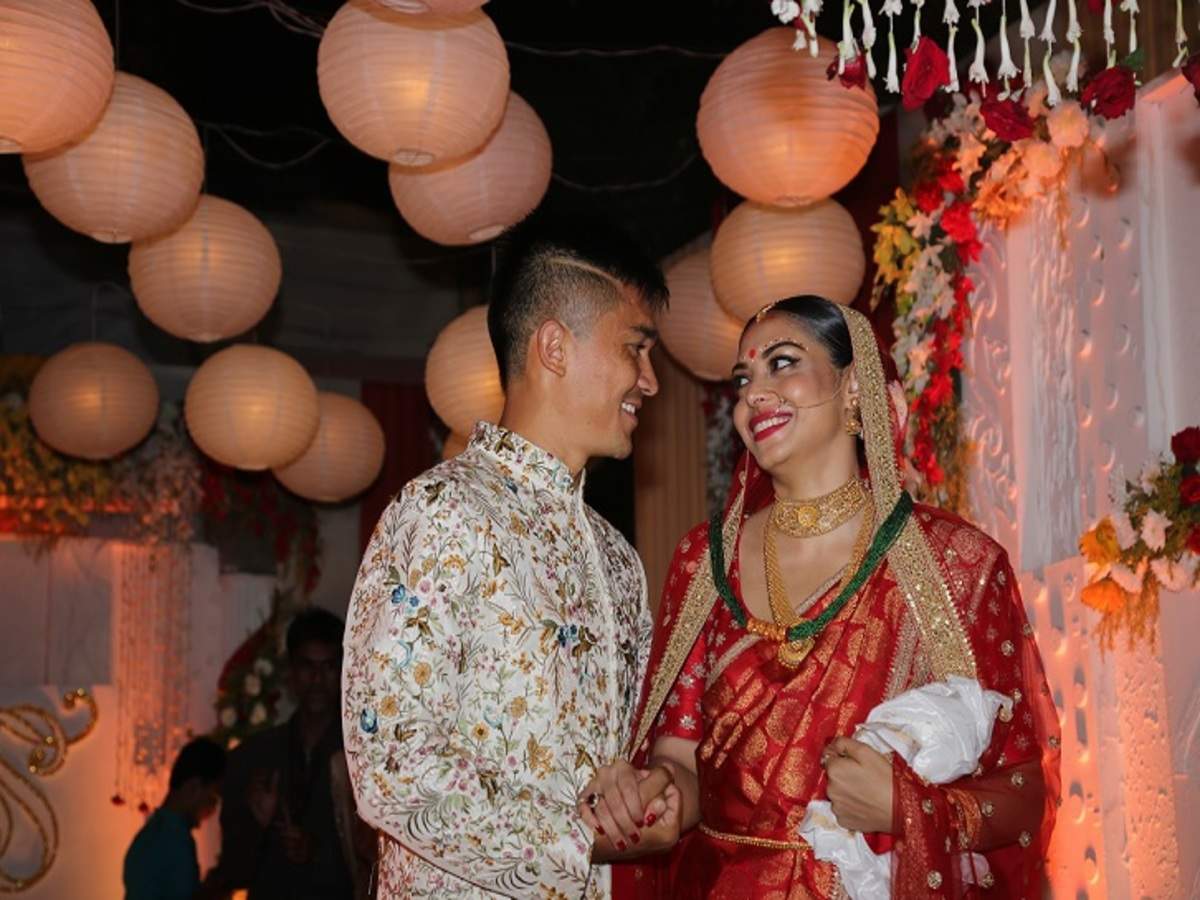 Similarly, the bride and groom married each other according to their traditions. The wedding ceremony took place on 4th December 2017 in a lavish ceremony in Kolkata.
Sunil was dressed up in Nepali attire, whereas Sonam was donning the Red Sari. Later, the striker changed into Bengali attire.
Age & Zodiac Sign
The national football team captain, Sunil, was born in 1984 in Secunderabad, Telangana, India. The player celebrates his birthday every year on the 3rd of August. As of 2023, he is 38 years old.
Being born in August, his sun sign is Leo.
Early life, Family, & Education
Family & Siblings
The winger is the son of his father, K.B. Chhetri, and mother, Sushila Chhetri. Professionally, his father served in the Corps of Electronics and Mechanical Engineers of the Indian Army.
Also, K.B. has a record of playing football for the Indian Army's team.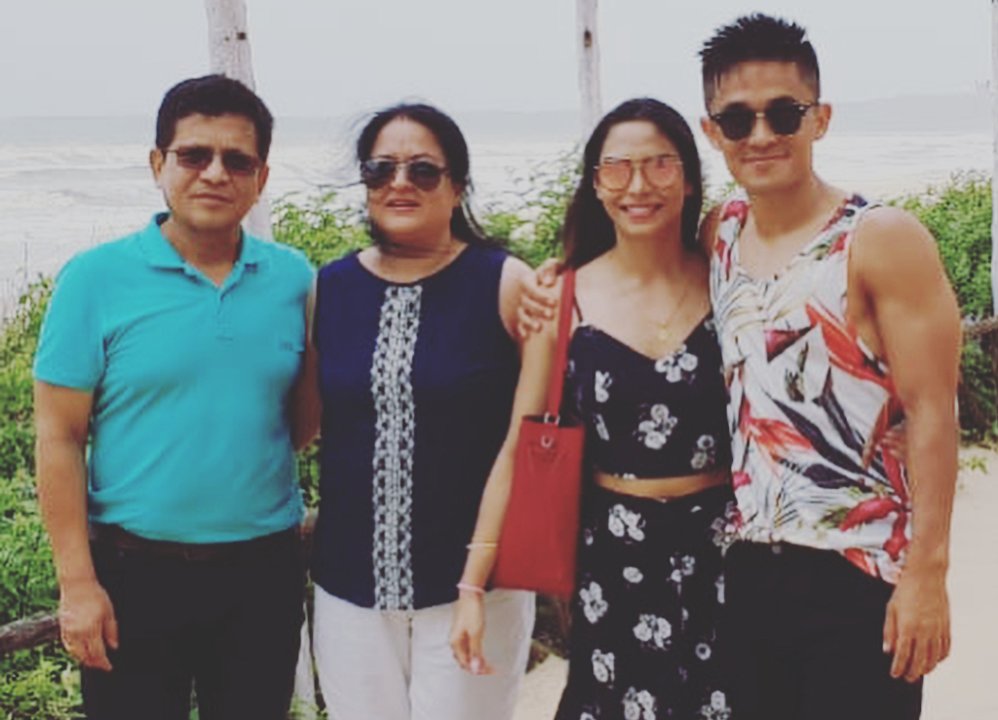 Moreover, Sushila was also a football player who played for the Nepal Women's National Team.
Besides, Sunil's sister, Bandana Chhetri, is also a national-level player. They all have represented their country of origin, i.e., Nepal.
Hence, it is evident that athleticism runs in Chhetri's genes.
Early Childhood
Being the child of an Army officer, Sunil lived his early days in different places. He spent half of his life in Gangtok, Darjeeling, New Delhi, and Kolkata.
In terms of his love for sports, Sunil was interested in several games, including football, from his young days. As a result, he grew up to be a promising player.
Education
Growing up, Sunil attended two different schools. Initially, he went to Bahai School, located at Gangtok.
As Chhetri moved from one place to another because of his father's profession, the athlete later joined Army Public School in New Delhi.
After completing school-level education, Sunil enrolled at Ashutosh College in Kolkata. The player didn't study further and decided to pursue a career in football.
Height, Weight, and Nationality
Captain Fantastic has a height of 5 feet and 7 inches (1.70m). His listed weight is 62 kg (136 lbs).
However, Sunil's chest, hips, waist, and shoe size are out of reach. Despite that, we know Chettri is a blessed athlete who is lauded for his skills and prowess on the field.
Detail On Religion And Nationality
Sunil's parents were originally from Nepal. But they migrated to India along with his family. Sunil was born in India, so he is an Indian national.
Similarly, being a native of an Asian country, Sunil follows Hinduism.
Net Worth & Income
As a footballer, Sunil has earned millions of worth. He plays both in national teams and clubs.
As of 2023, Sunil Chhetri has a net worth of $1 Million.
Also, Networthschool reported that the player makes $11,000 for scoring a goal in each match.
In 2010, his yearly income amounted to 110,008 USD. Additionally, Sunil gets huge payments for playing in different Cups and Tournaments.
To be specific, Bengaluru FC paid him about $2.01 million (about 1.5 crore Indian Rupees) for the season 2017-2018. This deal made him the highest-earning footballer in the ISL.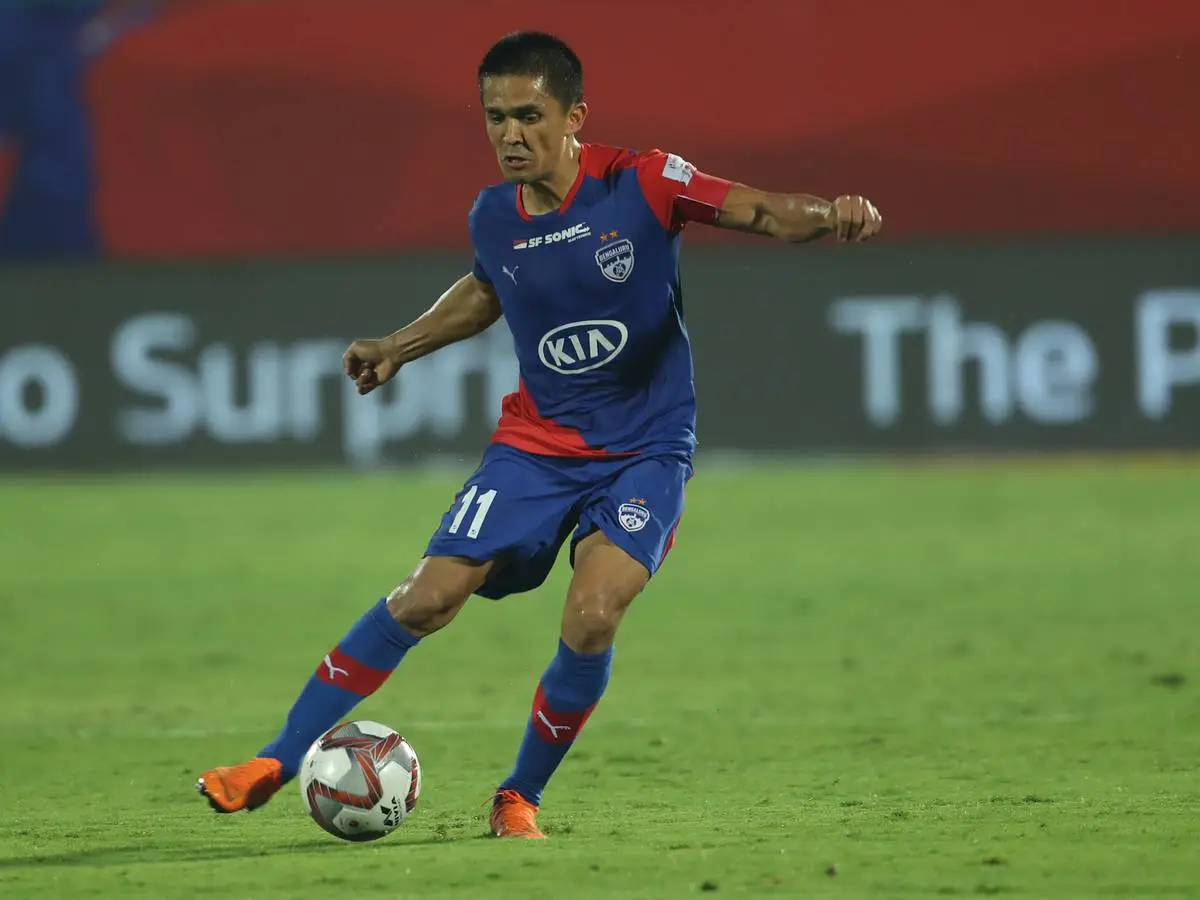 Sunil Chhetri signed a two-year extension with the ISL club, Bengaluru FC, keeping him with the club until 2023.
His estimated annual salary is about $98k per annum.
Endorsements
Besides matches, Sunil also generates hefty income from different companies and brand endorsements. In 2019, the striker signed a three-year deal with the sports apparel brand PUMA.
Plus, he is endorsed by other brands like Celio X, AXE, Arreindia, and more.
The millionaire, Sunil, resides in his big mansion in Bangalore with his better half. Though the exact price of the house is unknown, without a doubt, it might have cost him quite a lot.
Besides, Sunil is fond of collecting cars. To date, he owns Maruti Suzuki SX4, Audi A6 Luxury Sedan, and Ciaz.
Also, he recently bought Royal Enfield Continental GT.
Professional Career
Highlights
Sunil began his sports career at the age of 16. As a new college graduate, Chhetri got a chance to play for Mohun Bagan in 2002.
In 2005, the striker ended his tenure with the team and joined JCT FC. During his time with the JCT FC, Sunil scored 21 goals in 48 matches. This is one of his records among many.
Then the international team, Kansas City Wizards of Major League Soccer, approached him in 2010.
Following that, Sunil succeeded in attracting various football clubs as time went by. By now, this Indian footballer has played for East Bengal, Dempo, United Sports Club, Sporting CP B, Bengaluru, Mumbai City, India U20, and the national team India.
Furthermore, the highest Indian international goal scorer's goals amount to 84. In the last 5 matches, he scored 4 goals and made 1 assist for the national team.
In his club career, he has made 259 appearances; 112 goals, and 21 assists.
According to FIFA 22, his overall rating is 68. In the world ranking, he finished in the sixth position.
Covid-19 Positive Test
Back in 2020, the global pandemic Covid-19 created a miserable situation all over the world. It took many lives and made many people unemployed.
Even the prominent personalities and the players were equally affected by the pandemic.
In the same way, Sunil also tested positive for the virus on 11th March 2020. Because of it, Chettri had to halt many of his matches.
But, the striker bounced back to the field with much vigor upon his return on March 21st.
Sunil Chhetri | Social Media Presence
Sunil Chhetri keeps his fans updated about his life on social media. He posts pictures of his wife, endorsements, and practice sessions.
He is available on Twitter @chetrisunil11, on Instagram @chetri_sunil11, and on Facebook @Sunil Chhetri
Twitter: 1.7m followers
Instagram: 3.2m followers
Facebook: 1.6m followers
Popularity
Chhetri is a popular Indian athlete and is quite popular among sports fanatics as he is among the top active goal scorer alongside Ronaldo and Messi.
The above graph shows the popularity of Sunil in the United States over a year.
Exciting Facts About Sunil Chhetri
Sunil Chhetri has scored 50 international goals. To date, he is the first Indian footballer to achieve this record.
For a short time, Sunil and his family had to deal with the financial crisis. However, his successful football career sorted out the problem.
Sunil is not active on Facebook.
The footballer loves watching Shah Rukh Khan and Konkona Sen on screen.
Sunil is also referred to as Indian Messi in India.
The player has won the Indian Super League (2018-2019), I-League (2013-2014,2015-2016), Indian Federation Cup(2014-2015,2016-2017), and Super Cup (2018) for his current team Bengaluru FC.
Frequently Asked Questions (FAQS)
What is the rank of Sunil Chhetri?
In terms of the list of all-time international goalscorers, Sunil Chhetri ranks 10th.
Is Sunil Chhetri Nepali?
Though Sunil's parents came from India's neighboring country, Nepal, he was born and raised in India. As a result, the footballer is Indian and not Nepali.