Surya Bonaly future husband, Peter Biver, was the reason for the skating legend to leave Sin City. The couple has been in a relationship for ten years.
Bonaly expected her man to move for her from Minneapolis to Las Vegas, but that would have been difficult for the skating coach Biver. It would have been strenuous for Pete to restart his career in Las Vegas.
So, to keep their love alive and thriving, Bonaly left Las Vegas, the place she called home since becoming an American citizen in 2004. The pair now coaches several kids in Minneapolis.
The three-time World silver medalist, five-time European champion, and nine-time French National Champion, Bonaly is the only Olympic figure skater to land a backflip on one blade.
Surya Bonaly Husband, Peter Biver
Surya Bonaly's future husband, Peter Biver, has been a skating coach for two decades.
His coaching career began in 2002 at the Lake Placid Olympic Center, where he coached US Figure Skating pairs. From there, he coached skaters around the United States and across Europe.
Before becoming a skating coach, Peter earned his degree in business administration from St Norbert College and a minor in International Business and Spanish in 1998.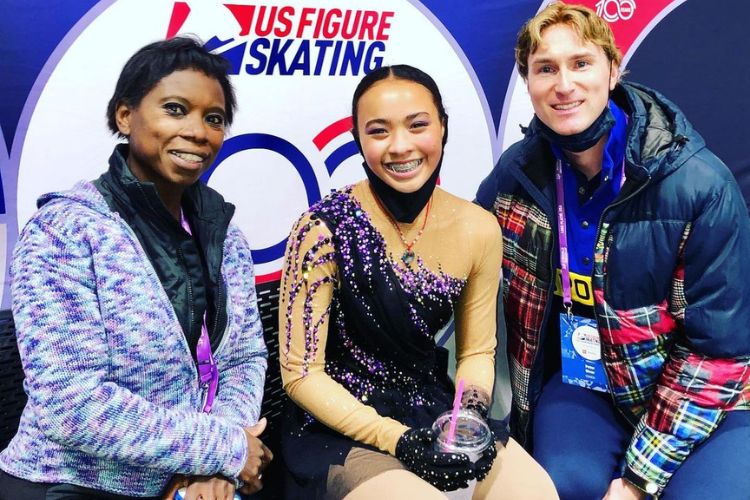 Biver is a PSA-rated coach and a 6-time US Figure Skating (USFS) Gold Medalist, earning his medals in Moves, Freestyle, Pairs, Compulsory Dance, Partnered Free Dance, and Solo Free Dance.
Earlier this year, Biver joined the skating coaching staff of Shattuck-St. Mary. He still coaches at National Sports Center and is an Independent Consultant of Pole Harness.
Biver was previously a Co-Director at Northwoods FSC and a Competitive Skating Coach at St. Croix Valley Recreation Center. On Instagram, Biver is available with the username @pbsk8coach and has mostly shared pictures of his student's success on the ice.
Surya Bonaly And Peter Biver Relationship
Surya and Peter met each other through their love for skating. The engaged couple met in 2013 in Las Vegas during a convention.
At first, they had to maintain a long-distance relationship as Peter lived in Minneapolis and Surya in Las Vegas. But the couple started to have trouble balancing their relationship, so one had to move.
Previously, Bonaly thought it was the guy who had to move for love if he loved. In 2015, Bonaly was the one who decided to leave Sin City and move in with Biver in Minneapolis.
A year later, Peter went down on one knee and proposed to the ice skating legend. After Bonaly's move to Minneapolis, the pair began coaching together.
In her interview with Star Tribune, Surya said the conversation between her and Peter is always centered around skating. She also talked about how demanding the life of a coach is and that she and Peter usually have dinner at 8, 9, or sometimes 10.
When the interview happened in 2016, Bonaly said she worked six days a week and Biver seven. Peter would only take a day off once in two months. In 2016, they also enjoyed their first vacation in two years with a trip to France, spending time with Surya's family.
Bonaly, in her interview, said she was taking her time to settle down in Minneapolis. Surya claimed she liked all four seasons, but Winter was at the bottom of the list.
On Instagram, Bonaly tries not to share too much of her personal life. A couple of photos of her and Peter came in 2018, and even now, if Peter shares any photos with Surya, then that is with their students.
The couple is believed to be still unmarried, as they haven't shared anything about it in the media.
Last year in her interview with Today, Bonaly shared she had missed the train of having children as she always placed her career over family.