Surya Bonaly was raised by her adoptive parents, George and Suzanne Bonaly.
Surya Varuna Claudine Bonaly, a former figure skater, was born on December 15, 1973.
Bonaly won three silver medals in the World Figure Skating Championships in 1993, 1994, and 1995.
Similarly, Surya is also a five-time European champion (1991-1995), nine-time French national champion (1989-1997), and the 1991 World Junior Champion (1991).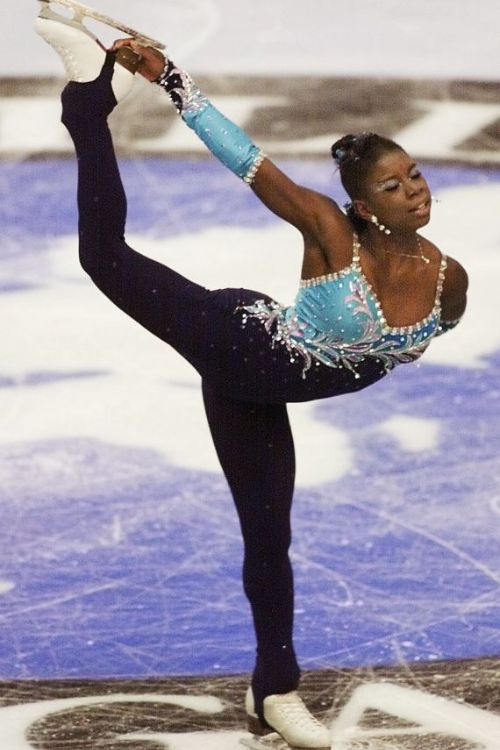 Additionally, the former skater performed a backflip at the 1998 Winter Olympics, becoming the only Olympic figure skater who could land a backflip on one blade.
In 2015, Bonaly had to go through surgery because of the cysts found on her spinal cord. Unfortunately, due to this, she had to sacrifice her passion.
Eventually, after recovering from her surgery, Surya started to coach. Currently, she is coaching in Las Vegas as well as doing seminars abroad.
Surya Bonaly Parents
Surya Varuna Bonly was named Claudine Bonaly by her biological mother at the time of her birth. Right after her birth, she was put into an orphanage.
When Bonaly was just eight months old, she was adopted by Suzanne and Georges Bonaly.
Her adoptive father, George, is an architect and government worker, while her adoptive mother, Suzanne, is a physical education teacher.
The Bonalys later named her Surya, which means "sun" in Sanskrit, and also called her Sannyasa.
Surya also once searched for her biological parents and found out her birth mother was from Reunion and her father is from Ivory Coast.
After two years of her adoption, Georges and Suzanne bought a property in a rural area, refurbishing a damaged sheepfold for use as a home.
However, the house had neither running water nor electricity. The Bonalys had 26 goats at the time.
Surya's adoptive mother, Suzanne, was good at many sports and encouraged her to be involved in sports. Suzanne was also the one who took Bonaly to the ice rink.
Courageous Olympian Surya Bonalyy
The Olympian is commonly called a rebel, which she does not like, and she is tired of being called an r word.
Bonaly was crowned the title after she knowingly performed an illegal one-legged backflip at the 1998 Nagano Olympics.
After the Olympics, she no longer competed at the amateur level and turned professional.
She competed as an amateur for nearly 20 years, and the Olympics or, to be precise, her one-legged backflip gave her a big break.
After turning professional, she spent the next decade gliding on ice in different competitions and shows like Champions on Ice.
She continued to amaze audiences with her triple jumps and backflips for roughly 10 months out of the year touring.
Continuing her passion, Bonaly still performed 10 to 11 shows per week during her 40s. By that time, she was already struggling with knee and back pain.
During her 40s, she did about 10 to 11 shows per week, but during that time, she suffered from knee and back pain.
Considering her age and health, she retired from skating professionally and started coaching full-time in 2016.