Tate Casey, one of the most promising young tight ends in the US during the 2000s, has an estimated net worth of $500K.
Always rated top by scouts during high school and college, people thought that he would pursue an NFL career, but he chose a different career path for some reason.
Casey graduated with a bachelor's degree in Sports Management and Recreation from the University of Florida in 2008.
Following this, he worked as a personal trainer and gym manager for a while before leaving the job around 2011.
So, what is the former Gators' top tight end doing now? Where is he now? What is his net worth? Read this article further to find out the answers!
Born to his parents in Odessa, Texas, Tate Casey attended Longview High School, where he received football training from head coach Pat Collins. His dad previously played collegiate football at Texas Tech.
Originally interested in baseball and football, Tate left baseball to concentrate solely on football after his sophomore year at high school.
After graduating, he had scholarship offers from different top universities, but he eventually chose Florida.
Casey appeared in 54 matches for the Gators until 2008, starting 16 games. He led his team to win the national championships twice, in 2006 and 2008. However, he left playing football after his graduation.
Tate Casey Net Worth: Where Is He Now?
Tate Casey, the former football player, has an estimated net worth of $500K as of 2023.
Unfortunately, there is no information about his annual income; hence, we cannot exactly determine what he earns right now.
It has been over a decade since Tate Casey last appeared in the media as a fearful college football tight end.
So, most probably, many people who saw him in the Gators jersey many years ago might not even remember his name today.
He has been away from the public view since graduating college in 2008 and doing regular jobs.
According to the recently released Netflix documentary UNTOLD: Swamp Kings, the former football tight end currently lives in Florida.
Speaking of his job, he is a sales representative at Stryker, a medical equipment manufacturing company.
Besides, he sometimes appears as a sideline analyst for the Gators IMG Sports Network.
After working as a personal trainer until 2011, Tate joined the medical device company Globus Medical in 2012.
He worked there for nearly four years as a spine specialist and eventually joined Stryker as a senior spine specialist in late 2016.
It is obvious that Tate would have made way more money than he has been earning if he had chosen to pursue an NFL career.
However, he is content with his life now and says he still earns enough to live comfortably with his family.
Tate Casey Family And Married Life
The former college football player, Tate Casey, was born to his parents, Leland and Debby Casey, on July 1, 1985, in Odessa, Texas.
His dad, Leland, graduated from Texas Tech, where he also played college football. Similarly, his mom has worked as an athletic trainer for many years.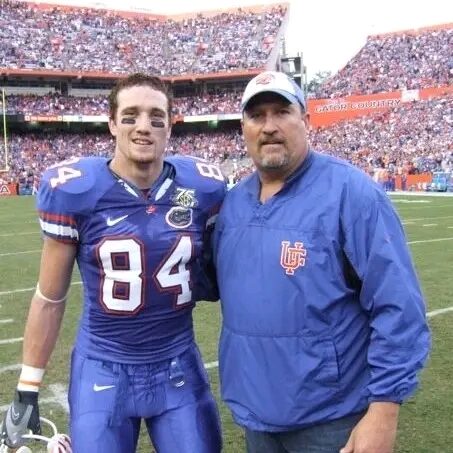 Maybe because of their parent's inclination towards sports, Tate and his siblings began showing their interests early. His older brother, Taylor, played linebacker at the University of North Texas.
Similarly, his sister was a San Diego State University basketball player while pursuing a bachelor's degree in Biology. She is currently a resident physician at West Virginia University.
Moreover, Tate Casey is also happily married to his wife, and they currently live in Jacksonville, Florida, with their two kids-a son and a daughter.