Mikey William tattoo has become a conversation starter among fans and critics as he loves adorning his body with a striking and thought-provoking design.
Mikey Williams is a skilled high school basketball shooting guard from San Diego, California, who plays for the San Ysidro Cougars.
Before his time at San Ysidro, Williams had a stint at Vertical Academy, an extension of Lake Norman Christian High School in North Carolina.
As a highly touted prospect, Williams has earned a four-star recruit status, garnering attention from basketball enthusiasts and scouts alike.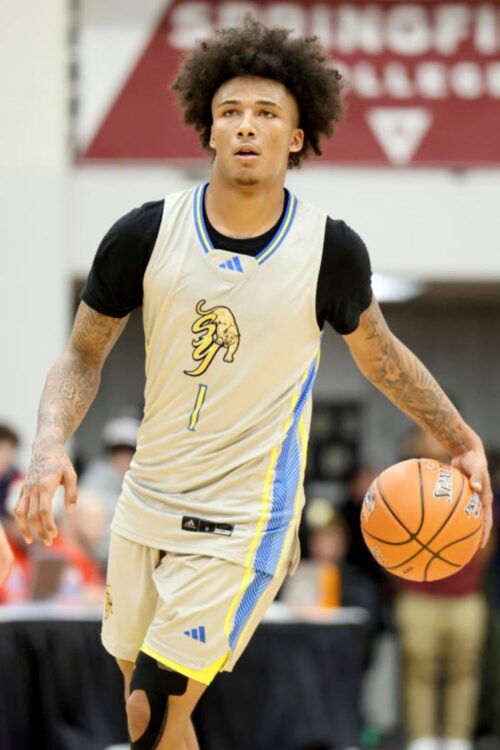 In his sophomore season, he transferred to Lake Norman Christian School but returned to San Diego for his senior year.
Thanks to his abilities on the court, the four-star recruit has committed to playing college basketball for the Memphis Tigers.
How Many Tattoo Does Mikey Williams Have? Their Meaning And Design
Mikey William is a high school student with a strong affinity for tattoos, as he has adorned his body with them.
Williams could be considered the most tattooed high schooler as well. The tattoos on his arms, legs, and chest are embellished with various designs.
His right arm boasts a full-sleeve tattoo that showcases a captivating blend of symbols and meaningful phrases.
One eye-catching piece is the inked tribute to his hometown, "DAYGO 9," proudly displayed on his hand.
Additionally, he has a tattoo of the number 824 on his forearm as a tribute to Kobe Bryant, along with the inscription, "Heroes come and go, but legends are forever."
Other tattoos include phrases like "Self Made" and "Skye," as well as a "69" tattoo. He also has tattoos of roses, numbers, and what appears to be a lion on his shoulder.
His left arm portrays a full-sleeve tattoo featuring stars, his name Williams, an analog clock, and other motifs.
On his chest, he has tattoos with phrases such as "Against all odds," "777," "interlocked SD," "Hemlock," and "38th."
He has also inked powerful Bible verses, a testament to his faith and inner strength.
With every tattoo, he has carefully curated a visual autobiography showcasing his passions, beliefs, and unique path.
Mikey William And Assault Charges
Mikey Williams was arrested and faced five charges of assault with a deadly weapon and one of shooting at an occupied vehicle.
The high school basketball player fired a gun at people in a vehicle who had left his home, per Police. He was also said to have one gun in his possession at the time of the arrest.
No one was harmed during the incident, and Williams was released on a $50,000 bond. If convicted on all counts, he could face a maximum of up to 28 years in prison.
Williams appeared in court via videoconference as per his attorney, Troy P. Owens' request. Owens cited security concerns for the virtual appearance, mentioning public and online threats.
The high school athlete was pleaded not guilty to several counts. However, he must be present for the preliminary hearing scheduled for June 29.
The University of Memphis released a statement acknowledging the situation and stated they are gathering more information.
The athletic department is still in a holding pattern regarding Williams' future with the team, awaiting further clarity from the legal process.
Mikey Williams' basketball career and his future with Memphis next season are uncertain due to the pending outcome of his case and its potential impact.