Taylor Pendrith's wife, Megan Pendrith, previously worked at Hamilton General Hospital. Megan began dating the golfer in 2016 and married him in 2021.
Taylor, a graduate of Kent State Univeristy, met his future wife in 2016 through Kent State alum Corey Conners. Taylor and Megan hail from Canada and are currently settled in the US. But for several years, the two love birds had to maintain a long-distance relationship.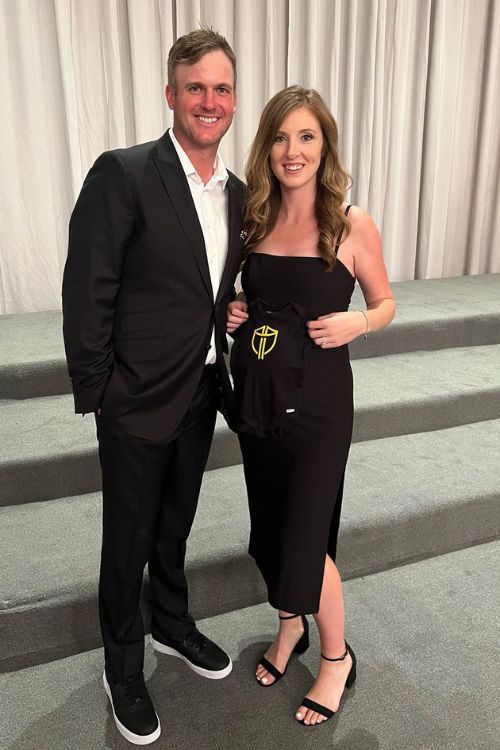 The distance doesn't seem to have affected their relationship, as now they are married and are parents to a cute baby boy. The two embraced their parenthood last year in October 2022.
The Canadian golfer Pendrith, who is yet to win any major championship, has won two PGA Tour Canada tournaments. He is competing in the Barbasol Championship and is currently in eighth position.
Trevor Cone has taken the lead and is followed by Lucas Glover and Vincent Norman in the second position.
Taylor Pendrith And Wife Megan Pendrith Relationship
Taylor Pendrith's wife, Megan Pendrith, worked as a registered nurse at the Hamilton (Ontario) General Hospital.
In an interview with PGA Tour in 2020, Taylor talked about his then-girlfriend's life as a front-line health worker during the pandemic.
Before the pandemic hit, Megan worked four 12-hour shifts in a row, but during it, she could be called at any given moment. Megan was also present during the interview and said the impact of the pandemic gave her chills.
The couple met through a mutual friend in 2016 and have been together ever since. They maintained a long-distance relationship before getting married but now call Florida their home.
Taylor And Megan Began Dating In 2016
The golf player isn't a big fan of social media and hasn't shared many posts. But his wife Megan has shared a few more than him.
The two became Instagram official in 2016 when Megan shared a snap of them on Taylor's 25th birthday. Since then, Megan has shared several Instagram posts for her longtime partner.
Some are appreciation posts, and some of them are posts about how much she misses him.
During the initial stages, as said previously, the golfing couple had to go through a few hurdles to maintain their relationship. Without patience from both sides, it certainly wouldn't have been possible.
The Couple Tied The Knot In 2021
In April 2020, as the pandemic's early waves began, Taylor, who was locked in his house with Megan, decided it was the best time to start a new chapter of his life.
On April 30, 2020, Megan took to her Instagram to announce the news of her engagement with the golfer. She shared the picture of her hand wearing the ring placed by Taylor.
Megan captioned the post, "Quarantining for life." The proposal had come one month before Taylor's 29th birthday.
One year and seven months after the proposal, Megan and Taylor tied the knot at Cambridge Mill, Ontario, Canada. The couple shared a series of pictures on their respective Instagram, including a beautiful image of them walking down the aisle.
Taylor And Megan Welcomed Their First Child In 2022
Though they had kept the news hidden for a long time, the couple finally revealed they were going to be parents in early October 2022.
Megan shared a series of black and white of her cradling her growing baby bump. The pictures also had Taylor in it, taking a walk around the fields hand in hand.
On October 25, 2022, the couple experienced parenthood for the first time as they welcomed their son, Hayes Austin Pendrith.
Hayes was born in Florida and took his first trip to Canada when he was only a month old. Since Hayes' birth, it's almost as if he has taken over his mother's social media handle.
The recent posts from Megan are that of her son and his progress every month. Earlier this year, the toddler dawned a green bodysuit as he celebrated St. Patrick's Day with his mom.