A rising star of the Los Angeles Clippers, Terance Mann has been playing for the team ever since they chose him as their 48th overall pick in the 2019 NBA draft.
The Florida State attendant booked his three-year NBA contract with the Clippers in 2019 & further signed a two-year extension in 2021.
From the mentorship of his mother, a college basketball player-turned-coach, Mann climbed up to NBA prominence & has been making headlines with his exceptional performance.
Having played his rookie season mostly in the G League, Terance began to shine in the 2020-21 season, having scored two double-doubles.
Moreover, in the 2021 NBA playoffs, he made his career-high 39 points against Utah Jazz in game 6 of the conference semi-finals.
However, they faced a defeat to Phoenix Suns in the conference finals.
Mann's ability to shoot efficiently and make the most of his starting opportunity has made him a valuable asset for the Clippers and a player to watch out for in the future.
Want to know more? Then read the article to the end. But before that, here are some quick facts about the NBA player!
Quick Facts
| | |
| --- | --- |
| Full Name | Terance Stanley Mann |
| Nickname | Stat Stuffer |
| Date of Birth | October 18, 1996 |
| Age | 26 Years Old |
| Birth Place | Brooklyn, New York |
| Nationality | American |
| Ethnicity | African-American |
| Religion | Christianity |
| Father's Name | Eustace Joseph Mann |
| Mother's Name | Daynia La-Force |
| Siblings | One (Martin Mann) |
| Zodiac Sign | Libra |
| Height | 6 feet 5 inches / 1.96 m / 196 cm |
| Weight | 216 lbs / 98 kg |
| High School | Tilton School, New Hampshire |
| University | Florida State University (2015-19) |
| Girlfriend | Angelica Streetman |
| Children | None |
| Profession | Basketball Player |
| NBA Draft | 2019, 2nd round, 48th overall pick |
| League | NBA |
| Position | Shooting Guard / Small Forward |
| Team | Los Angeles Clippers (2019-present) |
| Jersey Number | 14 |
| Net Worth | $1-$2 Million |
| Social Media | Twitter, Instagram |
| Merch | Signed Rookie Card |
| Last Update | May 2023 |
When & Where Was Terance Mann Born?
Terance Mann, an American professional basketball player, was born on October 18, 1996, in Brooklyn, New York. His parents: Daynia La-Force and Eustace Joseph Mann, hail from Saint Lucia.
At the age of 10, he moved to Lowell, Massachusetts, before moving to New Hampshire, where he completed high school.
As of now, Mann's parents are divorced; his mother, Daynia, a basketball coach, has been married to Eddie Benton since August 2019. They currently reside in Pittsburgh.
The NBA player has a younger brother named Martin Mann, who is also a basketball player currently playing for Dickinson College.
Age, Body Measurements & More!
Terance is 26 years old as of 2023. He stands 1.96 m (6 feet 5 inches) tall and weighs 216 lbs (98 kg).
The basketball player has a wingspan of 2.09 m (6 feet 10.25 inches) and a standing reach of 2.63 m (8 feet 7.5 inches).
Further, he has a hand width of 9.25 inches (0.23 m) and a hand length of 10.75 inches (0.27 m). His hand measurements were among the largest at the entire NBA Combine.
Moreover, Terance's chest size is 42 inches, his waist size is 30 inches, and his biceps are 17 inches.
Details on Family!
Mother Daynia La-Force Is A Basketball Coach
Daynia La-Force is a highly experienced American women's basketball coach with more than 25 years of experience coaching college women's basketball.
Currently, she is the co-owner & trainer of BentForce Basketball, LLC. Also, she is the co-founder of Mothers Against Racism.
Earlier, she worked as an assistant coach of Atlanta Dream of the WNBA from June 2021 to November 2021.
Prior to that, Daynia worked as an advance scout and volunteer coach for the Connecticut Sun during their successful 2019 season, where the team advanced to the WNBA Finals.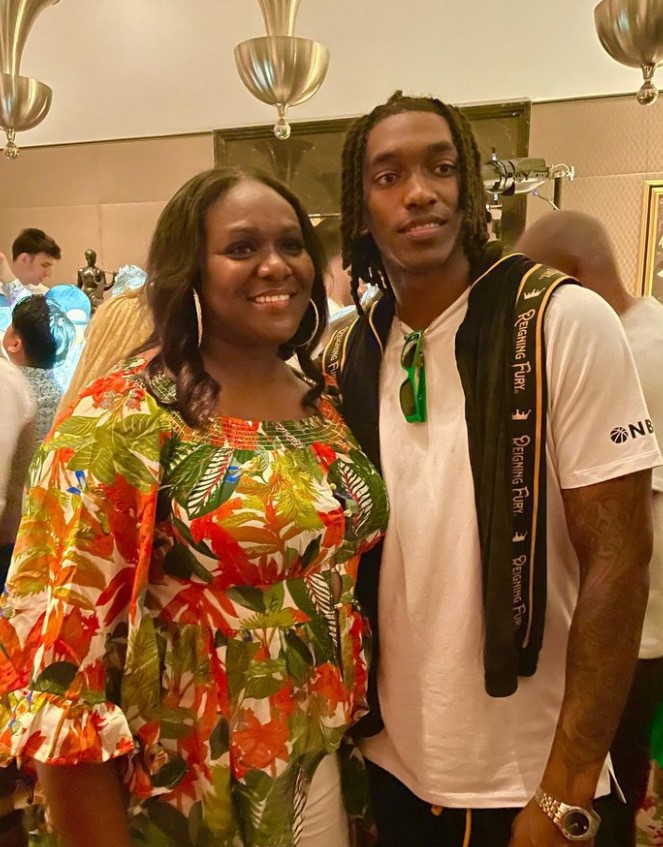 Daynia played college basketball at Georgetown University, where she served as a two-time team captain and a four-year starter. She graduated in 1998 with a degree in sociology.
She then started her coaching career as an assistant at Long Island University from 1996 to 2002.
Then, Daynia became an assistant coach at St. John's University (2002-05) before being the head coach of the women's basketball team at the University of New Haven for a year (2005-06).
After that, she served as the head coach of Northeastern University's women's basketball team for 8 years until 2014 before going to the University of Rhode Island (2014-19).
Terance Mann's Father, Eustace Joseph Mann
Eustace Joseph Mann (b. September 21, 1969) is a former soccer player from Saint Lucia. He played soccer at the University of Delaware and was also a Saint Lucia national team member.
Eustace initially tried to get his son Terance involved in the sport. However, Terance's heart was set on basketball.
Even Terance's mother encouraged him to try soccer, but it just wasn't his passion, and he ultimately pursued a career in basketball.
Despite Terance's decision to pursue basketball over soccer, Eustace remains proud of his son's accomplishments.
Younger Brother Martin Mann
Martin Mann, the younger brother of Terance Mann, is a talented basketball player who currently plays for Dickinson College, a Division III school in Pennsylvania.
Previously, he played for Pace University, a Division II school in New York, where he made two starts and played in 19 games during the 2021-22 season.
Martin, who is 6-foot-7 and wears number 12, is known for his athleticism and dedication to academics. In both semesters, he was named to the Northeast-10 Conference's Academic Honor Roll.
Before his college career, Martin played high school basketball at Tilton School in New Hampshire, where he was a teammate of his older brother Terance Mann.
Further, the young player also helped the team win two New England Prep School Athletic Council Class AA championships.
Education and Collegiate years
Terance Mann attended The Tilton School in New Hampshire for high school and was a four-star recruit.
He committed to play college basketball at Florida State University, where he played for four seasons. He helped the team reach three NCAA Tournaments and one Elite Eight appearance during his time there.
Mann finished his collegiate career with 1,255 points, 706 rebounds, 259 assists, and 114 steals, making him the only player in school history to achieve these stats.
He also set a school record for playing the most games (139) and tied for the most wins (104). In 2019, Mann graduated from Florida State with a degree in sport management.
NBA Career
The Los Angeles Clippers selected Terance Mann in the second round of the 2019 NBA draft. He played in 41 games during his rookie season, averaging 2.4 points and 1.3 rebounds.
In his second season, the player scored a career-high 39 points on June 18, 2021, in the conference finals of the 2022 NBA playoffs.
He set a franchise record for the most points scored by a reserve player in a playoff game.
Mann continued to play well in his third season, averaging career-highs of 9.0 points, 3.6 rebounds, and 2.2 assists per game as of January 13, 2022.
He has also improved his three-point shooting from 35% to 40%.
Is Terance Mann Dating Anyone?
Terance Mann is in a relationship with Angelica Streetman, a model with Cuban and Jamaican roots whom he met during their time at Florida State University.
They have been together since Mann's junior year in college and are said to be very content with each other.
Although the couple used to share pictures of each other on Instagram, their recent absence from each other's social media has led some fans to speculate that they might have broken up.
Net Worth & Contract
As of 2023, Terance Mann has an estimated net worth in the range of $1-$2 million.
The American basketball player's money showers began after being the second-round choice of the Clippers in the 2018 NBA draft pick.
On July 9, 2019, he signed a three-year deal worth $4.3 million that earned him a base salary of $937,500 in 2019-20 and $1.51 million in 2020-21.
And for the 2021-22 season, the LA Clippers guaranteed him $1.78 million.
Then, on October 12, 2021, he agreed on a two-year extension deal valued at $22 million, and effective through the 2023-24 & 2024-25 seasons.
Moreover, as part of that extension contract, Terance got the club option of $1.93 million for the 2022-23 season.
The highest earners of the Clippers are Paul George & Kawhi Leonard, each with a base salary of $42.492 million.
Interesting Facts
During Terance Mann's childhood, he learned to count by memorizing the jersey numbers of basketball players while his mother worked as an assistant coach at Long Island University.
One of Terance Mann's nicknames is Stat Stuffer. He got this nickname from his college coach Leonard Hamilton at Florida State University because he could do all the little things to impact each game. He was a versatile player who could score, rebound, assist, defend, and hustle.
Eddie Benton Jr, a former basketball player and coach at the University of Vermont, is Terance's stepfather. Daynia La-Force married Eddie in 2019. Together, the couple owns BentForce Basketball, a training business for basketball players.
Frequently Asked Questions
What number is Terance Mann?
Terance Mann's jersey number is 14. He wears this number for the Los Angeles Clippers of the NBA, where he plays as a shooting guard and small forward.
When did Terance Mann debut?
Terance Mann made his NBA debut on October 24, 2019. He came off the bench in a 141–122 win over the Golden State Warriors.
Does Terance Mann have tattoos?
Yes, Terance Mann has several tattoos on his arms and chest, his grandmother's face, the number 48, and some other words.