The NFL legend is a father of two sons and two daughters. Not much is known about his son Atlin, but Terique, his older son, has followed in his footsteps and is a football player.

Both of Terrell Owen's sons have different mothers, and the boys rarely seem to meet each other.
Terrell Eldorado Owens was born in Alexander City, Alabama, on December 7, 1973. Famously nicknamed "T.O.," he is a retired football wide receiver.
Owens played 15 seasons in the National Football League (NFL) and is regarded as one of the greatest wide receivers ever.
As of October 18, 2023, he stands third in NFL history in career receiving yards and touchdowns.
Owens attended Benjamin Russell High School, where he played many sports, including basketball, baseball, and football.
Interestingly, he did not make his high school football team until his junior year, when one of his teammates was sick and missed a game.
Terrell Owens Son, Terique & Atlin Owens
Terrel Owens is a father to four children, two sons and two daughters. The names of his sons are Terique and Atlin.
Terique is the older one among his sons and follows the same path as Terrel. He is also a football player and has been in the sport since high school.
Furthermore, Terique was born on September 25, 1999, in Fremont, California. He began his sports career at Bishop O'Dowd High School in Oakland.
He first played basketball there, later switching to football in his junior and senior years.
He had a diverse collegiate football career as Terique constantly transferred from one college to another.
Terique appeared in four games as a redshirt sophomore at Florida Atlantic University in 2020.
Then he transferred to Missouri State, where he would debut in 2021 and have a fantastic career.
In 2022, Terique received the MVFC Commissioner's Academic Excellence Award and earned a spot on the MVFC Honor Roll.
There is not a lot of information about his younger son, Atlin Owens. Atlin's mother is Samelia, and they do not live with Terell.
In 2011, Atlin got his wish of meeting his father when Terrell showed up at his birthday party.
A Car Hit Owens After He Got In A Verbal Altercation
Terrell Owens was hit by a car on the night of October 16, 2023. The incident comes after a dispute on a basketball court in Calabasas, California, on Sunday.
According to the Los Angeles County Sheriff's Department, Owens was involved in a verbal altercation.
The incident occurred at a basketball court in the 2600 block of Rondell Avenue in Los Angeles' west San Fernando Valley around 9 p.m.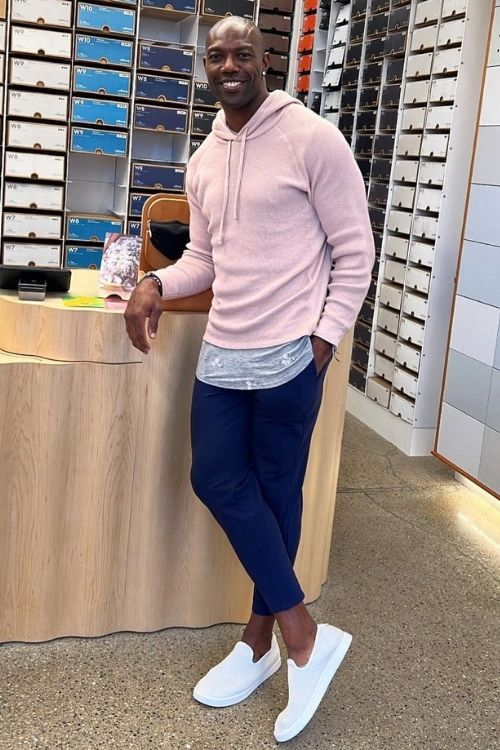 Later, the individual involved in the dispute with Owens drove his car into Owens' knee for revenge.
However, Owens didn't sustain any serious injuries and didn't require medical attention.
As of October 18, 2023, authorities have not made any arrests because they have yet to find a detailed image of the car involved in the hit-and-run. Police are still searching for the suspect.