The world believes that Brazilians are born to play football. Their passion and love for the game are deeply rooted in Brazilian culture.
Similarly, this statement resonates with Thiago Neves's life, a professional football player from Curitiba, Brazil.
Thiago Neves is a professional football player who plays for Sport Club do Recife and has appeared for the Brazil national team.
He has played for various clubs in different countries such as Brazil, Germany, Japan, Saudi Arabia, and U.A.E.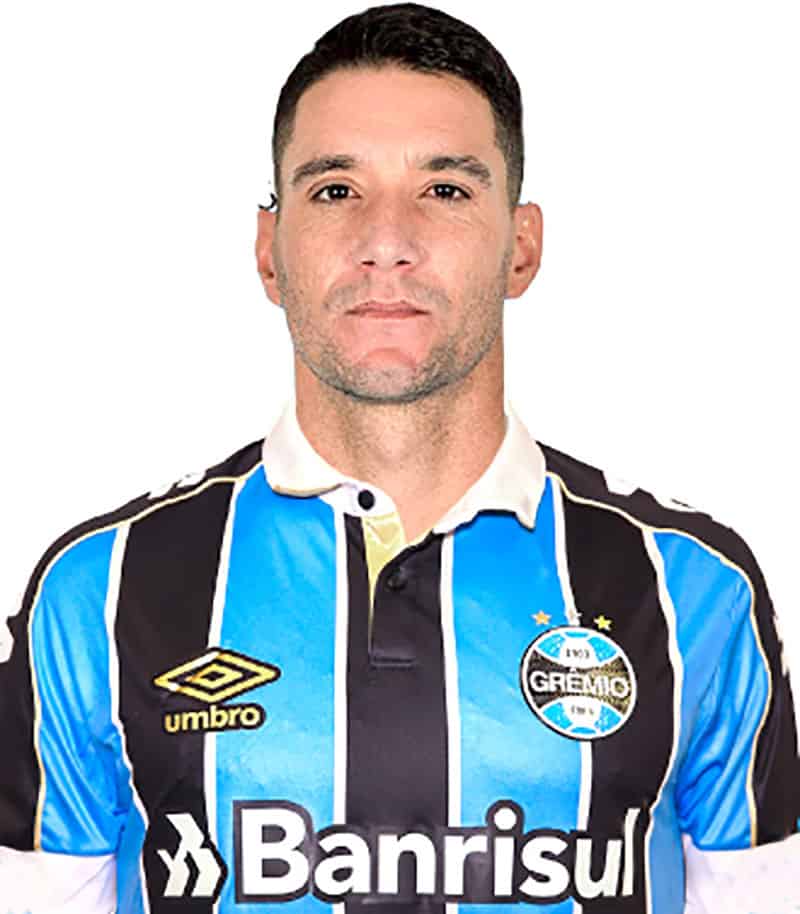 He is currently married to his long-time girlfriend and partner, Marcella di Biase.
Here, we will be looking at the details of his life, career, net worth, and relationship.
But before that, let's jump into some quick facts about Thiago Neves.
Thiago Neves: Quick Facts
| | |
| --- | --- |
| Full Name | Thiago Neves Augusto |
| Birth Date | 27 February 1985 |
| Birth Place | Curitiba, Brazil |
| Nick Name | Not available |
| Religion | Not available |
| Nationality | Brazilian |
| Ethnicity | Not Available |
| Education | Not Available |
| Horoscope | Pisces |
| Father's Name | Onivaldo Augusto |
| Mother's Name | N/A |
| Siblings | N/A |
| Age | 38 Years Old |
| Height | 5' 11″ (1.80 m) |
| Weight | 70 kg |
| Shoe Size | Not available |
| Hair Color | Black |
| Eye Color | Black |
| Body Measurement | Not available |
| Build | Fit |
| Married | Yes |
| Girlfriend | None |
| Spouse | Yes |
| Position | Attacking Midfielder |
| Profession | Football Player |
| Net Worth | $5 – $8 million |
| Clubs | Sport Recife |
| Jersey Number | 30 |
| Social Media | Twitter |
| Merch | Sport Recife Jersey |
| Last Update | November, 2023 |
Thiago Neves: Life & Family
Thiago Neves or Thiago Neves Augusto, born 27 February 1985, is a Brazilian Professional Football Player who plays for Brazilian First Division Club Sport Recife.
He was born to his father, Onivaldo Augusto, and his mother in a small town in Curitiba, Brazil.
Thiago Neves: Career
Thiago Neves is active in the world of football since 2005. As an attacking midfielder, he is known for his attacking abilities.
Neves has played for several clubs in countries like Brazil, Japan, Germany, the U.A.E, and Saudi Arabia.
Moreover, Neves is a popular figure in the Brazilian league.
Parana (2005 – 2007)
Thiago Neves's club career started in his hometown Curitiba, Brazil. He made his debut for the Brazilian football club, Parana Clube, or Parana, which plays in the second tier of Brazilian football.
Thiago Neves made 29 appearances in total for Parana in the 05/06 season. During this, he scored three goals and made his mark in Brazilian football.
Vegalta Sendai (2006)
Thiago Neves's next destination would be Japan. Shortly after his time in Parana, he signed for Vegalta Sendai, a Japanese football team, on a one-season-long loan.
He made 35 appearances for them and scored eight goals during his tenure.
Fluminense (2007 – 2008)
Thiago's time in Japan lasted only one year as he moved back to Brazil. The player then signed for Fluminense on a season-long loan deal, with an option to buy.
His time in the Brazilian club went reasonably well as he made 43 appearances for the club in 2007.
Moreover, Neves scored 12 goals in the Brazilian Serie A and two goals in the Copa do Brasil cup.
Due to his influential contribution to the team, the club extended his contract and signed him permanently. In the 2007 season, Neves won the Copa do Brasil with Fluminense.
However, due to various reasons, Neves failed to meet expectations. Neves managed only eight goals in eighteen appearances for the Brazilian side.
You might be interested in reading about: Lori Slayer Bio: Nationality, Fitness Trainer, Routine & Diet >>
Hamburger SV (2008)
Neves, in his professional journey again, had to change continents. The player's next destination would then be in Europe.
Thiago Neves signed for Bundesliga 2. side Hamburger SV in 2009. Hamburger signed Neves as an ideal replacement for the outgoing Dutch player Rafael van der Vaart.
However, the midfielder failed to register himself as a regular starter. As a result, Neves only made six appearances in the league for the German outfit.
Fluminense (2009)
Thiago Neves then moved back to Brazil. He signed for his former club Fluminense in 2009. Neves managed to make 23 appearances for the club and scored seven goals in the process.
Al-Hilal (2009 – 2011)
Thiago Neves then dramatically made a move to Saudi Arabia side Al-Hilal in 2009. Moreover, Al-Hilal signed Neves for a figure of €7 million.
Neves then immediately impacted the 2009/10 season as he made 20 appearances in the league scoring 11 goals.
In his first spell with Al-Hilal, Neves won the Saudi Premier League and Crown Prince Cup.
Later on, he managed five goals in 12 appearances for the Arabian side in various cup games such as Crown Prince Cup, Kings Cup, and Asia.
Neves would then continue his impressive form to the next season as well. In the 2010-2011 season, Neves managed six goals in 14 appearances for the team.
However, his spell in the Arabian outfit would come to a halt as he returned to his native land, Brazil.
Fluminense (2011)
Neves again made a return to his former club Fluminense in 2009. However, he returned for a short spell and made seven appearances for the Brazilian outfit.
Flamengo (2011 – 2012)
Subsequently, Neves continued his journey with Flamengo in 2011 in a loan deal. He made 57 appearances for the Brazilian side and scored an impressive 21 goals in the process.
Neves won the Taca Guanabara, Campeonato Carioca, and the Taca Rio in 2011 with Flamengo, after playing impressively.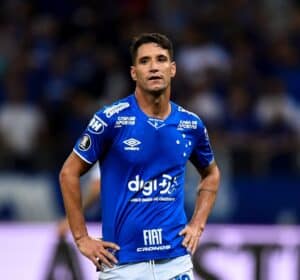 Fluminense (2012 – 2013)
Thiago Neves made a historic comeback to his former club Fluminense. He signed for the Brazilian outfit for an amount of €7 million.
In his spell back at the club, he managed to make nine goals in 49 appearances helping his team win the league.
Similarly, Neves continued his impressive form through to the next season. Likewise, he managed two goals in 16 appearances for the Serie A side.
In his last spell with Fluminense, Neves helped the team win Campeonato Carioca: 2012, and Campeonato Brasileiro Serie A: 2012.
Al-Hilal (2013 – 2015)
Interestingly, Neves's journey would take him back to the middle east. Neves was sold back to Al-Hilal for €6 million in July 2013 by Fluminense.
Thiago Neves continued performing at a high level where ever he went. For instance, the goals he scored as a midfielder are impressive for a player in that position.
Neves managed an impressive 13 goals in 22 appearances in the Professional League for Al-Hilal. Similarly, in the 2013-2014 season, Neves managed 17 goals in 31 appearances.
Furthermore, in the 2014-2015 season, Neves managed ten goals in 20 appearances for Al-Hilal in the Professional League.
Overall, Neves scored 20 goals in 41 appearances in the season 2013-2015. In 2015, Al-Hilal managed to win the King's Cup with the help of Thiago Neves.
Al-Jazira (2015 – 2017)
Thiago Neves then switched to the Abu Dhabi side, Al-Jazira, a professional club in the UAE Pro League. Likewise, he managed 11 goals in 37 appearances for the Abu Dhabi side.
In the next season in the 2016-2017 season, Neves only managed to find the net twice in a mere five appearances.
After four years in the middle east in Saudi Arabia and the U.A.E, Neves returned to Brazil.
Neves signed for Cruzeiro, another Brazilian side based in Belo Horizonte, in 2017. Neves appeared 152 times in his two years with the club and scored 41 goals as an attacking midfielder.
Gremio (2020)
Subsequently, Neves signed for another Brazilian outfit based in Porto Allegre, the Rio Grande do Sul, in 2020. He only made 14 appearances for the side and scored one goal.
However, during his time with Gremio, Neves won the Campeonato Gaucho: 2020.
Sport Recife (2020)
Thiago Neves currently plays for Sport Recife. Recently, due to his injury on July 10, he hadn't appeared for the games and preparing for his rehab.
Likewise, he was out of training with the squad and embezzled the team in the match against Atlético-MG.
Later, Thiago revealed that he was dissatisfied with the Ilha do Retiro and had planned to leave the club.
Well, he revealed it during his discussion with the new board of the club. However, it is fortunate that Thiago again returned to the team and resumed his training.
International Career: Brazil
Thiago Neves made his international debut for Brazil against Sweden on 26 March 2008. Likewise, Neves made seven appearances for the U-23 team and has found the net three times.
Neves's crucial contribution to Brazil came in the 2008 Beijing Olympics as he scored three goals and helped Brazil finish third.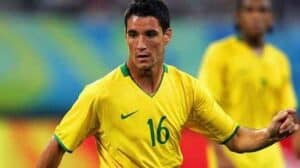 Also, he has made seven appearances for Brazil's senior team. Although Neves got selected for the Copa America and Superclasico de las Americas' preliminary squad, he didn't feature in any tournaments.
Individual Honours
The attacking midfielder from Brazil has been a stand-out performer. He has played in various competitions across many countries.
As an attacking midfielder, he has scored 141 goals in 483 appearances. As a result, he received many honors.
In 2007 and 2017, he won the best player award in Brazil's club competition. Likewise, he won the best player of Campeonato Paranaense Under-20: 2004.
Likewise, Neves won the Best Attacking Midfielder and Best Player (People's Choice) in the 2011 Campeonato Carioca. In the meantime, he also won the Best Player award, awarded by the organizers in the same tournament.
The talented midfielder was also included in Brazil's Team of the year: 2017.
You might be interested in reading about: Trent Alexander Arnold Bio: Stats, Parents, Injury & Net Worth >>
Injuries
As an athlete, one can never be so sure of their health condition. Even alongside the numerous precautions, one can fall hard on their health.
As for Thiago, one of his early injuries was back on 7 February 2018. Well, he had struggled with the muscle injury which kept him away from the games for seventeen days.
The same year in May, Thiago stumbled with a calf injury and was out of the games for twelve days.
Again, after his return, his calf injury got worse and was on the injured list again in June. As for this time, he was on the list for 28 days.
Throughout the year and more, Thiago struggled with calf and muscle injuries all the time.
In September, he was again out for six days due to his muscle injury, and right after things were in place, at the start of the next year 2011 in January, he had a calf injury.
Well, that took 58 days for him to recover and be back on the field. Two days later after his return, he again starred on the injured list for another 26 days.
Following it, in 2020, Thiago faced a thigh injury and was out of the games for fourteen days.
Apart from these, his most recent injury was in June 2021. Indeed, again with the calf injury! Altogether, he returned after fourteen days of the recovery period.
Thiago Neves: Age, Height & Body Measurements
The Brazilian midfielder was born in the year 1985, which makes him 36 years old. As he was born on February 27, his zodiac sign is Pisces.
Thiago Neves has a height of 5 ft. 11 in. and weighs 70 kg. Similarly, he has a fit, muscular body that allows him to shield and protect the ball while playing.
If you are interested in buying his autographed photo frame, click the link to follow!
Thiago Neves: Relationship & Wife
Thiago Neves is currently married to long-time partner Marcella Di Biase. They have an elder daughter and a young son, making them a family of four. Marcella is an enthusiastic supporter of football.
All of Neves's fans admire Marcella and support both of them. Marcella and Neves, together, have a beautiful family. Their daughter's name is Maria Carolina Neves.
Thiago Neves: Net Worth & Salary
Thiago Neves has amassed his net worth from his career in playing football and various sponsorships. His current salary with Sport Recife is 9 million Brazilian Real ($1.6 million)
According to various online sources, his current net worth is between $5 million to $8 million.
You might be interested in reading about: Joseph Benavidez Bio: Early Life, Career, Net Worth & Wife.
Social Media Presence
Thiago Neves has played on various continents. Due to this, he has many fans. Thiago Neves uses both Instagram and Twitter. Additionally, his fans have opened several fan pages in his support on multiple social media platforms.
His Twitter and Instagram accounts and the number of followers, as of date, are listed below.
Twitter: @thneves10 – 598k followers
Frequently Asked Questions
How much is Thiago Neves's net worth?
Thiago Neves's net worth is between $5 million to $8 million.
Is Thiago Neves still playing?
Thiago Neves currently plays for Sport Recife.
Who is Thiago Neves dating?
Thiago Neves is married to his partner Marcela Di Biase.
What is Thiago Neves' career stat like?
As for only 2021, Thiago Neves has featured in eight matches and has a single goal. Overall, his career stats stand with 483 game appearances with 141 career goals. In the international arena, Thiago has a six-game appearance with no goals to date.