Lori Slayer is a fitness model, personal trainer, and inspiration for her fans. She is the one who was able to break into the men's world. She is also a mother to her son, who is headed to the US Navy in June 2022.
Women are always confined to the belief that they should be lean and graceful by the world and not associated with the term "bodybuilding and fitness."
People usually link it with men when imagining heavyweights, lifting and bulging muscles.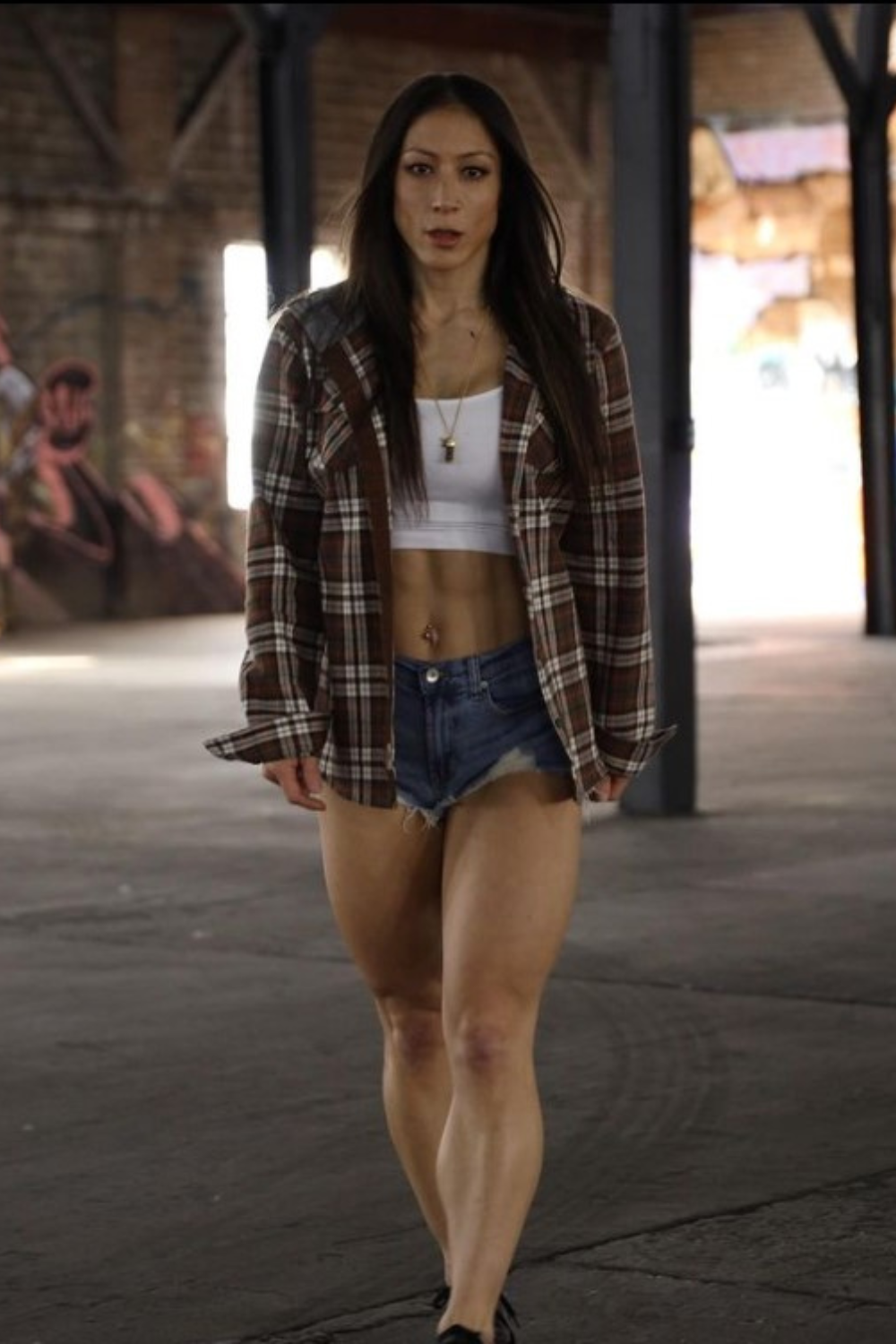 Heavyweight lifting is seen as a part of men's world, and it is something that the world has limited women from doing for a long time.
Despite this, many women have been able to break the walls of such stereotypical beliefs and crave a name for themselves in the bodybuilding industry.
Proving that one can do anything if one is determined and work for it, Lori slayer is one of those renowned women.
Lori is a fitness model, bodybuilder, and personal trainer who takes pride in her sculpted physique and hard work in the gym.
She came to the spotlight in early 2010, and even today, her popularity seems to be growing gradually.
Lori Slayer | Quick Facts
| | |
| --- | --- |
| Full Name | Lori Slayer (Staines) |
| Date of Birth | March 13, 1987 |
| Birth Place | Texas, United States of America |
| Nick Name | None |
| Religion | Unknown |
| Zodiac Sign | Pisces |
| Age | 36 Years Old |
| Height | 5'5″/1.65 m/165 cm |
| Weight | 68 kg/150 lb. |
| Dress size | Unknown |
| Shoe size | 7.5 (US) |
| Hair Color | Black |
| Eye Color | Brown/Black |
| Build | Muscular |
| Father's Name | Unknown |
| Mother's Name | Unknown |
| Siblings | Unknown |
| Marital Status | Unknown |
| Children | Yes (Son, Gavin) |
| Current city | Texas |
| Profession | Fitness Model |
| Era | 2001-present |
| Social Media | Instagram |
| Fitness Merch | Watch, Belt for Women, Equipment |
| Last Update | May, 2023 |
Lori Slayer | Early Life, Family, And Nationality
Much of Lori's life revolves around her passion and what she does. Slayer believes that success takes a lot of determination and the ability to fight for what you want. This philosophy of hers ignited her motivation to achieve her career and goals.
Lori was born on March 13, 1987. Her parents' detailed information is not disclosed yet. However, it comes to our view that her mother is Swedish/Irish, and her father is Japanese.
Irrespective of her parent's background, she is American-born and currently resides in Houston, Texas.
Regarding her siblings, it is unknown whether Lori has any siblings or not, as their identities are not revealed.
So it might be safe to assume that she is the only child of her parents. Moreover, Lori has a child of her own, a teenage boy named Gavin, 17 years old.
When it comes to her relationship, it is unclear whether she is married, dating anyone, or single, as she prefers not to talk much about her private life or relationships.
Lori's career | Fitness Trainer
Lori won the 2016 NPC Classic Figure Overall at the age of 29. Having achieved her goals, she further anticipates her bodybuilding and fitness modeling career to grow.
The training sessions she works on are usually long and grueling, and as a trainer, she only does one-on-one personal training sessions.
She also provides at-home training and will travel to her client's place when necessary.
Most of her clientele includes high-profile members of society, like celebrities. However, she is willing to train anyone as long as they can afford her rate.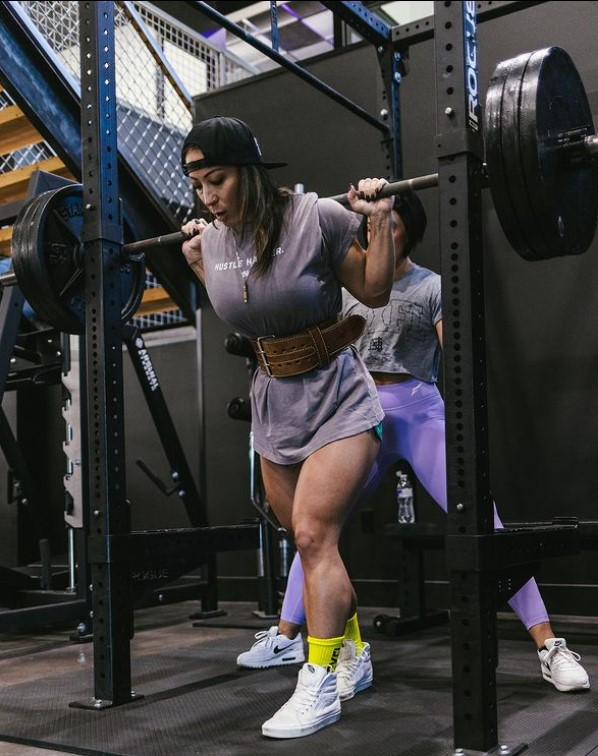 Lori believes that consistency was one of the key ingredients contributing to her success.
She strongly believes that determination is the key to success in any endeavor, especially fitness; Lori believes it's never too late for anyone to start their fitness journey.
Lori always starts by helping her clients achieve their short-term goals first rather than bigger goals.
She knows how to motivate and get them to train harder, but she is also mindful not to push too far or exceed their limit.
In the same way, she prefers focusing on speed and time; she feels that progress matters.
Slayer takes pride in her opportunity to connect with other fitness enthusiasts who help her grow mentally and physically and advise her clients.
Lori Slayer | Fitness Routine
Lori was a petite kid in her childhood, contrary to her present muscular frame.
At present, one wouldn't suspect Lori's height is only 5 feet 5 inches (1.65 meters) by looking at her as her lean muscular body makes her look taller.
The female fitness icon weighs about 68 kg (150 pounds), and each ounce of her hard work is well distributed across her magnificent physique.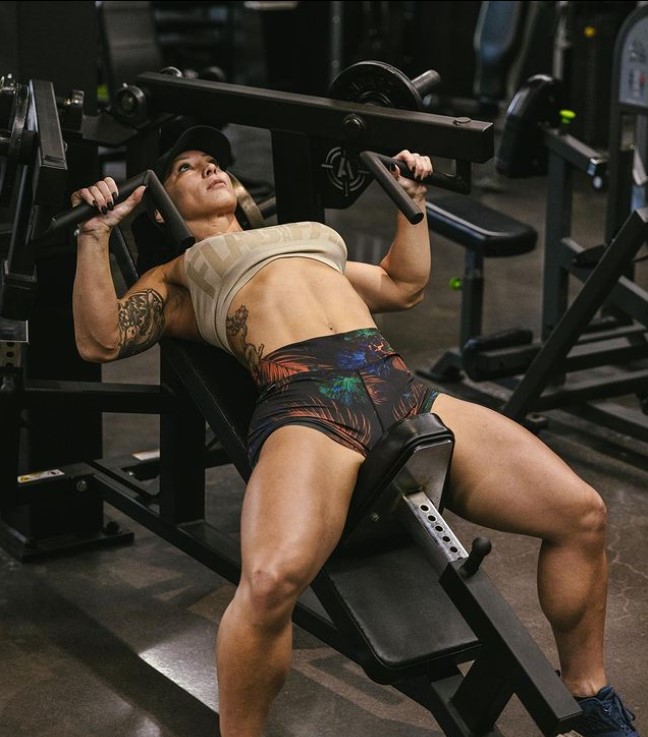 Most people would be unable to hold against Lori's grueling and prolonged workout sessions. She enjoys training for long sessions as she believes there is no better feeling than coming home after a long workout.
Lori regularly trains for about 2 hours or 1 hour 30 min on most days, but she will settle for a 30-60 minute workout session when she is busy with her other activities.
However, she'll make sure to incorporate more drop sets and supersets to increase the intensity to compensate for the shorter workout.
Cardio Necessity
Since the fitness sessions are long and intense, Lori prefers not to include cardio in her daily regimen.
Occasionally she would go outdoors to run or do a steady 30-minute walk, but other than that, she doesn't feel the need to do much cardio.
Equal Importance To Stretching
After wrapping up her workout sessions, Lori dedicates at least 10-15 minutes to stretching her muscles.
Stretching the muscles helps her decrease the soreness or vulnerability to muscle pain. Stretching also reduces the risk of injury to her muscles and improves her flexibility.
Lori Slayer | Diet Plan
Getting your dream body depends not only on the exercises you do but the proper diet plan you follow after your workout session.
When it comes to Lori's diet, she follows a strict diet to make things easy for her to keep her body firm and toned so that her efforts at the gym aren't wasted.
Lori mostly eats balanced meals; containing lean meats, lots of proteins, and fiber.
Likewise, she tries to avoid products made of dairy and foods that contain a high amount of sugar and too many carbohydrates.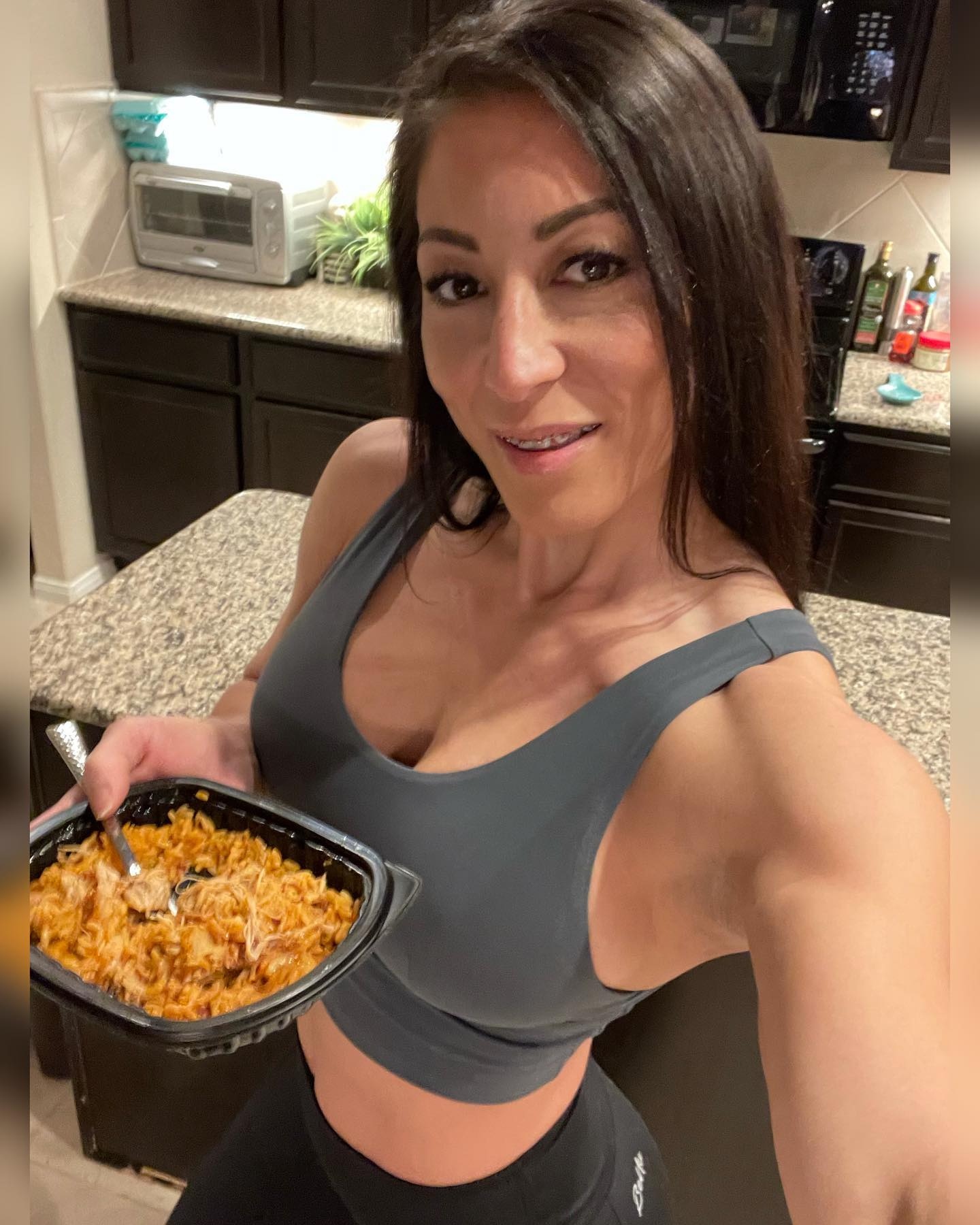 She prefers to plan all of her meals beforehand, so she doesn't have to spend or waste time wondering what to eat.
Lori prefers home-cooked food rather than eating outside, which helps her avoid binge eating or getting carried away with cheat meals.
The secret to maintaining her incredible shape is healthy eating and balanced meals that contain healthy fats and proteins.
Her mindfulness towards her diet is one of the important components contributing to her fitness effort and goal. Lori's typical meal plan looks like this:
Breakfast: Fruit juice, plain oats. 5 egg white omelets.
Lunch: Tuna with asparagus and salad or chicken breast with broccoli.
Snacks: Nuts, Fruit salad, and coffee.
Dinner: Steamed veggies with beef steak.
Moreover, she even includes supplements in her diet, such as:
Protein shakes
Amino acid
Multivitamins and Minerals
Redline gives her energy for long workout sessions.
Glutamine used for recovery after her workouts.
Lori Slayer | Inspirational Personality
Lori has become an inspirational presence and an awesome fitness icon for many fans on social media and other internet sites.
Breaking the stereotypical belief of society and carving a name for herself in a men's world is an inspiration for many women.
Hearing her story and fitness journey, many might feel encouraged to start their own fitness journey or something they have been reluctant to start.
She believes determination is the key to success, motivating people to be determined and work hard for their dreams.
"With a little determination, anything is possible…." Lori says.
Moreover, Slayer has accumulated thousands of followers on Instagram and the YouTube videos where she appears tend to generate hundreds and thousands of views and inspire them.
She also posts Instagram videos to inspire and push her followers through their fitness journey.
To conclude, Lori is happy with what she has achieved and become, and mentions that the most important thing is that one should be happy with whatever they are doing in their life.
She believes that if someone loves what they are doing, they will reach their goal much faster and easier.
"Start with short-term goals, and don't wait until Monday Motivation or the New Year to light a fire under your butt!! Every day is a new clock, a new day to kick ass harder than you did yesterday. If you want it… go get it!" – Lori Slayer
Lori Slayer | Endorsement Deals
Lori's hard work and effort have also led her to become the brand ambassador of numerous brands, such as empowered nutrition and CNC apparel, which provides swimwear, supplements, and sports clothing.
Besides, promoting these companies, she is also linked with other fitness companies such as The T-bell, flex promo meals, and creed firearms training.
Due to her significant impact on social media, she can promote these companies and hook her fans with different fitness plans, discount codes and coupons for the clothing and Protein companies.
Lori Slayer | Social Media Presence
Lori prefers to keep her personal life out of the limelight, but we can get some glimpses of her life on Instagram and other websites.
She seems to be interactive with her fans and the outside world there. Lori frequently updates her progress and plans on Instagram.
You can find her on Instagram under the handle @lori_slayer_.
Instagram: 394k followers
View this post on Instagram
Lori Slayer | FAQs
Who takes Lori Slayer pictures?
Most of the stunning pictures of Lori Slayer are taken by DigitalIcon. You can check out and follow them on Instagram.
What is Lori Slayer's net worth?
When it comes to her net worth and her annual earnings from her career, it's unsure, but it can be estimated to be upwards of a hundred thousand dollars.
Does Lori emphasize more on her diet or workout?
Lori gives equal importance to both her diet and workout. After her grueling workout session, she prefers to eat a balanced diet mostly containing proteins and fiber.
What does Lori's workout look like?
Lori usually trains for about 1 hour 30 minutes or sometimes 2 hours per day. She has scheduled different days to focus on different muscle regions. For example, on Mondays, she usually focuses on her quads/calves, whereas she prefers to work on her arms on Tuesdays. She also likes to take a rest after working consecutively for two days.