Trent Arnold is one of the best players with world-class talent who plays for Liverpool and England's National Team. He has achieved great success in the short span of his career. Trent, Liverpool's Young Player of the Season 2016-18, has been displaying his magic on the soccer field.
In May 2022, following Liverpool's victory over Chelsea in the 2022 FA Cup Final, Alexander-Arnold became the youngest-ever player to win six major trophies.
Trent has rapidly become one of the best players, not just in Liverpool but in the whole world.
His rise to the top has been extraordinary because only three years back, no one had heard of the young prodigy.
But now everyone in the soccer world knows who Arnold is because of his outstanding attacking prowess, which has seen him break assist records for a defender.
Furthermore, the talented player is already a Champions League winner with a Premier League title on the horizon.
The future seems to be bright for the Liverpool academy product due to Arnold's burgeoning reputation.
Not to mention, his fans go crazy following his hairstyle changes. We will talk about his early life, academy days, and current Liverpool days.
In addition, you will also find information on his net worth, salary, family, age, height, and social media. So let's begin by having a look at Arnold's quick facts.
Alexander-Arnold | Quick Facts
| | |
| --- | --- |
| Full Name | Trent John Alexander-Arnold |
| Birth Date | 7 October 1998 |
| Birth Place | West Derby, Liverpool, England |
| Nickname | TAA, Trent, Arnold, AA |
| Religion | Christianity |
| Nationality | British |
| Ethnicity | English |
| Education | St Matthew's Catholic Primary School/St Mary's School/Rainhill High School |
| Horoscope | Libra |
| Father's Name | Michael Arnold |
| Mother's Name | Dianna Arnold |
| Siblings | Marcel Arnold, Tyler Arnold |
| Age | 25 Years Old |
| Height | 5 ft. 9 in/1.75 m/175cm |
| Weight | 76 kg/167 lbs. |
| Shoe Size | Not Available |
| Hair Color | Black |
| Eye Color | Black |
| Body Measurement | Not Available |
| Build | Athletic |
| Marital Status | Unmarried |
| Girlfriend | Hannah Atkins (Ex-girlfriend) |
| Children | No |
| Position | Right-Back |
| Profession | Soccer Player |
| Net Worth | $3.16 Million |
| Market Value | $109 Million |
| Current team | Liverpool F.C |
| Jersey Number | 66 |
| Social Media | Instagram, Twitter, Facebook |
| Shoes | Under Armour |
| Merch | Signed Jersey, Shirt |
| Last Update | November 2023 |
Alexander-Arnold | Early Life & Career
Trent John Alexander-Arnold, shortly Trent Alexander Arnold was born in West Derby, Liverpool, near the home of Liverpool FC's training ground, Melwood.
Therefore, since Trent was a child, he dreamed of playing soccer for his beloved Liverpool.
While growing up, the Liverpool native spent hours practicing soccer with his two brothers, Tyler and Marcel.
Trent has family relations with United's great Sir Alex Ferguson, a Scottish former soccer manager, and player.
It was revealed in Sir Alex's autobiography that Trent's grandmother Doreen was Alex's first girlfriend during their teenage years in Glasgow.
Sadly, they broke up and went their separate ways after some time. Likewise, Alexander's grandmother then moved to New York and got married to Trent's grandfather.
However, if sir Alex and Trent's grandmother's relationship had gone better at that time, Trent could have ended up calling Sir Alex Ferguson his grandad.
During one of those practice matches, young Arnold was scouted by academy coach Ian Barrigan in a stroke of luck.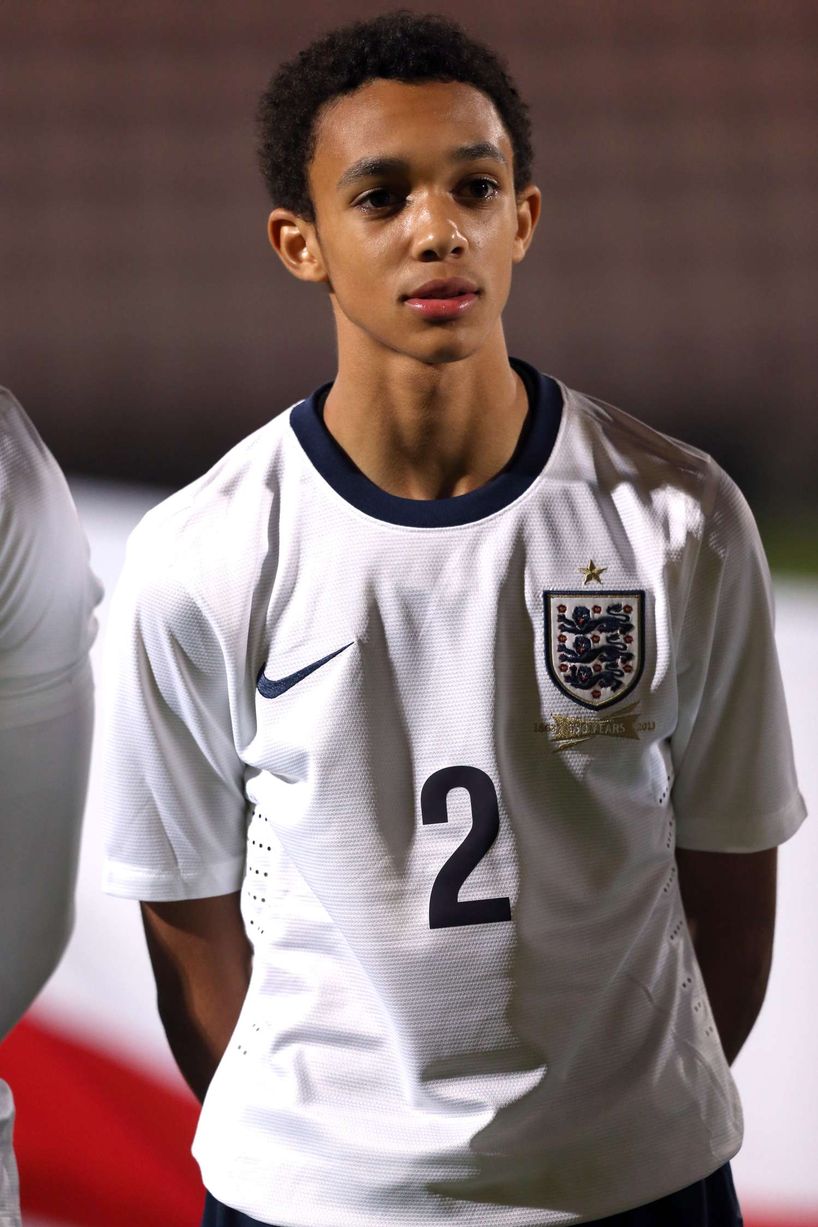 Subsequently, the future England international signed for Liverpool's academy at the tender age of six.
After that, Arnold spent the next twelve years developing his talents. For his impressive performances for the youth teams, the Liverpool right-back used to perform the mascot duty by walking out of the tunnel with the players.
However, his best moments during his time with the academy have to be captaining the Liverpool U-16s and U-18s before making his debut for the senior side.
Trent Alexander Arnold | Family & Personal life
The England right-back was born to his parents, Michael Arnold and Dianna Arnold.
Besides, Arnold has two brothers, Marcel Arnold and Tyler Arnold, with whom he grew up playing soccer.
Tyler is four years his senior and acts as his agent as well. Likewise, Marcel is three years younger than him.
Furthermore, Arnold is currently single and is not involved in any relationship, as his primary focus is on being the best right-back in the world.
However, it was rumored that Trent was once dating international singing sensation Dua Lipa.
Later, Trent responded to the rumors and confirmed that it was just a rumor and he was not dating anyone.
He was in a relationship with Hannah Atkins but it did not last long. Moreover, according to some sources, at least he has been in a relationship.
Hannah is a British naïve and sports celebrity partner. You can follow her on Instagram @hannahatkinss.
He does not share anything on his social media platforms about his love life, so there is no information about his dating life.
Undoubtedly, he is going to find his other half eventually as he is still young and he has a whole life ahead.
Alexander-Arnold | Age, Height & Body Measurements
The Liverpool right-back was born in 1998, making his age 23 years. Having progressed through the youth ranks of Liverpool academy, Arnold made his professional debut at the tender age of 18.
Furthermore, Trent stands at 1.75 meters, the average height for a full-back.
In fact, due to his relatively short stature, Trent can quickly change directions while crossing the ball accurately.
Furthermore, Trent is still young and has a long way to go to be considered the best right-back.
Nevertheless, his performances till now definitely put him in the reckoning to be regarded as the best.
Also, check out: Nick Wright's Wife Danielle Wright: Bio, Kids & Net Worth >>
Alexander Arnold | Liverpool Youth
Having been the most impressive player in Liverpool's youth ranks, it was no surprise that Trent made his professional debut for his dream club at the tender age of 18.
Back in 2015, club legend Steven Gerrard predicted Arnold to have a bright future and how right he was.
Subsequently, Arnold played in 12 games for the Merseyside club, in which he impressed everybody, including the Liverpool bosses.
As a result, Trent was awarded a new long-term contract with the club.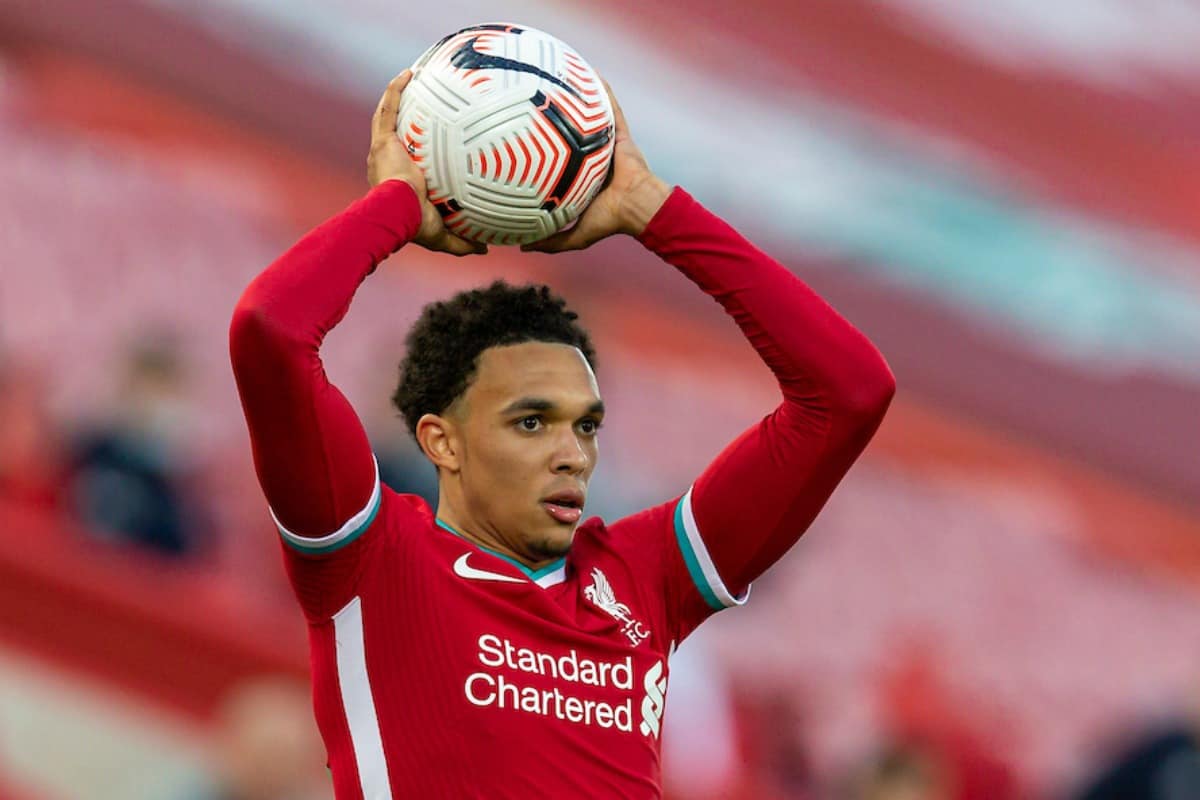 The England international also earned Liverpool's Young Player of the season that year. All in all, Trent's first season with the Reds turned out to be fantastic.
Similarly, the Liverpool native's second season with the club was even better as he cemented a spot in the starting eleven, ousting Nathaniel Clyne from the right-back position.
His second year's notable highlights include his first goal for the club in a Champions League tie against Hoffenheim.
Likewise, Trent was featured in the Champions League final against Real Madrid, where he had to mark the great Cristiano Ronaldo.
Even though he performed admirably, Trent could not stop Real Madrid from winning the match 3-1.
Nevertheless, Arnold bagged the Liverpool Young Player of the Year for the second successive year while also finishing second in the Golden Boy award.
At the end of his second season with Liverpool, the England international finished with 33 appearances while scoring three times and assisting a further three times.
Rising Career
By the time the 2018-19 season kicked in, Trent was already one of the more critical players in the Merseyside club.
To explain, Arnold played in 40 matches where he scored once and assisted 16 times.
This was a breakthrough season for the England international as he was selected for the PFA Team of the Year and nominated for the PFA Young Player of the Year award.
Additionally, the Liverpool native won the Champions League and was included in the tournament's team of the year.
Trent's third season with the club was filled with personal achievements and team awards.
Thus, when the 2019-20 season began, Arnold was already amongst the world's best right-backs.
Notably, on 9 December 2020, Trent became the youngest player to captain Liverpool in a European competition.
Arnold became the youngest-ever player to have six major trophies after Liverpool's win over Chelsea in the 2022 Fa Cup Final in May.
The trophies include FIFA World Cup, UEFA Champions League, UEFA Super Cup, Premier League, FA Cup, and League Cup, for an English club, doing so at 23.
In May 2022, following Liverpool's victory over Chelsea in the 2022 FA Cup Final, Alexander-Arnold became the youngest-ever player to win six major trophies.
You might also be interested in reading: Cindy Brunson- ESPN, Pac-12 Networks, Husband & Net Worth >>
Is Trent Alexander Arnold the best right back in the world?
Nevertheless, expectations were high for the England international to perform even better, precisely what he did.
To illustrate, the talented player has played 40 matches this season, scoring two goals and assisting 14 times.
In addition, Trent was nominated for the Ballon d'Or award and included in the 2019 UEFA Team of the Year.
Furthermore, the Liverpool native was the highest-ranked fullback in the Ballon d'Or ceremony, further cementing his place as one of the world's best full-backs.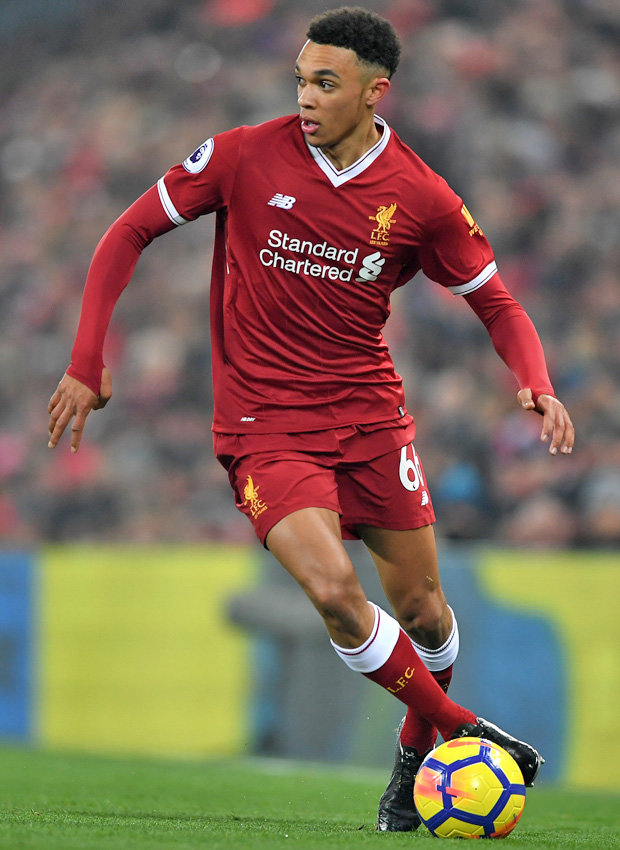 Additionally, Liverpool is on course to become the Premier League Champions after a 30-year wait.
The dashing Reds sit at the top of the table with a 25 points cushion over second-placed Manchester City with just ten games left to play.
Sadly, Premier League was postponed for the Merseyside club until further notice due to the world pandemic of Corona Virus (COVID-19).
Nevertheless, Liverpool will eventually become the champions someday. 2022 has been the most difficult year in Trent Alexander-Arnold's career.
A playmaker from full-back, Alexander-Arnold has never been one of the game's greatest defenders.
Alexander-Arnold was arguably the best player on the pitch in the FA Cup final against Chelsea and despite Liverpool's current malaise, he's still Jurgen Klopp's most trusted creator.
International
The Liverpool product made its international debut for the three lions in a 2-0 friendly win against Costa Rica on 7th June 2018.
After that, Trent was featured in the World Cup for the first time against Belgium.
Sadly, that was the only appearance for Trent at the 2018 World Cup as he had to make way for the first-choice right-back, Kieran Trippier.
Nevertheless, Arnold gained valuable World Cup experience, which was handy in his club career.
Subsequently, Trent got featured for England at the inaugural UEFA Nations League, in which they finished third.
He has made nine appearances for the England national team, in which he scored one goal.
Unfortunately, the Liverpool product has not cemented a starting spot in the national team due to fierce competition from Kieran Trippier, Kyle Walker, and Aron Wan Bissaka.
Nevertheless, we believe that Arnold will become England's no.1 right-back in the coming future.
Should Trent Alexander | Will Arnold Be In England's World Cup Squad?
Arnold the Liverpool right-back was likely to be starting for England at the World Cup, however, he could miss out on the squad because of an injury.
Gary Neville believes 'rash' Trent could cost England 'dearly' at the World Cup.
Even after Liverpool's victory, everybody was watching Arnold's defense as there were moments where he looked unconvincing.
We can be hopeful that he can make it to the World Cup 2022 Qatar.
Alexander-Arnold | Net Worth & Salary
The Premier League is undoubtedly the wealthiest football league globally, which means that all the clubs playing in the league are extremely rich.
Therefore, it should be no surprise that Trent has accrued a net worth of $3.16 million through his soccer activities.
Likewise, with a market value of $109 million (€110.00 million), earlier Arnold was ranked the number 1 defender worldwide.
Furthermore, Trent earned £40,000 per week or $2.36 million (£2.08 million) per year with Liverpool Football Club, which was a massive sum.
View this post on Instagram
On the contrary, just back in 2016, Trent earned a measly $709619 (£6,24,000) per year with the Merseyside club.
In 2021, Alexander-Arnold earned a base salary of $1.06 million (£9,360,000) while carrying a cap hit of $1.06 million (£9,360,000).
According to a clause in 2022 Trent's contract, which allowed the Liverpool native to increase his salary based on the number of performances, Arnold increased his salary to $2.36 million (£2.08 million) per year.
Nevertheless, judging by England's performances until now, nobody will be surprised if his wage is increased even more.
Thus, we are confident that Trent will increase his net worth over the coming years.
Trent Alexander Arnold House
Just after the combination of the 2018-19 Premier League season, it was reported that Trent had bought a new mansion worth $4.09 million (£2.6 million )in Hale, Chesire.
The house consists of five bedrooms and bathrooms and with fully furnished.
Additionally, Arnold will now be neighbors with the World Cup-winning Frenchman and his club rival, Paul Pogba.
And judging by the animosity between Liverpool and Manchester United, one can expect fireworks on the field and off it.
Trent Alexander Arnold Documentary
You can watch the documentary of Trent Alexander Arnold, "Behind the Dream."
It follows his soccer journey from primary school to Liverpool F.C.
Trent Alexander Arnold | Controversy
Back in 2018, a woman on Twitter accused Trent Alexander Arnold of having flirted with her while she was pregnant.
As per the sources, the lady was named Nicole Heaton, who posted the message chat pictures on social media.
Initially, the story started when she messaged Trent to ask for a video as her husband was his huge fan.
However, things took an unexpected turn, but he hasn't commented on the situation to date.
Later, she added that she had no intention of publicly revealing the message; however, she couldn't stand him acting kind to fans.
Following the incident, the lady locked her accounts and deleted the original tweet
View this post on Instagram
"I don't think it's fair that Trent Alexander Arnold was invited to the Pride Of Britain Awards and nominated for Golden Boy when this is how he acted while in Russia playing for England. I was heavily pregnant too. That is a disgusting way to treat your fans. More in the thread."
-Nicole Heaton
Alexander-Arnold | Social Media Presence
He has excellent mobility, passing ability, and pace. Likewise, Trent's service from broad areas is just fabulous. Notably, he was ranked as the best right back in the world in 2020 by ESPN.
He is quite active on social media accounts and at most he shares about his games. Yet, he does not share his personal life.
Instagram: 8 million Followers
Facebook: 8.6 million Followers
Twitter: 2.5 million Followers
View this post on Instagram

Overall, the posts on his accounts are really interesting, hope you visit and follow him.
Popularity Graph
Trent Alexander Arnold popularity graph who plays for club Liverpool.
As World Cup 2022 is ahead, it has been reported that Trent is injured during the match, and as of that it is being questioned whether he could play or not.
Frequently Asked Questions (FAQs)
Why is Trent Alexander Arnold number 66?
Trent debuted and won the Champions League with No.66 on his shirt's back.
There is no specific personal meaning attached to No. 66 for Arnold.
What makes Trent Alexander-Arnold so good?
Trent is one of the most talented and finest professional soccer players. He has the most impressive crossing ability, i.e., he can provide a variety of deliveries into the penalty area.
Trent's games have come on leaps and bounds in the years since his debut, and the sky is the limit for him. He is a playmaker and arguably the most creative player.
Are Trent Alexander Arnold and Alex Ferguson related?
Trent is a family tie to United's great Sir Alex Ferguson, a Scottish former soccer manager, and player.
In Sir Alex's autobiography, it was revealed that Trent's grandmother Doreen was Alex's first steady girlfriend' during their teenage years in Glasgow.
Why was handball not given against Trent Alexander-Arnold during Liverpool vs. Manchester City?
The Professional Game Match Officials (PGMO) confirmed that Trent's arm was not in an unnatural position and lacked reaction time. So it was not adjudged to be a handball.
Does Trent Alexander-Arnold wear No. 66 for England?
No. Trent wears the No. 2 while playing for England. The right-back in any given team traditionally wears No. 2.
What is Trent Alexander Arnold's tackle success rate? How many assists does he have?
Trent Alexander Arnold has a tackle success rate of 70.6 percent. Well, he has 34 assists in his 131 Premier League appearances.
Does Trent Alexander Arnold have tattoos?
No, the professional athlete has not been inked yet.
Who did Trent Alexander Arnold make his debut against? Is he a good defender?
Trent made his professional debut on 25 October 2016, starting with a 2–1 victory over Tottenham Hotspur in the fourth round of the EFL Cup.
Well, Trent is known for his defensive skills. Currently, he tops tackle success, dribbled past per 90, and ball recoveries per 90.
What cleats does Trent Alexander-Arnold wear?
Trent wears Under Armour Clone Magnetico Pro soccer cleats.
When will Trent Alexander Arnold return?
Trent Alexander-Arnold suffered a calf injury in the draw against Manchester City on November 9, 2020.
He was assumed to be out for an entire month, which gives him a return date of December 9, 2020.
However, he returned in the 2021 season and scored his first goal on January 28 in a 3–1 away league win over Tottenham.
How many times had Trent Alexander Arnold won the Player of the month award?
The soccer player has won the Player of the month award thrice. His recent win was on January 2022.
Does Trent Alexander Arnold play midfield?
Although the player tried to play midfield in 2021, he did not fit the position well.
However, in an interview, Gareth Southgate revealed that Trent "looked happier in that position."
What boots does Trent Alexander-Arnold wear?
Trent currently wears the Under Armour Team Magnetico white soccer boots.
Don't forget to check out: Erik Kuselias Bio: CBS, Radio Show, Wife, Son & Net Worth >>