A legend of the game, any person who watches or knows soccer has heard the name Thierry Henry. So it's no wonder fans want to know about his personal life. Who is Thierry Henry Sister? Does he have any siblings? Read to find out.
Thierry Henry was born and raised in Les Ulis and gained interest in the world of soccer at the age of seven.
As a result, he joined a local club CO Ls Ulis and has then managed to play for some of the biggest clubs in the world.
The struggling teenager at Juventus, Henry became invincible with Arsenal, won the UCL at Barcelona, started his career at Monaco, and ended at the New York Bulls.
He went on to become the assistant coach for the Belgium national team in the 2018 World Cup, the competition he won in 1998.
Thierry is currently a CBS commentator and analyzes games in the biggest European competition, the UEFA Champions League.
Thierry Henry Sister
Rumors surfacing that Thierry has a sister may be because of French professional soccer player Amandine Chantal Henry. However, she only shares the name as the French legend.
Amandine also shares the same profession as Thierry did before, she is a defensive midfielder for Angel City FC.
Like Thierry, she has also captained the national team.
Who Are Thierry Henry's Brothers?
Although the former soccer star does not have a sister, Thierry does have two brothers, Dimitri and Willy Henry.
However, before getting into the details of his brothers, let's first look into Henry's heritage.
Antoine Henry and Maryse Henry gave birth to Thierry and his two brothers. The Henry brothers are of Antillean heritage; their father is from Guadeloupe, and their mother is from Martinique.
Their parents are also very supportive of their children, and reportedly, it was Antoine who was very strict and pushed Thierry to his limits.
Sadly, not much is known about either Dimitri or Willy. They are not active on social media either.
It is, however, known that both brothers are very supportive of their talented brother. Willy even admitted he wanted Thierry to end his career in Ligue 1.
When Thierry's career at Barcelona was coming to an end, Willy wanted his brother to come back to Ligue 1 with Monaco.
At that time, Willy said,
"I hope he will come to Marseille, it is my strongest desire. He is still in Barcelona. I told him every day he must go to Marseille."
However, the UCL winner decided to move to the US with the New York Red Bulls.
Thierry Henry Was Married
Thierry was married to English model Nicole Merry. However, the pair decided to separate due to personal reasons.
Henry even had a daughter named Téa with his former spouse.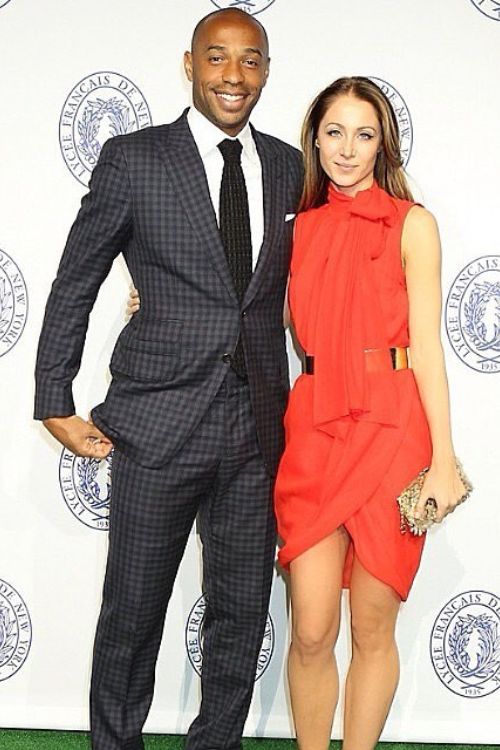 During a match against Newcastle, the former Barcelona player celebrated her birth by showing a "T" with his fingers.
Although the couple did not end up together, they shared many beautiful moments from 2003 to 2008.
Thierry is currently in a relationship with a Bosnian model named Andrea Rajacic.