American professional basketball player, Tobias Harris, has a worthwhile net worth of $30 million.
Following Bobby Marks, this powerful player's salary also includes a trade bonus worth $5,000,000.
This small/power forward caught the attention of Charlotte Bobcats and got selected in the 2011 NBA draft.
After different colleges and other renowned clubs, Harris is currently playing basketball for the Philadelphia 76ers of the National Basketball Association(NBA).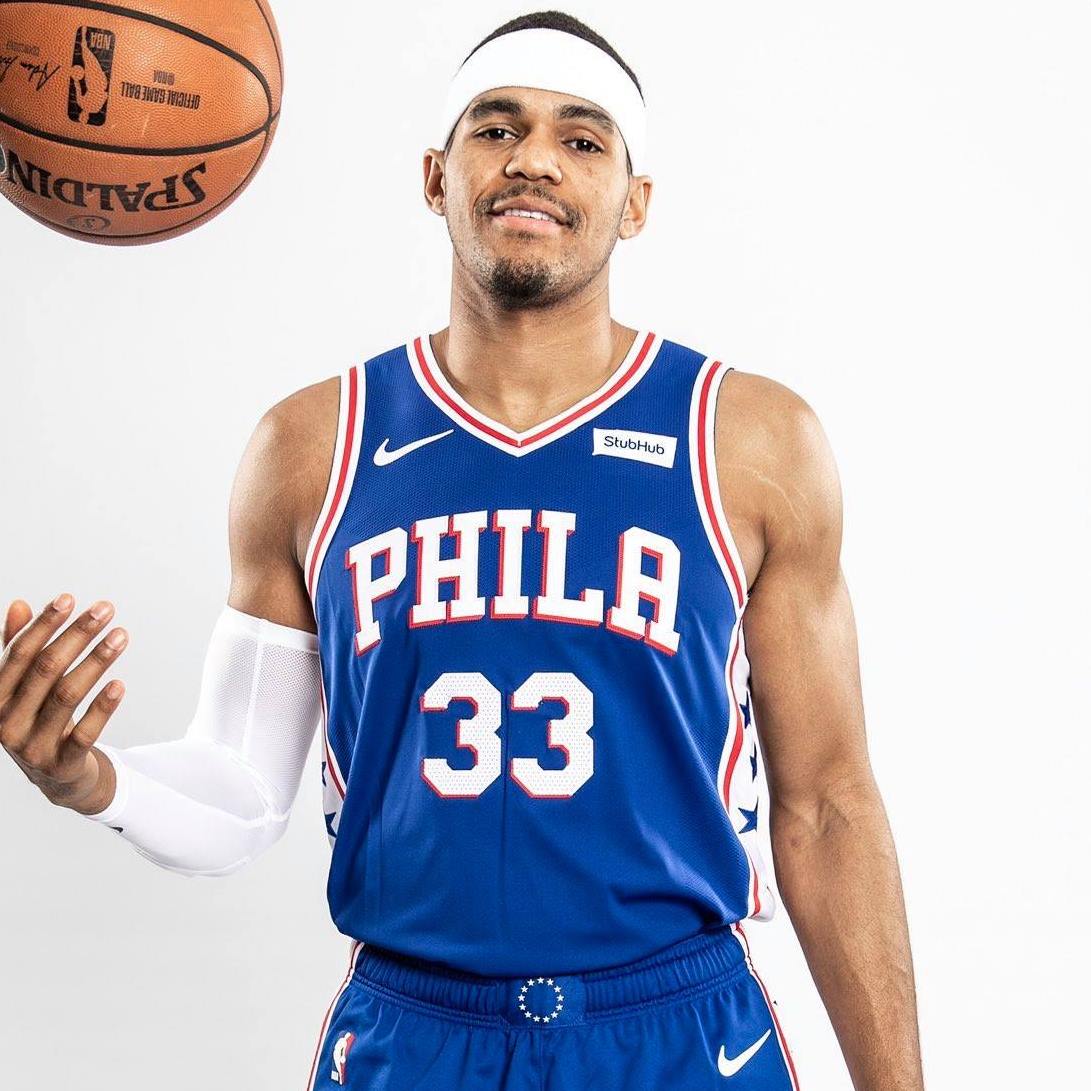 Starting from his high school days, Harris performed enough to be recruited as a five-star player with his full strength.
Besides his precise shooting, Harris has got the ability to overcome over best shooter in the league.
During his time at the Half Hollow Hills West, Tobias earned the title '2010 McDonald's All-American.'
Before knowing more about net worth or any further detail about Tobias Harris, some of his quick facts are given below.
Quick Facts:
| | |
| --- | --- |
| Full Name | Tobias John Harris |
| Known as | Tobias Harris |
| Nickname | Nobody's Smiling |
| Birth Date | 15th June 1992 |
| Birth Place | Islip, New York |
| Residence | Philadelphia, Pennsylvania |
| Religion | Christianity |
| Nationality | American |
| Race | Black |
| Ethnicity | African-American |
| Education | Half Hollow Hills High School West, Tennessee Volunteers |
| Horoscope | Cancer |
| Father's Name | Torrel Harris |
| Mother's Name | Lisa Harris |
| Siblings | 5 (Tyler, T.J., Terry, Tori, and Tesia) |
| Age | 30 years old |
| Height | 6'8″(203 cm) |
| Weight | 107 kg(235.89 lb) |
| Eye Color | Brown |
| Hair Color | Black |
| Body type | Athletic |
| Profession | NBA Player |
| Marital Status | Unmarried |
| Spouse | N/A |
| Children | N/A |
| Name of Children | N/A |
| Beginning of Professional Career | 2011 |
| Retirement | N/A |
| Playing style | Up and Down, Spread of floor |
| Sports team | Philadelphia 76ers |
| Jersey number | #12 (Philadelphia 76ers) |
| Coach | Bruce Pearl |
| Best Known For | Power/small forward for the Philadelphia 76ers(NBA) |
| Honors | Mr. New York Basketball, First-team Parade All-American, SEC All-Freshman Team |
| Victory | N/A |
| Net Worth | $30 million |
| Free Agent | 2024/UFA |
| Position | Power Forward |
| Social Media | Facebook and Twitter |
| Merch | 76ers Jersey, Autographed Basketball, Basketball Card |
| Last Update | March, 2023 |
Tobias Harris | Net Worth & Income
Reportedly, Harris's annual salary is estimated to be $14.8 million from Philadelphia 76ers.
Earlier in 2019, the forward player agreed to a contract including the average salary of $36 million per year.
Meanwhile, Harris got an excellent agent, who made a monster deal worth $180 million for five years.
Likewise, his agreement is known as the richest agreement ever offered and the fifth-biggest overall in the NBA.
It is also estimated that Tobias Harris is earning 4.93% more than his 2019/2020 net worth.
Also, he's the fifth best-paid forward this year and is projected to be the sixth-best forward for next year.
Besides his earnings from playing, he also endorsed deals with renowned brands like OVADIA & SONS, Nike, Off-White, Damari Savile, etc.
Also, See Brenden Aaronson Bio: FIFA, Salary, Stats & Brother >>
Net Worth of Tobias Harris in Different Currencies
Also, have a look into Tobias Harris's net worth in different currencies.
| | |
| --- | --- |
| Currency | Net Worth |
| Euro | 25,863,000€ |
| Pound Sterling | 21,787,950£ |
| Australian Dollar | 39,892,500A$ |
| Canadian Dollar | 37,173,900C$ |
| Indian Rupee | 2,250,576,000₹ |
| BitCoin | 494฿ |
Tobias Harris | Houses and Cars
House
Tobias Harris became the talk of the town after surprising his long-time girlfriend, Jasmine Winton, with a proposal.
But what's even more romantic than the rose-covered place and intimate dinner was the place where Harris proposed. The two had a memorable day at the site of their future home.
Yes, after missing out on the chance to buy a newly built six-bedroom La Jolla house, the forward decided to build his own; from scratch.
Likewise, for the past 16 months, the couple has been designing and working on their future home.
Not to mention, the 15,600 sq foot home gives off a sleek modern vibe from the outside and traditional from the inside. Harris has commented, saying how he wants a "homey home."
Added to that, their new home also has an infinity pool, a movie theatre, a weight room to keep fit, and a spacious family area.
Cars
Considering the massive net worth of Tobia Harris, he worthfully travels in style in his Rolls Royce. This luxurious ride which is apparently the favorite of many celebs cost over $311,000.
Tobias Harris | Lifestyle and Vacation
Lifestyle
In the fashion world, Harris considered himself as someone who was always into clothing growing up.
Truly, Henson, Harris' former teammate, introduced White to him, who used to work in the financial world.
But now White works as the stylist and is responsible for all of Tobias's 82 regular-season games, playoffs, and most off-court events.
Relating more about dressing sense, Harris prefers and shows so much enthusiasm on wearing all manner of Kobe shoes. Especially from the X Elites, the AD Mids, and the AD 360s.
Once, Harris also made the headlines in the upcoming season with the popular Kobe 5 Protros.
Besides all, Tobia Harris is so much conscious about his health and fitness. Reportedly, he is a regular attendee at the gym and pretty often during the off-season.
Similarly, up until now, Harris has had no tattoo over his body.
Vacation
Even on vacation, Tobia Harris works hard to come off a strong year with the Detroit Pistons. That's why his net worth paid him that much of the amount.
Tobias Harris | Charity
This young player was so much to find a way to make an impact in the city. So, he came up with an unexpected plan.
For so reason, Harris announced that he would be donating a total of $1 million to nine different charities. Not to mention, more than $600,000 were for charities based in Philadelphia in a "community draft."
Meanwhile, the charity was made to empower his city and kids, especially young ones who look up to him as athletes like basketball players.
Likewise, team Up Philly and Wyandanch High School each received $25,000, while Sunbooks and True Love Mission received $75,000.
And the Foundation for Orange Country Public Schools, the Legends Academy, and the Fund for the School District of Philadelphia each got $100,000.
Even for this charity work, Harris himself and Latria Graham assigned themselves as the president and CEO of Graham Leak Branding in research to figure, charities to work out effectively.
Harris's response to COVID
Moreover, Harris is also responding to the present pandemic situation of Corona.
Reportedly, Harris is about to donate to Habitat for Humanity of Philadelphia to provide three months of mortgage payment assistance to 12 families having financial challenges.
On the other side, Harris provided 250 health care workers at Temple University Hospital lunch in partnership with Chick-Fil-A.
Similarly, through the help of the Read by 4th program, Harris's donated 20,000 children's books for home libraries.
In addition, Harris is one of the several sixers to join the Philly Pledge established to promote donations to local non-profit organizations dedicated to coronavirus relief.
You might also have interest in Zlatan Ibrahimovic Bio: Early Life, Career, Wife & Net Worth >>
Tobias Harris | Endorsement and Investment
Endorsement
Earning a lot from being in a court, Tobias Harris has also balanced his net worth by having endorsement deals with brands like Monster, Vashr, Beats by Dre, Asphalt Yacht Club, and Gatorade.
Investment
Recently in March 2021, Harris has invested in Alt that values $31 million.
Reportedly, Tobias Harris is someone who handles all his investment account by himself. That means he has not hired anyone for his financial management.
Here's Bill Laimbeer: Early Life, Wife & Net Worth >>
Tobias Harris | Career
Following passion and love for basketball, Harris started to play basketball in his high school Brookville, New York.
Until 2008, Harris played for Half Hollow Hills West and later transferred to Long Island Lutheran Middle.
Starting from his senior year, organizers called Harris with the name of McDonald's All-American.
As soon as he earned the position of SEC All-Freshman Team, he ranked fifth among all freshmen scoring 15.3 points per game. Also, 7.3 rebounds per game, ranking sixth among all.
Just as a declaration to join for the NBA draft, Harris was selected in the 19th overall pick in the 2011 NBA draft. Later signed his rookie scale contract in the same year, debuting against Los Angeles Clippers.
Continuing for the year 2013-14 seasons, Tobia Harris appeared in 42 games, assigning with the Bucks earning worthful net worth.
In 2015, he scored his career-high score of 34 points, so he re-signed with the Magic, with the contract of $64 million.
Later, in February 2019, he was debuted to the Philadelphia 76ers. Instantly, against the Denver Nuggets, he scored 14 points and 8 rebounds in a 117-110 win.
Meanwhile, just after assigning him for five months, the Philadelphia 76ers re-signed him for a five-year contract worth $180 million. And the rest is history.
You can find the latest stats, fantasy news, injury updates, game log, and much more information about Tobias Harris on the CBS Sports website.
Tobias Harris | Quotes
"At the end of the day, we do need each other…When we are together, the five starters, we complement each other."
"Some people think we haven't played anybody; for us, we wanted to go against the champs. We wanted to see where we're at."
"The injunction is the latest setback for the Takahama reactors and the nuclear restart process nationwide, suggesting that nuclear power will continue to provide a small share of Japan's electricity generation."
Tobias Harris | Awards and Achievements
Mr. New York Basketball- 2010
McDonald's All-American- 2010
First-team Parade All-American- 2010
SEC All-Freshman Team- 2011
Second-team All-SEC – Coaches- 2011
Tobias Harris | Career stats
Social Media Presence:
this professional player is completely updated and active on his different social media accounts. Eventually, there he got to share about his personal life, untrendy topics, and his on-court unknown clicks.
His social media account was also where he announced that he had proposed to his long-time girlfriend Jasmine, confirming she said yes.
Facebook: 336K Followers (Tobias Harris)
Twitter: 229.1K Followers (@tobias31)
Some FAQs:
Who is Tobias Harris's agent?
Torrel Harris is the agent of Tobias Harris.
Who is Tobias Harris currently dating?
Tobias is currently engaged to his longtime girlfriend, Jasmine.
How old was Tobias Harris when drafted?
Tobias Harris was 19 years old when he was drafted by Milwaukee Bucks as the 19th overall pick in the 2011 NBA draft.
Was Tobias Harris ever an all-star?
Dissapointly, Tobias Harris was not selected for the all-star snub despite scoring 23-points against the Raptors.
How many triple-doubles does Tobias Harris have?
Tobias Harris hasn't gotten a triple-double in his professional basketball career.
What is Tobias Harris's defensive rating?
Tobias Harris has a defensive rating of 108.5 in his professional basketball career.
What ethnicity is Tobias Harris?
Tobias Harris is American by Nationality and belongs to mixed ethnicity.
What kind of injury does Tobias Harris have?
On starting of April, Harris was dealing with right knee soreness. Due to this, he was unable to match against Oklahoma City Thunder on the road.
Did Tobias Harris change the number?
Yes, Tobias Harris changed the jersey number back to 12 from 33 after re-signing with the Philadelphia Sixers.