"Life isn't always easy, and to achieve your dream, you need to work hard." Todd Bowles followed this simple formula for his entire life and achieved the success he always dreamed of.
Bowles is an American Football coach who currently works for the NFL club Tampa Bay Buccaneers as a defensive coordinator. He entered the NFL world in 1986 as an undrafted free agent.
Mainly, Bowles played at Washington Redskins for seven seasons and one season with the San Francisco 49ers. Moreover, he is also a Super Bowl XXII Champion.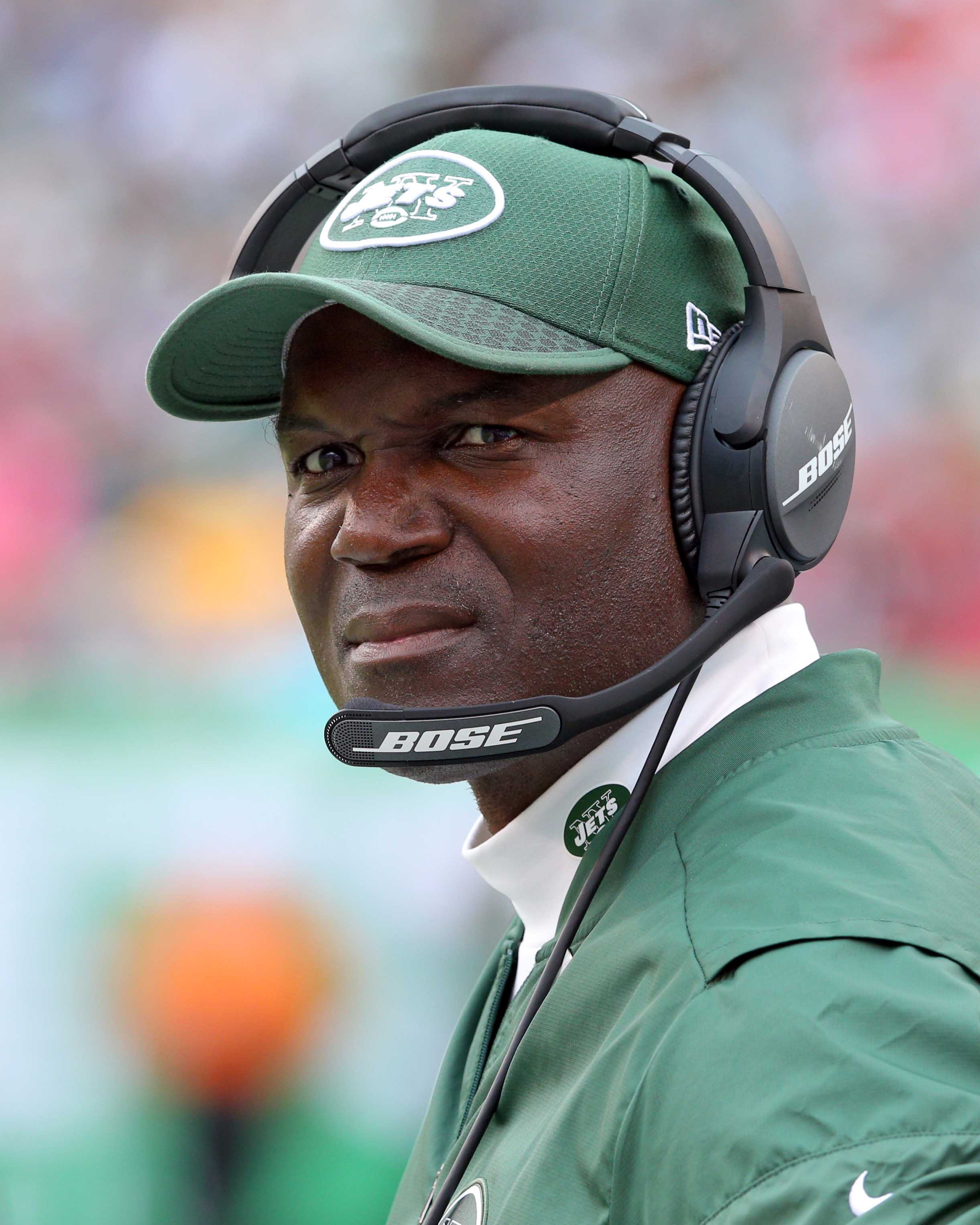 As of now, Bowles has been coaching different teams in the NFL for the past twenty years. He is mainly popular because of his four-year spell at New York Jets as a head coach.
Moreover, Bowel has worked with some great coaches throughout his coaching career, including Bill Parcells, Bruce Arians, Mike Holmgren, Wade Phillips, and Andy Reid.
Likewise, Todd has also worked with many defensive backs in various defensive schemes, and now he is working with a talented group using his own scheme.
Well, today, we will discuss more about his professional career and personal life in this article. But, before that, take a quick look at some interesting facts about Todd Bowles.
Quick Facts:
Full Name
Todd Robert Bowles
Birth Date
November 18, 1963
Birth Place
Elizabeth, New Jersey, USA
Nick Name
Todd
Religion
Not Available
Nationality
American
Ethnicity
Black
Education
Elizabeth High School, Temple University
Zodiac Sign
Scorpio
Father's Name
Not Available
Mother's Name
Joan Bowles
Siblings
Kenny Bowles,

Doreen Bowles
Age
60 Years Old
Height
6 ft. 2 in. (188 cm)
Weight
203 lbs. (92 kg)
Eye Color
Black
Build
Not Available
Relationship Status
Married
Wife
Taneka Bowles (m. 2012)

Jill Jenkins (m. 2000–2008)

Divorced
Once
Children
Four (Sydni Bowles, Todd Jr. Bowles, Troy Bowles, Tyson Bowles)
Sport
American Football
Position
Defensive Coordinator
Current Team
Tampa Bay Buccaneers
Former Teams (Played)
Washington Redskins, San Francisco 49ers
Former Teams (Managed)
Miami Dolphins, Philadelphia Eagles,
Arizona Cardinals & New York Jets
Salary
Not Available
Net Worth
$25 Million
Shoes
Not Available
Last Update
December, 2023
Where is Todd Bowles from? Early Life and Education
Todd Robert Bowles was born on November 18, 1963, somewhere in Elizabeth, New Jersey, USA. He was born to the mother, Jon Bowles.
However, there isn't any publicly available information regarding the Defensive coordinator's father.
Furthermore, he grew up with his siblings Kenny & Doreen. We can't find the name of his third sibling.
He grew up in the now destroyed Pioneer Home Projects, located in Elizabeth. His mother, Joan, had to do two separate jobs to raise her four kids.
Todd was very athletic since he was a little kid. Once he entered his teenage, he set his goal to become a professional baseball player.
He had a strong arm and was already an outstanding player in his age group. Nevertheless, his dream changed once he started playing football in the High school football team.
Success in football encouraged him to change his mind in other things and turn into football. That little decision changed the course of some teams in the NFL.
As for his education, Todo attended Elizabeth High School, located in his hometown. This was where he first kicked the football.
After graduating from Elizabeth, Bowles joined Temple University, where he played for the Temple Owls football team. Moreover, he got his degree from the College of Liberal Arts in 1986.
How old is Todo Bowles? Age, Height & Nationality
Born in the early sixties, Todd Robert Bowles is 60 years old as of 2023. Furthermore, he was born in November, which places him under the zodiac sign of Scorpio.
The New Jersey-born manager stands at the height of 6 feet 2 inches (1.88 m). Moreover, his publicly available last recorded weight is 203 lbs (92 kg).
Not to mention, Todd is an American National and belongs to the Black ethnic group. The Afro-American heritage coach has a pair of black eyes and a bald head.
Todd Bowles | Early Career
Bowles has been one of the most recognizable faces among American Football fans. This extraordinary career of Bowles started after he joined Elizabeth High School.
He won numerous individual and team awards under head coach Bill Nagy during his time in Elizabeth. The easiest way to enter the NFL is through college football.
After high school, Bowles followed the same path and joined Temple University. Eventually, he came out of Temple as a four-year letterman and the team captain.
He captained the Temple Owls under the current Buccaneers coach Bruce Arians. They first met each other during their time at Temple University.
Now, they are serving together as a defensive coordinator and head coach for the Tampa Bay Buccaneers.
Todd Bowles | Professional Playing Career
On May 7, 1986, Washington Redskins signed Bowles as an undrafted free agent. Initially, he was approached by seven NFL clubs, but he thought Redskins would be suitable.
Instantly, Bowles signed his first professional contract, which included a signing bonus of about $9000. From the start, Todd faced strong competition for the spot on the team.
Likewise, he impressed the coach in training camp to earn the free safety position. Bowles got selected before Raphel Cherry in the regular-season roster.
However, he had mixed performances in his first NFL season. Consequently, he had to compete with Curtis Jordan for the position.
On September 8, 1987, Redskins released Jordan and handed the free safety job to Todd Bowles for one more season. Todd Bowles helped the team as a starting free safety in the Super Bowl XXII.
In the end, Washington Redskins won the championship in a blowout. Bowles struggled to produce constant performances throughout the season 1988.
He was a regular starter of the team but struggled in catching and playmaking. After that season, Redskins left him unprotected.
He negotiated with the New York Giants and Minnesota Vikings for the signing of his contract. Nonetheless, he stayed with Redskins and played 18 games for the team.
In 1990, he agreed to sign a new contract worth $300,000. Redskins left him unprotected once again in 1991.
After that, he signed to start for the San Francisco 49ers. Before being waived in the 1992 season, he played all 16 season games for the 49ers.
Washington Redskins brought him back off the waivers on September 2, 1992. Next year, Redskins waived him. Afterward, he announced his retirement as a football player.
Summary career stats
| | | | | | |
| --- | --- | --- | --- | --- | --- |
| SUMMARY | G | AV | Int | Yds | TD |
| Career | 117 | 41 | 15 | 208 | 0 |
Todd Bowles | Coaching Career
After retiring as a player, Bowles spent a few years working for a construction company and owning a gym.
But he didn't enjoy being away from football. So, he returned to football in a different role in 1995. Green Bay Packers hired Bowles as a player personal staff in 1995.
He left Packers in 1996 after a year of service. In 1997, he worked for the Morehouse College football team as a defensive coordinator and secondary coach.
Currently, Bowles is one of the best defensive coaches in the NFL, and his defensive scheme is impressive.
However, many people questioned the decision after Grambling State appointed him as a defensive coordinator and defensive backs coach in 1998.
But he proved everyone wrong and left as one of the best in that field. Bowles became the New York Jets defensive back coach in 2000.
After that, he joined Cleveland Browns as a secondary-nickel package coach in 2004. Things didn't work out for him at Cleveland, and he left after just a year at the controls.
Not to mention, he was the secondary coach of the Dallas Cowboys from 2005 to 2007.
If you're interested in reading about Desmond Trufant>>
Miami Dolphins
On January 23, 2008, Miami Dolphins announced Bowles as a secondary coach and assistant head coach. He worked with Dolphins for four seasons as an assistant head coach.
Dolphins fired their head coach Tony Sparano and made Bowles their interim head coach on December 12, 2011.
Bowles led the team in a 30-23 win over Buffalo Bills on December 18. Likewise, Miami played two more games under him and finished with a record of 2-1.
Philadelphia Eagles & Arizona Cardinals
Philadelphia Eagles announced Bowles as their secondary coach in January 2012.
Furthermore, the Eagles removed Juan Castillo from the defensive coordinator and gave Todd Bowles the position on October 16.
That season, the Eagles finished 9th in pass-defense and 22nd on rush-defense. He left the Eagles and joined Arizona Cardinals on January 18, 2013.
He worked superbly for the Cardinals as a defensive coordinator. After the end of his second season, Associated Press (AP) honored Bowles with NFL Assistant Coach of the Year 2014.
Moreover, he also won PFWA NFL Assistant Coach of the Year – 2014 that season.
New York Jets
After an excellent season with the Arizona Cardinals, New York Jets announced Todd Bowles as their head coach on January 14, 2015. He replaced Rex Ryan with a four-year contract.
Todd underwent knee replacement surgery in July, which put him away from football for some time. In his first season at the charge, the Jets won 10 games, closely missing the playoff spot.
In 2016, the team struggled offensively and finished near the bottom of the league table. Despite different speculations, Bowles continued with the Jets for the 2017 & 2018 seasons.
Unfortunately, the Jets finished the 2018 season with a losing record of 4-12. On December 30, 2018, New York Jets fired Todd Bowles from the hot seat.
Tampa Bay Buccaneers
To solve their defensive problems, the Buccaneers hired Todd as their defensive coordinator on January 8, 2019. He reunited with his former Temple Owls coach, Bruce Arians.
Todd Bowles | Head Coaching Record (HC record)
| | | | | | | | | |
| --- | --- | --- | --- | --- | --- | --- | --- | --- |
| Year | Lg | Team | Games | Won | Lost | Ties | Win% | Finish |
| 2011 | NFL | Miami Dolphins | 3 | 2 | 1 | 0 | .667 | 3 |
| 2015 | NFL | New York Jets | 16 | 10 | 6 | 0 | .625 | |
| 2016 | NFL | New York Jets | 16 | 5 | 11 | 0 | .313 | |
| 2017 | NFL | New York Jets | 16 | 5 | 11 | 0 | .313 | |
| 2018 | NFL | New York Jets | 16 | 4 | 12 | 0 | .250 | |
| Totals | | 5 seasons | 67 | 26 | 41 | 0 | .388 | .6 |
Todd Bowles | Net Worth & Salary
Bowles started his professional journey in 1986. The hard work and dedication of more than three decades have earned him a pretty good net worth. As of 2023,
"Todd Bowles' Net Worth is estimated to be around $25 Million."
Sadly, the details regarding his current salary are not made public. We will update the missing information and facts soon, so stay updated.
Awards & Achievements
Super Bowl Champion XXII
2014: AP NFL Assistant Coach of the Year
2014: PFWA NFL Assistant Coach of the Year
Super Bowl champion (LV)
Who is Todd Bowles wife | Personal Life, Wife & Kids
Only a few people have achieved success in the NFL, like Todd Bowles. However, he had both good and bad times in his personal life.
He married for the second time in 2012 after a failed marriage. Bowles married former James Madison University graduate Jill Jenkins in 2000.
The couple together had two sons, Todd Bowles and Troy Bowles. However, things didn't work out for them, and the couple got separated in 2008.
Sadly, Jenkins died in 2017 at the age of fifty. Jenkins had a daughter named Sydni Paige Russel from a previous relationship. Todd adopted her after the separation.
Moreover, Sydni is a former New Orleans Hornets cheerleader. Not to mention, she is in a relationship with Arizona Cardinals player Tyrann Mathieu. The couple together has a child.
In 2012 Todd Bowles married Taneka Bowles. Todd and Taneka met in 2007 and stayed in a relationship for a few years before marriage.
This delightful couple together has a son named Tyson Bowles, born in 2011.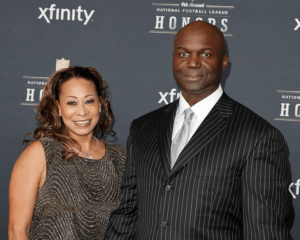 The presence of their children has brought even more happiness to the family. Just like Todd, Taneka is also a very good-hearted person.
Mr. and Mrs. Bowles had run some charity events in the past. Since Todd has to travel a lot because of his profession, Taneka stays at home, and their kids, supporting Todd.
Social Media Presence:
Todd Bowles is not active on social media, but that couldn't stop his fans and well-wishers from tweeting and posting about him.
Some FAQ:
Where is Todd Bowles coaching now?
Todd Bowles is currently coaching professional football team Tampa Bay Buccaneers of the National Football League(NFL).
Did Todd Bowels also coach Chicago Bears?
Todd Bowels haven't coached Chicago Bears till now. However, the Chicago Bears have expressed Keen's interest in making Todd their next defensive coordinator.
How many games did Todd Bowels play in the NFL?
According to the NFL statistics report, Todd Bowels has played 117games in the NFL to date.
Is Todd Bowels the new head coach of the Atlanta Falcons?
No, Atlanta Falcons hired Arthur Smith as their new head coach in January 2021.
Is Todd Bowels in Luke Cage?
Todd Bowels, alongside ESPN personalities Michael Smith and Jemele Hill, is in Season 2 of Marvel's "Luke Cage" series.
When did Todd Bowles coach Cleveland Browns?
Todd Bowles served as the secondary coach for the professional football team Cleveland Browns in 2004.
Is Todd Bowles attending the Eagles interview for the head coaching vacancy?
According to a report from Sal Paolantonio of ESPN, the Philadelphia Eagles have requested to interview Todd Bowles for their vacant head coaching job.
How many seasons did Todd Bowles play in the NFL?
Todd Bowles played eight seasons in the NFL in the safety position.
How many Super Bowl did Todd Bowels win?
Todd Bowels has won two Super Bowl championship to date winning Super Bowl champion XXIV and Super Bowl champion LV.
What did Todd Bowels say about Tom Brady?
Todd Bowel complimented Tom Brady's playing ability in his interviews with NFL Network, saying, "He throws great incompletions. To throw a great incompletion is very hard to do & I think he does that well."
Is Todd Bowles a Yankees fan?
Todd Bowles describes himself as a die-hard Yankees fan. He says, "I like Yankees. They've got some great pitchers. Boy, they're young, they're tough, they're great. They've got some good hitting."