The UFC's mixed martial artist Tom Aspinall considers his father, Andy Aspinall, a role model, and his motivator. Andy introduced Tom to the fighting world at the age of 7.
Tom's father is currently a professional Brazilian Jiu-Jitsu coach at the MMA team 'Team Kaoboon' in Liverpool.
The Manchester native thinks highly of his dad and attends every training session with Andy's supervision.
The English professional martial artist Thomas Paul Aspinall fights in the Ultimate Fighting Championship's Heavyweight Division.
Tom began to train martial arts along with wrestling and boxing at 7 and later transitioned to Brazilian jiu-jitsu, where he won the British Open in all belts except black.
However, his mixed martial arts career began with a five-fight contract for Cage Warriors. Tom later signed with the UFC after two quick victories.
The martial artist made his promotional debut with UFC on July 25, 2020, and won the fight via technical knockout in 1st round.
Aspinall got his 4th Performance of the Night award against Alexander Volkov on January 21, 2022.
Before suffering a knee injury (July 22, 2022) 15 seconds into his opening-round battle with Blaydes in the UFC, Aspinall had won his previous five matches.
Tom Aspinall Father, Andy Aspinall
The UFC star's father, Andy Aspinall, is a full-time Brazilian Jiu-Jitsu instructor at Aspinall Jiu-Jitsu, founded in 2005.
Andy and his family-led team provide combined training to a wide range of people, including MMA fighters and Judo players, along with BJJ players, women, and children.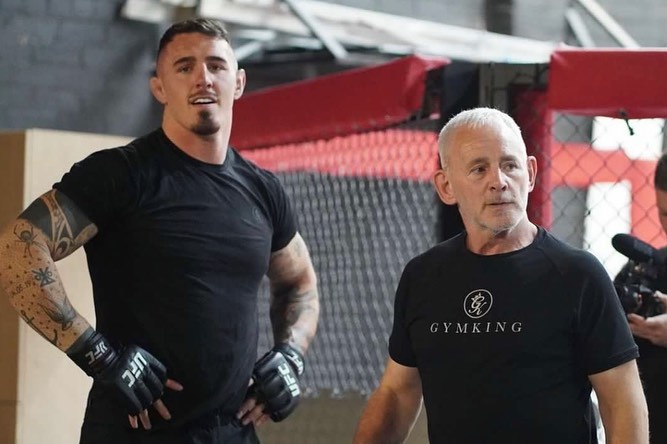 The senior Aspinall is one of the first people in the North West of England to achieve a black belt without ever having an instructor.
He also worked at several gym locations around the North West in his early days.
However, the 60-year-old later joined 'Team Kaoboon,' one of the best MMA teams in Europe as a Brazilian Jiu-Jitsu coach.
Tom And Andy Share A Special Bond
Aspinall started learning martial arts at the age of seven, following in his father's footsteps.
During an interview with the UFC, Tom revealed he was planning to completely give up MMA in favor of a legitimate money-earning profession.
However, his father motivated him to keep chasing the fighting dream. With his father's aspiration, the 31-year-old stayed on track and made it to the UFC.
"Dad has been the most important part of me. He believed in me before I could even believe in myself." Tom said in the interview.
"One day I'm going to get a belt and I am just going to give it to him. That's enough for me then. I am happy if that can happen." He added.
Tom Aspinall is a Father
Tom Aspinall is the father of 3 beautiful children. Two of his younger kids are twins.
His first child was born on July 1, 2016, after his 23rd birthday, and three years later, he became a father of three on 3rd May 2019.