Touted as "The Little Mozart," Tomas Rosicky is an excellent attacking midfielder who played for the Czech Republic and different European clubs.
The talented player is famous for his world-class skills out on the field. Likewise, Tomas Rosicky gained a lot of respect in his career from AC Sparta Prague to Arsenal.
Indeed, he is one of the sportsmen who never played just for money and fame. Nonetheless, Rosicky has faced lots of fabulous and cruel moments in Football.
At the same time, he has struggled in the field and faced several injuries. Overall, Rosicky is one of the best players with every quality a mid-fielder must-have.
"If you love football, you love Tomáš Rosický," -Arsène Wenger
Now, let's check the quick fact about Czech winger Tomas Rosicky.
Tomas Rosicky: Quick Facts
| | |
| --- | --- |
| Full Name | Tomáš Rosický |
| Nick Name | The Little Mozart |
| Birth Date | October 4, 1980 |
| Birth Place | Prague, Czechoslovakia (Czech Republic) |
| Religion | Non-Religious |
| Nationality | Czech |
| Sexuality | Straight |
| Ethnicity | White |
| Education | Unknown |
| Horoscope | Libra |
| Father's Name | Jiří Rosický |
| Mother's Name | Eva Rosický |
| Siblings | Jiří Rosický(Brother) |
| Age | 42 Years Old |
| Height | 1.79 m (5'10") |
| Weight | 65 kgs |
| Hair Color | Light Brown |
| Eye Color | Light Blue |
| Marital Status | Married |
| Wife | Radka Kocurova |
| Child | Dylan/Tomáš Rosický Jr. |
| Girlfriend | Unknown |
| Jersey number | 10 (Arsenal) |
| Profession | Professional Soccer Player |
| Net Worth | $3.1 Million |
| Career History | Czech Republic National Team, ČKD Kompresory Prague, AC Sparta Prague, Borussia Dortmund, Arsenal. |
| Current club | Retired(December 27) |
| Position | Winger, Attacking Midfielder |
| Dominant Foot | Right(Performs on both) |
| Current Market Value | Retired |
| Social Media | Instagram |
| Merch | Autograph, Little Kids Third Mini Kit, Wallpaper |
| Last Update | May, 2023 |
Tomas Rosicky | Early Life, Parents & Ethnicity
Tomas Rosicky was born in Prague on October 4, 1980. He is the second child of Jiri Rosicky and Eva Rosicky.
Tomas's parents were associated with sports, including his elder brother, also named Jiri Rosicky.
His father, Jiri, was captain for Czechoslovakia, who also played for Sparta Prague and Bohemia Prague.
Likewise, Rosicky's mother, Eva Rosicky, was a top Table Tennis player from Czechoslovakia.
Rosicky spent his childhood in Czechoslovakia, ruled by communists under Soviet occupation.
Of course, Rosicky was given all the support to be an athlete, even in a hard time.
Also know some Quick Facts of David Luiz >>
How old is Tomas Rosicky? Age, Body Measurements & Nationality
As Tomas Rosicky was born on October 4, 1980, he is currently 42 years old. His horoscope is Libra.
And people under this sign are believed to be hard-working and skilled. Also, Libras have a good sense of fair play.
Moreover, Rosicky is identified as someone made of glass. But don't fall into this trap; Tomas is far from any fragile glass that breaks the moment it touches the ground.
The Czech-born had a very fit athlete body with a height and weight of 5 feet 10 inches (1.79 m) and 65 kgs.
Apart from this physical prowess, Tomas was also praised for his perfect world-class techniques. He was renowned for using his outside of the foot for passing and shooting.
Furthermore, David Hytner of The Guardian described Rosicky as "the all-arounder midfielder" who brings balance, organization, and urgency to the team."
Tomas Rosicky | Professional Career
Tomas Rosicky was born in the Czech Republic and started playing at a young age. Being the son of Jiri Rosicky, everyone predicted his career choice.
Similarly, he started his youth career in ČKD Kompresory Prague as an attacking midfielder in 1986.
Later Rosicky switched his youth career to AC Sparta Prague in 1988. Also, his father and brother have played in the same club.
AC Sparta Prague
Rosicky started his senior career in the same AC Sparta Prague in 1998. He played three matches in the first season and won the national title.
In the second season for Sparta, Rosicky contributed five goals winning the league. As a result, he was awarded "Talent of the year" in the 1999 Czech Footballer awards.
Rosicky scored goals against Shakhtar Donetsk and Arsenal in 2000-2001 Champions League's group stage matches.
Thus, he got the attention of German club Borussia Dortmund, which later bid for him.
Borussia Dortmund
Rosicky joined the foreign club Borussia Dortmund signing five years contract on January 9, 2001.
He became the most expensive Czech and Bundesliga player with a transfer fee of $15.36 million.
Moreover, Rosicky debuted for Dortmund in season 2001-2002 and helped to win the Bundesliga title.
Meanwhile, Rosicky gave 75 league match appearances with nine goals and 20 assists contributions.
In July 2003, Dortmund extended Rosicky's contract up to 2008. Also, he was announced as the winner of the Golden Ball award in the Czech Republic.
Rosicky Scored his 16th and 1st Bundesliga goal of the 2005-2006 season against MSV Duisburg.
In 2006, he got a thigh injury but still scored two goals against Hamburg, a 4-2 victory.
Thus, Rosicky was squad number 10 and had 149 appearances with 20 goals for Borussia Dortmund from 2001-2006.
Arsenal: Season 2006-2007
Although Rosicky was scoped to be moved to Atlético Madrid, he ended up signing for Arsenal. On May 23, 2006, Rosicky was confirmed by Arsenal on an undisclosed fee.
He made his first debut for Arsenal on August 8, 2006, against Dinamo Zagreb. Rosicky contributed his first goal for Arsenal in the match against Hamburg.
Know about Lukas Klostermann >>
On January 6, 2007, he scored twice for Arsenal against Liverpool, 3-1 victory. Consequently, Rocisky was again awarded "Czech Footballer of the year 2006."
Rosicky scored his first Premier League goal against Wigan Athletic on February 11, 2007.
Also, Rosicky scored against Bolton Wanderers and Manchester City, ending the season with six goals in 37 appearances for Arsenal.
Watch Tomas' top 5 Arsenal goals on Youtube.
Season 2007-2008
In season 2007-08, Rosicky scored against his former club Sparta Prague on August 29. Also, he scored his first Premier League goal of the season against Portsmouth with 3-1.
Rosicky scored goals against Bolton & Wigan in October 2007 and Middlesbrough in December. Meanwhile, he scored the goal for Arsenal against Everton, 4-1, and Fulham, 3-0 win.
Rosicky ended season 2007-08, sustaining a tendon injury in a match against Newcastle United in FA Cup. As a result of his injury, he ended up on the bench for the season 2008-2009.
Season 2009-2010
Rosicky made a comeback in matches for Arsenal against Manchester City on September 12, 2009. In that match, he helped Robin Van Persie score; however, Arsenal faced a 2-4 defeat.
Further, Rosicky signed a new contract for Arsenal on January 4, 2010, as he performed well for Arsenal in his previous seasons.
"It's felt like home since I arrived here four years ago, and I believe we're on the verge of achieving something special together."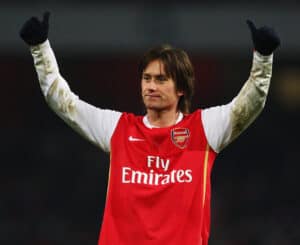 The Czech-born scored his second goal of the season against Everton in an injury-time, 2-2 draw. Meanwhile, the season's last goal was against Liverpool, a 4-2 victory on February 10.
Hence, Rosicky finished the season 2009-10 with three goals on 33 appearances for Arsenal.
Season 2010-2011
Rosicky started the season 2010-11 as a substitute in a losing match against Liverpool on August 15, 2010.
Then, Rosicky's cross in the 89th minute was converted by Marouane Chamakh to goal and equalized the match, 1-1.
The Little Mozart scored the first goal of the season against Leyton Orient FC on February 20, 2011. Rosicky ended the season with one goal in 34 appearances for Arsenal.
Season 2011-2012
Rosicky contributed his first goal new season in a match against Tottenham Hotspur, 5-2 victory.
Furthermore, he also scored against A.C. Milan for Arsenal's 3-0 win in the Champions League.
Although their victory against A.C. Milan, Arsenal were knocked out of the tournament as they lost on aggregate in the previous match.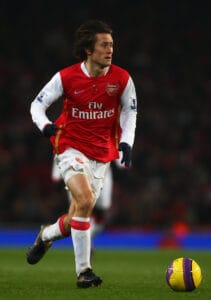 Also, Rosicky signed a new contract for two years with Arsenal on March 12, 2012. In the final match of the season against West Bromwich Albion, he sustained a muscle injury.
In UEFA EURO 2012, Tomas Rosicky again sustained an Achilles tendon injury in the match against Greece.
Season 2012-2013
After recovering from injury, Rosicky makes a comeback for Arsenal in a match against Swansea City, 2-0 defeat.
Also, he scored the only goal for Arsenal in the 2-1 loss against Olympiacos in the Champions League. Meanwhile, he scored two goals for a 2-1 away victory against West Brom in April 2013.
Hence, after recovering from his injury, he scored three goals in 16 appearances for Arsenal.
Season 2013-2014
Arsenal started the new season with a 2-0 victory contributed by Tomas Rosicky against Tottenham Hotspur.
Then, in a 2-1 win match against Aston Villa, he got his nose broken after Gabriel Agbonlahor's challenge.
After surgery of his wound in February, he scored against Sunderland, 4-1 win. Arsenal manager Arsène Wenger considered Rosicky's goals as one of the best goals.
Indeed, Rosicky signed another 2-year contract with Arsenal in March 2014. After the new agreement, he continued to shine, scoring a winning goal for Arsenal against Tottenham.
He ended his season by winning his first FA Cup final in 2014 as Arsenal beat Hull City 3-2 at Wembley Arena.
Season 2014-2015
Season 2014-15 gave the 2014 FA Community Shield for Arsenal with a 3-0 win against Manchester City.
On December 26, 2014, Rosicky scored Arsenal's second winning goal against Queens Park Rangers by 2-1.
Rosicky played as Arsenal captain in a 3-2 victory match against Brighton and Hove Albion. He became the man of the match, scoring Arsenal's 3rd goal and assisting Mesut Özil.
However, he did not participate in FA Cup final 2015 because of injury; Arsenal finished the season by winning the title against Aston Villa 4-0.
Season 2015-16
After recovering from his knee injury, Rosicky finally made an appearance for Arsenal against Burnley. Furthermore, he again suffered from a serious thigh injury in the match.
Rosicky ended his ten-year career with Arsenal after his contract's expiration. He received a guard of honor on May 15 after Arsenals' 4-0 victory against Aston Villa.
The Little Mozart was respected with a guard of honor, with most Arsenal squad wearing the "Rosicky 7" kit.
Also, Tomas Rosicky had a great moment playing a decade with Arsenal. He showed a brilliant game with his team, along with victories and injuries.
AC Sparta Prague and Retirement
Tomas Rosicky made his debut for Sparta on September 10, 2016, in a Czech First League game. Unfortunately, he sustained an injury the same day and ended up on the bench.
Rosicky returned to the game on September 10, 2017, and scored the winning goal against Karvina.
He made a total of 12 appearances with one goal for AC Sparta Prague after his comeback.
He announced his retirement from his professional football career on December 20, 2017, at 37, due to persistent injuries hampering his health.
Also, read <<Dani Alves: Early Life, Family, Football Career, Wife & Net Worth >>
International Career
Tomas Rosicky made his first international debut at age 19 against Ireland. Rosicky scored the first goal for the Czech Republic against Bulgaria in the 2002 world cup qualification.
However, the Czech Republic lost qualification after Belgium; Rosicky played a tremendous role in Euro 2004.
The Czech team successfully won over the Netherlands and Denmark in the knockout round.
Also, Rosicky helped the Czech Republic qualify for the FIFA world cup 2006 in Germany by scoring seven goals in 12 matches in qualifiers.
Rosicky then scored two opening goals for his country against the United States 3-0 win on the 2006 World Cup. As a result, he was awarded "FIFA Man of the match."
In August 2006, Rosicky was appointed as captain of the UEFA Euro 2008 qualifying. Meanwhile, he sustained an Achilles tendon injury in the second match of Euro 2012.
Besides, Rosicky became the oldest player at the age of 35 to feature for his nation in UEFA Euro 2016. In the same way, he was also the youngest player at age 19 in UEFA Euro 2000.
You can find the latest news, profile, rumors, career stats, market value, and much more information about Tomas Rosicky on the transfermarkt website.
Managerial Career
After a successful football career, Tomas Rosicky switched to a management career later.
Then in January 2018, he stepped into the field as Assistant sports director of AC Sparta Prague.
Finally, Rosicky replaced Zdenek Scasny as a sports director, soon after Zdenek moved to the position of Sparta head coach on December 17, 2018.
Tomas Rosicky | Highlights, Awards & Achievements
Individual
Czech Footballer of the Year: 2001, 2002, 2006
Golden Ball (Czech Republic): 2002
Czech Talent of the Year: 1999
Kicker Bundesliga Team of the Season: 2001–02
Team
Czech First League: 1998–99, 1999–2000
Bundesliga: 2001–02
UEFA Cup runner-up: 2001–02
DFB-Ligapokal runner-up: 2003
Football League Cup runner-up: 2006–07, 2010–11
FA Cup: 2013–14, 2014–15
FA Community Shield: 2014
Tomas Rosicky | Net worth
Tomas had a successful professional career. Along with the name, Rosicky has accumulated impressive wealth as well.
"As of 2023 Tomas Rosicky an estimated Net Worth of around $3.1 million."
As a million-dollar man, Tomas is living a luxurious life with his family.
Tomas Rosicky | Personal life & Wife
Besides being a great attacking midfielder, Tomas Rosicky is also a great person by heart. He is also a music-loving person since his childhood.
Rosicky developed an interest in music by listening to Czech pop-rock bands "Three Sister" and "Padlock." As a result, Rosicky learned to play guitar and also played in rock concerts.
Tomas Rosicky dated his girlfriend, Radka Kocurová, in 2003. Radka is a retired model and TV Nova weather forecaster.
The couple got married in May 2014. Together they have a son named Dylan, who was born in June 2013. They reside in a beautiful house in America.
Social Media Presence:
Tomas Rosicky is present on Instagram as t7.official with a follower count of 399k. He keeps fans updated about sports activities and his personal life on social media.
Watch the video of Tomas Rosicky and Jan Koller playing together. Click to follow!
Some FAQs:
Where is Tomas Rosicky now?
After retirement, he is now active as sports director of Sparta Prague.
Why is Tomas Rosicky called "The Little Mozart"?
Tomas Rosicky is called "The Little Mozart" because of his ability to orchestrate the play on the pitch.
Does Tomas Rosicky have a drug addiction problem?
No, the footballer does not have a drug addiction problem as far as our knowledge.
Why did Tomas Rosicky retire from Football? What is his Arsenal statistic like?
According to Rosicky, he retired because his body couldn't prepare to perform well since his injuries kept hampering him.
Well, he has played a total of 170 games with Arsenal, where he has maintained nineteen goals.
What did Tomas Rosicky say regarding missing out on the FA Cup final?
Tomas Rosicky said it was very frustrating and disappointing to miss out on the FA Cup final. During one of his interviews, he mentioned it, saying,
"It was a huge disappointment. "I don't know what to say. Since the coach activated the option (to extend the contract), I haven't even been on the bench."
(Make sure to comment down below if any information goes missing. We are ready to update in case of useful information.)