Lukas Manuel Klostermann is a German professional footballer. He currently plays for RB Leipzig and German National Football Team.
Klostermann is a versatile defender who can be deployed on any side of the back four. Likewise, he is well-known for his sizeable frame and pace.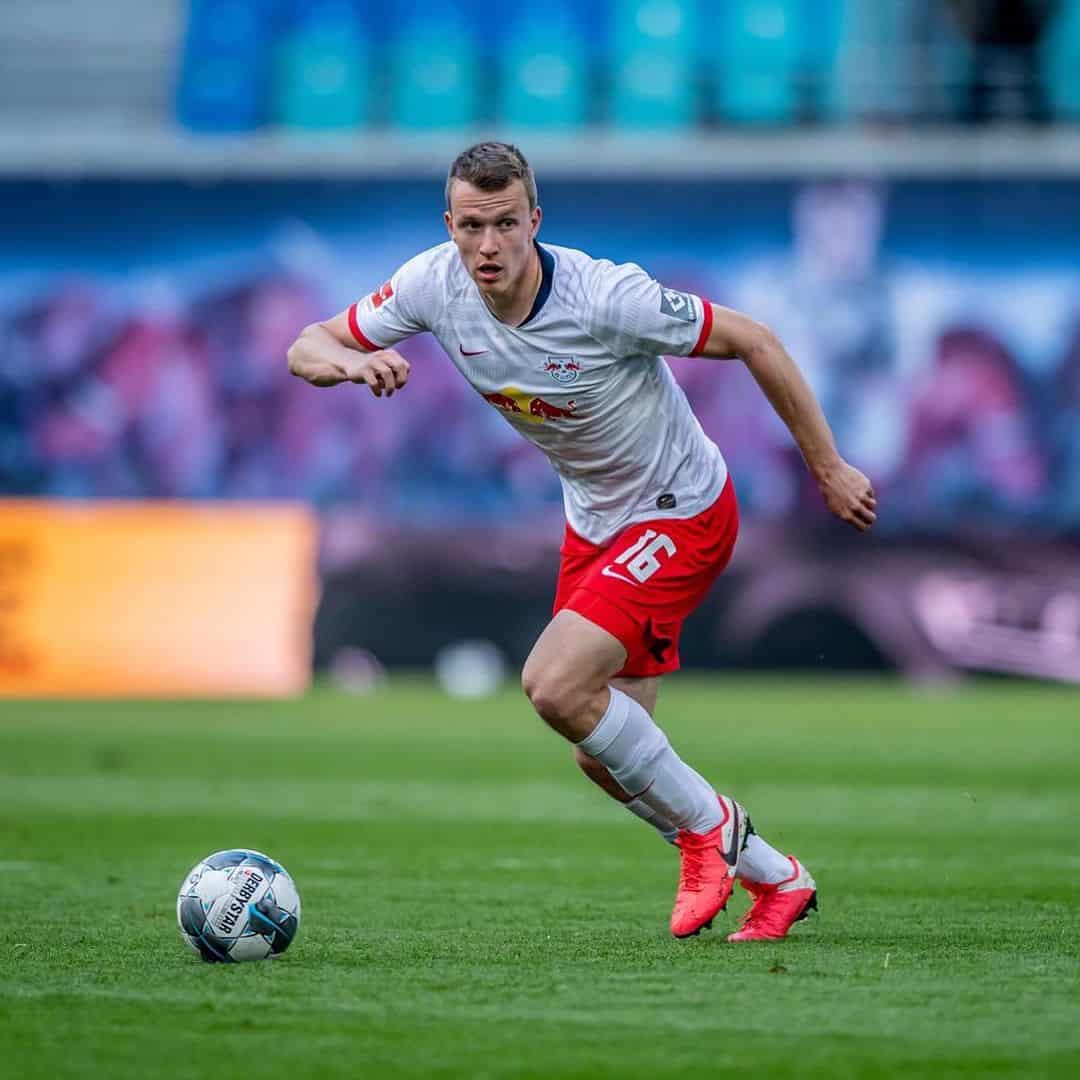 Along with being a footballer, Klostermann also holds a degree in economics. To find out more about one of the biggest talents in the world of football, stay with us.
Quick Facts
| | |
| --- | --- |
| Name | Lukas Manuel Klostermann |
| Date of Birth | 3rd June 1996 |
| Birth Place / Origin (Herkunft) | Herdecke, Germany |
| Nick Name | Klosi |
| Age | 27 years old (as of July 2021) |
| Gender | Male |
| Religion | Unknown |
| Nationality | German |
| Ethnicity | Unknown |
| Horoscope | Gemini |
| Education | University of Hagen (Degree in Economics) |
| Height | 6 ft 2 inches (1.87m) |
| Weight | 88kg (194 lbs) |
| Body Mass Index (BMI) | 24.9 |
| Build | Athletic |
| Hair Color | Blonde |
| Skin Color | White |
| Tattoo | No |
| Father Name | Andree Klostermann |
| Mother Name | Ulrike Klostermann |
| Siblings | Lisa Klostermann |
| Relationship | Dating (Laura) |
| Profession | Footballer |
| Preferred Foot | Right |
| Playing Position | Right Back |
| Agent | EMG Mundial |
| Professional Debut | 14th March 2014 |
| Team | RB Leipzig |
| Jersey Number | 16 |
| Salary | €60,000 per week |
| Net Worth | €6 million |
| Transfer Market Value | €38 million |
| Shoe | Nike |
| Social media | Instagram @lukaskl96 & Twitter @Lukas Klostermann |
| RB Leipzig Merch | Jersey, Jacket |
| Last Update | June, 2023 |
Lukas Klostermann | Early Life, Family, and Education
Lukas Klostermann was born on 3rd June 1996 in Herdecke, Germany. His father's name is Andree Klostermann, and his mother, Ulrike Klostermann.
Both of his parents were athletic. Likewise, Klostermann's sister, Lisa, is also a professional footballer.
Klostermann played football when he was just six years old. He played for many youth teams of FSV Gevelsberg, SSV Hagan, and VfLBochum. After Klostermann joined VfL Bochum, he settled in the defense position.
Klostermann balanced his football career as well as his education. He completed his high school at Gevelsberg. Similarly, Klostermann attended the University of Hagen, where he completed a degree in economics.
Lukas Klostermann | Body Measurement and Playing Style
Lukas Klostermann is a footballer with a huge body frame. The footballer stands 6 ft 2 inches and weighs around 83 kg. Furthermore, he has the athletic body type suitable for footballers.
The best traits that describe Klostermann's playing style are pace and energy. His pace helps him make deadly runs on flanks, allowing him also to catch players when defending.
The athlete's playing style is the best example of what defines modern-day football fullbacks. He is an attacking threat and also defends effectively.
Since the 2018-19 season, Klostermann has also been played as center-back by Julian Nagelsmann.
Read Also: Dani Alves: Early Life, Family, Football Career, Wife & Net Worth >>
Lukas Klostermann | Club Career
VfL Bochum
After appearing for various youth levels for VfL, Bochum Klostermann was later promoted to U-17 and U-19 sides. He captained both sides before making progressing into VfL Bochum II.
On 14th March 2014, Klostermann made his debut for VfL Bochum in a 2-0 win against VfR Aalen.
Luka was just 17 years old during his debut match. Klostermann replaced Paul Freier as the team's first choice right back. During Klosertermann's debut season in 2013-14, he made nine appearances for the side.
RB Leipzig
Later in 2014, Klostermann was signed by newly promoted side RB Leipzig. Luka signed a four-year deal with the club. At first, Klostermann was dropped into U-19 and RB Leipzig II.
But after the club's defensive crisis because of injury, he was promoted into the first team. On 12th December 2014, he made his first-team debut against Greuther Furth, where his team won 1-0.
Later, on 24th April 2015, Klostermann scored the first goal for RB Leipzig in a 2-1 win against Darmstadt. In his first season, Luka made 13 appearances scoring one goal.
Breakthrough season
In the 2015-16 season, Klostermann, for his performance, was selected as the team's first-choice right back. During the second match, only Klostermann provided his first assist of Davie Selke's season against Greuther Furth.
In a 2-1 victory against 1860 Munich, Klostermann scored his first goal of the season.
During the 2015-16 season, Klostermann made 31 appearances for RB Leipzig. Overall he scored one goal and provided four assists to help the team be promoted into Bundesliga.
Season Ending Injury
During the 2016-17 season transfer market, only top teams from the Premier league like Tottenham Hotspur showed interest in Klostermann. On matchday 2 1-0, win over Borussia Dortmund Klostermann made his only appearance for RB Leipzig's season.
His debut Bundesliga season was shaded by injury. On 13th September 2016, Klostermann suffered an anterior cruciate ligament tear during training.
Although Klostermann was believed to return after several months, he couldn't return to the field because of fitness issues for the rest of the season.
Later on 19th August 2017, Klostermann made his Bundesliga return in a 2-0 loss against FC Schalke. On 1st October 2017, he grabbed his first goal in a 2-1 victory over FC Koln.
Klostermann made his UEFA Champion League (UCL) debut against Monaco on 13th September 2017. The match ended with a draw where he played the full 90 minutes.
Most Productive Season
During the 2018-19 season, Italian side AS Roma made a serious move for Klostermann, but he dismissed the move stating his desire to stay at the club. But at the beginning of the season, Klostermann was sidelined due to a knee injury.
After making his return to the side, he regained his right-back position. On 11th November 2018, Klostermann scored his first goal of the season in a 3-0 win against Bayern Leverkusen.
It was also his 100th appearance for RB Leipzig. Later, on 5th March 2019, Klostermann scored his first brace for RB Leipzig in a 3-3 draw against FSV Mainz 05.
On 25th May 2019, Klostermann got the opportunity to lift his first title with Leipzig in DFB Pokal Final. But in the final, RB Leipzig lost 3-0 against a strong Bayern side.
In the 2018-19 season, he made 40 appearances in all competitions. Overall, Klostermann scored 5 goals in Bundesliga and 2 assist in DFB Pokal Cup. It's his most productive season to date.
Champion League Semi-Finalist
In the 2018-19 season, Klostermann also played 28 games as a center back out of 43 games. Klostermann scored his season's first goal in a 2-1 loss against Sc Freiburg on 26th October 2019.
Later in the next match, he provided an assist in 8-0 hammering over FSV Mainz 05.
In the 2019-20 season, RB Leipzig made an outstanding run in the UEFA Champion League, reaching the semi-final.
On 23rd November 2020, Klostermann provided his only assist in the UCL to captain Marcel Sabitzer in a 2-1 win over Zenith.
Klostermann played all matches of the tournament for RB Leipzig. Sadly, on 18th August 2020, their UCL journey ended after they lost 3-0 against finalist PSG.
2020-21 Season
On 20th September 2020, Klostermann started as a center back in RB Leipzig's current season and won 3-1 over FSV Mainz 05. On 17th October, he was forced off in halftime because of a knee injury against Augsburg.
He missed 15 games and has yet to make an appearance in this season's UCL.
On 2nd January 2021, Klostermann returned from injury against a 1-0 win over VfB Stuggart.
Read Also: Yussuf Poulsen Bio: Early Life, Parents, Stats & Club >>
Lukas Klostermann | National Team Career
Youth Career
Lukas Klostermann represented Germany at different age levels team. On 10th February 2013, Klostermann made his U-17 debut against the Netherlands U-17. Overall, he was capped six times for U-17.
Later in 2014, Klostermann was called up by the Germany U-19 team. He firstly captained his side in a 3-2 win against the U-19 Ireland team on 28th March 2015.
2015 UEFA European Under-19 Championship
Klostermann was later included in the German team for the UEFA European U-19 championship alongside his former Leipzig teammate Timo Werner.
In the tournament, Klostermann made three appearances but was eliminated on the group stage. After that, he played 11 times for the U-19 team.
On 3rd September 2015, Klostermann made his debut for the Germany U-21 in a 2-1 win against Denmark. In the 2019 U-21 European qualification round, he scored his first goal in a 7-0 thrashing against Azerbaijan U-21.
2019 UEFA European Under-21 Championship
In June 2019, Klostermann was selected for the team for the U-21 European championship. He played all four matches in the tournament, helping Germany reach the final.
But, sadly, they lost against Spain U-21. Although the German side secured second, seven of their player, alongside Klostermann, was included in the Team of Tournament.
2016 Rio Olympics
In an interview, it was revealed that Klostermann made it to the Germany U-23 team for the 2016 Rio Olympics. He made his first appearance against Mexico U-23. In a 10-0 win over Fiji U-23, he provided his first assist.
Later in the semis against Nigeria U-23, he scored the winning goal to send Germany U-23 into the final.
In the final, Germany U-23 lost against Brazil U-23, led by Neymar, who was in great form throughout the Olympics. In the Olympics, he made a total of 6 appearances playing as a left fullback.
Senior Team
On 29th March 2019, Klostermann made his Germany team debut. He played a full game in a 1-1 draw against Serbia.
Since Klostermann's debut, he has been regularly called up for the senior team by Joachim Low. Klostermann grabbed his first assist for Germany in a 4-2 loss against the Netherlands in European qualifiers.
Until 2021 Klostermann has already made ten appearances. He has already provided three assists for Germany but has yet to score a goal.
Learn more about his stats and career on Comunio, Ligainsider, and Marktwert.
Lukas Klostermann | Injury
Indeed, his 2016/17 season-ending injury is the biggest one.
Back then, he faced a cruciate ligament rupture that took him 192 days to return to the field. During his tenure, he missed out on 23 games in total.
Before this injury, he had faced muscular problems during the start of the year 2016. Well, he was out of the field for fourteen days and missed a single game.
Likewise, most of his 2017 was overshadowed due to his injury, and his rehabilitation took a long way.
In May, he missed 63 days, and during that period, he couldn't appear for nine games. Similarly, Lukas struggled with thigh issues in October 2017 and was out for four days, and missed out on a match.
After a year of no trouble and again, in October 2018, Lukas struggled with knee problems. Therefore, he had to be out of the matches for 15 days which eventually made him lose four matches in total.
Following it, in March 2019, he pulled a hamstring at the adductors. Hence, he stood on the injured list for fifteen days in total and missed two games until he was back on April 5, 2019.
In January 2021, Lukas again stumbled into a knee injury and missed a single game as he was out for six days.
Recently on June 17, 2021, he tore his muscle fiber and missed 37 days on the field. With this injury, it is yet not sure if Lukas will be joining his team in the European Championship.
Lukas Klostermann | Personal Life and Relationship
Currently, Lukas Klostermann is dating Laura. She tends to have a quiet private life.
But Klostermann has uploaded many photos of the couple enjoying their time together. As of 2021, they don't have children.
Lukas Klostermann | Salary and Net Worth
Lukas Klostermann is making good earnings from football. His performance has also helped him to earn a new deal with RB Leipzig. On 8th May 2020, Klostermann signed a new deal with RB Leipzig running until 2025.
Currently, Klostermann earns about €60,000 per week, as well as his salary of €3 million per year, making him the third-highest earner in the team.
Before his new contract, Klostermann used to earn €1.5 million per year. Klostermann's net worth is expected to be around € 8 million in 2023.
Social Media Presence
Despite his jam-packed schedule, the athlete has maintained a tremendous social media presence. He is on Instagram with 73.8 thousand followers.
Klosterman mostly shares his life as a professional football player through his Instagram handle. Likewise, in most of his posts, you can see the fellow player in his jersey or on the field with his teammates.
Besides that, the footballer is also active on Twitter, where he has accumulated over nine thousand followers. He usually shares and tweets football-related events and highlights.
Lukas Klostermann | Frequently Asked Questions
What is the market value of Lukas Klostermann?
According to the Transfer market, Luks Klostermann's market value is €37 million.
Which position does Lukas Klostermann play?
Generally, Lukas Klostermann is a right-back known for his pace and frame. But recently, he has been deployed in centreback as well as left-back.
What is Lukas Klostermann's career stats like?
To date, Lukas Klostermann has made 211 game appearances in which he has had 14 goals. As for the international games, he has appeared in 13 games.
(Make sure to read and comment down below)