Tomi Lahren's husband, JP Arencibia, played in the MLB for six years with three franchises. Arencibia tied the knot with Lahren last year in Nashville.
The controversial conservative commentator Tomi Lahren came to the limelight in 2015 after she gained widespread attention for her political statements. Since then, she has been a mainstay and a face of the conservative movement.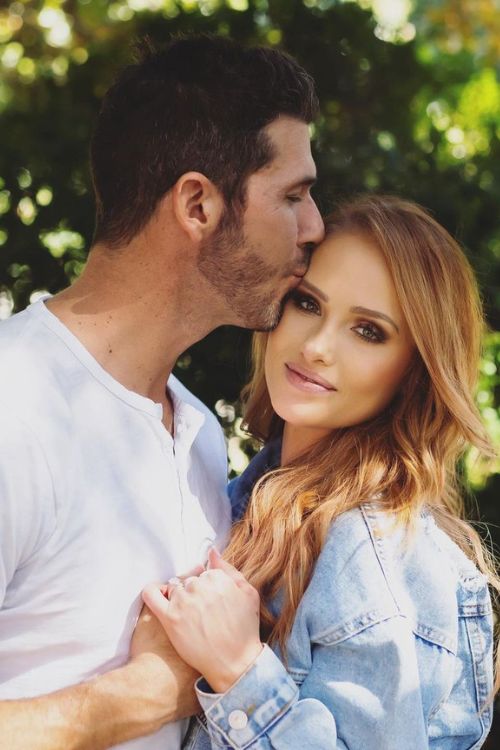 Since last year, Tomi has been hosting the Fox Nation talk show, No Interruption. But it wasn't only her professional life that saw a change.
The TV presenter tied the knot with the former MLB player, JP Arencibia. The couple went public with their relationship in 2021 and was engaged the same year.
Tomi Lahren Husband, JP Arencibia
Tomi Lahren's husband, JP Arencibia, is a former baseball player with a short career in the MLB. Arencibia was the 21st overall selection in the 2007 MLB Draft.
The Cuban-American was drafted by Toronto Blue Jays and played as a catcher. He debuted in 2010 and played three seasons with Blue Jays before moving to Texas Rangers. At Texas, he played for a season and was later signed by Baltimore Orioles for a minor league contract.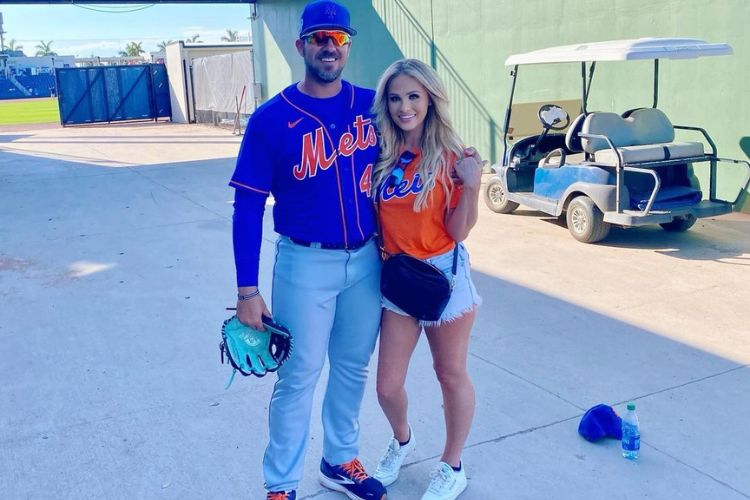 He was released by the Orioles in April 2015 and was signed by Tampa Bay Rays for another minor league contract. Later that year, Arecibia signed a minor league contract with Philadelphia Phillies before returning to Tampa Bay Rays in 2016.
A year later, Arencibia announced his retirement from baseball. But now he has taken up the role of a coach for the Triple-A team of New York Mets, Syracuse Mets.
Tomi Lahren And Husband, JP Arencibia Relationship Timeline
The Fox News presenter Tomi Lahren and former baseball player JP Arencibia went public with their relationship in February 2021.
In her first post with JP, Lahren thanked her man for driving her from Miami to Nashville so she wouldn't miss another day of work. She even shared a picture of their plan, including the stops they would make on their way to reach Nashville.
The same day, JP shared a picture of him and Tomi and captioned the post, "Future is bright, but damn do I enjoy every day with you."
From that day onward, the couple didn't shy away from showing off their relationship on social media. On April 19, 2021, Toni shared a picture of her and JP with the reporters' parents at the Marlins game.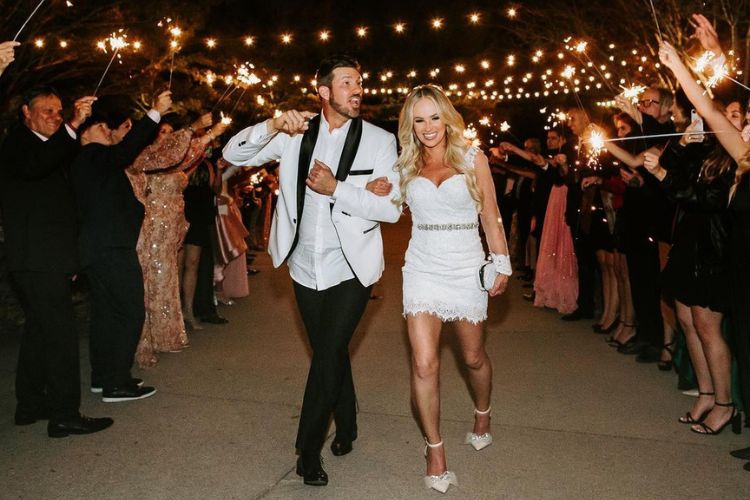 Their relationship quickly moved to the next stage as the former baseball player went down on one knee on September 26, 2021. The pair posted a series of pictures on their Instagram handle to share the exciting news of their engagement.
Almost a year after their engagement, the couple tied the knot on October 21, 2022, in Nashville, Tennessee, in the presence of their family and friends.
A couple of days ago, Toni, with her parents, attended the Syracuse Mets game and cheered for her husband's team from the stands.
JP has also previously shared appreciation posts for his wife. He shared one earlier this year on International Women's Day. The Mets' coach captioned the post, "Happy International Women's Day to my strong, fearless, and badass boss wife."
Tomi Lahren And Brandon Fricke Engagement Was Called Off
In April 2020, the UK tabloid, The Daily Mail, broke the news that the TV presenter had called off her engagement with Brandon Fricke.
A former collegiate football player for Central Michigan University, Fricke currently works for iHeartMedia in Growth Partnerships.
The former couple announced their engagement in June 2019, with Tomi sharing a photo of her sparkling engagement ring on Instagram. The couple had been dating for two-and-a-half years before calling off their engagement in mid-February.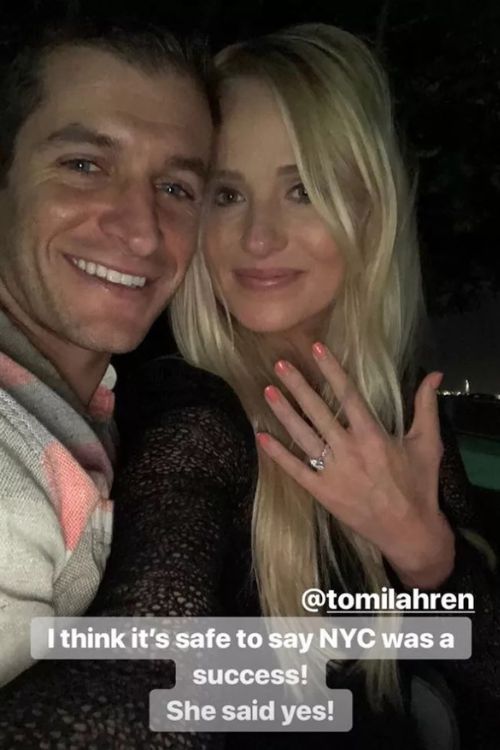 The British tabloid also learned that the TV presenter had returned her $50,000 engagement ring, which Brandon had bought using an Amex card, listing it in his congressional candidate financial report as a debt worth up to $50,000.
At the time, Fricke was running for Congress as an Independent in California's 33rd district. The breakup was said to be mutual, with Tomi not being ready to settle down.