Travis Hunter girlfriend is Leanna Lenee. They have been together for over 1 year now.
They met during Travis' senior year of high school at Collins Hill High School in Suwanee, Georgia.
At the time, Travis played cornerback and wide receiver for the Eagles.
During his sophomore year, Travis showcased his exceptional skills by leading the county in interceptions, boasting an impressive total of seven interceptions.
Simultaneously, he displayed his prowess on the offensive end, racking up 49 receptions for a remarkable 919 yards and scoring an impressive 12 touchdowns.
In his junior year, Hunter's performance reached even greater heights. He managed to snag eight interceptions and contributed significantly with 51 tackles on the defensive side.
On offense, his incredible talents continued to shine as he hauled in a staggering 137 passes, amassing an incredible 1,746 receiving yards and scoring an astonishing 24 touchdowns.
These remarkable achievements earned him the prestigious MaxPreps Georgia Player of the Year honors.
Travis Hunter Girlfriend Leanna Lenee, Graduated From KSU
Travis Hunter girlfriend, Leanna Lenee, was born in November 2001, which currently makes her 22 years old as of 2023.
Leanna boasts a rich and diverse heritage, reflecting both African-American and Hispanic roots within her family tree.
Her father's lineage originates from Mexico with a hint of Filipino heritage, while her mother's background is rooted in the African-American culture.
Aside from her cultural diversity, Leanna is well-known for her unwavering faith, as she is a devout Christian who draws strength and inspiration from her beliefs.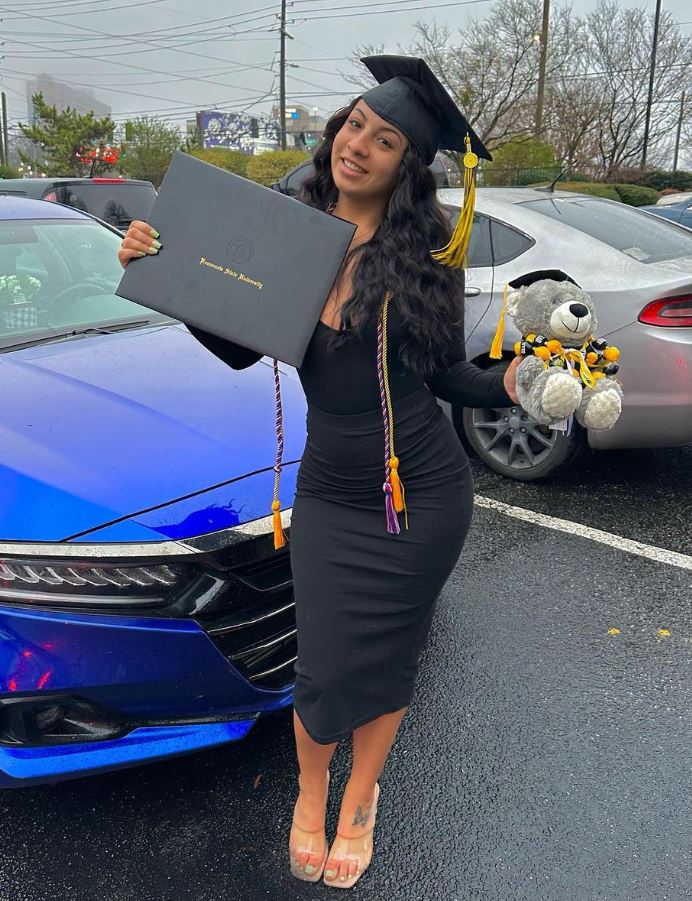 On December 15, 2022, Leanna celebrated a significant milestone by obtaining her Bachelor's degree from Kennesaw State University.
Her joyous achievement was shared with her followers on Instagram, where she posted a photo on Instagram along with a caption that read, "Now, let me go pursue my Master's degree… 🎓📚"
Leanna's commitment to her education and her diverse cultural background are just some of the fascinating aspects that make her an extraordinary individual.
Travis Hunter Girlfriend | Relationship Timeline
Travis took a bold step and slid into Leanna's DMs, initiating a two-month-long conversation before Leanna finally replied.
At this point, they both thought they could be just friends and continued texting for two more months, getting to know each other better.
After getting to know each other through their messages, Leanna decided to take their connection to the next level and asked Travis to accompany her to a friend's birthday dinner.
They officially started dating in February 2022.
This decision marked the beginning of a new chapter in their relationship as they went to the event together, marking their very first date.
At the time of this first date, Travis was still a high school senior, and the chemistry between them was undeniable.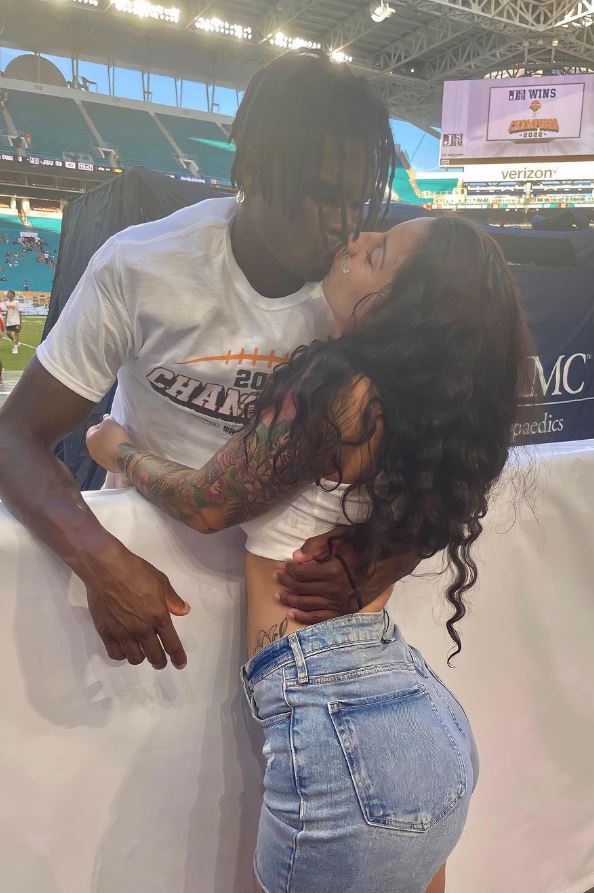 They shared their first kiss, a moment filled with excitement and anticipation for what lay ahead.
With Travis having school the next day, Leanna drove him back home after their memorable first date. Their second date was to Waffle House.
Up until that point, Travis had been living an hour away from Leanna, but during the last month of his high school senior year, he made a significant decision.
Travis decided to move in with Leanna, a move that would bring them even closer together and set the stage for their future together.
Their journey began with a simple DM slide and evolved into a beautiful love story filled with firsts and the promise of a bright future together.
How Does The Future Look To The Couple?
Travis and Leanna's relationship blossomed as they delved into their shared dreams and talked earnestly about their future, with marriage often taking center stage in their conversations.
These discussions acted as a strong adhesive, binding them closer together as they envisioned a life intertwined.
One of Leanna's most cherished dreams is for Travis to become a part of the Green Bay Packers.
Presently, they call Mississippi their home, a place where Leanna moved to live with Travis after her lease in Atlanta came to an end.
This relocation signified her dedication to building a life together with Travis, even if it meant bidding farewell to her previous residence.
In their leisure time, they indulge in various activities that they both enjoy, including fishing, playing Call of Duty, watching movies, and indulging in some retail therapy through shopping sprees.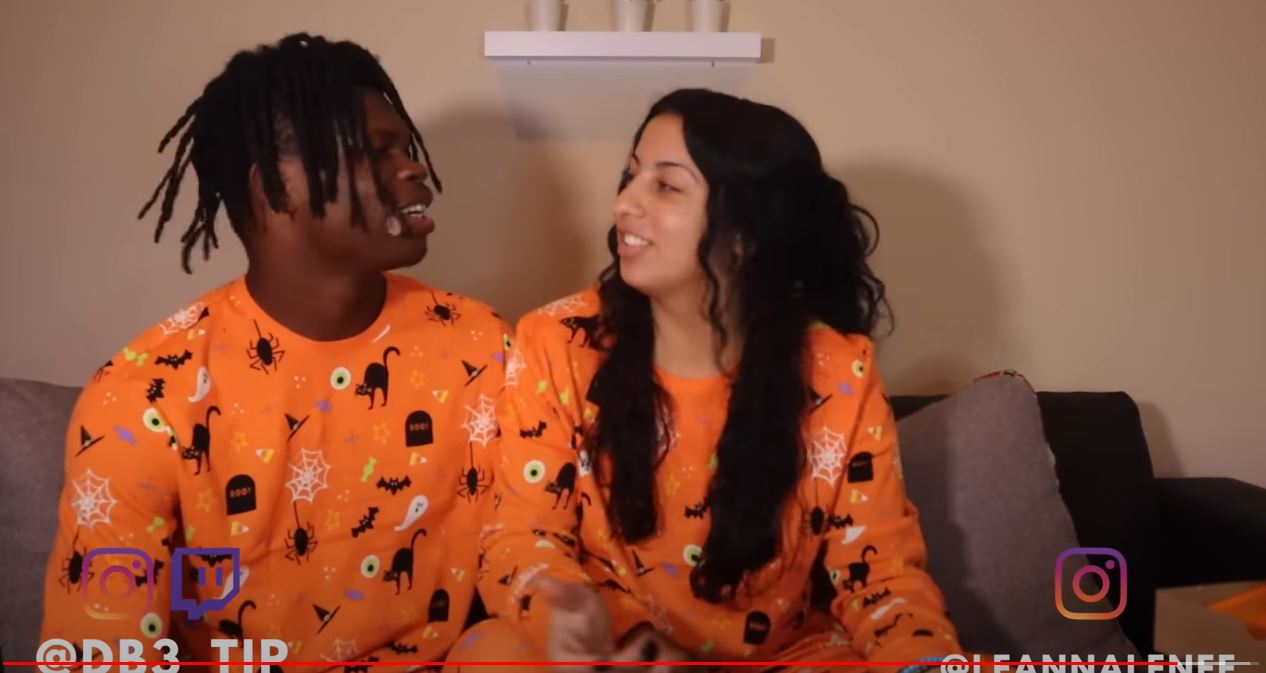 These shared interests have further cemented their connection and provided them with countless memorable moments.
When they contemplate their future, Leanna envisions herself continuing her pursuit of a Master's degree, a testament to her commitment to personal growth.
Simultaneously, their shared dreams involve tying the knot in the not-so-distant future and starting a family with the hope of having one boy and one girl.
Their love extends beyond their immediate family plans, as they also aspire to provide a loving home to an adopted child from a shelter.
One more thing that unites them is their shared love for seafood, which often leads to delightful culinary adventures as they savor the flavors of the sea together.
This shared passion for food further enriches their relationship, making each meal an opportunity for connection and enjoyment.
Travis Hunter Girlfriend Vacations
Leanna and Travis are avid travelers who love exploring new destinations together creating unforgettable memories along the way.
Their adventures have taken them to various breathtaking locations:
In March 2022, they embarked on an enchanting journey to the tropical paradise of Hawaii.
During their time in Hawaii, they couldn't help but share a collection of intimate and captivating photos on Instagram, giving their followers a glimpse into their romantic escapade.
In January 2023, they jetted off to the island of Jamaica for a quick and rejuvenating escape. This tropical oasis offered them the perfect opportunity to unwind and revel in the beauty of the Caribbean.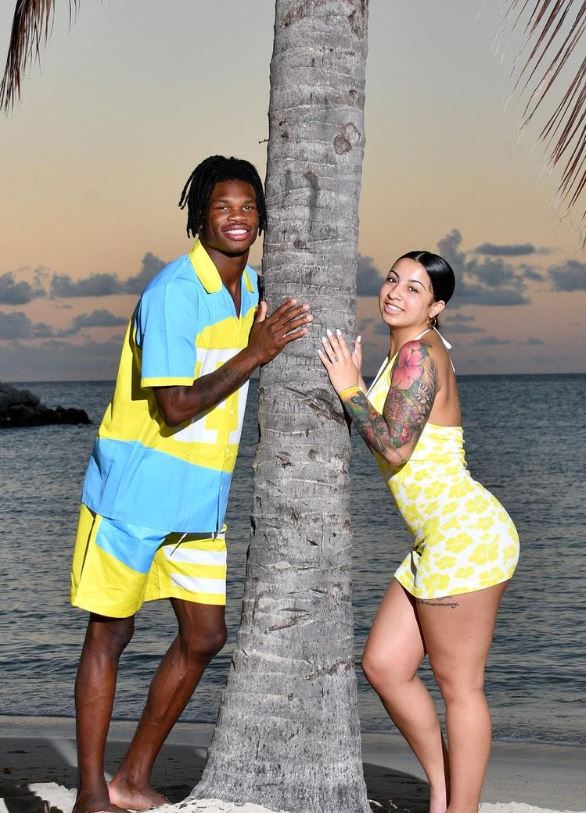 February 2023 saw them in the stunning surroundings of Glenwood Springs, Colorado.
Nestled amidst the Rocky Mountains, this destination provided them with an enchanting backdrop for their adventures, whether it was exploring nature or simply enjoying each other's company.
As spring arrived in May 2023, Leanna and Travis set their sights on the beaches of Luquillo, Puerto Rico. Here, they soaked up the sun, indulged in the local culture, and added yet another chapter to their travel adventures.