Travis Kelce's brother, Jason Kelce, is a professional football player who plays as a center for the Philadelphia Eagles in the National Football League. The Kelce brothers, Travis and Jason, are set to make history at the 2023 Super Bowl.
If you're an NFL fan, you've most likely heard about the Kelce brothers. Travis Kelce is also a professional football player who plays in the NFL for the Kansas City Chiefs.
Travis serves as a tight end and is the younger brother of Jason. Besides that, both of the brothers are Super Bowl Champions.
Travis' brother, Jason Kelce, acquired his Super Bowl ring after defeating the New England Patriots in the 2018 Super Bowl Finals and Travis in the 2020 Super Bowl with the Chiefs defeating the San Francisco 49ers.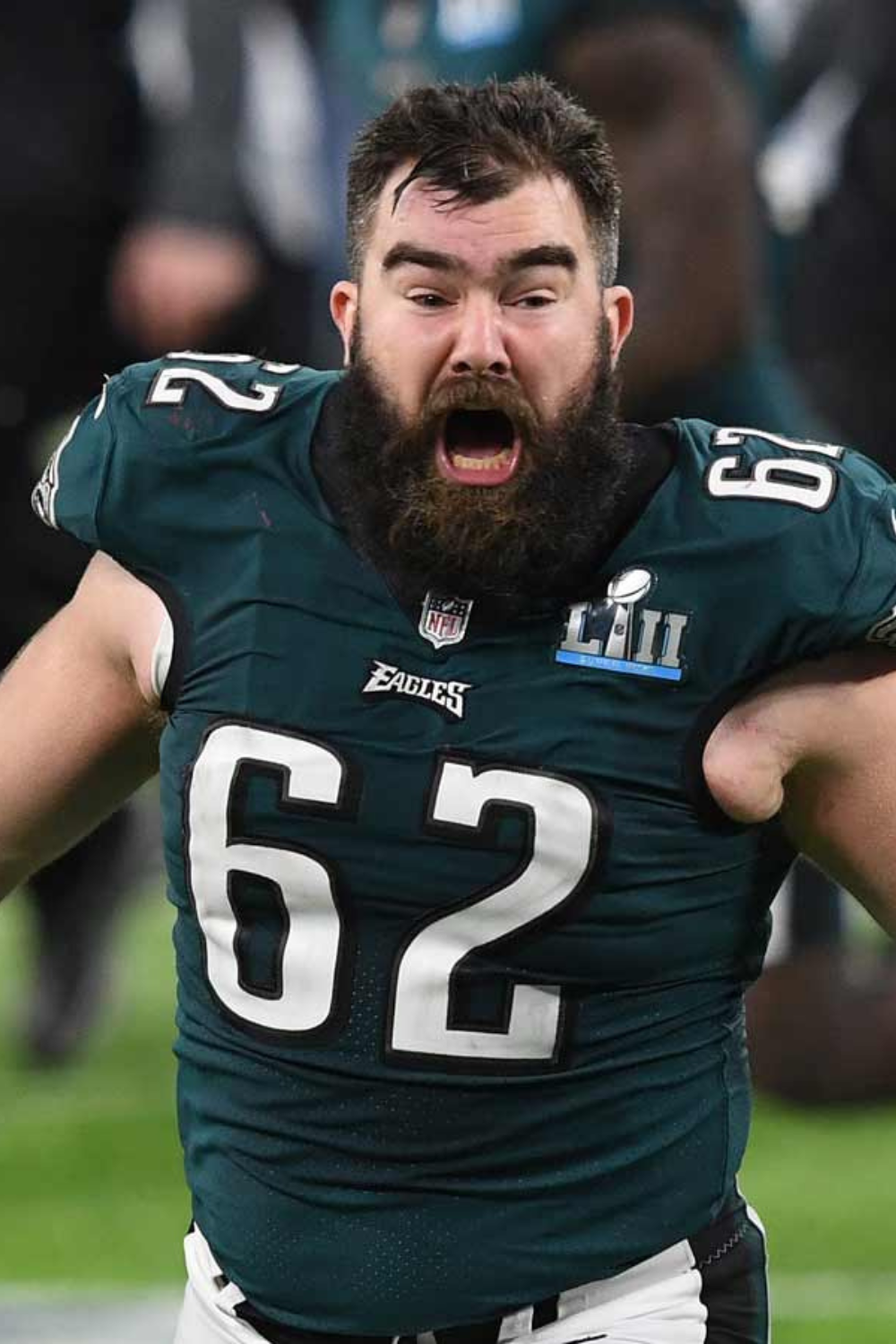 Jason was named to the First-team All-Pro five times and Pro Bowl six times. In 2017, he was awarded the Built Ford Tough Offensive Line of the Year title and was one of the eight candidates finalized for the Art Rooney Awards.
Likewise, Travis was also selected for the Pro Bowl eight-time, First-team All-Pro four-time, and Second-team All-Pro two times. The athlete was also named to the NFL's 2010s All-Decade Team and has set many NFL records.
Hence, it is fair to say that the Kelce brothers are successful NFL players.
Before getting into details about Travis Kelce's brother's life and career, here are some quick facts about him.
Quick Facts
| | |
| --- | --- |
| Full Name | Jason Kelce |
| Birth Date | November 5, 1987 |
| Birth Place | Westlake, Ohio, the United States |
| Nick Name | Not Available |
| Religion | Christian |
| Nationality | American |
| Ethnicity | White |
| Education | University of Cincinnati |
| Horoscope | Scorpio |
| Father's Name | Ed Kelce |
| Mother's Name | Donna Kelce |
| Siblings | One; Travis Kelce |
| Age | 35 years old |
| Height | 6'3″/1.91 m/191 cm |
| Weight | 134 kg/295 lb. |
| Hair Color | Brown |
| Eye Color | Brown |
| Build | Athletic |
| Profession | NFL Player |
| Current Team | Philadelphia Eagles |
| Position | Center |
| Active Years | 2011 – Present |
| Marital Status | Married |
| Wife | Kylie McDevitt |
| Kids | Two Daughters; Wyatt Elizabeth Kelce and Elliotte Ray Kelce |
| Net Worth | $37.5 million |
| Social Media | Instagram, Twitter |
| Merchandise | Autographed Jersey, Signed Football |
| Jersey Number | #62 |
| Last Updated | March 2023 |
Early Life, Family, And Education
Jason Kelce was born in Westlake, Ohio, the United States, to parents Ed Kelce and Donna Kelce.
His father is a salesman in the steel business, while his mother works in the bank. The pair got divorced in 2011.
Nevertheless, they maintain a cordial relationship and are often at their sons' games to support and cheer for them.
The NFL player comes from a very athletic family and his family has always been very supportive of his career choice.
Donna was a track and field athlete, while her brother served as a defensive tackle at Purdue University. Likewise, her father had a tremendous collegiate football career at Ohio University.
Besides that, Ed also played high school football and rugby back in his days. As a result, the parents were very keen on signing Jason and Travis into various sports programs.
Eventually, the siblings excelled at sports, and the Kelce house started piling up with awards and trophies.
Nature
Travis Kelce's brother was laid back and carefree. Once his teammates encouraged him to do a dumpster dive, he immediately agreed, as he never backed away from a challenge.
The Eagles center dived into the trash can in the middle of the school cafeteria, resulting in a hysterical laugh from students. He got detention for it, but even the vice principal had a good laugh.
Unlike his brother, Jason often got in trouble at school and was usually suspended for his actions. As per his father, he was suspended at least once per year in elementary school for fighting.
Sibling Relationship
The Eagles center is two years older than his younger brother, Travis, and they have been very close since the beginning and extremely competitive.
According to their parents, they were also somehow opposites of each other. While Jason did not care about other people's opinions, Travis was very concerned about how others perceived him.
Travis was well dressed, rarely got in trouble at school, and even if he did, he would usually talk his way out of suspension.
The siblings love each other dearly and constantly look out for one another. Travis looks up to his older brother a lot.
Once, the brothers fight ended up spilling dinner and accidentally knocking their dad down. Ed initially pretended to be hurt so his sons would stop fighting and call a truce.
Travis Kelce
The Kansas City Chiefs drafted Travis Kelce as the 63 pick overall in the 2013 NFL Draft.
With the Chiefs, Travis plays as the tight end and has won the 2020 Super Bowl Championship.
Besides, the footballer has set many records in the league, i.e., the most consecutive and most overall season with 1000-yard receiving by tight end, and the most receiving yards in a season.
Like his older brother, Travis played in college for the Cincinnati Bearcats. However, in 2010, he was suspended after testing positive for marijuana for the entire season.
Education
Jason Kelce went to Cleveland Heights High School, where he played football and hockey.
Unlike his brother, he did not have many offers and scholarships from schools despite being very skilled. Hence, following graduation, he decided to enroll at the University of Cincinnati.
Age, Height, And Weight
Jason Kelce, the center, was born on November 5, 1987, and is 35 years old as of March 2023. The NFL player takes great care of his health and diet.
Moreover, he works out every day and has a toned physique. Besides that, the athlete is 6 feet 3 inches (1.91 meters) tall and weighs 134 kg (295 pounds).
Football Career
High School And Collegiate Career
Kelce started playing high school football for Cleveland Heights High School as both running back and linebacker, and was named All-Lake Erie-Lake League twice.
After graduation, he joined the University of Cincinnati in 2007, and he switched to fullback and then to the offensive line. Nonetheless, the experiment for his position continued throughout his collegiate career.
As a sophomore, Jason made 13 starts at left guard, which helped the team's offense as they averaged 27.3 points and 375.3 yards of total offense.
Furthermore, the footballer earned second-team All-Big East honors after he helped his team win every regular-season game to become Big East Champions in 2019.
Jason was again moved to the center position for his senior year, where he flourished the most and was named Honorable Mention All-America and second-team All-Big East.
Professional Career
Kelce entered the 2011 NFL Draft, where he got selected by the Philadelphia Eagles in the sixth round and became the starting center for the team.
The center became the first rookie in Eagles history to start all 16 games at center. Jason was named the starting center for the second consecutive year but missed the season after suffering a partially torn MCL and torn ACL on September 16.
After his return in the 2013 season, he had an outstanding performance and helped the team reach the 2013 playoffs.
Due to his performance, Pro Football Focus graded him as the best center in the NFL for the season, and he also received the Ed Block Courage Award.
Kelce agreed to a 6-year/$37.5 million contract extension in 2014 and was selected to his first Pro Bowl despite missing four games after undergoing surgery for a sports hernia.
In 2015, Pro Football Focus ranked him the 7th best center in the NFL. Moreover, he won Super Bowl LII with the Eagles two years later, playing a major role in the victory.
Further
The Super Bowl champion again signed a 3-year contract extension worth $24.5 million with the Eagles on March 2, 2019. The following season was very productive for the big man.
To elaborate, he was one of the 8th finalists for the 2020 Art Rooney Award. Likewise, he was elected to his 4th Pro Bowl the same season.
On March 5, 2021, the NFL center signed a new extension deal with the Philadelphia Eagles and again restructured his contract keeping him with the team for one more year on March 11, 2022.
In 2022, he played 16 games for the Eagles, starting in 15 of them, and recorded 1078 snaps.
The Kelce brothers, Jason and Travis, will make history by becoming the first brothers to play against each other in the Super Bowl as they will represent their respective teams at the Super Bowl LVII.
Highlights And Awards
One-time Super Bowl champion (LII)
Five-time First-team All-Pro from 2017 to 2019
Six-time Pro Bowl in 2014, 2016, 2019, and 2020
2017 Built Ford Tough Offensive Line of the Year
Two-time Second-team All-Big East in 2009 and 2010
Marriage, Wife, And Daughter
The NFL player is married to Kylie Mcdevitt, an athlete who used to play field hockey at Cabrini University.
She had a great collegiate career with the Cabrini Cavaliers but decided not to pursue hockey professionally. As of now, she is involved in philanthropic works.
The pair have a quite modern love story. They reportedly met on Tinder and started dating shortly after and dated for a while before tying the knot in April 2018.
They had a beautiful wedding at Logan Hotel in Center City, Philadelphia. The ceremony was filled with their close friends, family, and loved ones.
Moreover, their 120-pound Irish wolfhound, Winnie, helped the two walk down the aisle.
On October 3, 2019, Jason and Kylie welcomed their first child, a daughter, Wyatt Elizabeth Kelce. They again expanded their family after Kylie gave birth to another princess, Elliotte Ray Kelce, on March 5, 2021.
Besides, they have two adorable dogs named Winnie and Balloo. The Kelce family resides in a beautiful House located in Haverford, Pennsylvania.
Net Worth, Salary, And Career Earnings
Jason Kelce earns most of his wealth through his career in the NFL. His net worth is estimated at $37.5 million as of 2023.
The NFL player signed a new contract that guaranteed him $9 million but could potentially increase to $12 million.
In 2020, the Eagles' center earned $11.5 million in salary and took home around $9 million and $11.3 million in 2021 and 2022.
Furthermore, his career earnings amount to $67,208,745.
Not to mention, Travis Kelce's brother earns a good deal through endorsement and sponsorships. Hence, it is safe to say that the NFL star and his family lead a comfortable life.
Currently, he lives in a house that he purchased for $680,000. Although there are rumors that he might be moving to Delco, it is not confirmed yet.
Besides that, Travis Kelce's net worth is estimated at $20 million, and his career earnings from his NFL career amount to $64,782,220. Likewise, he is estimated to earn $10.5 million for the 2022 season.
Social Media Presence
The Eagles center is active on social media platforms. However, looking at his socials, anyone can tell he is not very fond of it.
His Instagram bio says, "Authenticity is hard to find, come get your dose of real. Posts are indicative of my values, opinion, and stories."
Most of his posts are related to NFL and the Philadelphia Eagles. Besides, Travis Kelce's brother has shared several photos with his adorable daughters, dogs, and beautiful wife.
During the Black Lives Matter movement, Jason used his platform to raise awareness against the systemic racism deeply rooted in America.
Jason is available on Instagram under the handle @jason.kelce and Twitter @JasonKelce.
Instagram: 314k followers
View this post on Instagram
Twitter: 148.4k followers
On the other hand, Travis is on Instagram (@killatrav) with 1.5 million followers, and Twitter (@tkelce) with 680.8k followers. So, unlike his older brother, he is very active on social media platforms.
Popularity
After having an exceptional career with the Eagles, winning the Super Bowl LII, and competing for the Super Bowl LVII against the Chiefs, Jason's popularity is continuously growing.
The above graph gives brief information about the popularity of Jason Kelce based on Google searches in the United States over a year.
Frequently Asked Questions (FAQS)
Which teams have Jason Kelce played for?
Jason has only played for the Philadelphia Eagles. They drafted him in 2011, and Kelce has been with them since then.
What is Travis Kelce's nationality?
Travis Kelce, Jason's younger brother, was born in Cleveland Heights, Ohio, United States. Hence, he is an American.
How long has Jason Kelce been married?
The older among the Kelce brothers has been married to Kylie since April 2018.