If you revisit NBA history, centers dominated the league like no other positions. Likes of Bill Russell, Wilt Chamberlian, and Kareem Abdul Jabbar ruled NBA for many years.
In the past team couldn't win a championship without dominant centers. Similarly, the majority of the NBA MVPs were won by centers.
Over the last few decades, centers' positions have drastically changed. But new generations of big men are trying to shift the balance of power back to the centers.
Join us to find out who makes into our most important centers of all time.
10. Bill Walton
Portland Trail Blazers, Los Angeles Clippers, Boston Celtics
2x NBA Championship/ 1, NBA MVP
Bill Walton is one of the best team players and passing centers in the history of the NBA. He is one of the complete centers in NBA history, having playmaking, scoring, and defensive ability.
Although having success in his early career, a foot injury robbed his career later. Overall he did 37 orthopedic operations in his playing days.
In 1978, Walton won the NBA championship and NBA MVP with Blazers. Later, he played most of the seasons with injuries and multiple surgeries.
However, playing as Robert Parish's backup center in Boston, he won Sixth Man of the Year and second championship in 1986.
Walton ended his career averaging a double-double, recording 13.3 PPG and 10.5 RPG in 468 games. Later, in 1993 Walton was named into the Naismith Hall of Fame.
9. George Mikan
Chicago, American Gears, Minneapolis Lakers
5x BAA/ NBA Championship/ 1x NBA MVP
George Mikan is often considered the first true superstar of the NBA, dubbed Mr. Basketball.
The NBA is a multi-dollar franchise, thanks to Mikan's unprecedented effort.
At a time of financial struggles during the early NBA era, Mikan drew media attention, putting NBA on the map.
He is the original Laker's giant and one of the dominant centers ever. With his rebounding, shot block, and shooting, Mikan redefined big men in the NBA.
Mikan is accountable for several rule changes in the NBA. Moreover, to reduce his dominant influence, several rule changes were made.
He is responsible for goaltending, lane widening to 12 feet, shot clock introduction, and 3 points line.
Likewise, long before Magic, Shaq, Jabbar, and Kobe, Mikan was the man who brought glory to the purple and gold. During his time at the Lakers, he won 5 NBA championships.
George Mikan ended his career as the all-time leading scorer of 11,764 points. Later, in 1959 he was enshrined in the Hall of Fame.
NBA: Top 10 Best Point Guards Ever >>
8. Patrick Ewing
New York Knicks, Seattle SuperSonics, Orlando Magic
1x NBA Rookie of the Year
Patrick Ewing is the epitome of the old-school centers that want to win games at any cost.
However, his career is underrated due to his failure to win NBA Championship with New York Knicks.
But his consistent performance over his career is the reason behind him ranking 8th spot.
He developed his offensive game and low post moves in his early years, including soft jumpers.
Ewing toughness and defensive presence in the middle are the foundation of NY Knick's success in the 90s.
His prime years were unfortunate as he was in the same eastern conference with Jordan, Robinson, and Olajuwon.
However, Ewing has 11 NBA All-Star and 7 All-NBA selections. Likewise, in 1999 he became the 10th player to register 22k points and 10 rebounds in the history of the NBA.
Patrick Ewing is a two-time hall of fame inductee for his career in 2008 and a Dream Team member in 2009.
6 Best Jordans For Wide Feets>>
7. Moses Malone
Utah Stars, Spirit of St.Louis, Buffalo Braves, Houston Rockets, Philadelphia 76ers, Washington Bullets, Atlanta Hawks, Milwaukee Bucks, San Antonio Spurs
1x NBA Championship/ 3x NBA MVP
Moses Malone started his career coming out of high school. Over his career, Malone played for 9 teams.
12-time All-Star Malone is the perfect example of a dominant old-school center using strength and skills to score and rebound.
Malone earned the nickname "Chairman of the Boards" for his offensive rebounding. Moreover, he holds NBA's most offensive rebound record with 6,731 rebounds.
Teaming up with Julius Erving, aka Dr.J Malone, made 83 Sixers' most dominant force winning the NBA championship that season.
Malone is one of the most underappreciated players in NBA history. Moreover, he is one of the eight players to win 3 or more NBA MVP awards.
Moses Malone is the 2001 Naismith Memorial Basketball Hall of Fame inductee.
6. David Robinson
San Antonio Spurs
2x NBA Championship/ 1x NBA MVP/ 1x NBA Defensive Player of the Year
David Robinson, aka "The Admiral," excelled both offensively and defensively in his career. Robinson was unstoppable on both ends of the floor, hammering dunks and blocking shots
Robinson played his whole career for San Antonio Spurs. Moreover, he is the foundation behind the Spurs dynasty.
He became the centerpiece of a small-market team that seriously needed one superstar. Later, he sacrificed his position as the face of the Spurs for Tim Duncan.
He is also praised as a team player and a good leader.
Robinson won the NBA championship in 1999 and 2003. Likewise, he earned his only MVP award in 1995.
Furthermore, he is 10 times All-Star, 4 times All-NBA First Team, and 4 times NBA All-Defensive Team.
David Robinson is two times a hall of fame inductee, firstly in 2009 for his career and secondly in 2010 as a Dream Team member.
Ten Best Power Forwards Ever in NBA >>
5. Hakeem Olajuwon
Houston Rockets, Toronto Raptors
2x NBA Championship/ 1x NBA MVP/ 2x Defensive Player of the Year
Hakeem Olajuwon's "The Dream" is probably the most versatile center of all time. Whether it's defense or offense, he could do anything.
His strength and quickness helped him to guard any players. In addition, Hakeem is well known for his shot-blocking and stealing ability.
Moreover, he is the lone player to register more than 200 blocks and 200 steals in a single NBA season.
He was honored with NBA defensive player of the year two times and earned 5 NBA All-Defensive First team for his defensive ability.
Likewise, offensively Olajuwon is known for his neat shooting touch and footwork in the post. He ended his career recording 21.8 PPG.
Moreover, he is the inventor of the famous basketball movie "The Dream Shake," which he discovered by mastering fakes and spin moves.
In the absence of Michael Jordan, Olajuwon took full advantage, winning the 1994 and 1995 NBA championships and Finals MVP.
Likewise, he has 12 NBA All-Star and 6 All-NBA First Team selections to his name. Olajuwon is also a 2008 Hall of Fame inductee.
4. Shaq O'Neal
Orlando Magic, Los Angeles Lakers, Miami Heat, Phoenix Suns, Cleveland Cavaliers, Boston Celtics
4x NBA Championship/ 1x NBA MVP/ 1x NBA Rookie of the Year
The only word that describes Shaq O'Neal is dominant. He is the best center of his generation.
Olajuwon, in The Players Tribune, described Shaq as the beast. Likewise, he mentioned Shaq's size and skills combination; there won't be anyone else.
He destroyed every opposition with strength, speed, explosiveness, and skills. He excelled on both ends of the floor, scoring, rebounding, blocking, low post moves, and fast break.
Moreover, Shaq's signature move doorstep was unstoppable. In the low post, fouling was the only option to stop him; otherwise, he would slam a monstrous dunk.
Alongside Kobe Bryant, Shaq formed one of the deadliest duos in the history of the NBA. Later he carried the Lakers to 3 peat, winning Finals MVP each year.
Likewise, he is one of the 3 players to win NBA MVP, Finals MVP, and All-Star MVP in a single NBA season.
Furthermore, Shaq finished his career with 15 NBA All-Star and 8 All NBA First Team selections under his resume. Later, he was elected into the Hall of Fame in 2016.
Top 10 Best NBA Players of All Time >>
3. Bill Russell
Boston Celtics
11x NBA Championship/ 5x NBA MVP
The most outstanding winner of the NBA, Bill Rusell, is one of the most successful athletes in sports history.
The presence of Russell made the Boston Celtics undefeatable. His 11 NBA rings in 13 seasons as a player are almost impossible to match.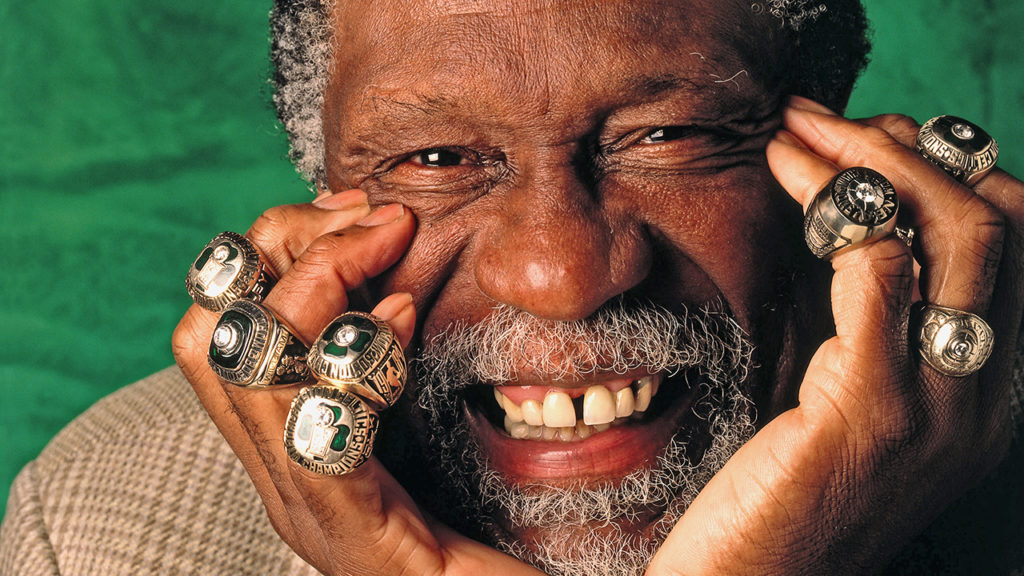 He also has 5 NBA MVPs, 12 NBA All-Star, and 3 All-NBA First Team selections under his resume.
Likewise, he would have racked up all Defensive Player of the Year if it had existed during his time.
Russell always stepped up when it mattered the most. His Basketball IQ and defensive intensity are the main reasons behind the Celtics' success.
Basketball is all about winning, and Russell knew what it takes to win. Kareem Abdul Jabbar mentioned him as the most intelligent player in NBA history.
Although he didn't make a significant contribution on offense, Russell could single-handedly take control of the whole defense.
Abdul was inducted into the NBA Hall of Fame in 1975. Later, in 2009 to honor Russell, NBA named Finals MVP Bill Russell Finals MVP award.
2. Wilt Chamberlain
Philadelphia/ San Diego Warriors, Philadelphia 76ers, Los Angeles Lakers
2x NBA Championship/ 4x NBA MVP/ 1x NBA Rookie of the Year
The NBA record books themselves speak wilt Chamberlian greatness. He is arguably the most dominant athlete in American sports history.
Talking of his records, he is the first and the only player to end his career averaging 30 PPG and 20 RPG in NBA history.
Moreover, he is the all-time leading rebounder and 7th all-time leading scorer in the history of the NBA.
Chamberlian holds the record for most points and rebounds in a single game with 100 points and 55 rebounds.
He is the lone player to average 50.4 PPG in a season he achieved in the 1961-62 season.
Talking about his accolades, Chamberlian is 2 time NBA champion, 5 times NBA MVP, 1-time Finals MVP, 13 times NBA All-star, and 7 times All-NBA First Team.
Furthermore, he is credited for multiple NBA rule changes such as goaltending, lane dimension widening, and free throw regulations.
Later, in 1978 Wilt Chamberlian was elected into the Basketball Hall of Fame.
Top 10 Best Basketball Movies of All Time>>
1. Kareem Abdul Jabbar
Milwaukee Bucks, Los Angeles Lakers
6x NBA championship/ 6x NBA MVP, 1x NBA Rookie of the Year
Well, the number 1 spot on our list of all-time most excellent centers is taken by no other than Kareem Abdul Jabbar.
His name pops up in most fans' minds when it comes to basketball goat conservation. Jabbar's stats and achievements show why.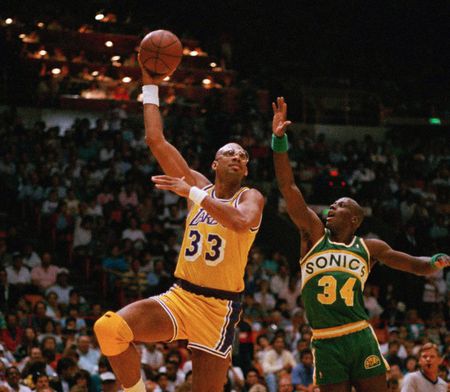 Jabbar is NBA's all-time leading scorer with 38,387 points. Likewise, he also holds the record for most NBA All-Star selections with 19.
His unblockable skyhooks and defensive presence ruled the NBA over several years. That's why Jabbar is 6 times NBA MVP, more than anyone else in NBA history.
Furthermore, his 10 times All NBA first team and 5 times All NBA selection show his all-around ability.
Jabbar captained one of the dominant dynasties in NBA history, "Showtime Lakers," to 5 titles.
Thanks to Bruce Lee's teaching, Jabbar played for 20 years in NBA with few injuries. Likewise, he was inducted into the Hall of Fame in 1995.
Summary
All the players on the list are Hall of Famers. However, they have already passed the baton to present superstars like Nikola Jokic and Joel Embid.
Let's look at a quick summary before ending our article.
Kareem Abdul Jabbar
Wilt Chamberlain
Shaq O Neal
Hakeem Olajuwon
David Robinson
Moses Malone
Patrick Ewing
George Mikan
Bill Walton