Kalya Nicole is a sports journalist and a former beauty pageant contestant who has worked as a reporter for NBA and BET and is more popularly known as Travis Kelce's girlfriend after they started dating in 2017.
Kalya Nicole is yet to be called "Travis Kelce's wife," but let's hope the couple gets married soon, and the NFL star gets the family to look after.
NFL star Travis Kelce plays the tight end Kansas City Chiefs. His bold and fierce plays have attracted many fans and fangirls worldwide, but the one who has his heart is the famous TV personality, Kayla Nicole.
However, in August 2020, Travis Kelce split with Kayla Nicole, and everyone thought their relationship had ended. Thankfully, their love remained, and they got back together in months.
Recent Update: According to this video published on youtube on May 26, 2022, the couple broke up again, but details are yet to come. Let's hope the relationship has prevailed and the couple is together. The video says the couple broke up because Travis made her pay for everything they did during their relationship.
And this seems to be the silly reason for the couple parting their ways which is quite difficult to believe for fans like us.
This article will discuss everything you need about Travis Kelce's girlfriend, Kalya Nicole. So hang in till the end of this article and let me know in the comments below if you think the couple split because of their expenditures.
Quick Facts
Full Name
Kayla Nicole
Previous Name
Kayla Brown
Birth Date
November 2, 1991
Age

30

Zodiac Sign
Scorpio
Mother's Name
Robin Curry
Father's Name
Roosevelt Brown
Siblings
One elder sibling and three younger-half siblings: Hayda Curry, Layla-Simone Curry, and Ayva Curry
Brother
No Information
Birthplace
Los Angeles, California
Citizenship
American
Ethnicity
African-American/ West Indian Origin
School
A local high school
College
Pepperdine University
Education
Bachelors in Broadcast Journalism
Height
5 feet 8 inches
Body measurements (Breasts-Waist-Hips)
36-24-40 inches
Eye Colour
Dark Brown
Hair Colour
Dark Brown
Shoe Size (UK)
6
Martial Status
Unmarried
Partner
Travis Micheal Kelce (American Football Player)
Titles

Top 20 Miss CA 2013
Top 10 Miss CA USA 2012
1st runner-up of Miss Malibu 2013
2nd runner-up of Miss Southern Coast Regional 2012
3rd runner-up of Miss Malibu 2012

Profession
Journalist, On-Air-Host, Promotional Model, and Social Media Personality
Famous for
Being the partner of NFL-star, Travis Kelce
Net Worth (approximately)
$US 1 Million (As of 2022)
Favorite Celebrities
Actor: Ryan Gosling
Actress: Emma Watson
Affiliated Brands
Strong is Sexy
Social Media
Instagram, Twitter, Youtube
Website
IMRSF
Merch of Travis Kelce
Autographed Jersey, Plaque, Bobblehead
Last-Update

July, 2022
Kayla Nicole's Family: Parents and Siblings
Kayla Nicole was born to Roosevelt Brown and Robin Curry on November 2, 1991, in Los Angeles, California. As of now, Kayla Nicole is 30 years old.
The model is the pair's second child and was previously known as Kayla Brown before changing her last name to Nicole for unknown reasons.
Roosevelt Brown and Robin Curry have long been separated. Moreover, her mother, Robin, has been remarried.
Kayla may have been young when her parents separated, but she still maintains a great relationship with both of them and her stepfather.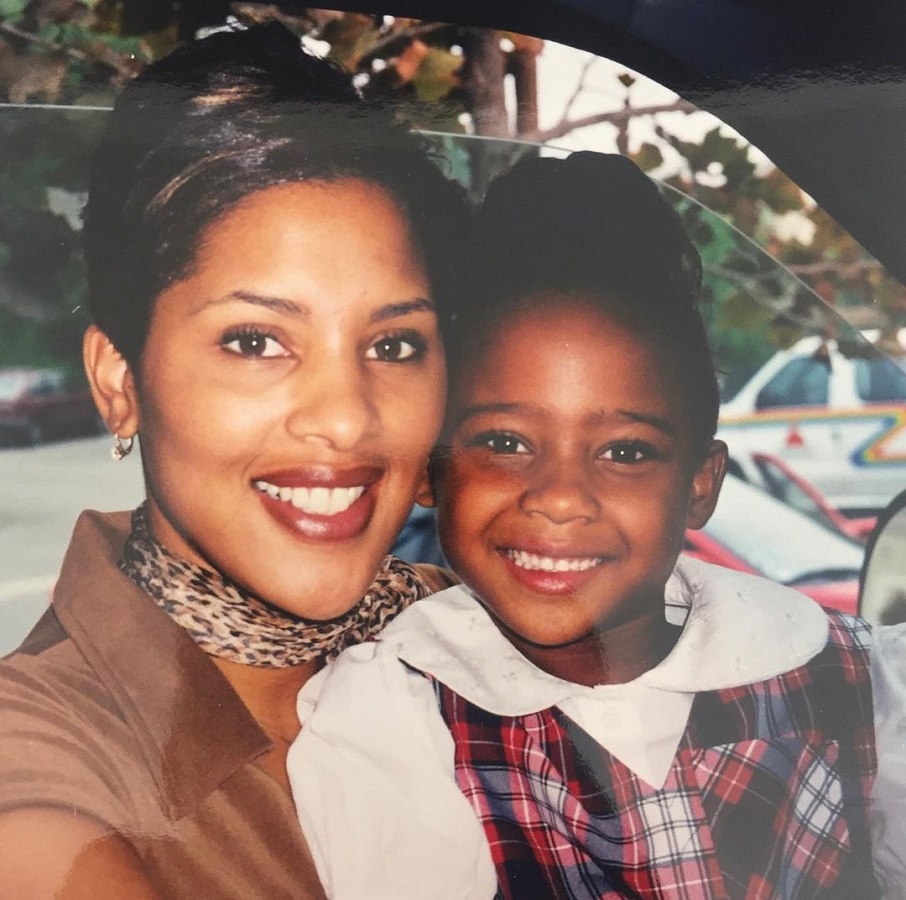 Furthermore, Kayla has four siblings; one elder sibling and three younger-half siblings altogether. Till now, there has been no information on her older sibling.
On the contrary, the names of her other siblings are Hayda Curry, Layla-Simone Curry, and Ayva Curry. They are the children of Robin Curry and her new husband.
The beautiful journalist is close to her family.
Kayla Nicole: Height, Weight, and Body Measurements
Looking at her stunning figure, we can tell that she takes great measures to maintain her body. The journalist stands 5 feet 8 inches tall and weighs around 58 kg.
Moreover, Kayla is a well-endowed woman, with her measurements being 36-24-40. Furthermore, her excellent fashion sense accentuates her curvy body.
Kayla Nicole: Career and Education
While Kayla Nicole is a widely known personality, many assume that her popularity is due to her relationship with Travis Kelce, the NFL football player. However, Nicole is an accomplished woman in her own right.
Kayla finished her high school education at a local high school and then went to Pepperdine University for undergraduate studies. She attained a bachelor's degree in broadcast journalism and entered the TV media.
The model works as an on-air host and has reported for the NBA and BET. Her job as a journalist brought her recognition and fame, fuelled after she started dating the NFL star.
Furthermore, she had also participated in various beauty pageants. With her charming personality and beauty, she also managed to snag a few titles:
Top 20 Miss CA 2013
Top 10 Miss CA USA 2012
1st runner-up of Miss Malibu 2013
2nd runner-up of Miss Southern Coast Regional 2012
3rd runner-up of Miss Malibu 2012
Nowadays, she runs her inclusive fitness brand named "Strong is Sexy" and also has a Youtube channel.
Moreover, she also modeled for Savage x Fenty, Rihana's lingerie brand, and ambassadors for the same.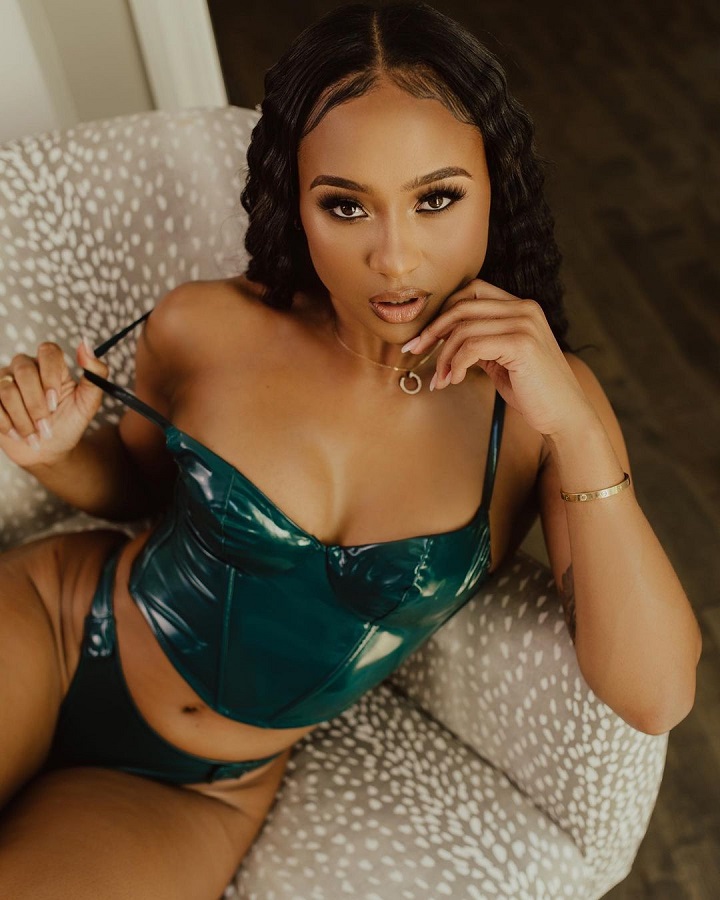 Although she may not be a household name as her boyfriend is, she is a well-known social media personality. Her various endeavors have gained quite some fans, reputation, and success.
Kayla Nicole: Boyfriend Travis Kelce
If you are an NFL fan, you are well-acquainted with the name Travis Kelce.
Travis Micheal Kelce was born on October 5, 1989, to Ed and Donna Kelce. Ever since he was a kid, he had an excellent aptitude for athletics.
To top it off, his elder brother, Jason Kelce, is also an American football player.
Travis Kelce Brother, Jason Kelce: NFL, Stats & Jersey >>
Growing up, the two constantly fought and competed against each other, which boosted their growth. Now they are one of the most accomplished siblings in the NFL.
Collegiate Career
During his time at Cleveland Heights High School, Travis Kelce was a three-sport athlete: football, baseball, and basketball, but he excelled in football which is why he decided to continue playing football.
The athlete accepted the scholarship offer from the University of Cincinnati in 2008, while he had offers from Miami (OH), Arkon, and Eastern Michigan.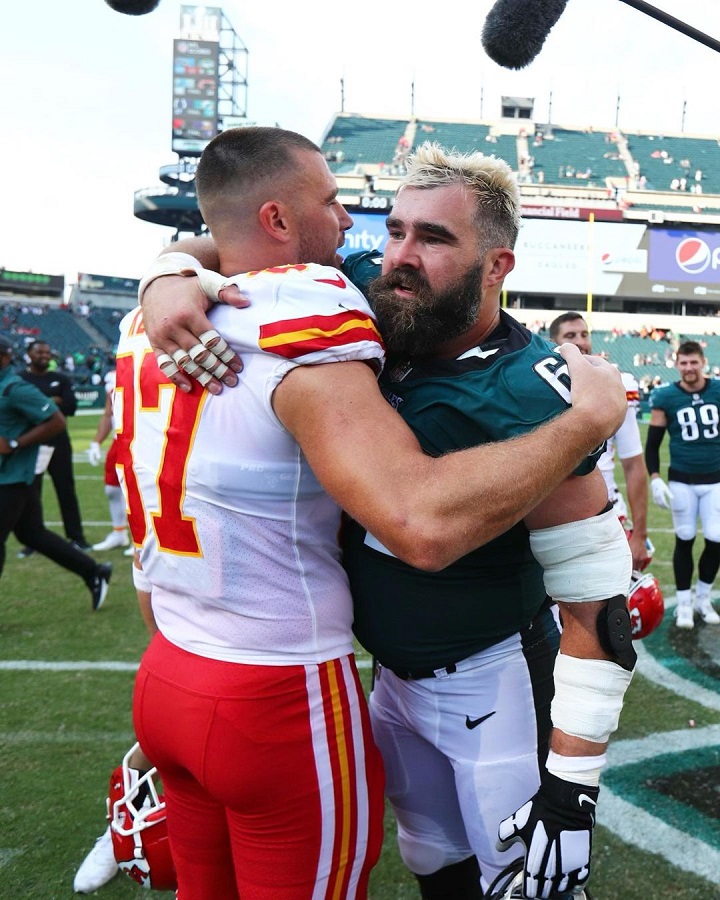 Travis was then considered a 2-star recruit and redshirted in 2008. During those days, he played great games and set many personal high records in receptions, receiving yards, touchdowns, and yards per reception.
Later in 2013, he won the title of the College Football Performance Awards Tight End of the Year.
Professional Career
With excellent performances in his collegiate career, Travis Kelce was drafted by the Kansas City Chiefs as the 63rd pick in the third round of the 2013 NFL Draft.
He with his team have won several tournaments and titles. They had won the Super Bowl LIV, and he also holds the NFL record for the most receiving yards by the tight end in a season and the most consecutive seasons with 1,000 yards receiving by the tight end.
Likewise, he played at the Pro Bowl six times and was selected for All-Pro's first team three times. In addition, Travis Kelce was also named to the NFL's 2010 All-Decade Team.
Relationship and Exes
Travis Kelce and Kayla Nicole first revealed their relationship at a wedding in May 2017. The athlete and his girlfriend were attending the wedding of a fellow NFL player and then-teammate Jeremy Maclin to Adia Kuzma.
Following the announcement, Kayla was seen constantly in his games and would be present at the after-parties.
The two are open about their relationship, and we can find numerous photos and videos of them on social media, which may be one of the reasons why the public is so invested in their relationship.
In one of the Instagram Q&As held by Kayla, one of her followers asked her how did the two first meet, and she replied, "He insta stalked Me. I DMed Him. The End."
This modern love might be one of the best things to happen to both of them as they look really happy together, but the same can't be for everyone.
While the internet is all up for the lovely couple Maya Benberry, Travis's ex-girlfriend, doesn't sound pleased, which is not much of a surprise.
Before dating Kayla, Travis starred in a show, "Catching Kelce," in 2016, where women competed to get his heart.
Beating several women, Maya Benberry won the show and Kelce as the prize; however, the couple broke up soon after in January 2017.
When Maya found out about the new couple, she tweeted accusing Travis of cheating, stating that they broke up five months ago, but the social media had claimed that he had been in a relationship with Kayla for six months.
These claims were unheard and forgotten as the public couldn't stop gushing about the cute pair.
Learn about: Lauren Kyle, Connor McDavid's Girlfriend >>
Break up and Patch up
In August 2020, the break-up between Travis Kelce and Kayla Nicole broke out. After being together for three years, fans and followers were perplexed by the sudden and unexplained break-up.
Kayla, then, had deleted all the pictures of her and the NFL star together off her social media as if to erase all the evidence of her relationship with Travis.
Various rumors of the athlete cheating on Kayla surged up, but Kelce denied the claims and clarified that it was fake news, a lie, and not the reason for their separation.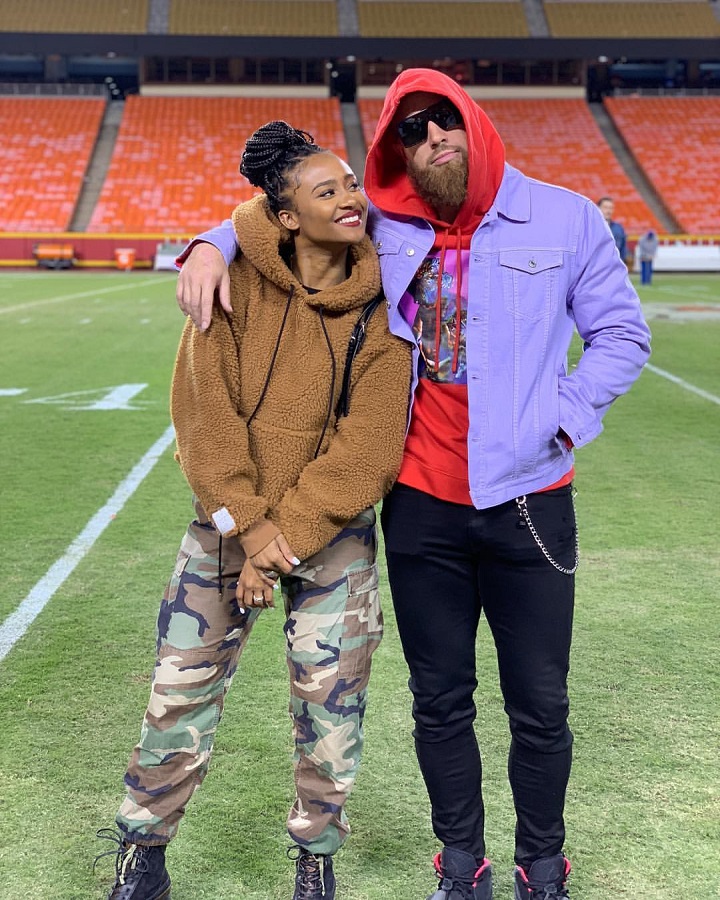 Gladly, in November 2020, the model was seen in the games Kelce played, and later the footballer himself revealed that they were back together.
Whatever had caused them to break up is not known but hopefully may have been resolved.
Kayla Nicole: Net Worth and Salary
As mentioned earlier, Kayla Nicole is an accomplished woman and has a net worth of $500k.
She is successful in modeling and journalism, and she also runs her own business and youtube channel. Her earnings from her multiple profession surely must add quite a sum to her total assets.
Not to mention, she also takes care of her finances on her own. After she asked how Instagram influencers can afford designer clothes and nice jewelry in her Instagram story, this was revealed.
But things didn't turn up good; people began criticizing and harassing Travis Kelce on the internet about how even though he had signed a $57 million contract, he didn't spoil her, help her financially.
Kayla clapped back, saying she was happy with her man and $50 outfit from Zara, but this only further ignited the topic. Afterward, Travis himself spoke up, stating he does care for her, but she is independent.
Kayla Nicole: Social Media
At this age, there is almost no celebrity who is on social media. In fact, many famous people out there have found success on the internet, and Kayla is also amongst them.
Kayla is highly active on various forms of social media with thousands of followers. She posts multiple pictures of her daily life and the trips she takes with her boyfriend, Travis Kelce.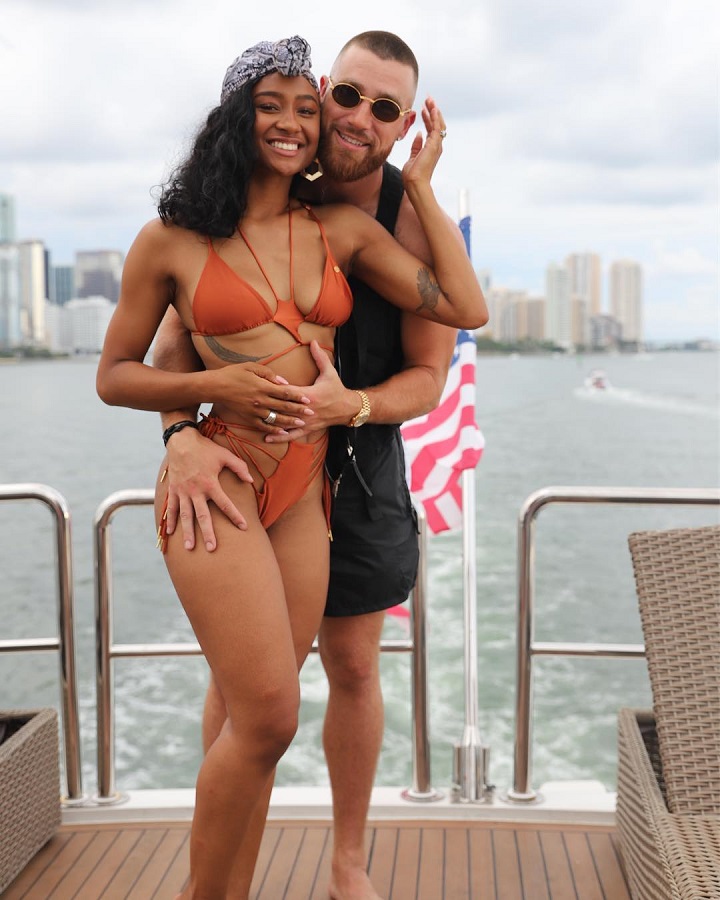 In a like manner, she promotes her brands via social media. Furthermore, she also runs a Youtube channel where she posts her vlogs and workouts occasionally.
Links to her social media:
If you are interested: 10 Strongest NFL Players In The World >>
Kayla Nicole: FAQs
What is Kayla Nicole's ethnicity?
Kayla Nicole is of American-African ethnicity. She is hugely loved and supported by the people of the black community. In addition to that, few sources claim her to be of West Indian origin as well.
Are Travis Kelce and Kayla Nicole married/engaged?
No, Travis Kelce and Kayla Nicole are not married or engaged. However, rumors of engagement often surround celebs who have been together for a long time. Similarly, many fans and media speculated the couple was engaged.
Congratulatory messages and a few heartbreak posts were seen, but the rumors turned out to be false. However, it seems that Kayla is ready to take their relationship to a new level.
In a game of "Truth or False" with her fans this January, one of her fans asked if she was ready to be a mother, to which she replied by saying False though she is ready to be a wife.
It seems all that is left is for the Kansas City tight end to pop the question.