With his impressive skills and tenacity, Trent Forrest has created waves in the NBA. He is currently playing as a point guard for the Atlanta Hawks.
Before debuting in the NBA, Trent was already a well-known college star for his play with Florida State University.
Along with being a great player, Trent was also good at academics. Thus, he was awarded the Skip Prosser Award for Best Scholar-Athlete.
Trent's journey from a high school star to a budding NBA player has been nothing short of inspiring. So, how did a boy from a small town go to play in NBA, making his name? Read on to find out.
This article will look closely at his life, career, and achievements. But, before that, let's briefly know him through his quick facts.
Quick Facts
Full Name
Landon Trent Forrest
Nick Name
Trent
Date of Birth
June 12, 1998
Age
24 Years Old
Birth Place
Dothan, Alabama, U.S.
Nationality
American
Ethnicity
African American
Zodiac Sign
Gemini
Height
6 ft 4 in/1.93 m/193 cm
Weight
210 lb/95 kg
Hair Color
Black
Eye Color
Black
Father's Name
Lester Forrest
Mother's Name
Barbara Lee
Siblings
Trey Forrest (Older Brother)
High School
Chipley High School
Education
Bachelor's Degree in Sports Management
University
Florida State University
Relationship Status
Single
Profession
Professional Basketball Player
Position
Point Guard
Leagues
NBA Draft
Undrafted (2020)
Debut Year
2020
Playing Teams

Utah Jazz (2020-2022)
Salt Lake City Stars (2020- Present)
Atlanta Hawks (2022-Present)

Jersey Number
2 (Atlanta Hawks)
Awards and Achievements

ACC All-Defensive Team
Skip Prosser Award for Best Scholar-Athlete
Jersey Was Retired by Chipley High School

Net Worth
$1 – $5 Million
Social Media
Instagram, Twitter
Last Update
June 2023
Early Life, Family, & Education
Born on June 12, 1998, Landon Trent Forrest is the son of Barbara Lee and Lester Forrest.
Although he was born in Dothan, Alabama, he grew up in Chipley, Florida, with his older brother, Trey Forrest.
His mother, Barbara, is the pastor of the All Things New Worship Center, and his father, Lester, is the manager of Gilmore Park for Chipley's recreation department and built the youth basketball program in the town.
As a child, Trent loved any ball within reach, but as he grew up, he became particularly fond of basketball.
This could be linked to his family background as a basketball enthusiast. His parents played basketball at Chipola Junior College, and his brother is a basketball player.
In addition to being good at sports, Trent was academically focused, graduating from Chipley High School with an impressive 4.3 GPA.
He was also ranked in the top 50 of his high school class and participated in an Amateur Athletic Union competition with the Alabama Challenge and Georgia Stars.
He graduated from Florida State in December 2019 with a degree in sports management and earned the Skip Prosser Award for Best Scholar-Athlete in the ACC since he carried a 3.43 GPA.
Additionally, he graduated in just 3.5 years and began working towards his master's degree.
Age, Height & Weight
Trent Forrest was born on June 12, which makes him 24 years old as of 2023. People born in June are Gemini.
He has impressive height as he stands 6 ft 4 in (1.93 m) tall and weighs 210 lb (95 kg).
Early Career
Despite being from a small town called Chipley, Forrest accomplished much as a high school basketball player, leading Chipley to one state championship and playing in the state semifinals.
After a stellar high school career, Forrest received several offers from Miami (Florida), Georgia Tech, Tennessee, UCF, and Wichita State.
But he turned down all of them to sign with Florida State. He said he found Florida the best fit and was impressed with the vision of coach Leonard Hamilton.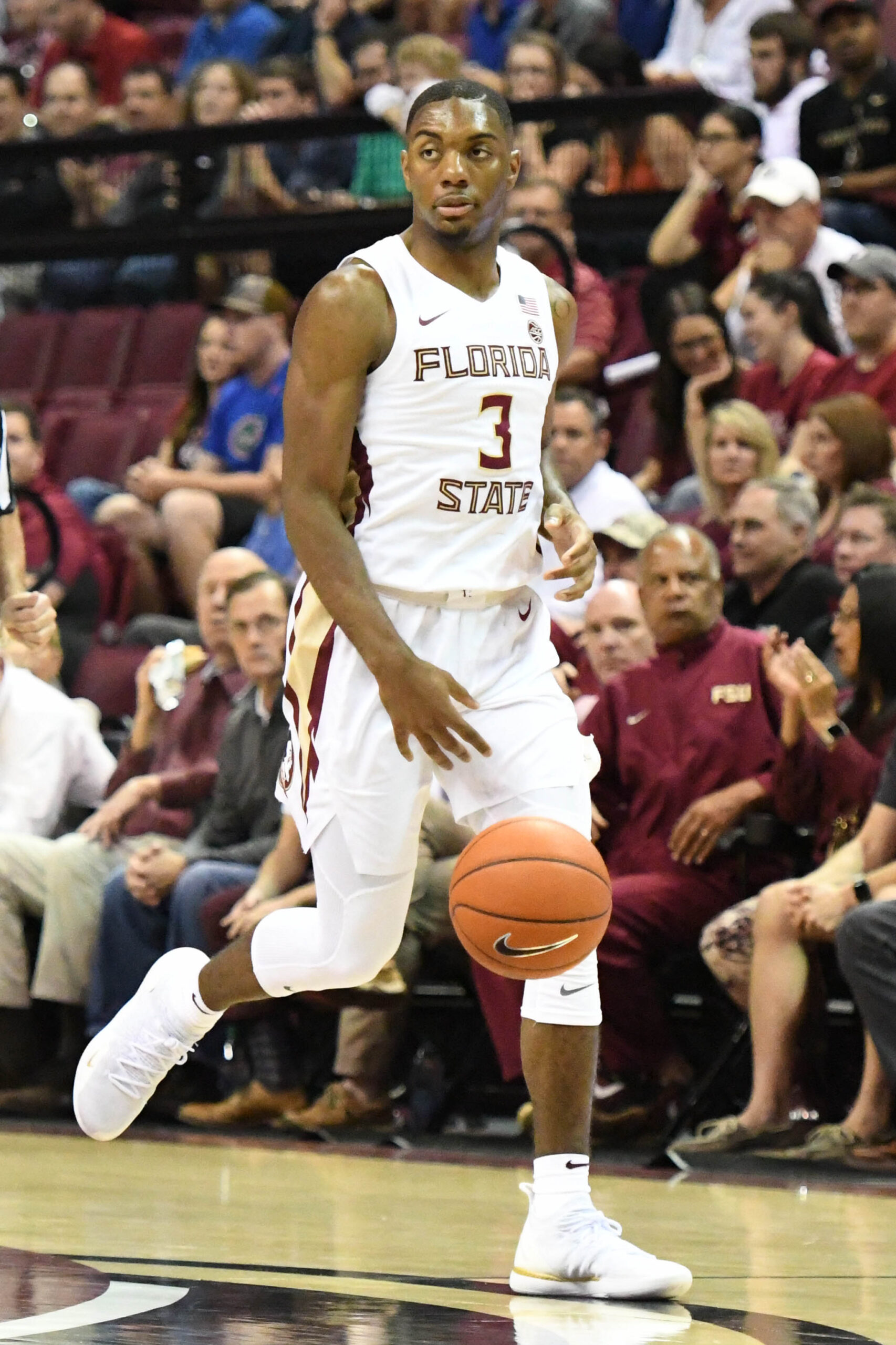 Forrest was a valuable player on Florida University's basketball team Seminoles. He played as starting point guard for his final three seasons and became the school's winningest player in history with 104 overall wins.
Furthermore, he helped lead the Seminoles to three NCAA Tournaments, the 2020 ACC Championship, and earned All-ACC Second-Team and ACC All-Defensive Team honors in his senior year.
During his college career, he helped the Seminoles defeat 25 ranked teams, including five top-five rated teams.
Professional Career
After a successful college career, Forrest declared for the 2020 NBA Draft to fulfill his NBA dreams, but unfortunately, he went undrafted.
However, in 2021, he signed a two-way contract with the Utah Jazz and its NBA G League affiliate, the Salt Lake City Stars.
With Forrest's excellent gameplay, Utah converted the contract to a standard NBA contract.
However, he signed a two-way contract with the Atlanta Hawks in August 2022.
Awards & Achievements of Trent Forrest
Trent has earned several notable awards and achievements throughout his basketball career, including :
Led Chipley High School to a state championship.
Named to the ACC All-Defensive Team in his junior ad senior seasons at Florida State University
All-ACC Second Team in his senior year at Florida State University
Named West Regional All-Tournament Team in the 2019 NCAA Tournament
Skip Prosser Award for Best Scholar-Athlete
His jersey was retired by Chipley High School
Girlfriend & Relationship Status
Unfortunately, there is no information about the relationship status of Trent Forrest. This means the player is either single or in a private relationship that he does not want to disclose yet.
But, judging the post from Trent's tweet where he says,
Having a girl, I can talk basketball with 🙌🏾😍
Does he have a girlfriend to whom he can talk about basketball? What do you think?
We are digging into this, so stay tuned!
Net Worth & Salary
The net worth of Trent Forrest is anywhere between $1 – $5 million as of 2023. According to Hoopshype, his salary for 2022/23 is $508,891. Similarly, his estimated salary for 2023/24 is $1,761,752.
Trent is just in his starting career, and as he proceeds in his career, his net worth and salary will likely increase.
Interesting Facts About Trent Forrest
Trent was an academically good student scoring a 4.3 GPA in high school and a 3.43 GPA in his undergraduate degree.
Off the court, he enjoys fishing and spending time with his family.
He has a 6'7 wingspan, which helps him be a disruptive defense force.
Frequently Asked Questions (FAQS)
Is Trent Forrest still in NBA?
Yes, Trent Forrest is still in NBA, playing for Atlanta Hawks. He signed a two-way contract with the Atlanta Hawks on August 8, 2022.
Did Trent Forrest get drafted?
Unfortunately, Trent did not get drafted in the 2020 NBA Draft. But, he got a two-way contract from Utah Jazz, making his NBA dream come true.