Have you ever heard about a free agent who has won a Super Bowl Ring within two years of start? Yes, you read it right, the Super Bowl Ring winner.
People who still lack the sportsperson's recognition, "Ufomba Kamalu," is the player who is a free agent now.
To point out, he is an American football defensive end who played for several squads in the National Football League after getting undrafted in the NFL draft in 2016.
He also played college football at the University of Miami in Florida. He had three years of collegiate career and later started his journey in NFL with Houston Texans.
Kamalu also has earned a millennial experience playing with Arizona Cardinals, New England Patriots, Baltimore Ravens further in his journey.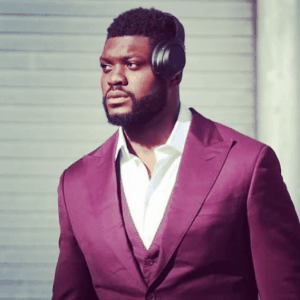 Explore, Kamalu, from the day he was born until the present day, right here in this article. So, keep the tabs on and give his bio a thorough read.
But before that, below, here is the table that lists all the go-getter quick facts about the player, Ufomba Kamalu.
Ufomba Kamali | Quick Facts
| | |
| --- | --- |
| Full Name | Ufomba Kamalu |
| Birth Date | November 2, 1992 |
| Birth Place | Fayetteville, Georgia |
| Nick Name | Not Known |
| Squad No | 94 |
| Nationality | American |
| Ethnicity | African |
| Education | Starr's Mill High School, Butler Community College, University of Miami |
| Horoscope | Scorpio |
| Father'sName | Ngozi Kamalu |
| Mother'sName | Stela Kamalu |
| Siblings | a year older sister (name not known) |
| Age | 30 Years Old |
| Height | 6 ft 6 in (1.98 m) |
| Weight | 300 lb (136 kg) |
| University Team | Miami Hurricanes football |
| Hair Color | Black |
| Eye Color | Black |
| Awards | Super Bowl Champion (LIII) |
| Build | Athlete |
| Marital Status | Single |
| Girlfriend | Anna |
| Position | Defensive end |
| Profession | NFL player |
| Net Worth | $100k – $5million |
| Salary | $7,50,000 average annual salary |
| Affiliated teams | Houston Texas, Arizona Cardinals, New England Patriots, Baltimore Ravens |
| League | NFL |
| Active Since | 2013- present |
| Social Media | Twitter, Instagram |
| Arizona Cardinals's Merch | Jersey, Helmets |
| Last Update | March, 2023 |
Ufomba Kamalu | Early Life
Kamalu was born on November 2, 1992, to his parents Ngozi and Stela Kamalu. He was born in Fayetteville, Georgia.
He also has a sister too, who is a year older than him. But, we do not have any information on the internet regarding that.
Kamalu had a thrilling upbringing. He spent most of his childhood in Aba, Nigeria, with his grandmother and siblings until he was thirteen.
His parents wanted him to adopt the culture and Igbo language while his parents stayed back home in Fayetteville.
Kamalu described his days in Nigeria, saying, "culturally, it was vastly different. But "society-wise," it was more or less the same." The people in Nigeria did not have football as a game there. But, they had a PS2.
Kamalu's father was a job-holder at Cal Poly, SLO, for middle school. He was a professor there. Kamalu used to keep traveling to and from Nigeria to meet his father.
He settled down somewhere in Georgia, near Hartsfield-Jackson Atlanta International Airport, where they could get a direct flight to and from Nigeria.
After reaching thirteen, he moved back to California, the United States, to stay with his parents. He was back but in a huge shape.
He appeared as a skinny guy with a height of 6 foot 5 inches and weighing 215 pounds. Also, he was a soccer player.
But somehow, he felt quite uncomfortable there because many concepts sounded strange to him. He spoke broken English, and there was a sort of cultural clash there.
Read about other NFL players, Eli Manning, James Laurinaitis.
Ufomba Kamalu | High School Days
Upon returning to home California, Kamalu went on to join Starr Mill High School. There, he was noticed by the school's coach and quickly asked the head football coach, Chad Phillips, to address this big guy.
The conversation soon took place between Philips and Kamalu. However, there was a language barrier. Kamalu did not speak fine English. Also, he did not understand football.
According to Philips, Kamalu was fit to play any football position. He was fit, not fat. The only problem was football was a new world for him. He stated,
"We run a version of … a Wing-T triple-option offense," Phillips said. "And it's really complicated. It takes kids years to memorize all of the play rules and what people do.
So, that really wasn't a good option for him because of the limited English and the time it takes to learn, so defensively we thought we could teach him enough of our defense and enough techniques, tackling techniques to be able to help us.
He was so big; he was going to create a lot of space and fill a lot of gaps."
Furthermore, Kamalu opted for playing football with the varsity team as a defensive end in his freshman year.
But, he still had to learn the niches of the sports. It took him a further three years to garnish. But still, somewhere, he was an unfinished product trying hard to embellish on his play game.
Ufomba Kamalu | College Career
Butler Community College
No doubt, Kamalu was getting offers from big-time colleges such as Georgia, Auburn, and Georgia Tech. He chose Butler Community College in Kansas, where the head coach, Troy Morrell, coached him.
Just in case if the readers don't know, to pinpoint, Butlers are one of the finest college programs with genuine products like Bruce Irvin, Demarcus Lawrence, and Damarious Randall, who played in the NFL.
Additionally, Tony Allen and Stephen Jackson played in the NBA. Heath Bell was an MLB closer, and Zac Taylor became the first-class head-coach for the Cincinnati Bengals at Butler CC.
However, Kamalu was redshirted before appearing for the 2012 season. He utilized his time in college as he got 1-on-1 time with coaches to improve his game.
Later with the development in his games, he was compared to Butler Grizzly, Atlanta Falcons offensive lineman Ryan Schraeder.
University of Miami
Kamalu later went to play college football at the University of Miami in Florida. He scored 48 tackles, 11.5 for a loss of yardage, 8.0 sacks. He recorded an interception for 46 yards over his 3-year collegiate career.
Moreover, Kamalu was awarded a spot on Miami's defensive player of the year as a senior in 2015. Here's what former Miami defensive coordinator Mark Donofrio has to say about Kamalu.
"He was really steady that year. He was consistent. I thought he was the most consistent guy that we had on defense and continued to improve, which capped off his career playing the best football that he played while he was with us."
After completing four years at Miami and Butler CC, he announced for the 2016 MLB draft.
Ufomba Kamalu | Professional Career
Houston Texans
Kamalu went undrafted in the 2016 MLB draft and became an undrafted free agent on May 5, 2016, after signing a contract with Houston Texans.
The Texans later waived him for whatsoever reason, we don't know, on September 3, 2016, and placed him to the practice squad the following day.
Kamalu was soon listed on the active roster on November 26, 2016. After a lot more hustle and bustle, he made his official debut in Week 13 in a start against the Green Bay Packers.
He grabbed his first career tackle in a 21-13 loss and first career sack in a Week 17 loss to the Tennessee Titans on Matt Cassel.
The Texans waived him again on September 1, 2018.
Arizona Cardinals
Kamalu was again assigned to the practice squad of the Arizona Cardinals on September 25, 2018.
For the second time in his career, he was assigned to the practice squad and later got released on October 30, 2018.
New England Patriots
Kamalu joined the New England Patriots' practice squad on November 5, 2018. He was upgraded to the active roster on December 21, 2018.
He played two games for the Patriots scoring one tackle. Kamalu also led his team to win the Super Bowl LIII and won against the Los Angeles Rams 13-3.
Kamalu was dropped out during the final roster cuts on August 31, 2019. He was signed to the Patriots practice squad the next day.
Baltimore Ravens
Kamalu was assigned to the Baltimore Ravens practice squad on October 24, 2019. Later, he agreed to sign a reserve/future contract with the Ravens on January 13, 2020, but later got released on April 8, 2020.
The very next day, there was a news-making headline that he got arrested for domestic violence. Ufomba was suspended by the NFL for the remaining time of the 2020 NFL regular season and postseason on December 11, 2020.
He was then called back after ten months of his suspension on February 8, 2021.
BC Lions
Kamalu inked a contract with the BC Lions of the CFL on December 30, 2020
Ufomba Kamalu | Personal Life
Coming to his personal life, Ufomba Kamalu shares a sweet relationship with his long-time girlfriend, Anna. And yes, Kamalu's social media handles are a little flooded with Anna's pictures.
Thus, we can pretty assume that he is in a smooth relationship with his girlfriend. Not much has been revealed in media regarding his personal affairs, hook-up stories.
As we can see vividly in one of his Twitter posts, he has mentioned his girlfriend, saying, " You are my biggest supporter. I love you, babe."
But this was his tweet from August 20, 2017. So, we merely cannot come to an exact conclusion.
Domestic Violence Charge
And out of nowhere, there was news that popped up in the market, where former Ravens' defensive end Ufomba Kamalu was arrested on domestic violence charge on April 9, 2019.
According to Baltimore Country police, they received a call for a domestic assault on April 8, around 10 am.
The victim was harshly suffered from a visible injury after a heated agreement with Kamalu that turned into a physical assault. Consequently, The police officers issued an arrest warrant against him.
The case remains under investigation, but he was released the next day on a $20,000 bond.
Ufomba Kamalu | Net Worth
Kamalu has not grabbed many awards in his name but solely earned Super Bowl LII in his not-so-long career.
But we cannot undermine the fact that he is striving hard to get enrolled in the best of the squads in the NFL and grab that auspicious spot as a top defensive end.
As per Spotracs.com, Ufomba Kamalu has inked a one-year contract worth $750,000 with the Baltimore Ravens in 2019, which indicates an average annual salary of $750,000.
There is no such information available of him joining any other squads currently in the league. So basically, we cannot predict his exact salary.
However, according to online sources, we can claim that,
"Ufomba Kamalu has an accumulated net worth of $5 million as of 2023."
Ufomba Kamalu | Social Media Presence
From his social media handles, we can assume that he is not that socially active person. Yes, he does have an account on Twitter and Instagram, but he does not constantly update him.
However, he has a very minimal number of followers on his social media profile, but he has a loyal and supportive fanbase. The links to his social media profiles are listed below. Just click in to get a proper hold of him.
Instagram- @nightmare47 with 4,019 followers.
Twitter- @Nightmare with 1252 followers.
Frequently Asked Question (FAQ)
Has Ufomba Kamalu been into Philanthropy?
Yes, he represented @NgwaNationalUSA which focuses on youth empowerment and rural healthcare improvement in Nigeria.