The robust and apt Stephen Jackson is an American former professional basketball player who appeared in fourteen NBA seasons until 2014.
Similarly, he had a brief career in foreign leagues before becoming an NBA star.
Although the Phoenix Suns had picked Jackson in the 1997 draft, he did not play in the NBA until the early 2000s.
He won his first-ever and only NBA championship ring in 2003 with the San Antonio Spurs.
Even though the rest of his NBA journey was without awards, he had a memorable overall NBA career.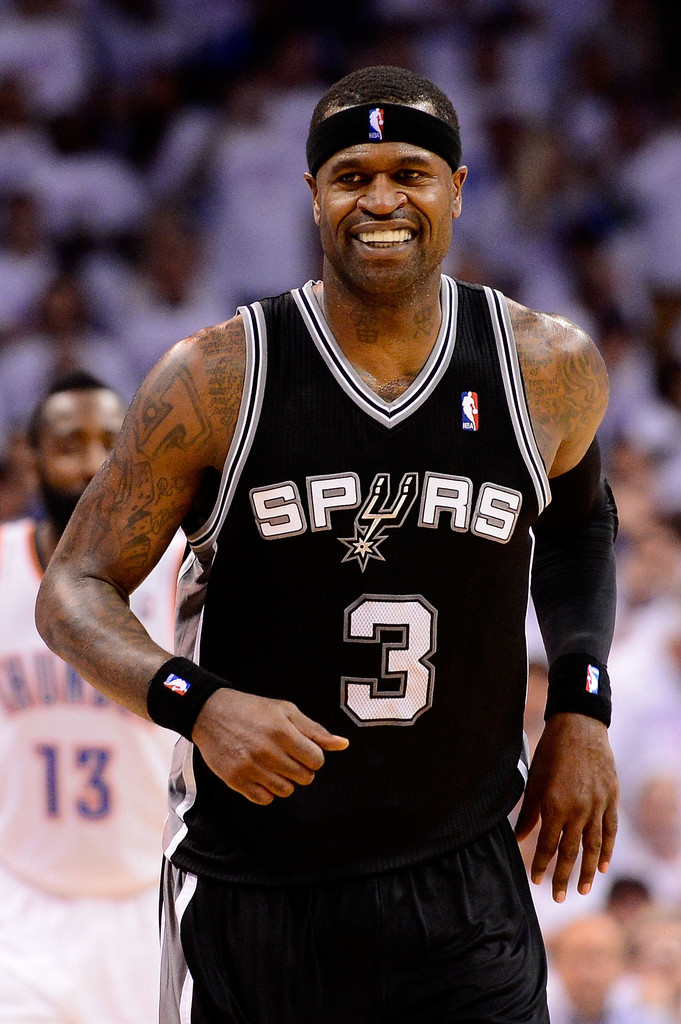 Everyone who knows the retired small forward well praises him for his incredible shooting skills and playmaking techniques.
Moreover, Jackson has made quite a vast image because of his activities outside the court. From community services to political activism, people can feel his presence almost everywhere.
However, Jackson has faced backlashes multiple times as he can't stay away from controversies.
Let's explore more about this colorful veteran sportsperson, Stephen Jackson. But before proceeding any further, here are some quick facts about him.
Quick Facts
Full Name
Stephen Jesse Jackson
Known As
Stephen Jackson
Date of Birth
April 5, 1978
Birth Place
Houston, Texas, the USA
Nick Name
Stack, Jack, Captain Jack
Religion
Islam
Nationality
American
Ethnicity
African-American
Zodiac Sign
Aries
Age

45

years old
Height
2.01 m (6 feet 7 inches)
Weight
220 lb (100 kg)
Hair Color
Black
Eye Color
Black
Build
Athletic
Father's Name
George Aldridge
Mother's Name
Judy Jackson
Siblings
Donald Buckner Jr., Bianca, Donnie
Education

Abraham Lincoln Memorial High School (Port Arthur, Texas)
Oak Hill Academy (Mouth of Wilson, Virginia)

Marital Status
Married
Sexual Orientation
Straight
Wife's name
Tamara Jackson
Kids
Camron, Taylor, Adriyonna, Skylar
Profession
Basketball player
NBA Draft
1997 / Round: 2 / 42th pick overall
Position
Small forward/ Shooting guard
League
National Basketball Association (NBA)
Active Years
(1997 – 2014)
Net Worth
$20 million
Currently Plays For
None / Retired
Jersey Number
24, 1, 3, 5
Social Media
Instagram, Twitter
Merch
Best of All the Smoke (Show)
Last Update

May 2023
Stephen Jackson | Early Life, Family & Education
Stephen Jesse Jackson or Stephen Jackson was born on April 5, 1978, in Houston, Texas, United States. He is the son of Texas natives George Aldridge and Judy Jackson.
His mother, Judyette, separated from his father while he was a small kid, and they lived in Port Arthur, Texas.
Stephen and his siblings, Bianca and Donnie, lived with their mother; they inherited her surname instead of their father's.
Moreover, he had a step-brother named Donald Buckner Jr., who was around nine years senior to him. He taught him everything from playing basketball to behaving well in public to flirting with girls.
However, Donald died because of serious injuries he sustained in a fight against his girlfriend's ex-boyfriend.
Jackson was just 16 and felt so bad that it completely changed his outlook from then onwards.
His mother, Judy, raised three kids as a single parent and worked two jobs to sustain their living. After he understood his family's hardships, Jackson too began working and supporting his family.
He worked in his grandfather's food shop when he was of school-going age.
Jackosn initially attended the Lincoln Memorial High School in Port Arthur, but he later transferred to the Oak Hill Academy in Virginia as his grades at Lincoln got worse.
Even in dire situations, he did not stop playing basketball, so he got better. Undoubtedly, the credit goes to his mother because she did not pressure him much and sent him to school to study and play basketball.
George Floyd's Friend
Stephen Jackson came out in the media demanding strong punishment for police officers who murdered a man named George Floyd in 2020.
Many people were protesting on the streets, demanding justice for Floyd, but Jackson was at the helm of the crowd.
Later, everyone knew that Jackson and George were childhood friends. Although they came from different areas of Texas, they had a deep bond with each other since they met in the early 1990s.
People who knew them often called them twins as they resembled each other. While in Texas, Floyd was the one to look after him during his hard days, and they even played basketball together.
Moreover, Stephen remarked that he was still in close contact with Floyd from his struggling times to the NBA years. He said that the news of his death bereaved him as he was like his own brother and his closest friend.
Stephen Jackson | Career
Initial Career
Stephen mostly played the high school basketball tournaments for the Lincoln Memorial School in Texas. However, he played his senior high school season for Oak Hill Academy in Virginia.
He was a kid with enormous potential, and it showed very well, observing his game at that time. He had led the Lincoln school to the state championship victory in his junior year.
However, he could not finish his high school career with them as he did not bring enough scores to progress into the senior class. Consequently, he moved to another state and completed high school at Oak Hill.
For his performance as a senior, he was selected for the McDonald's All-American Game in 1996, where he was the leading scorer.
Sadly, his academic performance never improved, so he never made it into the university team. Hence, he did not play college basketball before the NBA draft.
Instead, he got an opportunity to go straight to the practice arena of the Phoenix Suns in Arizona and played various pickup games for them prior to the draft.
Also, read about the one-time NBA champion, and Indianapolis Hall of Famer Glenn Robinson!
Professional Career
Even though Jackson had no experience in college basketball, Danny Ainge of the Phoenix Suns believed that he could help them, so he selected him as the 1997 NBA draft's 42nd overall pick.
However, the team president later changed his mind and released Jackson without appearing in many matches. Consequently, Stephen went abroad and played for foreign league clubs in China, Venezuela, and Australia.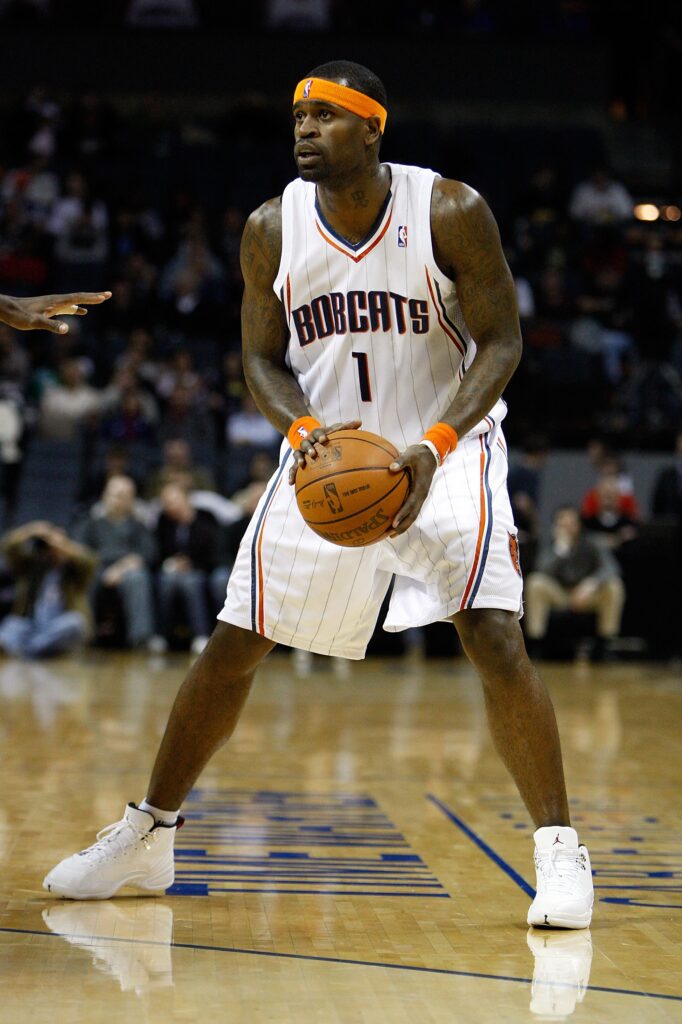 He returned to the US in 2000 and signed with the New Jersey Nets for his first-ever NBA season.
After that season, he associated him with the San Antonio Spurs. But, sadly, he could not play many matches in the first season with them as he suffered injuries. However, he made a remarkable comeback in the second season.
He played a significant role in assisting the Spurs to lift their second NBA championship ring.
Furthermore, he played eleven more NBA seasons with six more NBA clubs until 2014. His performance was always impressive, except for the last few seasons.
He was with the Los Angeles Clippers when he announced his retirement from the NBA on July 22, 2015.
Shows & Music
Jackson currently co-hosts a video podcast named "All The Smoke" together with a former NBA player, Matt Barnes. It is aired every week on Showtime Basketball's Youtube channel, iTunes, and Spotify.
They invite various celebrities from different entertainment fields and discuss a wide range of topics. Naming a few; Kevin Garnett, Draymond Green, Kevin Durant, and Lou Williams.
It is a top-rated recent podcast show in America and has over 130 episodes.
Similarly, he collaborated with several artists and released a rap mixtape named What's a Lockout? under the name stak5 in 2011.
Awards & Achievements
Some of his awards and achievements are:
NBA champion (2003)
McDonald's All-American (1996)
Second-team Parade All-American (1996)
Stephen Jackson | Net Worth & Earnings
Jackson's estimated net worth is around $20 million. He had signed his first-ever NBA one-year deal worth about $316k with the New Jersey Nets in 2000. Before that, he had made a good earning through foreign league games.
However, that was just the beginning. Stephen signed a contract worth $1.29 with the Spurs next year, after which his performance improved drastically, which in turn raised his annual salary.
In 2004, he signed a huge contract worth around $38 million with the Indiana Pacers. After that, his annual salary reached over $5 million. He appeared for ten more NBA seasons in which he earned nearly $65 million.
Stephen Jackson had accumulated approximately $68.6 million at the end of his career.
Check out our article about LA Lakers forward Stanley Johnson!
Engagement in Noble Causes
Stephen Jackson is generous and always stands in front when it comes to assisting people in need. His mother, Judy, had once remarked that her son was always like that since his childhood.
He used to provide people with food and clothes with the limited amount he earned as a teenager. Now that he is rich, he does that on a larger scale. He always strives to bring smiles to people's faces.
When he was facing suspension in the 2007-08 season, he provided community services in the Oakland area. He provided food and financial assistance during that time, mainly to children.
Likewise, he established the Stephen Jackson Academy in Port Arthur, Texas, in 2008. The institution provides quality education to local children and also helps in their athletic development.
Moreover, they provide scholarships to financially weak children and have some infrastructures like a gymnasium for public use as well.
In addition, he has associated himself with various campaigns throughout his life, such as the Silence the Violence rally, the Show Me Campaign, etc.
The Bay Area community in San Fransisco even honored him for his commitment to community service and observed Stephen Jackson Day on April 12, 2008.
In collaboration with the Good Tidings Foundation, Jackson displayed Stephen Jackson's Basketball Court at Omega Boys Club in San Francisco, California.
Exterior Features
As of 2023, Stephen Jackson is 45 years old.
About his physical stats, he stands 2.01 meters (6 feet 7 inches) tall and weighs around 220 lb (100 kg).
Furthermore, he has tattoos almost all over his body. He developed his fascination with tattoos when he was a teenager, and now he has around twenty different tattoos.
The symbols engraved range from Chinese characters to birds and women to prayers. He even has a tattoo as a tribute to the late Kobe Bryant and his daughter, Gigi, on his right leg.
Stephen Jackson | Relationships
Stephen is rumored to have been romantically linked with different women, but he is distinctly known for his relationship with Imani Showalter and Renata Elizabeth White.
Jackson began his love affair with Showalter back in the nineties and remained together for almost ten years. Imani was also featured in a tv show called Basketball Wives LA due to her relationship with Jackson, although they were never married.
However, they had initially intended to marry, but it got canceled at the last moment when she refused to sign a prenup agreement. They eventually broke up in 2005.
He has a son named Camron and a daughter named Taylor Jackson with Showalter.
Jackson then married the Georgian native Renata Elizabeth White in 2009. They stayed together for about four years until they divorced in 2013. He has a daughter named Skylar Jackson with her.
Moreover, it is said that he has other children with five different women.
He recently married a beautiful lady named Tamara, also known as Tammy, in December 2021.
Controversies
Stephen Jackson got involved in various controversies throughout his basketball career. In 2004, Jackson got into a fight involving the players and fans of the Indiana Pacers and the Detroit Pistons.
The brawl took place at the Palace of Auburn Hills, and it is infamously known as The Malice at The Palace. After that brawl, the NBA suspended him for 30 matches.
In 2020, basketball legends including Charles Buckley and Kareem Abdul-Jabbar reprimanded him for expressing support for the football player DeSean Jackson's anti-semitic views.
However, he apologized for it later.
Similarly, other controversies involving him include firing outside a strip club in Indianapolis in 2006.
In addition, he has been charged with criminal offenses, domestic violence cases, and misconduct several times.
Social Media
Instagram: @_stak5_
Twitter: @DaTrillStak5
Take a look at the exciting life of American-born Utah Jazz center Hassan Whiteside here!
FAQs
What did Stephen Jackson convert to?
Stephen Jackson converted from Christianity to Islam in 2021. Jackson believes that Islam is about peace and reads Namaz five times a day.
Does Stephen Jackson have a ring?
Yes, Stephen Jackson has an NBA championship ring.