Uriel Antuna is a Mexican professional soccer player who plays in the Mexico Football League's top professional division Liga MX Apertura. On January 4, 2022, he got signed by CD Cruz Azul and is currently playing for this club as a right winger.
Carlos Uriel Antuna Romero's former soccer club was Club Deportivo Guadalajara S.A. de C.V., also known as Guadalajara. The club's popular nickname is Chivas or Las Chivas.
The team continuously focuses on giving their national players a chance and helping nourish and grow their talent.
He was on loan to the L.A. Galaxy by Manchester City. He played as a midfielder for the Galaxy.
Besides Chivas and L.A. Galaxy, the football player has also played in Santos Laguna and Groningen.
He was a part of the Mexico U18, U20, and U21 teams and has helped assist wins for Mexico in the FIFA Under 20 World Cup.
Moreover, Romero serves as a midfielder for the Mexico National Team since 2019.
Before diving into his life details, let's look at some quick facts about the football player.
Uriel Antuna | Quick Facts
| | |
| --- | --- |
| Full Name | Carlos Uriel Antuna Romero |
| Birth Date | August 21, 1997 |
| Birth Place | Gómez Palacio, Durango, Mexico |
| Nick Name | El Brujo |
| Religion | Not Available |
| Nationality | Mexican |
| Ethnicity | Mixed |
| Education | Not Available |
| Horoscope | Leo |
| Father's Name | Carlos Antuna |
| Mother's Name | Berta Alicia Romero |
| Siblings | Not Available |
| Age | 26 Years Old |
| Height | 5'9″/1.74m/ 174cm |
| Weight | 58.9 kg/130 lb. |
| Hair Color | Black |
| Eye Color | Black |
| Build | Athletic |
| Profession | Football player |
| Current Team | CD Cruz Azul |
| Position | Right Winger (Club) / Mid-fielder (Country) |
| Active Years | 2017-present |
| Marital Status | Married |
| Wife | Penelope Garcia |
| Kids | Bruno Antuna Garcia |
| Net Worth | $1 million |
| Social Media | Instagram, Twitter, YoutTube |
| Merch of Guadalajara | Club Jersey, National Team Jersey |
| Last Update | September, 2023 |
Uriel Antuna | Early Life, Family, And Education
Uriel Antuna was born in Gómez Palacio, Durango, Mexico, to Carlos Antuna and Berta Alicia Romero. The Mexico-born professional player has loved the game since he was small. Moreover, his parents were equally supportive of his decision to play, and they never missed a single game.
The athlete was inspired to play the game by numerous professional footballers and grew up to love it and eventually made it his career. When he was just 15 years old, he joined the Santos Laguna Youth Academy. Subsequently, the player was in the under-15 category there.
He gained a lot of fame and attention while in the academy. After playing for the under-17 and under-20 categories, he made his first professional appearance in Liga MX in 2020.
Age, Weight, And Height
El Brujo is 26 years old. He weighs about 130lbs, roughly 59 kgs, and is 5 feet 9 Inches/1.74 m tall.
Uriel Antuna | Football Career
Club Football
Santos Laguna
The footballer started his football career with Liga MX Clausura champions, Santos Laguna, when he was just 15 years old. He then went on to the under-15, under-17, and under-20 categories.
In 2017, Laguna's manager promoted Uriel and played him in Liga MX as a professional player. However, the game resulted in a loss to a Mexico City-based club Pumas UNAM.
FC Groningen
In 2017 the 23-year-old signed a four-year contract with English football club Manchester City U23 which play in the Premier League 2. After that, he joined the Eredivisie League, a first-tier league in the Netherlands. He signed a contract on loan with the club F.C. Groningen.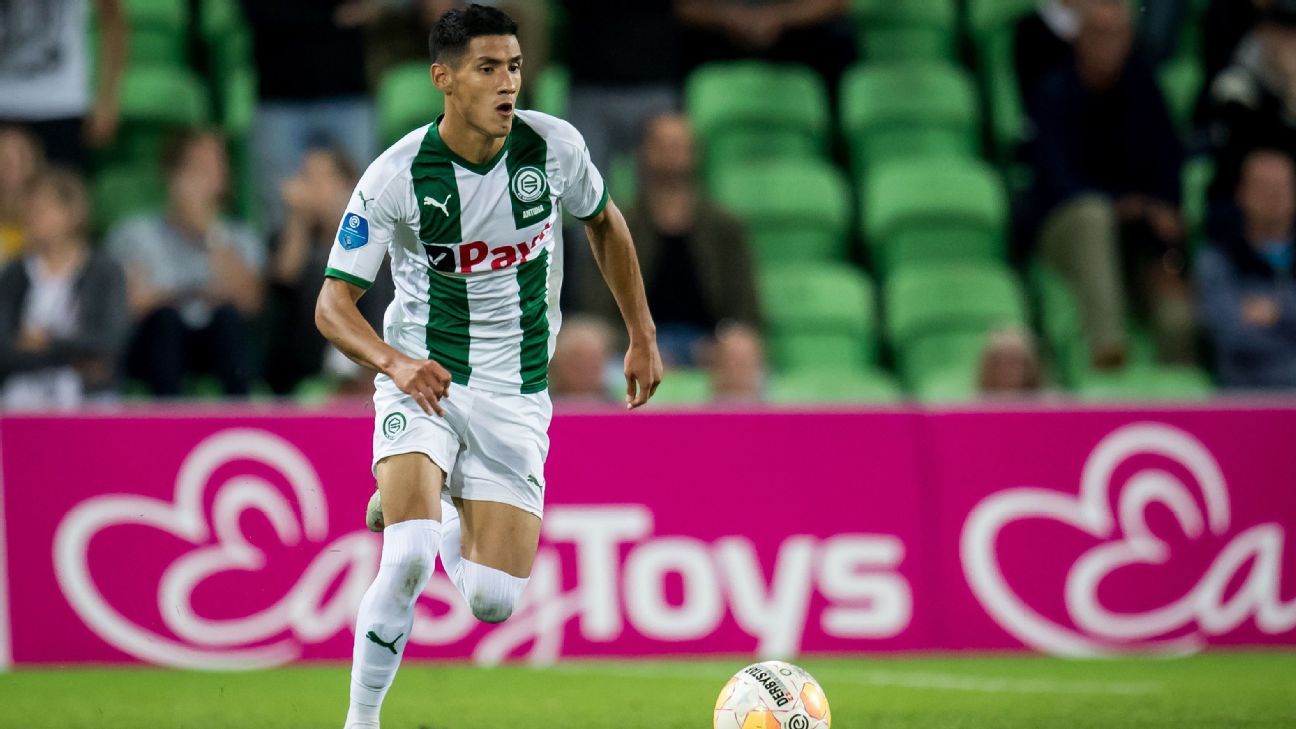 He made a debut as a Groningen in a game against VVV-Venlo. However, his playtime on the team was limited, and he could not show his true potential during his time in the Eredivisie league.
L.A. Galaxy
After the two-year contract, Uriel joined the L.A. Galaxy of Major League Soccer on loan and played in the 2019 season. He proved himself a valuable asset to the team, and the L.A. Galaxy was lucky to have him.
In an interview, he said, "I somewhat felt at home, and as there are Spanish players in the team, I feel free to talk in MY native language."
Also, the Mexican player ended up starting two playoffs and 31 games in the regular season. On top of that, he scored six goals and provided seven assists.
While there were rumors of a permanent position on the team, he decided to return to his hometown and join the Chivas. The LA Galaxy respected his decision and thanked him for giving his best.
Guadalajara
In January 2020, the former Laguna joined the top football division in the Mexico Football League, known as Guadalajara or Chivas. The Mexico team was proud to have him playing with them.
He made his debut as a substitute for a fellow winger in a game against Juárez, where Chivas won. Moreover, he scored his first goal in a win against Tigres UANL.
For the Chivas, El Brujo made 64 appearances, putting the ball to the back of the net for 6 times and making assists for 9 times.
Cruz Azul
After two years with the Chivas, Uriel parted ways with the club on January 1, 2022. He signed a two-year contract with the Mexican Football Club, CD Cruz Azul.
So far for Crux Azul, Uriel has made 46 appearances, scored 6 times, and made 7 assists.
International Career
Under-20 And Under-21 Category
In 2017, Antuna received an invitation to join the U-20 national team to play in the CONCACAF U-20 Championship.
In a win against El Salvador, he scored a hat-trick and was even the best XI of the tournament.
Moreover, he also played for Mexico in the FIFA U-20 World Cup.
The Chivas also accompanied the Mexico National Team in 2018 in the Under-21 category.
The Mexico National Team
In 2019, he appeared in a friendly match against Venezuela as a substitute in the CONCACAF Gold Cup.
The winger was in every game in the tournament and helped assist Mexico with a win in the Gold Cup.
El Brujo has appeared in the National team's jersey 37 times and has 10 goals and 10 assists.
For the Qatar 2022 World Cup, Uriel is included in the 26-man squad for the Mexico National Team. He is included as a mid-fielder for the National Team.
Uriel Antuna | Marriage And Kids
The Manchester City player is married to his girlfriend, Penelope "Penny" Garcia. The now husband and wife dated for a long time before tying the knot.
In May 2018, the couple got married privately and, as of 2020, have celebrated two marriage anniversaries. Also, they welcomed a beautiful baby boy named Bruno Antuna Garcia in January 2020.
The midfielder considers his wife his biggest motivation and inspiration to do better every day. He continually shares and celebrates her existence in his life by sharing their beautiful moments on social media.
In May, the footballer wished his wife her first Mother's day and thanked her for being the best wife and mother to his son. He claims Penny to be the source of his strength and hard work. The duo travels to many countries and cities together.
You Might Also Like The Girlfriend Of A Football Player, Polyxeni Ferfeli Age, Ethnicity, Height, Girlfriend, Net Worth, Instagram>>
Uriel Antuna | Net Worth And Salary
Antuna's exact net worth is hard to find on the Internet. Different sources claim different figures as his net worth. But he might have a net worth of around $1 million, considering his career in different leagues and clubs.
On top of that, he earned $171,951 from Chivas. Also, he earned about $420,000 from his previous club L.A. Galaxy.
His earnings from Cruz Azul FC is estimated to be around $215,577 per week. He is the highest-paid player at the Cruz Azul FC.
Moreover, his market value is around $4.15 million, and he earns pretty well from endorsements and sponsorships.
The player owns a beautiful house and few possessions in Mexico. It is safe to assume that he leads a comfortable life.
Uriel Antuna | Covid-19 Infection
Uriel was one of the five people, including the coach of Chivas, who tested positive for the coronavirus. Antuna was initially asymptomatic, as shared by the Chivas team when he arrived from Mexico City.
However, his wife reported that he wasn't feeling too well and had a temperature, so the doctors suggested he skip training and rest.
Shortly after that, Uriel tested positive for the coronavirus in July of 2020.
His wife, Penelope Garcia, shared a video of the football player struggling with the virus attacking his body. She reported he had an uncontrollable high fever, trembles, and fatigue, which was surprising to her as he usually does not get sick.
Nevertheless, the video gathered many controversies as Chivas had previously reported that he was asymptomatic, but his wife posted a video where he was suffering. However, the player cleared the air by stating that particular nights were quite rough compared to others.
Uriel Antuna | Social Media Presence
The 26-year old is on Instagram, with more than 374k followers. He is quite active on social media and always shares pictures of himself on the football field with his teammates.
On top of that, he posts a lot about his wife and newborn son, and expresses his gratitude towards them.
Antuna is also on Twitter since 2014, with over 72.5k followers. He tweets mostly about his team, games, and football.
Besides that, the athlete also has a YouTube vlogging channel with his wife. They have almost 136k subscribers.
The family of three aren't daily vloggers but share bits and pieces of their life. Penny and Uriel announced their pregnancy and shared their gender reveal ceremony on YouTube.
Moreover, they have made videos from baby clothes haul to gynecologist visits. Also, they did their son's face reveal on YouTube too.
Penny shared Uriel's struggle with the coronavirus and opened up about their experience during that tough time. However, as of now, the family recovered well.
Uriel Antuna | Popularity
Antuna gains popularity from his remarkable soccer career, and his YouTube vlogs are also responsible for his consistent popularity worldwide.
The above graph gives a brief information about Uriel's popularity over a period of 1 year.
Uriel Antuna | FAQs