Vasilisa Kaganovskaya has denied rumors of Valeriy Angelopol being her boyfriend. The figure skating duo has been paired together since 2019.
Vasilisa, 17, and Valeriy, 19, have several fans worldwide who have showered them with love. Many of their fans even hope the duo is a real-life couple as their performance convinces many that they must be in a relationship.
With their undeniable charm on the ice, the Russian duo certainly has captured the hearts of many. The TikTok videos too, add fuel to the fire, and their cute Instagram post for each other further increases the rumor.
But Vasilisa has denied being in a romantic relationship and has stated she is single. Ever since they were paired up in 2019, the Russian figure skating duo has achieved several accolades, with their latest achievement being the Russian Grand Prix in March.
Vasilisa Kaganovskaya Boyfriend: Is She Dating Valeriy Angelopol?
Vasilisa Kaganovskaya has denied having a boyfriend and being in a relationship. She revealed the news on her Instagram handle during a Q&A session.
There is no denying the chemistry she has with her skating partner Valeriy Angelopol. But as pointed out by some of their fans, the chemistry is needed to sell off their dancing performances as believable.
There are several TikTok videos of the two teenagers hugging and acting like a couple, with fans worldwide shipping them. But in an Instagram Q&A session, Vasilisa Kaganovskaya, once and for all, ended the rumors by saying she wasn't seeing anyone.
During the session, the Russian ice skater also wrote she doesn't have any unconventional sexual orientation, as they were rumors of her dating a female ice skater.
Valeriy Angelopol has been rumored to be dating a fellow Russian ice skater. A TikTok video shared that Valeriy has been commenting on many posts of Sofya Leonteva, whose Instagram handle is private.
He has also posted her twice on his Instagram story. In one of the posts, Valeriy also used a white heart caption. But obviously, many shippers of Vasilisa and Valeriy are firm that the teenagers are dating.
In every Instagram post, the skating duo shares, fans leave comments saying they cannot believe they aren't a couple.
But with Valeriy and Vasilisa having not confirmed their relationship, assuming about their love life wouldn't be correct.
Vasilisa Kaganovskaya And Valeriy Angelopol Career
Vasilisa and Valeriy were paired together in 2019 by their coach Ajelika Krylova. And since then, success has followed in heaps for the Russian duo.
One of their first major victories came in the 61st Grand Prix of Bratislava, as the duo earned 146.89 points, beating out their competitors by 2 points. Their second victory came the same year in the All-Russian competitions in memory of ISRusakov 2020.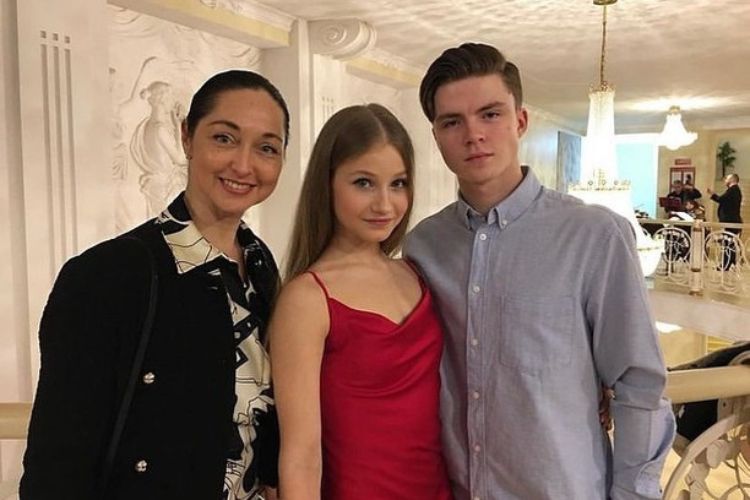 In the 2020 season, the duo took home the Moscow Cup as they convincingly defeated Ekaterina Andreeva and Ivan Desyatov. They also came second in the Russian Cup Final 2021.
The 2021 season was certainly one of their best, with the Valeriy and Vasilisa taking first position in seven competitions. They won the Fed Cup Final 2022 and Moscow Cup 2022 and stood first in the JGP Slovenia.
The duo ended their 2022 season on a high note as they won the Russian Grand Prix Finals. On March 6, Vasilisa shared a lengthy post thanking Valeriy and their coach Angelika Alekseevna.