Veronica Burton and her relationship with boyfriend Greg Newsome made headlines back in 2021. The two have known each other since 2018 and started dating as freshmen.
Veronica Burton is one of the newest sensations of the WNBA. The young and talented point guard wants to achieve a legendary status.
Meanwhile, Greg Newsome II is also on course to achieve more extraordinary things at the NFL.
Veronica Grace Burton is a 23-year-old professional basketball player from Newton, Massachusetts. She has been in the WNBA since 2022.
Burton played college basketball, representing Northwestern University. With the Wildcats, she set iconic records and was one of the best recruits of her time.
Furthermore, her excellence in steals, turnovers, and assists led to her becoming the Big Ten All-Defensive Team. In addition, Burton also led the stats in NCAA charts and was in the first-team All-Big Ten.
Moreover, the point guard quickly became one of the top picks for the draft. In the 2022 WNBA Draft, Dallas Wings selected her as the 7th pick of the 1st round.
Along with all other successes, Burton is also the gold medal winner of the 2021 FIBA Women's AmeriCup.
Veronica Burton Boyfriend 2023
Talking in regards to her dating life, Veronica and her relationship with Greg Newsome II is a subject of discussion. The couple was a talking point back in 2021 during the NFL Draft.
They were exclusively public about their relationship and even gave interviews praising each other.
But as things stand, they might already be on a different path. Moreover, their exact status is not public, and it is left for interpretation.
Who Is Greg Newsome II?
Greg Newsome II is a 23-year-old professional football player who plays in the NFL. He is a cornerback and plays for the Cleveland Browns.
Furthermore, he is also a product of the Northwestern University. He was among the top talents and was the 26th pick of the 2021 NFL Draft.
The youngster is one of the most impressive cornerbacks in the league. Newsome is currently on a 4-year contract worth $12.75 million.
An Athletic Power Couple
Greg and Veronica's relationship exists in a realm of ambiguity today, yet it remains a symbol of an iconic partnership.
They epitomize the concept of a power couple, as their mutual support and encouragement have propelled each other to the pinnacle of their respective fields.
Their journey together commenced as a simple friendship or the casual camaraderie of two athletes. However, the magnetic pull between them grew exponentially, leading to them officially becoming a couple during their freshmen year.
In the year 2023, the status of their relationship remains uncertain. Nevertheless, if they are still together, they represent an extraordinary pairing characterized by an unwavering spirit of competition.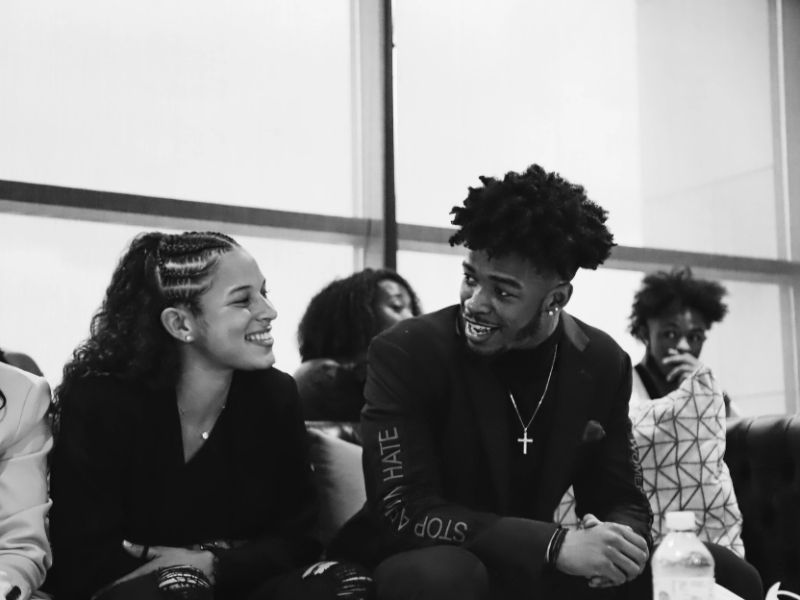 What sets them apart from typical couples is their unique love language.
Instead of traditional gestures, they found their joy in racing against each other, reveling in the sweet taste of victory while playfully taunting the defeated.
Mutual respect served as the bedrock of their connection.
Veronica's support was exemplified when she stood by Greg's side during his NFL draft, offering a steadfast hand to hold.
In return, Greg held Veronica in the highest regard, commending her tireless work ethic and dedication.
Though residing in the grey zone today, their partnership is undeniably an inspiring tale of love, camaraderie, and mutual admiration.
Who Is Veronica Burton Boyfriend 2023?
Although there is no strong evidence or rumors of their breakup, we don't know their current relationship status.
They don't have pictures together on social media, which they did have in the past.
In addition to that, Greg has not followed Veronica on his Instagram, whereas Veronica still follows him.
Also, back in 2021, Greg promised to be present by Victoria's side during her WNBA draft. But he was not seen in the special moment.
The current status of their relationship is shrouded in privacy, as it remains unclear whether it's a passing phase or a definitive conclusion, and this information has yet to be made public.