The professional soccer player Warren Zaïre-Emery was born to his parents on March 8, 2006, in Montreuil, France.
As Zaïre-Emery's father, Franck, was a soccer player, it was apparent that his son liked the sport at a young age.
Consequently, Franck enrolled him in the FC Aubervilliers soccer academy when he was just four.
Warren's proficiency in the game caught the attention of PSG scouts when he was still a kid, and he eventually joined them at age eight in 2014.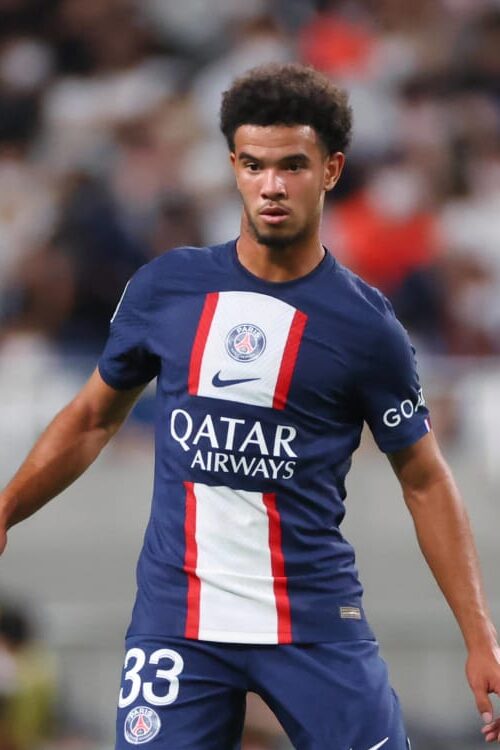 Warren Zaïre-Emery is a professional French soccer player who currently plays as a midfielder for the French Ligue 1 club Paris Saint-Germain.
He debuted for the club in 2022, becoming the youngest player to appear for the PSG at just 16 years and 151 days.
Since then, Emery has already appeared in over 35 matches for his club in different tournaments, where he has scored two goals.
Moreover, Zaïre-Emery became the youngest player to start a knockout game in the Champions League's history, appearing against Bayern Munich in February 2022.
Aside from his club career, Warren has represented France at different youth levels. However, he is yet to debut for his senior national team.
Warren Zaïre-Emery Parents: Where Are They From?
As stated above, Warren was born in Montreuil, France, on March 8, 2006. Montreuil, located in the eastern suburbs of France, is famous for its churches, parks, and cinema history.
Originally from Aubervilliers, his father, Franck, was born on January 31, 1978.
He grew up playing soccer with his friends around Seine-Saint-Denis and started his professional soccer career, playing for the Red Star FC in the nineties.
Furthermore, he played for many other lower-tier soccer clubs until the beginning of the 2000s, including Noisy-le-Sec and Fc Les Lilas 93. He last played for the Aubervilliers in the 2002-03 season.
When Emery showed interest in soccer as a kid, Franck admitted him to the Aubervilliers youth academy in 2011.
Three years later, the PSG chose his son to train at their academy, and over the years, he rose through the different ranks to finally make it to their senior team in 2022.
When Warren signed his first professional contract with PSG in July 2022, Emery expressed his happiness, saying, "With my father & my brothers, we have always loved watching football & PSG."
He further added, "Today, playing for this team is such a source of pride, I want to give everything & fight until the end."
As of 2010, his father, Franck, was working as a coach for the Red Star FC's women's soccer team. However, there is no information about what he is doing at the moment.
Similarly, nothing substantial about his mother and siblings is known.
Zaïre-Emery's Net Worth
The PSG central midfielder Warren Zaïre-Emery is estimated to have a net worth of around $100k-$200k.
Per the Transfermarkt, his recent market value is about $21 Million.
After staying at the PSG's youth system for nearly a decade, Emery signed his first professional contract with the club in July 2022, which ends on June 30, 2025.
According to sources, the club paid him over $265k in the 2022-23 season.
Aside from his earnings from his playing career, Warren also makes a good amount of money through brand deals and endorsements, which include Nike Football.