Many wonder if Chuck Liddell is among UFC fighters with military service or marine experience.
While Chuck Liddell lacks military or marine experience, he once shared a story of getting into a fight with Navy SEALs during his bartending days in California.
Today, we will delve into Chuck Liddell's clash with Navy SEALs, uncovering the inside story of this encounter.
Chuck Liddell is a retired American mixed martial artist and former UFC (Ultimate Fighting Championship) Light Heavyweight Champion.
He was born on December 17, 1969, in Santa Barbara, California, of partial Irish descent.
When Liddell was 3, his father abandoned the family, and he was raised by his single mother and maternal grandfather. He grew up learning boxing techniques with his siblings.
Reflecting on his early marital arts journey, he started Karate at 12, with a "Koei-Kan" (幸栄館) tattoo on his scalp.
Chuck rose to UFC fame in the late 1990s with knockout power and the iconic "Iceman" persona.
Additionally, he won the UFC Light Heavyweight title in 2005, defending it successfully in multiple bouts during his reign.
His career featured intense rivalries with Tito Ortiz and Randy Couture, boosting MMA's popularity, particularly his battles with Ortiz.
Chuck Liddell's Fight With Navy SEALs
Chuck Liddell, a UFC Hall of Famer, shared a story of a bar fight with Navy SEALs during his time as a bartender.
As a bar bouncer, Chuck Liddell, the fighting legend, often had to step in during brawls. He recalled one incident on a podcast, Steve-O's Wild Ride!
When the Navy SEALs revisited the bar after a couple of weeks, things got interesting. Unfortunately for them, Liddell was present this time and willing to protect his friends.
Recalling the clash, Liddell said,
When I showed up, one of my buddies had a guy pinned. The only thing I did was I ran over to the guy that was hitting my buddy. I ran over and just head snapped the guy and bounced his face off the ground. I just grabbed his head, pulled his head down and slapped his head off the ground. His head just went off the ground, he went out, he cut open up his head.
The MMA icon shared that he learned not to use chokeholds to stop fights because of a past experience.
Moreover, Chuch also mentioned that,
"Once it goes to throwing punches, I don't do that," Liddell said. "I did that one time in college and got kicked in the face while doing it, never again. So, once a bunch of people are throwing punches I try to get my hands free."
Therefore, this is the wild story about Chuck Liddell's bar fight against a bunch of Navy SEALs.
Chuck Liddell's Net Worth
At the time of this writing, Chuck Liddell's net worth stands at around $12 million. His UFC career earnings exceed $4.6 million, excluding PPV and sponsorships.
Liddell's earnings fluctuated based on factors like opponents, events, and bonuses. He earned $250,000 from his last fight against Tito Ortiz in 2018.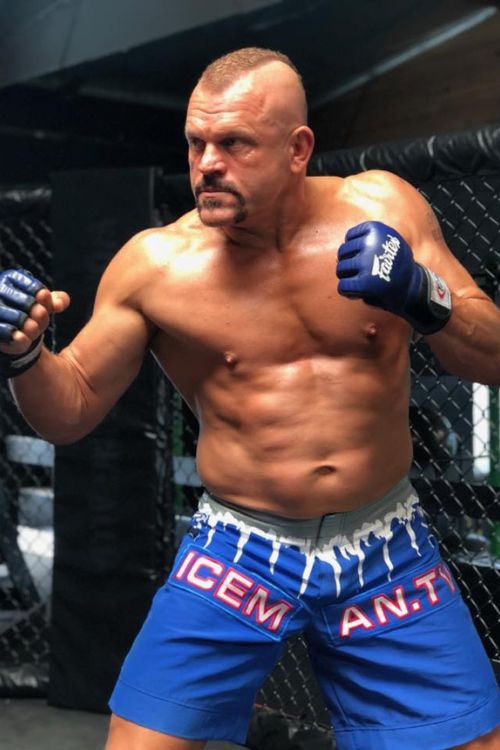 Additionally, Chuk received $1 million for his third-round TKO victory over Tito Ortiz at UFC 66 (2006).
He then pocketed $500,000 at UFC 71 (2007) despite losing to Quinton Jackson via first-round TKO.
Furthermore, the former UFC Light Heavyweight Champion earned $500,000 for a unanimous victory over Wanderlei Silva at UFC 79: Nemesis (2007).