Nikki Hiltz wasn't born as a man. They don't identify as the gender assigned to them at birth and came out as transgender non-binary in 2021.
Since they were six, Nikki Hiltz wished to be a boy. They dressed as one and preferred to be called Nick instead of Nikki.
For Hiltz, sports was one of the places they felt they could express themselves. They felt nobody would judge them, and would only be known as the kid that ran fast.
Nikki is still the kid that runs fast, so fast that they have won several accolades in their field, and in the recent USATF 1,500m race, they won the first position.
This was their first outdoor championship title at the USA Championship, running 1500 meters in 4 minutes, 3.10 seconds.
Anna Hall was another big name in the ongoing USATF Championship to claim first position and qualify for the World Athletics Championships.
Was Nikki Hiltz A Man? Identifies As A Transgender Non-Binary
Nikki Hiltz wasn't a man and to date doesn't identify as one. They consider themself to be gender fluid.
In an Instagram from April 1, 2021, Nikki Hlitz came out as a transgender. They said they didn't identify with the gender given to them at birth (i.e. girl).
Nikki shared a series of pictures of them as a kid up until now and captioned the post, "The word I use currently to describe my gender is non-binary. The best way I can explain my gender is as fluid."
Nikki announced the news on April 1, as it is International Trans Day of Visibility. Since coming as a transgender non-binary, Nikki continues to compete in the women's division.
On their sixth birthday, Nikk wished they would wake next day as a boy. When their dad called them Nick instead of Nikki, or when their substitute teacher confused them to be a boy, Nikki felt like themselves.
As a kid, they would keep their hair short, wear baseball caps, and refuse to wear dresses. Short hair has continued to remain a signature look for Nikki.
With the COVID pandemic halting various sporting events in 2020, Nikki was forced to stay home. But they utilized this occasion to process, understand, and honor their gender identity.
Since June 2020, Nikki has been organizing the Pride 5K race and donating the proceeds to Trevor Project. The Trevor Project helps LGBTQ youths by providing crisis and suicide intervention.
Nikki Hiltz Partner, Emma Gee
Nikki Hiltz's partner, Emma Gee, was the first student from BYU to come out as part of the LGBTQ community. She identifies as bisexual.
But why was it big news in 2019? To give context, BYU is a private university owned by the Church of Jesus Christ of Latter-Day Saints.
For a student to get admission to BYU, they need to be endorsed by a religious leader and follow the Honor Code. So, it was a big deal for a student from BYU to come out of the closet, and since then, many students from BYU have followed Emma and shared their stories.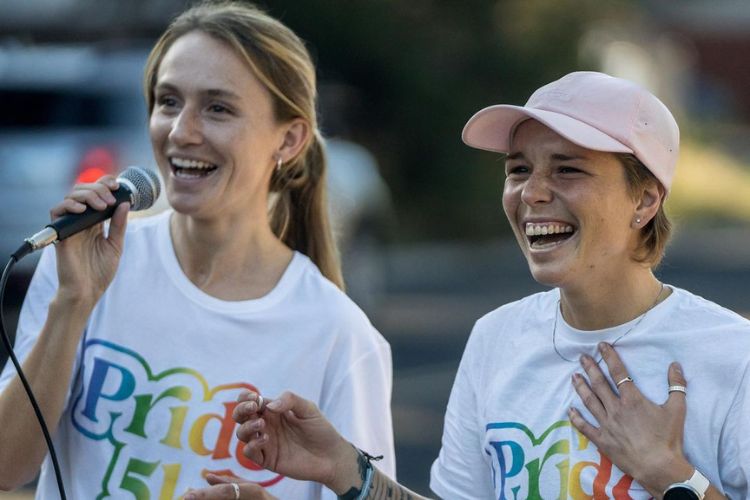 At BYU, Emma was part of the track and cross-country team. She also runs the Queer Athlete Podcast, where many young athletes share their coming-out stories.
Emma and Nikki began dating in 2020 and met through Instagram DMs. Their Instagram is filled with several appreciation posts for each other.
The couple lives together in Flagstaff and shares an adorable German Shepherd, Scout, who makes regular appearances on their social media handle.