AJ Hawk's brothers Ryan, and Brady Hawk, were raised in Ohio with their little brother. Ryan is a former quarterback of Ohio and Miami University.
The former NFL linebacker AJ was raised in a competitive environment with two brothers. But they do admit it was always the little brother who would always come out on top in athleticism.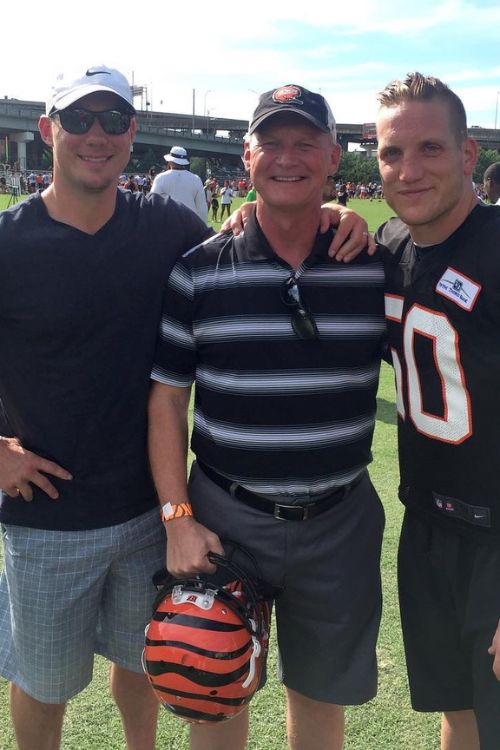 So, when AJ made it to the NFL, it didn't shock his family, as hard work had always been the core value of the Hawk family. After his retirement in 2017, AJ decided to take the podcast route.
The former Green Bay Packers player appears in the Pat McAfee Show and also regularly appears in his brother Ryan's podcast.
AJ Hawk Brothers, Ryan, And Brady Hawk
AJ Hawk's brothers, Ryan and Brady Hawk, live a life contradicting compared to each other.
If Ryan, like his brother, has come to the limelight through his podcasts, Brady remains out of the spotlight.
Most of the time, it's Brady's son, Matt Borquain, who appears in the family photographs. Matt is an electrician living in Dayton, Ohio, with his wife, Beth Alyson.
Ryan Hawk Runs Is A Podcast Show Host
Talking about the middle child of the Hawk family, Ryan Hawk was a top prospect during high school at Centerville. He later joined Miami University and later committed to Ohio University.
After graduating from Ohio University with a degree in communication, Ryan played in CFL and with the Birmingham Steel Dogs.
After quitting football, Ryan joined LexisNexis and served as a director for segment management. He joined the company as a sales executive in 2006 and worked his way up.
In 2017, Ryan with Brixey & Meyer ran the podcast "The Learning Leader Show & Leadership Advisor." In the show, he used to hand out to clients worldwide how to become effective leaders, managers, and coaches.
Since 2021, Ryan has been running the podcast with Insight Global, and the podcast has achieved massive success in recent years. The podcast is heard in 150 countries and has millions of viewers tuning in.
Ryan continues to live in Dayton, Ohio, and is married to Miranda Hawk. The couple share five kids, all daughters. He has published two books, The Pursuit Of Excellence & Welcome To Management.
AJ Hawk Parents, Keith, And Judy Hawk
AJ Hawk's parents Keith, and Judy Hawk, raised three boys in Centerville, Ohio.
Keith Hawk graduated from Ohio University and later received his MBA from the University of Dayton. After graduation, Keith worked as an account executive for Oh Bell and later became a staff instructor at AT&T.
For more than 30 years, Keith Hawk worked at LexisNexis, beginning his journey as a technical sales supporter. By the end, Keith had become senior vice president.
Currently, he is the President at DK Hawk and is a public speaker, author, and voiceover artist. He made several appearances with his sons on their podcasts and continues to be highly active on social media.
Judy Hawk remained an integral part of AJ Hawk's football career. In an interview with ESPN, AJ said his mother is the craziest in the family. And though not mean, she would tell her son to hit everyone.