Tucker Kraft and his girlfriend turned fiancee Baylee Jandahl got engaged on March 16, 2023.
However, the specifics about how and when the pair started dating remain under the blinds.
Baylee Jandahl is a professional lifestyle photographer based in Elkton, South Dakota.
The pair apparently started dating during the year 2021. During their initial dating phase, Baylee was frequently seen attending Kraft's college football games.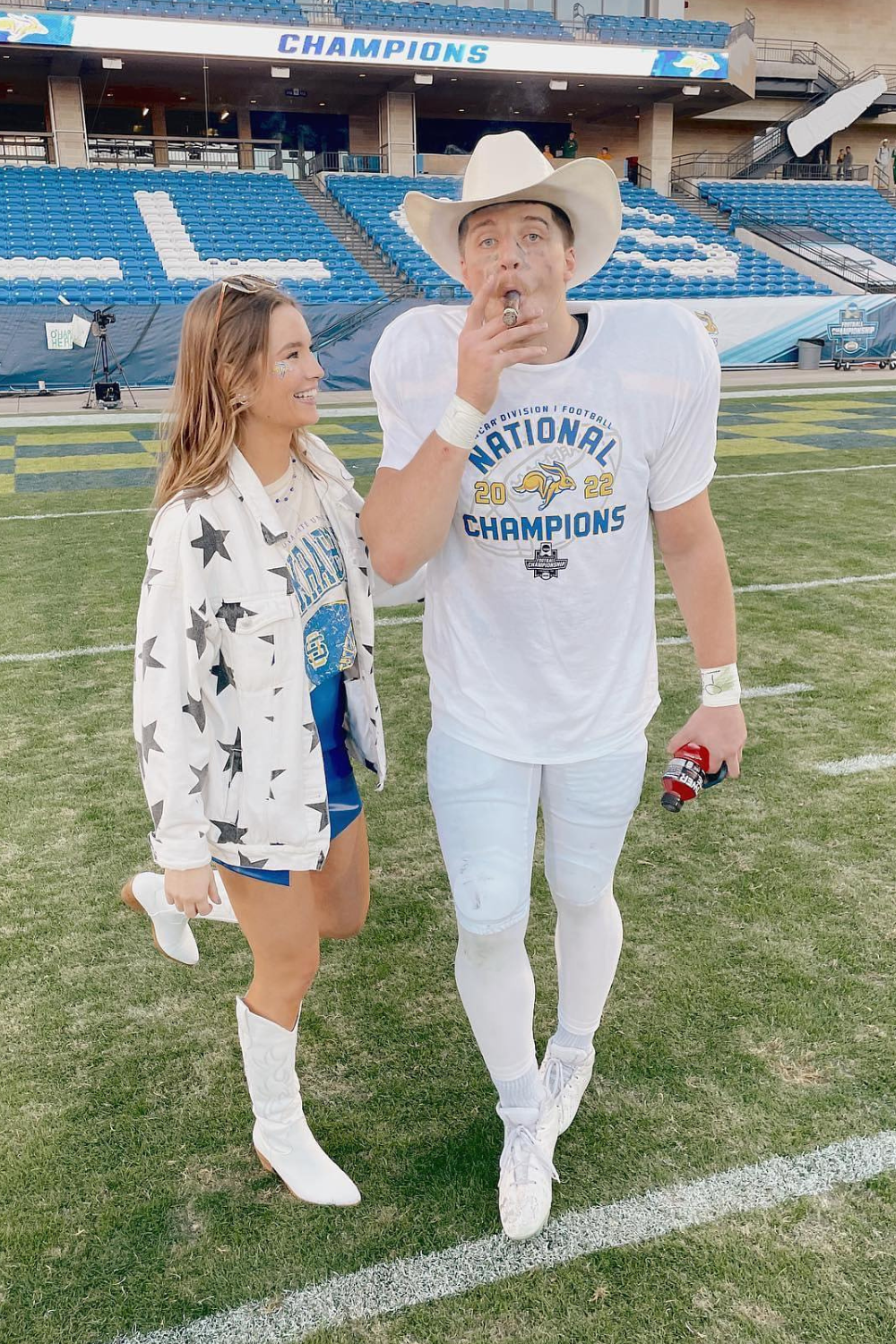 Tucker Kraft, born on November 3, 2000, is an American football tight end for the Green Bay Packers of the NFL.
He attended Timber Lake High School and played football as a running back, middle linebacker, and punter.
Later, for his college career, Kraft committed to play at South Dakota State despite a late offer from Wyoming.
Playing for the Jackrabbits, the 2022 FCS national champion earned several honorable mentions, including FCS All-American (2021 and 2022) and First-Team All-MVFC (2021 and 2022).
Moreover, his NFL dream blossomed during the 2023 NFL Draft when the Green Bay Packers selected him in the third round as the 78th overall pick.
Tucker Kraft Girlfriend Turned Fiancee: Baylee Jandahl
Baylee Jandahl and Tucker Kraft have been together since 2021. After more than two years of being together, showing their commitment to each other, they got engaged on March 16, 2023.
Baylee was born as the youngest child to her parents, Brain and Ann Jandahl. She grew up with two elder sisters, Kelsie and Sydney.
She attended Elkton High School and was a member of the varsity volleyball team.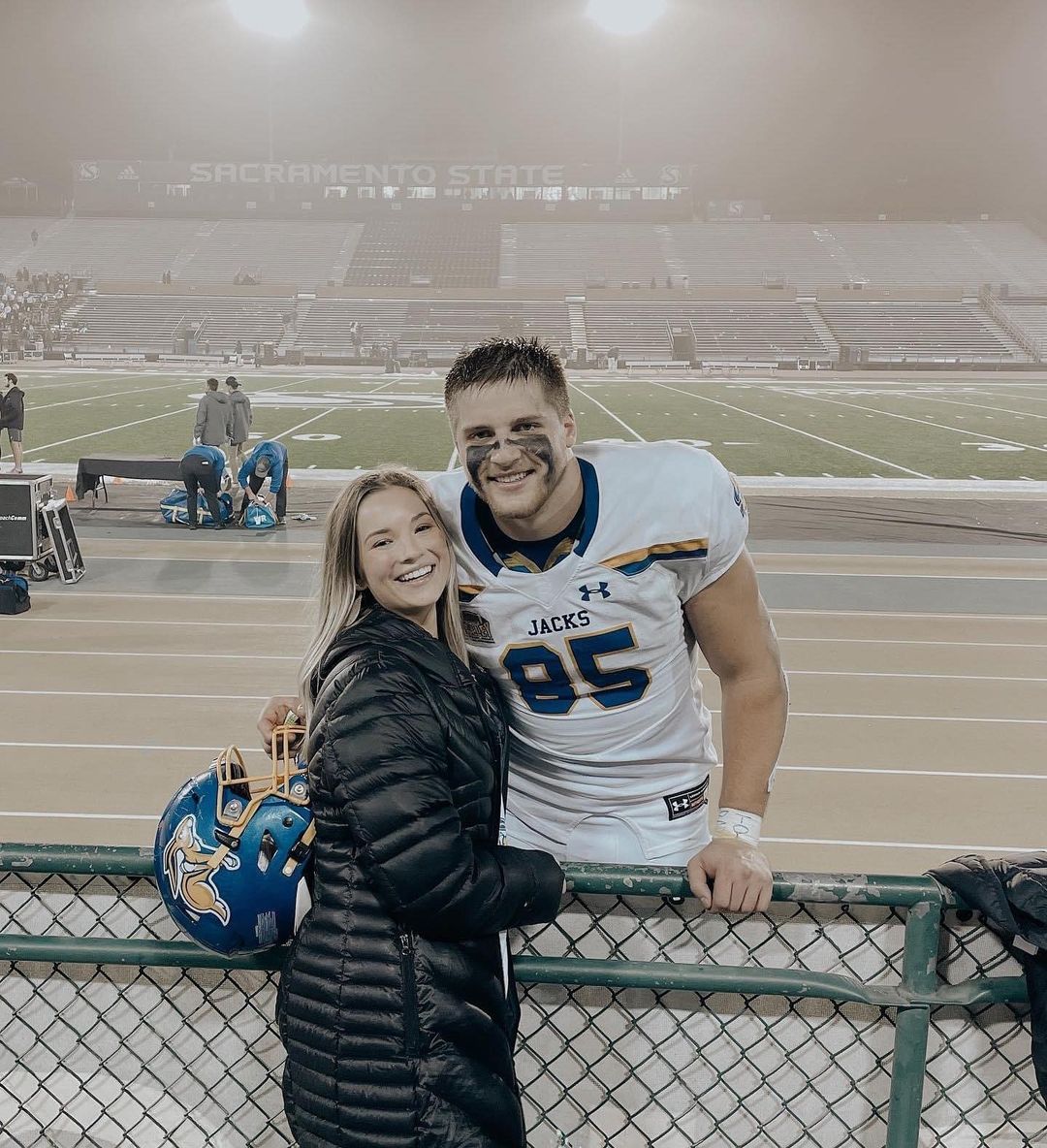 Later, Kraft's fiancee Baylee pursued a degree in Media Design and Graphic Design at Southeast Technical College.
During her college years, Jandahl worked at Crooked Pint and later at Lauriebelles as a Marketing Intern.
After completing her degree, she worked as a marketing manager at Layered Elements from June 2021 to December 2021.
Moreover, she has been working as a freelance photographer since 2019.
Baylee Sisters Kelsie And Sydney
Baylee's sister, Kelsie, is married with one child. She tied the knot with her long-term boyfriend, Zach Lukes, who is a PCCN registered Cardio Pulmonary nurse.
The pair shared their wedding vows on June 5, 2021, and welcomed a daughter, Remedy Drew Lukes, on August 27, 2022.
Similarly, Baylee's other sister, Sydney, is engaged to her boyfriend turned fiance, Joey Olson.
Olson proposed to Sydney during a concert date on March 24, 2023. The newly engaged couple is scheduled to tie the knot in October 2023.
Moreover, the Jandahl siblings had a passion for volleyball, and they all played volleyball during high school.
Tucker Kraft Rookie NFL Season
Green Bay Packers' rookie tight end Tucker Kraft has been gaining momentum in recent practices leading up to the team's first preseason game against Cincinnati.
His standout performance during the summer's Family Night practice included impressive receptions, red zone plays, contested catches, and showcasing his ability to gain yards after the catch.
Kraft has also been contributing with key blocks in the run game.
With Josiah Deguara sidelined due to a calf injury for several practices, Kraft has had increased playing time with the starting offense.
Kraft shared, "I'm grasping the big picture, but I'm focused on perfecting the finer details. There are areas I can improve, but I'm confident in my progress within this offensive system."