Luke Kwon girlfriend, Brittany Tu, became Dr. Brittany Tu earlier this year. The two began dating somewhere around the end of 2021.
Kwon went public with his relationship with Brittany in February 2022. The two had already shared a few romantic videos on TikTok before showing their love for each other on Instagram.
Born in Seoul, South Korea, Kwon graduated from the University of Oklahoma in 2016 and was part of the golf team. Kwon previously played golf in China and is now part of Good Good Golf, one of YouTube's biggest golf channels.
Last year, Kwon faced a serious injury while playing golf and even made a video titled, "I almost died (NOT CLICKBAIT). Though he had taken the injury casually at first, it was after Brittany's persistence that he went to a hospital.
A CT scan found nearly one-fourth of Kwon's brain was bleeding, and he was suffering from epidural hematoma, a deadly brain injury. The golfer was only 30-45 minutes from dying, but thankfully the visit to the hospital saved his life.
Luke Kwon Girlfriend, Brittany Tu
Luke Kwon's girlfriend, Brittany Tu, turned 25 earlier this year. Earlier this year, Brittany also completed her doctorate in pharmacy.
Kwon's partner is a graduate of the University of North Texas Health Science Center and shared her graduation pictures on Instagram in May. On May 2, Brittany shared an image of her outside North Texas ground, captioning the post, "Less than one month until I am Dr. Brittany Tu? No way."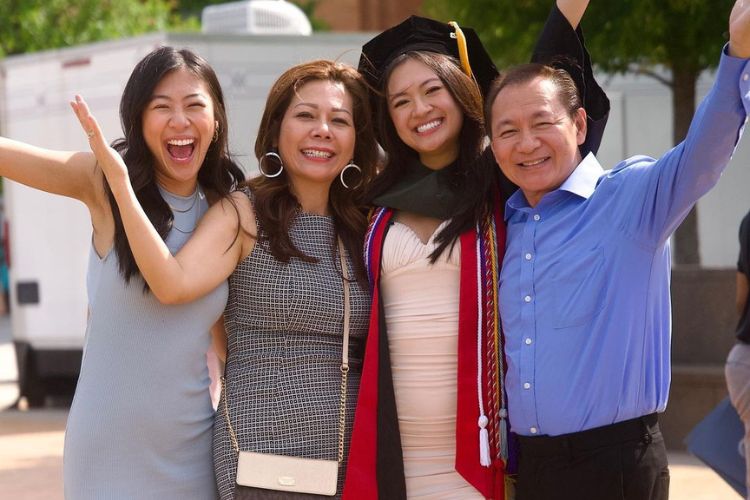 On May 24, Brittany shared a series of pictures from her graduation ceremony, including snaps with her parents, sister, and her boyfriend. She also shared a video of her being honored with the blue hood worn by a doctorate recipient.
She previously worked as a trainee at Pharmacy Toi, and during COVID-19, Brittany also worked as a contact tracer for Tarrant County Public Health. Brittany also shared a throwback photo with her graduation photos of her getting a piggyback ride from her dad.
The father-daughter duo recreated the photo after the ceremony. Brittany has a sister, Catherine Tu, who is also working in the medical field. Catherine is currently a student at Midwestern State University pursuing her nursing degree.
Luke And Brittany Relationship
Luke and Brittany might have started dating at the end of 2021. The two went public with their romance earlier this year in January.
The two were first seen together in Brittany's TikTok video when they traveled to New York. She shared a 20-second video of them enjoying their time at the Big Apple and enjoying all kinds of delicacies.
On Instagram, it was Luke who first shared a picture with Brittany. A few months later, in May, Brittany shared a romantic video of her and Luke enjoying their vacation in the Bahamas, which she later shared on her TikTok page as well.
The couple certainly enjoys traveling, and earlier this year, they took a trip to New Zealand. The couple also love hitting the gym together, with Brittany previously sharing a video of her and the golfer exercising.
Brittany has also shared videos of her and Luke playing golf on TikTok. The videos have gained more than a million views combined. Looking at the videos, we can say Brittany certainly needs to polish her golfing skills.