Ryan Poles wife is a constant topic of discussion among his fans, thanks to her remarkable career achievements that mirror Ryan's own success in the world of football.
As the General Manager for the NFL's Chicago Bears, Ryan holds a prominent position in American football.
Ryan is happily married to Katie Poles, whose professional journey is equally impressive.
Together, the couple shares a loving family with two children named Mason and Jordyn, and their mutual support for each other's careers is evident.
Born on September 20, 1985, in Canandaigua, New York, Ryan Poles began his path to success. He started his education at Canandaigua Academy before venturing into college football as an offensive lineman at Boston College from 2003 to 2007.
Afterward, Poles signed with the Bears as an undrafted free agent in 2008. Despite his best efforts, he did not secure a spot on the 53-man roster and was subsequently released.
In 2008, following the conclusion of his playing career, Poles returned to Boston as a graduate assistant, actively participating in recruiting efforts.
The turning point in his career came in 2009 when the Kansas City Chiefs hired him as a scouting assistant under the leadership of General Manager Scott Pioli.
After nearly a decade of dedicated service, Ryan assumed the pivotal role of General Manager for the Chicago Bears, taking the reins from Ryan Pace.
His journey from a young football player to a prominent executive exemplifies his dedication and passion for the sport.
Ryan Poles Wife
Who Is Katie Poles?
Ryan has been happily married to the love of his life, Katie Bud Poles, for over a decade.
They crossed paths during his sophomore year of high school when the Poles family relocated from Livonia in upstate New York.
After dating for a few years, the couple exchanged rings and made their marriage vows on July 1, 2011.
The couple have two children together, Mason Poles and Jordyn Poles.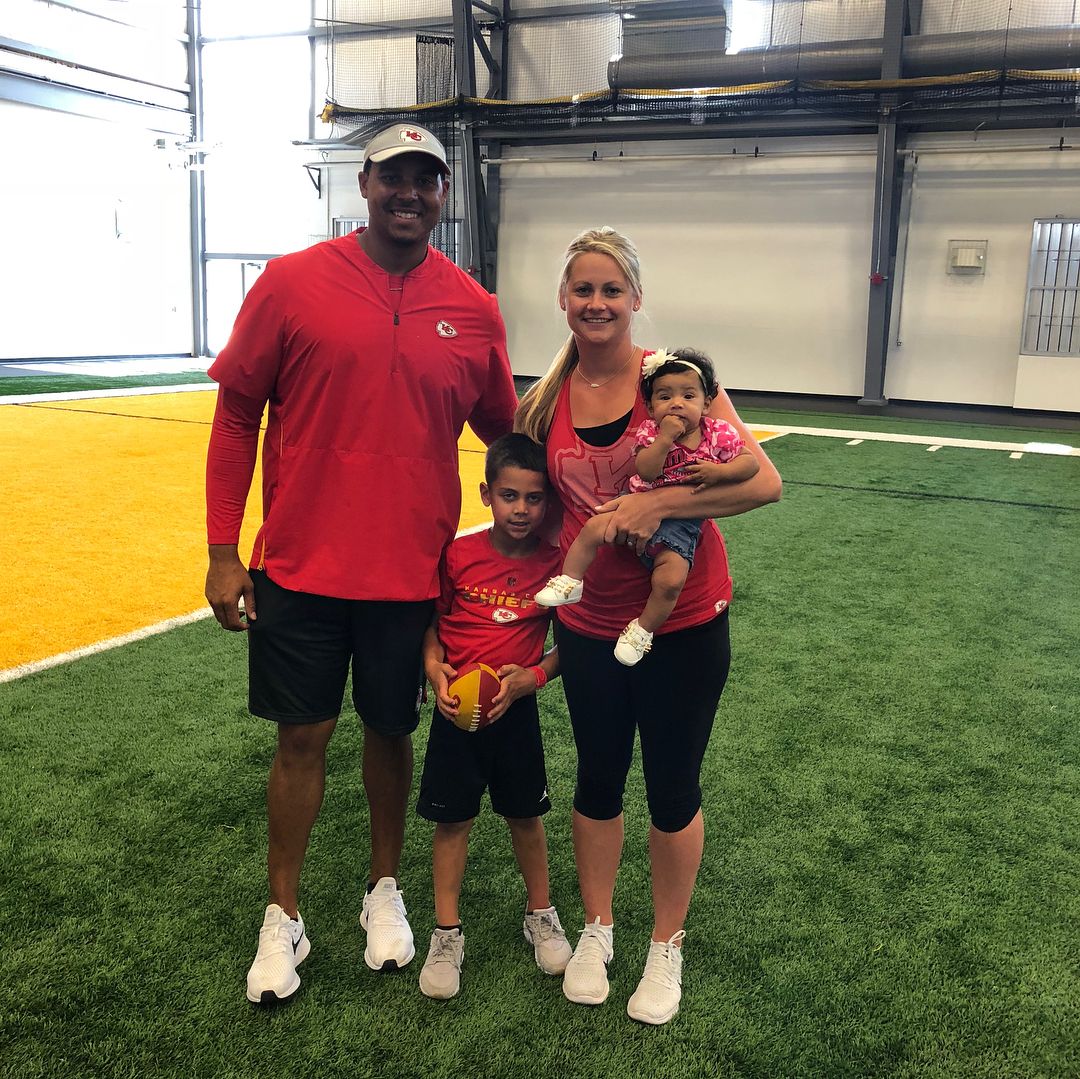 Katie, just like her partner, works in the sports field as the program director of i9Sports.
Before assuming the role of program director at i9Sports in 2011, Katie worked as a school teacher.
Within i9Sports, Katie is responsible for overseeing children aged two to fourteen.
Katie's passion for sports began during her university days at SUNY Cobleskill, where she was actively involved in athletic pursuits.
While at university, Katie was a dedicated member of the women's soccer and basketball teams, showcasing her commitment to both her academic and athletic endeavors.
In addition to her enthusiasm for sports, Katie earned a degree in science and early childhood education from a New York-based institution.
Ryan Poles Parents and Siblings
Junior Poles and Marry Ellen are the parents of Ryan Poles. Poles hails from an African-American ethnic background.
His father, from 1979 to 1982, played football at Boston College for three years.
Ryan grew up alongside his sister, Kelli, who is a basketball player.
Kelli competes for the University of Vermont Women's basketball team as a sophomore.
Ryan And Matt Eberflus Ongoing Controversy
On September 21, 2023, Ryan made an unexpected announcement that took Chicago Bears fans by surprise when he introduced Matt Eberflus as the new head coach of the team.
However, it seems that not all of the team's fans are on board with the decision, and they have voiced their dissatisfaction with Eberflus as the new coach.
Within the Bears community, both fans and media have been critical of Ryan's choice, expressing doubts about Eberflus's coaching abilities and his suitability for the role.
Ryan, on the other hand, has remained resolute in his support for Eberflus despite the criticisms and the team's performance not reflecting a positive change on the field.
This ongoing divide between fans and the team's leadership has only served to escalate the fans' frustration, leading to speculation that Ryan might reconsider his position.
Some fans have even speculated that the lack of autonomy granted to Matt Eberflus in choosing a Defensive Coordinator may indicate that Ryan is contemplating a potential change in the coaching staff, further fueling the uncertainty and tension within the Bears' community.