Tyson Bagent and his girlfriend, Maggie Litzinger, have been together for a while.
Bagent's girlfriend, Maggie, is an ER nurse from Hagerstown, Maryland. Tyson and Maggie reportedly met each other during their collegiate years.
Besides being an independent woman, Maggie, is a very supportive girlfriend who would be cheering for her boyfriend from the front row.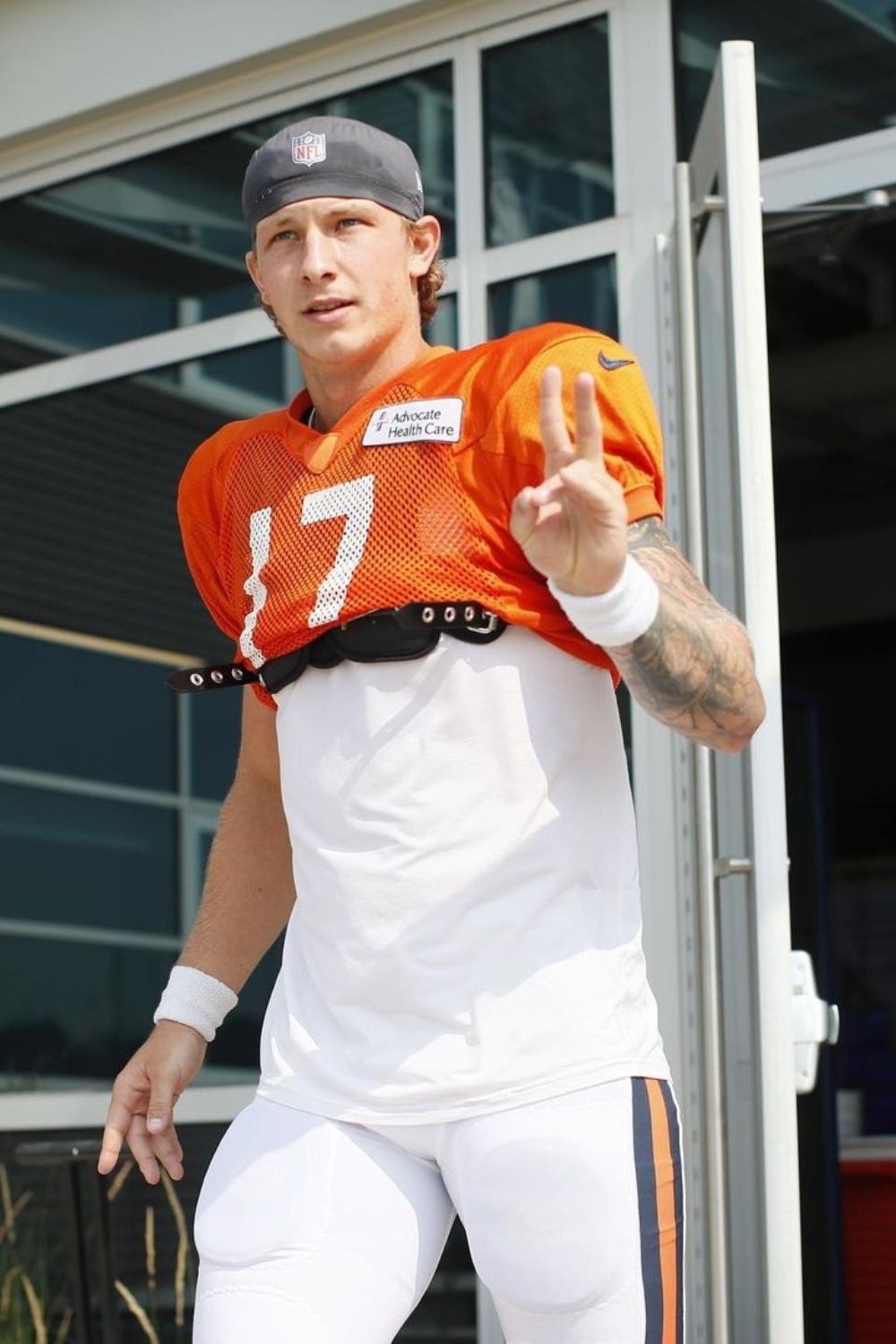 Tyson Jacob Bagent, 23, is a football quarterback from Martinsburg, West Virginia, who plays for the Chicago Bears of the NFL.
Bagent started playing in high school and was the West Virginia Gatorade Player of the Year. Eventually, he joined the Division II side of Shepheard University despite major interests from Division I.
Moreover, staying true to his roots helped Tyson achieve success at an extraordinary level. During his 5 years in college, the quarterback broke every positional record and multiple other divisional records.
The undrafted Hardon Hill Trophy recipient made the Chicago Bears 2023 roster after signing as a free agent. The turn of fate truly struck when he made it to the starting quarterback from the third string.
Meet Maggie Litzinger, Girlfriend of Tyson Bagent
Shifting from professional to personal life, we know quite a lot about Tyson Bagent. His father Travis is a world arm-wrestling champion, and his mother, Casey has a degree in sports marketing.
But with his uprising in the mainstream media, many fans are concerned about the young hunk's love life. Well, we are here to clarify that he is not single.
The rookie is in a relationship with Maggie Litzinger. In addition, it's a type of love that will most probably last till the end.
Maggie Litzinger: Age And Wiki
Maggie, originally from Baltimore, in the state of Maryland, completed her schooling there and is most probably in her early to mid-20s.
Regarding her academics, she initially attended South Carolina University to pursue her degree in nursing. But, for family reasons, Maggie had to move back and join West Virginia University.
At WVU, she did a multidisciplinary course in public relations, communications, and health relations.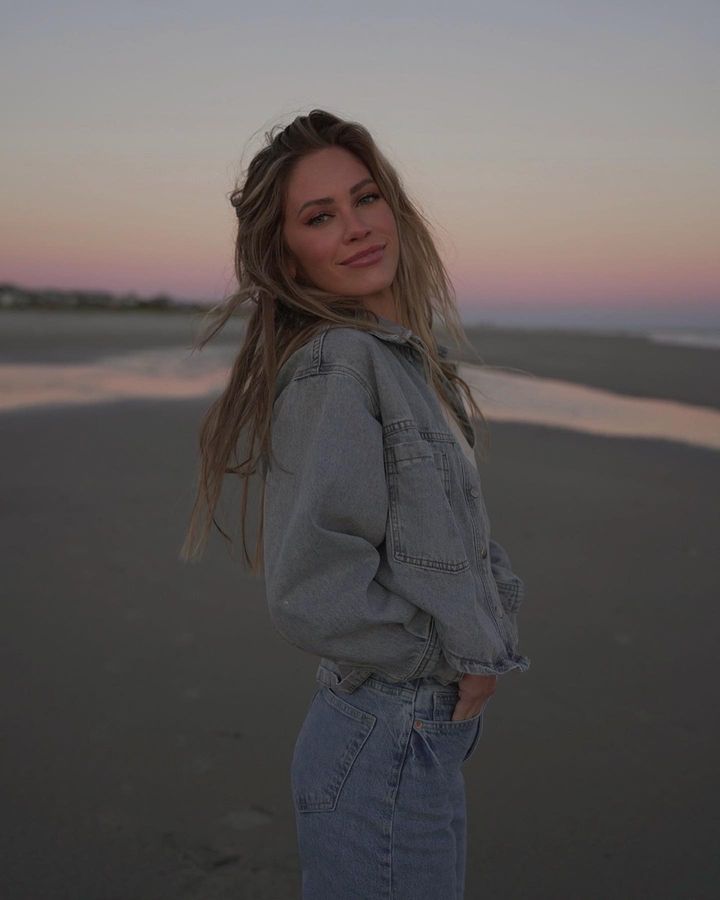 Moreover, her interest in the medical field has been a persistent force to drive her career ahead. Maggie served as a nurse tech for Meritus Medical Center since 2017.
Eventually, she became a registered nurse at Meritus Health in 2022 and is currently an ER nurse at MUSC.
Besides, Maggie loves to travel, take photos, and document her experience. Additionally, she is a fitness freak and says it changed her life completely.
Tyson And Maggie: More On Their Relationship
If we talk strictly about the couple's relationship, they most probably met while Tyson was still at Shepheard University.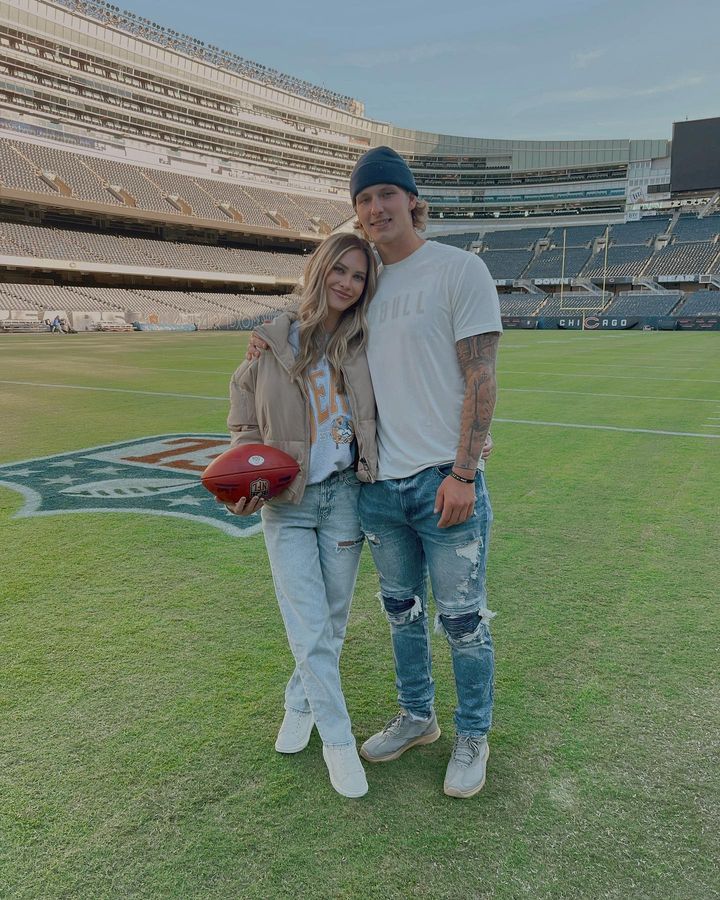 However, we do not know when the lovebirds exactly started dating. Tyson maintains a pretty professional Instagram profile, so we had to check on Maggie's instead.
The first photo that Maggie posted together was in February 2023. Although there were no exact claims of their relationship, she did leave a cryptic caption.
However, in October, she confirmed the two were together for good. Maggie posted a series of pictures of her attending the Bears game to watch her boyfriend play.